Alternate title:
Cutting corners by not cutting corners.
Housing developers, like all other businesses are primarily concerned with profits. There are two ways to make more money; by cutting costs or by increasing revenue. Housing developers are the masters of both. Cheap lighting fixtures, paper thin walls, and budget carpets? Check. Granite counters with a 50% profit margin? Of course. Energy efficient appliances, sold to you at twice the price that Sears would? The newest rage.
However, what happens inside the home is really only the business of the home buyer. After all, if they don't like the carpet, they can change it. If they want to install their own counters, they can do that. As long as the home meets earthquake and fire codes, the developer should be free to sell homes without walls, if they believe that's what the market wants.
But outside the home? Well, that becomes a community issue.
Home builders focus on what they know home buyers look at. Things like landscaping and shiny counters catch eyes. Functional curb cuts and ramps? Well, those aren't relevant until you find yourself in a wheelchair and trying to cross the street. For most buyers, details like that are discovered too late. In other words, their prime cost-cutting items.
That's where regulation comes in. We all know that most suburbs in the 50s, 60s, 70s and 80s lacked sidewalks. They weren't required, and they're expensive, so the developers didn't build them.
This is especially true because those looking for homes in suburbs always arrive by car. If you need to hit 7 open-houses in 4 hours, speed is mandatory.
A couple of decades ago, cities started mandating sidewalks, and now they're back in most new public streets (gated communities are still being built without sidewalks). Of course, the developers build the bare minimum. 4 feet is allowed? Then 4 feet it is. Curb cuts only at intersections? Then that's where they will be. Driveways with curbs, instead of smooth slopes? So be it.
10 years ago, the city of Clovis, California, started mandating "paseos" or multi-use trails through new developments. Developers were still allowed to build their maze of cul-de-sacs, as long as a path for pedestrians was built, as a shortcut between streets and as a place for recreation. With no other choice, developers have added these paths. Prices for new homes remain the same, that is, they reflect the demand, and not the actual cost of building.
The problem with the mandate for sidewalk and trails is that the minimum requirements are too loose. Sidewalk ramps are required….but the type is not specified. Lighting is required….but the maximum distance between two light sources is absurd.
Let's take a look at a brand new development, and how the developers are cutting costs by meeting the requirements, but ignoring the way people actually want to use these community benefits.
Notice anything odd about this corner?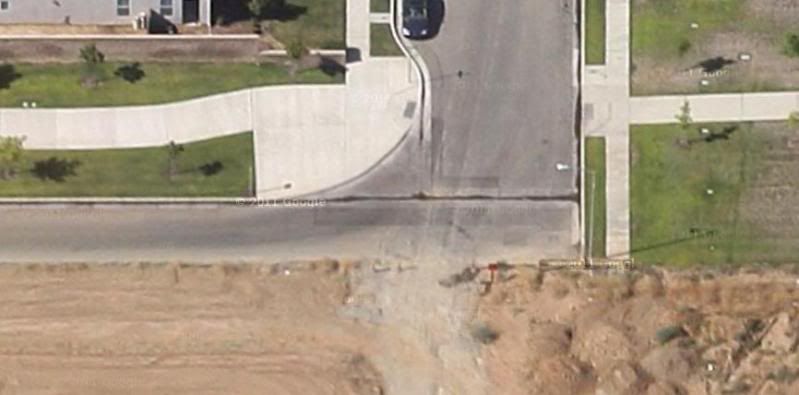 The developer of the north parcel was responsible for the trail and exactly half the road. So thats what they built, half the road. Look at the curb cuts, they built one aligned with the trail, but none to cross in a southbound direction. The crossing itself is asphalt, and not "textured" as the planning department requires.
So now the developer if the southern parcel needs to come in, tear things up, and do what the northern developer was too cheap to do.
Second sidewalk ramp

Of course the developer of the southern parcel is only doing the absolute minimum. Anyone can see that placing the ramp on the diagonal point is dumb. It should be aligned with the crosswalk. But that would require thinking about how pedestrians and the disabled actually move, and not just meeting a checkmark.
Ramp not aligned, even though there was so much space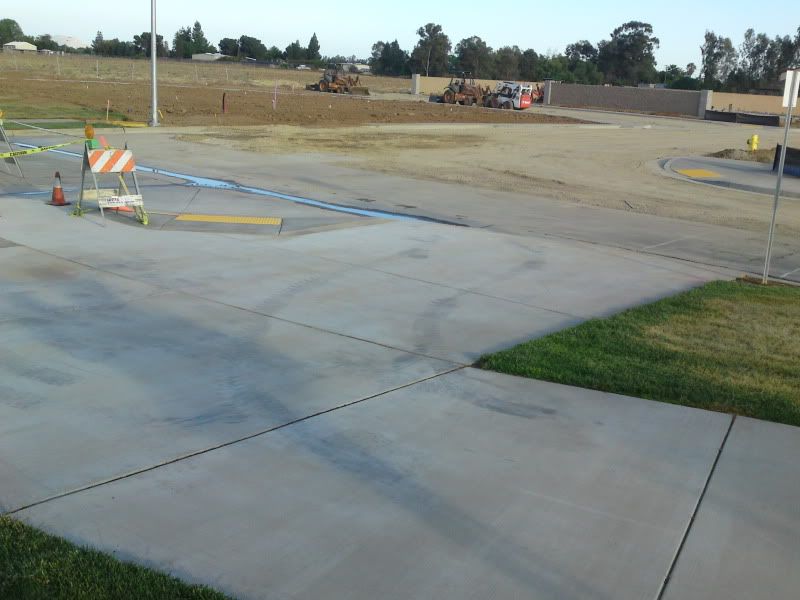 Texture being added, 3 years later

So as part of the project, the developer needs to continue the trail.
Except again, this developer only cares about meeting the requirements, and not how the trails will actually be used in the future.
Built just last week. Would you design a road for cars with a turn like this? So why do bikes have to deal with it?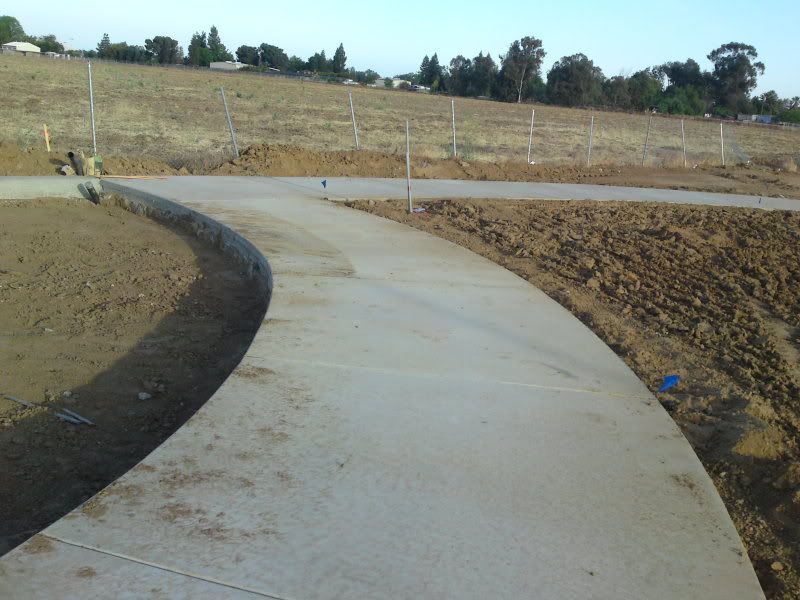 10 foot path….and 5 foot ramp? Are they joking?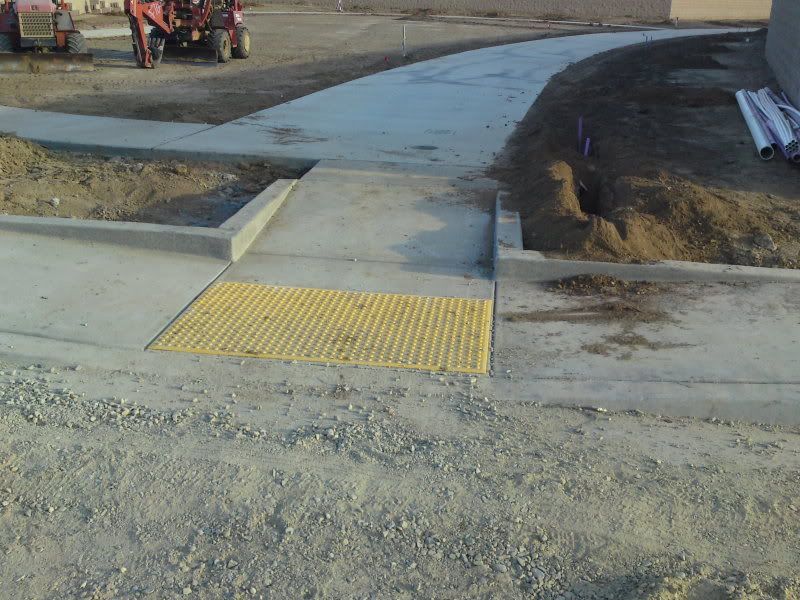 And look, they've even planned a nice bollard, making riding hazardous.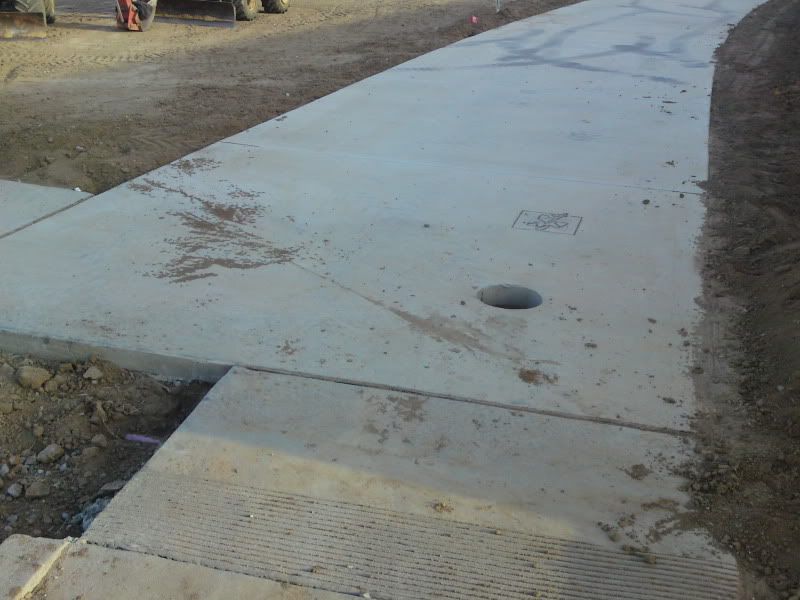 Look at what the last developer built. Makes more sense no?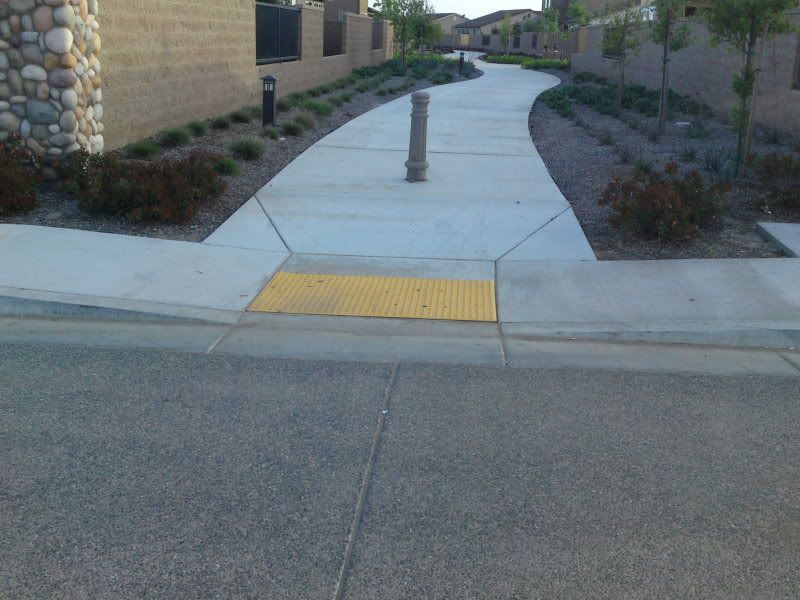 But this doesn't. Why would you place the ramp there? Are the builders complete idiots?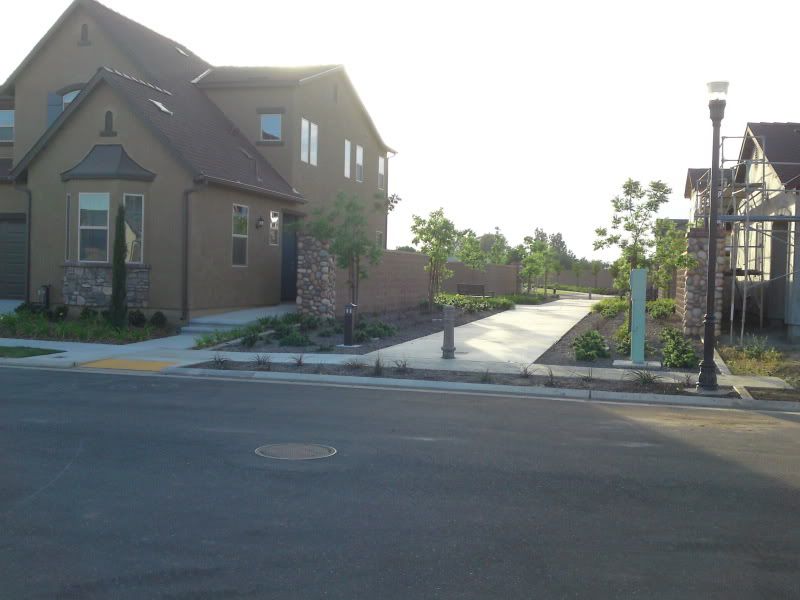 Better than this one anyway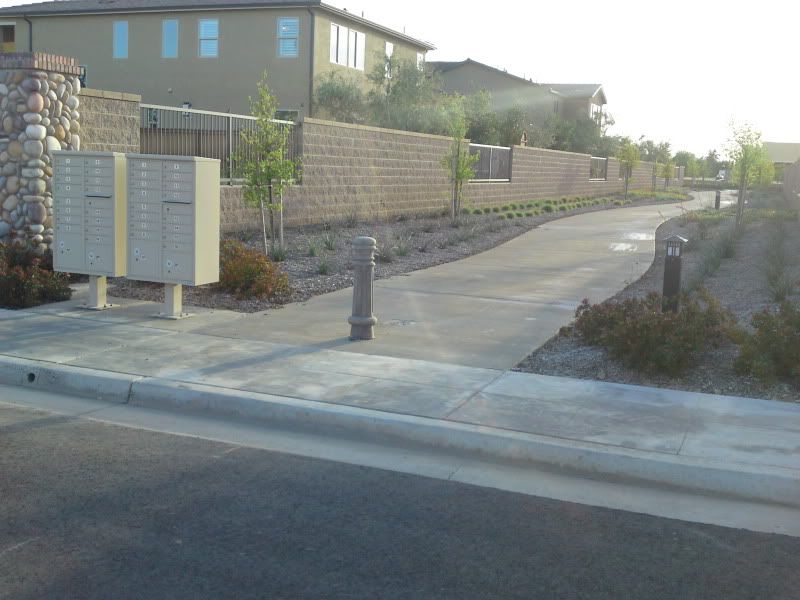 And this one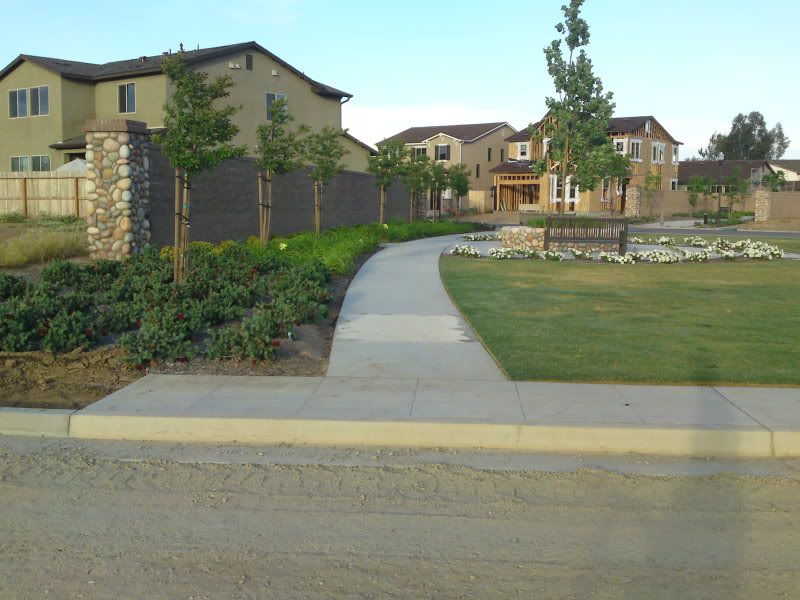 But here's where the post title comes into play. All intersections are required to have ADA ramps. Previously, when roads made a hard right turn (and thus had a new name, and were considered a new street), developers would build a ramp.
But not this one. Ramps are too expensive it seems. NO wheelchair crossings here.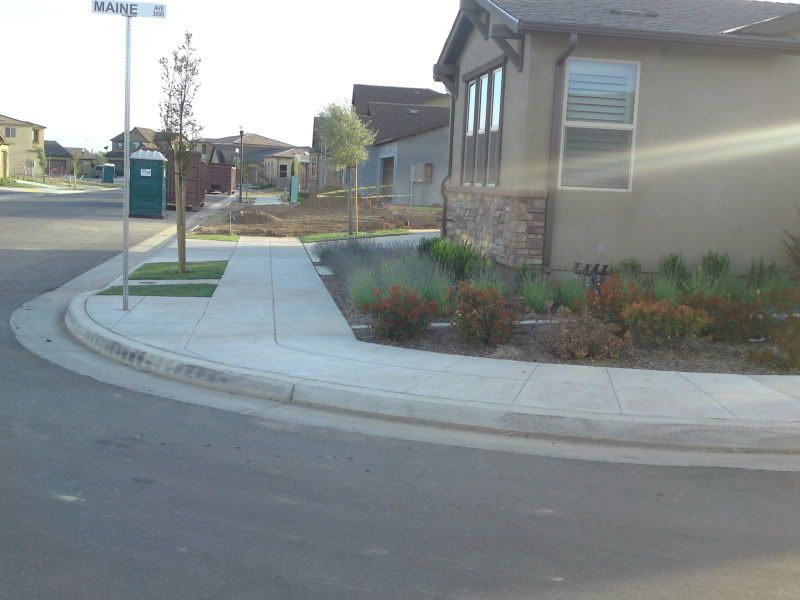 They cut costs on the homes too. If the developer is skimping on three inches of concrete….how much confidence do you have on the structure of your brand new home?

This home could have been wheelchair accessible, but not any more.
Just up the road, the paseo continues into a development built 3-4 years ago. That developer actually knew what they were doing.
This is how you build a ramp on a path.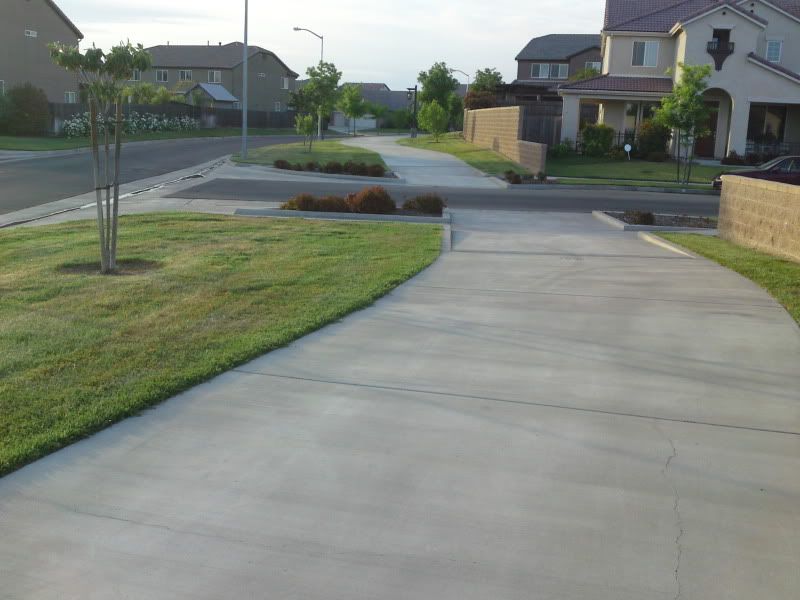 So smooth and wide

Not 100% flat, but you barely feel it.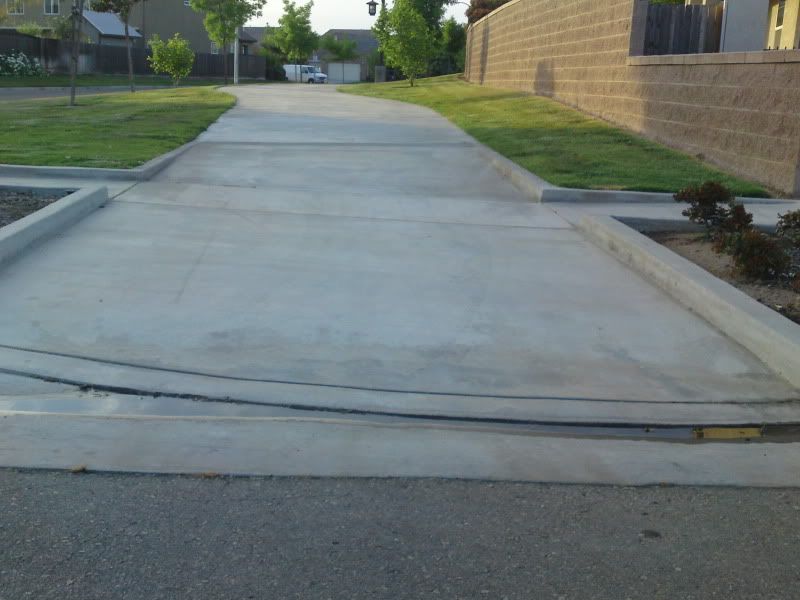 Do note that it's missing the rumble domes, required for a decade now.
Of course, that developer isn't perfect either. What happens when you build short driveways in a city where owning 5 pickup trucks is almost mandatory?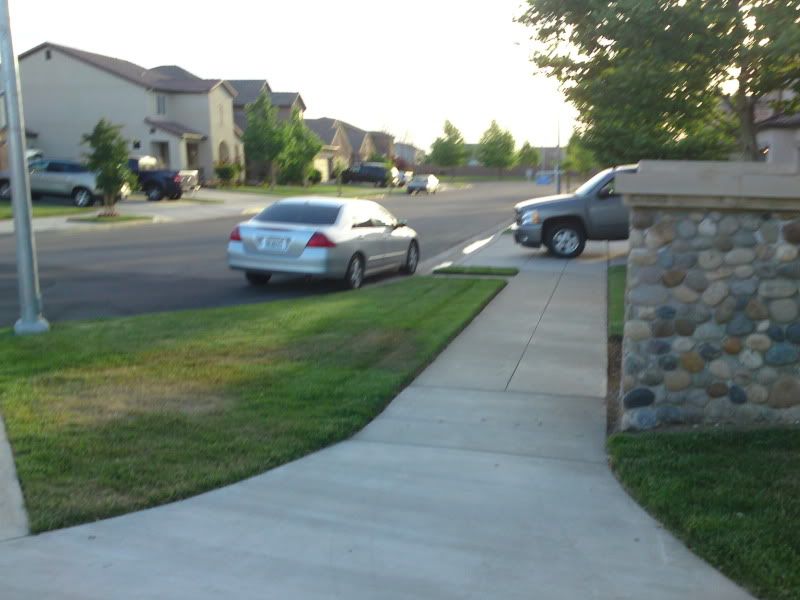 Maybe if the city hadn't fired half their staff, they could take a trip to the developments they keep approving, and put a halt to this sloppy building. Instead, we have infrastructure that will be around, hindering wheelchair users and annoying cyclists for 30 years.