Expansion of retail at River Park shopping center should focus on developing the open surface parking lot, and not using up the first floor of one of the only structured garages in Fresno (outside of downtown).
Last week, the Fresno Bee casually mentioned that the owners of River Park are looking to expand their shopping mecca by adding new retail space.
A plan also is under consideration to add space for more stores. Part of the parking garage's first floor may be converted to store space, she said. That idea is in its early stages and Kashian did not say how many spaces it would create or when it might happen.
Much can be said about the economic reasoning (lack of?) behind adding retail space in the Fresno market, which is flooded with empty locations searching for tenants. Some locations have been empty for years, including many that were built and never occupied.
I will not focus on that aspect because I believe if there is one place in Fresno where retail can expand, it is River Park. River Park has an extremely strong local brand strength and has weathered the last recessions extremely well. While many stores did close, they were quickly replaced with new tenants.
First, for my out-of-town readers, an introduction to River Park.
River Park is a shopping area located in the NE corner of Fresno, the most affluent part of the city.
While River Park itself is a registered brand name referring to a specific set of stores, many people use the name to refer to the entire strip of stores along Blackstone, between Nees and Herndon.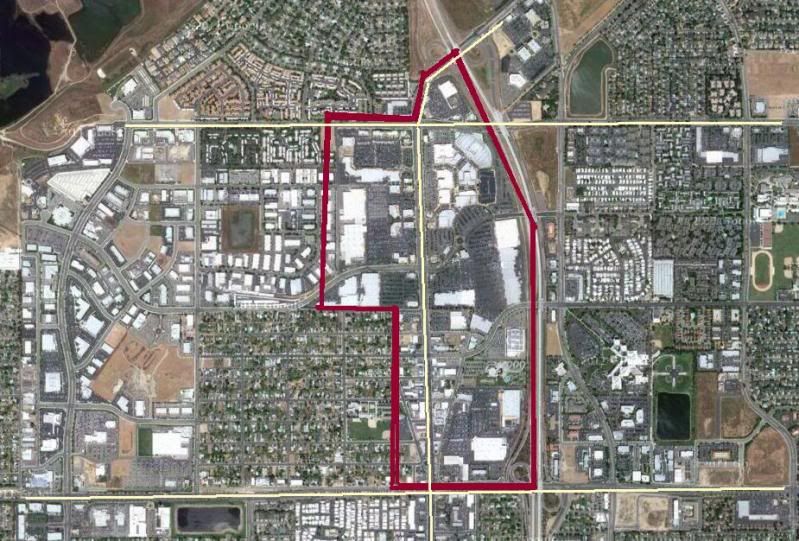 This area includes every chain store imaginable. Curious if Five Guys is better than In'n'out? Try them both. Not sure if Sam's Club has a better selection than Costco? Both there. Does the Borders going out of business sale have better prices than Barnes and Nobles? You can check, they're right across the street from each other. And finally, is Sports Authority better than the Sports Authority? That's no typo, the chain operates TWO identical stores, directly across the street from each other. Why? Why not, it's River Park. If you want real sports competition, there's always REI, also at River Park.
I think you've gotten the point. From big box stores like Best Buy and Target to mall standards such as Victoria's Secret, Macy's and Ann Taylor and food chains from Macaroni Grill to Chick-fill-a back to PF Chnags, River Park is the whos-who of mega-chains.
And no, don't ask how many Starbucks there are. Nobody's been able to count them all without losing track.
So where was I? Ah yes, so that's the entire shopping district, but as I mentioned before, the people who own the brand name operate a smaller subsection of the strip.
This area here is the REAL River Park, with each color having a slightly different name, for whatever corporate reason (they are known as RP Plaza, Shops at RP, RP Marketplace).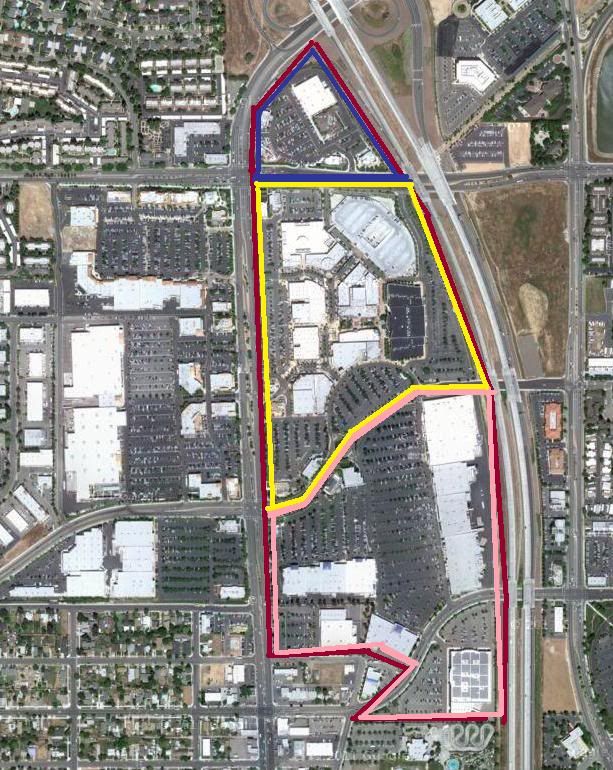 In the middle section, in yellow, is the parking structure, which is the focus of this post. It is a very basic two story structure, and while the roof is never full, the first floor (shade!) fills up.
We zoom in one last time to the "Shops at River Park" where the proposed retail expansion is tot ake place.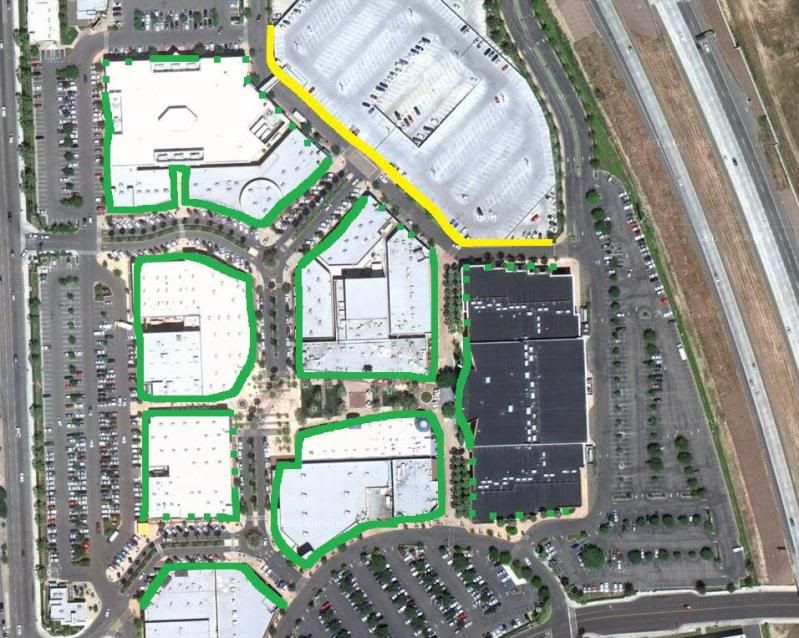 The main anchor on the right is a 21 screen multiplex (the Imax is hidden in the middle of shops to the left of it). The parking garage, a massive two floors (ground and roof) is up north.
Directly in front of the movie theater is a pleasant pedestrian area, with various restaurants, shade and places to sit. This area is somewhat recent, and has become the center of River Park.
Looking again at the above image, you'll notice I used a green line to indicate active storefronts. I've used a green dotted line to indicate dead areas, where stores are located but we get to enjoy their unfortunate behind. The movie theater, by nature, is 99% giant dead wall.
The yellow line is where I assume the proposed new stores would have their entrances located. This would serve to activate a new corridor, which is currently only used by drivers looking to park.
This is the first reason why I think building stores there is a mistake. As you notice from the map, there are no stores facing the garage, just their rear service entries. So any new retail in this small corridor will have the unfortunate reality of being a one-sided street. Naturally, all the stores were built to face the pedestrian plaza in front of the theater complex and the small street that offers very limited parallel parking.
Fortunately, there is a better choice for expansion that does not involve using the garage.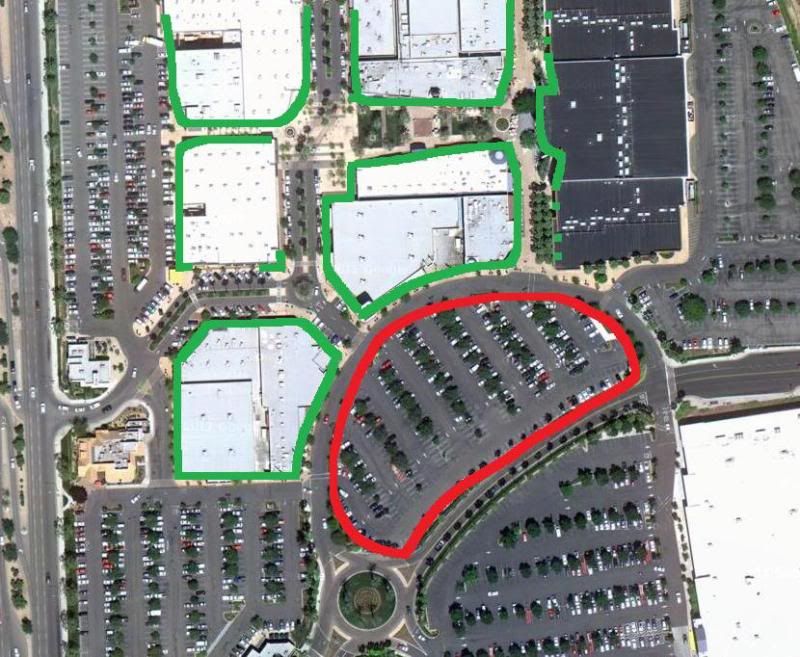 In red is an existing surface parking lot, south of the shops. This area is actually faced by various stores, so it will be easy to turn the area into a series of pleasant corridors, because unlike the garage street, there are not many service doors.
Here I've added retail (about the same amount as would be possible in the garage) but the open plan also makes it easy to segment the new area more accessible blocks. What this does is allow River Park to feel more like a small town, with various streets in a more grid-like pattern.
White = commercial area.
Yellowish color = pedestrian flow, including an extension of the pedestrian street
Grey = Convenient store-front parking (angled)
This way, all the corridors have the front of retail on both sides of the street, making it more attractive for shoppers. The service doors and such can face the road to the south, which currently is bordered by two parking lots anyway.
Another great advantage of building here is improving the connection between the mall-style stores and the big-box stores like Target (giant white store in far right of image), By creating actual streets, people will be more inclined to walk between one section of stores and the other, instead of making the awkward 2 minute drive.
Not only will bringing the two areas close together create more shopping opportunities (hey look, its x store!) but it serves to lessen the traffic in the parking lot, and also demand for parking lot spots.
Under the current system, a single shopper may need two spots, one at Target and one at Panera. Maybe even a third, at the bank. If the walk is made comfortable, people will park once and do all their shopping, like at Fashion Fair. The walk is really short, but the current design makes it seem endless, because walking across a boiling asphalt desert is remarkably unpleasant. Also, as parking lots lack sidewalks, walking is less comfortable because you must always be looking out for reversing vehicles and such.
By building on a surface lot, instead of converting the garage, we also get many more benefits, besides lessening the traffic.
Garages are more comfortable places to park, due to the shade. When temperatures hit 110, parking a car in the sun is an incredibly uncomfortable experience. Further, surface lots are not only ugly, but wasteful and detrimental to the environment. The asphalt absorbs all the heat, making a hot day even hotter. It also prevents rain from entering the ground. Concentrating all the parking in a single garage is both better for the shopper and for the environment.
So my proposal is to do the expansion in steps:
1) Expand the garage. Add another floor or two, which should cover River Park's parking needs for the rest of eternity.
2) Once garage is finished, then build new retail in existing surface lots. The lost parking spaces have now been rebuilt in a covered garage. Angled parking on the new streets gives the impression that parking isn't miles away (it's not)
3) If the garage is build large enough, it is easy to convert the other surface lots in the future to retail, as demand warrants. Perhaps in the very distant future, we might even see shops facing Blackstone, instead of parking.
I think my proposal is better for both the shoppers and the stores. We get a more comfortable shopping experience, and the stores get more foot traffic.
So please, River Park planners, keep the garage, but ditch the surface lots. Turn your flat strip of stores into a "3D" shopping space. It's good for us, and it will be good for your business.