Here's something the gentlemen over at Fresno Urban will be interested in.
Fresno has budgeted major changes on Broadway in downtown Fresno for the 2012 year, and on Thursday September 13, the city will hold a presentation for local residents and businesses affected by the project.
The project is:
Pedestrian bulbouts, road striping, diagonal parking, and landscaping are planned for Broadway north of Tuolumne.
The meeting will be held at the "Construction Mgmt. Division office, 1721 Van Ness Ave" on Thursday, September 13 at 5 p.m. Further details can be found by calling Public Works at 621-8650.
While no northern boundary is listed, I assume it will be Divisadero. Here is a map showing what I believe is the project area in red. In green are nearby streets with bike lanes.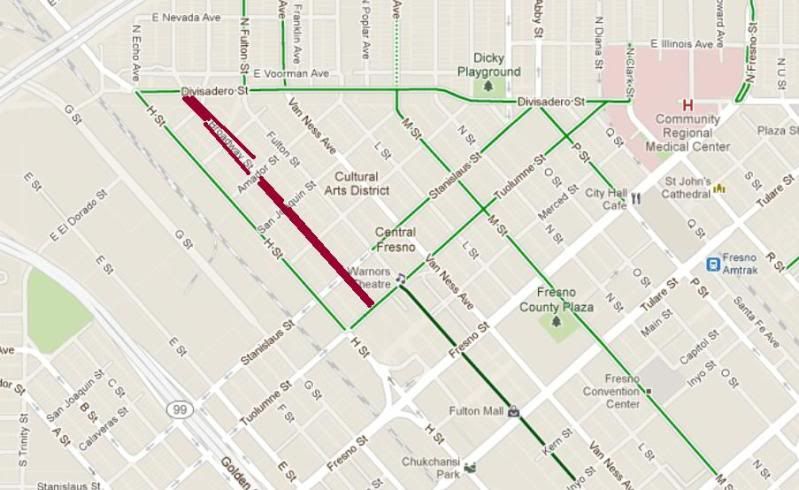 Many streets in downtown Fresno have seen "road diets" over the past year. When repaving roads, the city has taken the opportunity to re-stripe them to better serve the community. The fact is, downtown sees very little traffic, so the space, which was designed for high (car) traffic is not used properly. In the map above, the streets with bike-lanes (green lines) have all undergone road diets. There were no bike lanes downtown outside of H street prior to 2009.
A road diet accomplishes various tasks. They add center turning lanes, which make the road safer (no cars suddenly stopping in the left, fast lane). They add bike lanes which allow more users to enjoy the road. And they calm traffic while not increasing congestion. They also make crossing the road on foot safer and easier.
An example is Divisadero.
Broadway is a little different. Instead of a 2×2 configuration (plus parking), Broadway already has a turning lane and is 2×1, with two lanes southbound, one northbound, the turning lane, and two parking lanes.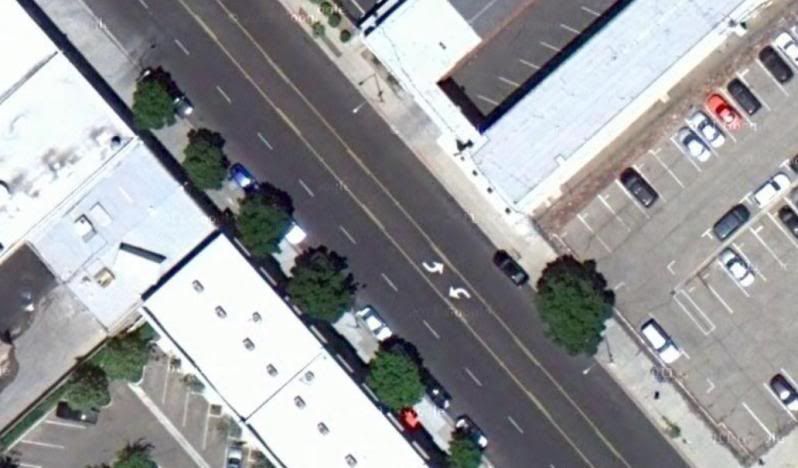 It appears that the road is wide enough so that the city can eliminate one of the southbound lanes, add diagonal parking (probably on the west side) and still fit in bike lanes. Downtown does not lack parking, either street or garage (just look at how empty Divisadero street is above). However, there is a perception among suburban residents that parking downtown is a hassle and worth avoiding. Adding angled parking should help soothe these fears by making it obvious that parking exists. Adding bike lanes also highlights the fact that a parallel parking lane is available. Again, looking at the image of Divisadero, it is clear that parking is legal (and free).
I'd wager that the new configuration will be:
Diagonal Parking | Bike | South Car | Turning | North Car | Bike | Parallel Parking
While the description does not mention bike lanes, they are in the short term master plan.
Unlike the other re-striping, this project promises pedestrian bulb-outs, which require actual concrete work. This also makes the change more permanent. Bulb-outs help pedestrians cross the street by making the road narrower. This makes the pedestrian more visible, and it allows slower folks to make it across easily.
Broadway already has one bulb-out with diagonal parking. I'd guess we'd see more of these: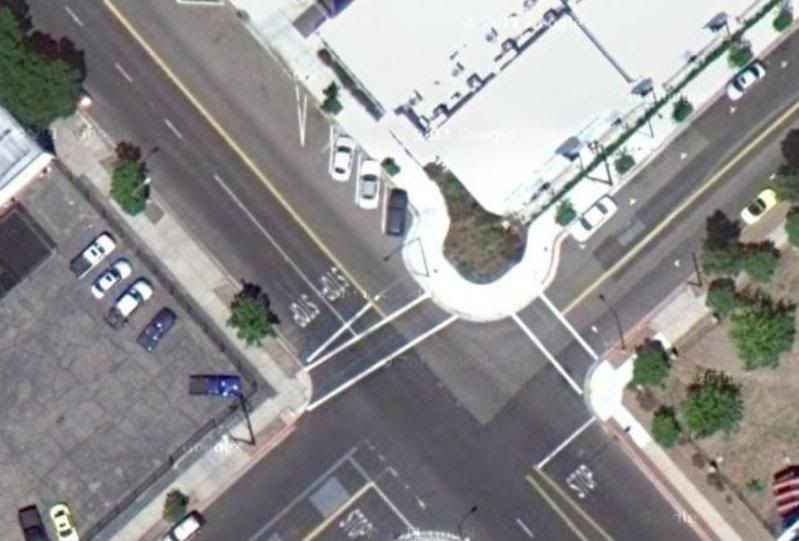 I hope that in addition to these changes, the city paints crosswalks at all intersections (such as Broadway and Amador) and also looks into making the angled parking the "back-in" kind, which is safer for cyclists.
Broadway and Amador needs crosswalks. Visible is an existing bulb-out on Amador (under the tree!)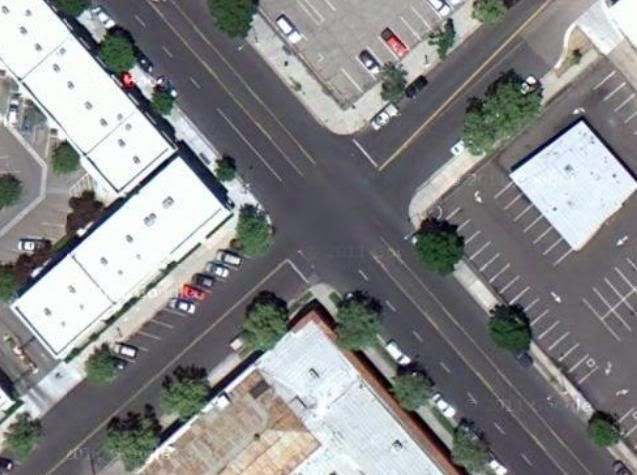 Back-in parking is visible here in DC. Drivers pass the parking spot, confirm it's empty, and back into it. When it's time to leave, the driver has full visibility of the road.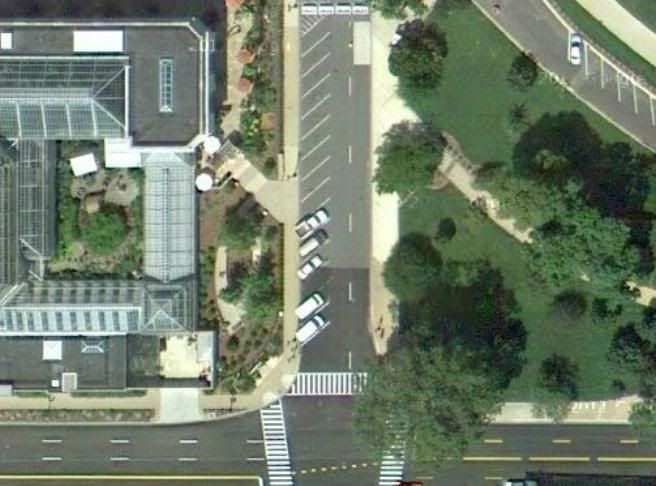 Pull-in parking requires backing up into the bike/traffic lane with poor visibility when leaving. If a small car is next to a large van, the driver has no idea what they're backing up into when trying to leave.
I will not be able to attend the meeting, but I have emailed the public works division with my two concerns, as well as a request for more details (diagrams) of the project.