Last week I mentioned that the city will be holding a meeting on Thursday to discuss major changes on Broadway, downtown.
Edit: Just been told the newsletter had the wrong day. The meeting was held yesterday.
As I will not be able to attend, I emailed the city, and they were kind enough to send along a diagram of the proposed changes.
I was correct that the project will end at Divisadero, so the project length is indeed the following.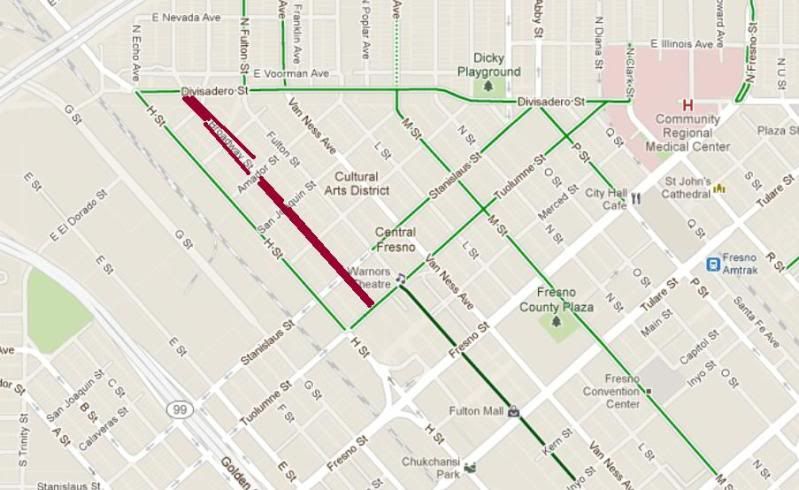 I was wrong about what I guessed the layout would be. I had guessed it would be angled parking on one side, and parallel parking on the other. Instead, the city is proposing to make parking angled on both sides.
One concern this brings up is that the proposed bike lanes on Broadway no longer fit with angled parking on each side.
The travel lane will be 13.5 feet each way, which is not enough to fit both a car and a bike at the same time.
I was correct in assuming they would propose angled parking in which you drive into. I have emailed the city to let them know they should consider back-in parking, which is safer.
I also hope the city reconsiders having angled parking on both sides and returns to the bike plan.
The diagram shows a width of 60 feet +/- a foot or so.
Currently, the street is designed like this (guesstimate):
10.5 + 10.5 + 10.5 = 31.5 in three travel lanes (two south, one north)
10.5 = center turning lane
9 + 9 = 18 for parking lanes
For a total of 60.
(parking is not separated with a line, so in reality it's a 19.5-20 foot travel lane that allows parking)
The proposal wants to change that to be:
13.5 + 13.5 = 27 Travel lanes
17 + 17 = 34 Parking lanes
For a total of 61.
This design wastes space. A travel lane needs only to be 10 feet wide, but the angled parking requires that extra buffer….which isnt enough for a bike lane. So each direction will have 3.5 feet in wasted space. It will also make riding a bike more dangerous, because both cyclists and motorists may perceive the lane as wide enough to share, when it will not be.
I would change it to the following:
10.5 + 10.5 = 21 for travel lanes
17 = Angled parking southbound + 8.5 = Parallel parking northbound = 25.5 for parking
That uses up 46.5 feet.
That leaves 13.5 feet available.
That's easy to divide.
Add a 6 foot bike lane on the southbound side, plus a 1.5 foot buffer for the angled parking for 7.5 feet of bike/buffer lane.
That leaves 6 feet for a bike lane next to the parallel parking on the northbound side, for a total use of 60 feet.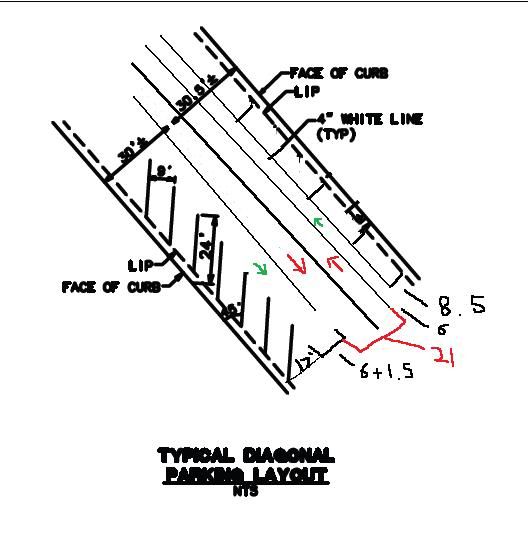 Ok, my paint job isn't to scale, but the numbers add up to 60 right? That's all that matters.
Also not shown is my preferred back-in parking, just switch the direction of the parking lines. That doesnt add or reduce the required space.
Some of my other concerns were addressed with the plan they sent me. I want crosswalks on every street, and the redesign moves towards that, but isn't perfect. Amador goes from zero to 4 marked crosswalks for example. Sacramento also gets four, up from two. In fact four crosswalks are added to every intersection except San Joaquin. I hope they reconsider and also give it the full treatment. On the north end, I'd like to see a crosswalk to N Yosemite, which is part of a natural walking pattern (see picture below).
Here are the images they sent. Its' interesting that they used a satellite image that's almost a decade old. Lots has changed in the area since then.
Note: North is to the LEFT.
Here is the north end of the project. That odd curving street no longer exists. The new curb extensions are visible.
A crosswalk should be added so a pedestrian can take the natural yellow route comfortably, and not the longer red route.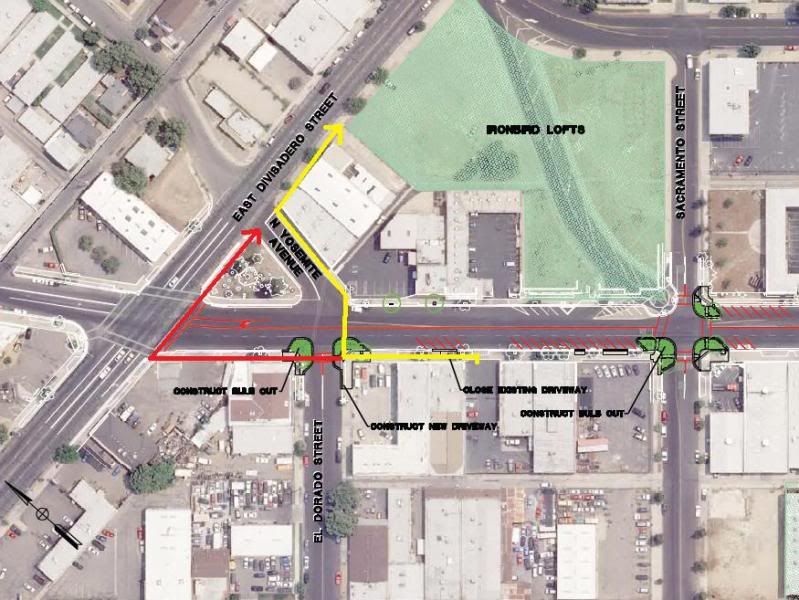 Further down we get where the lofts are. The residents will enjoy the new curb extensions and the added guest parking.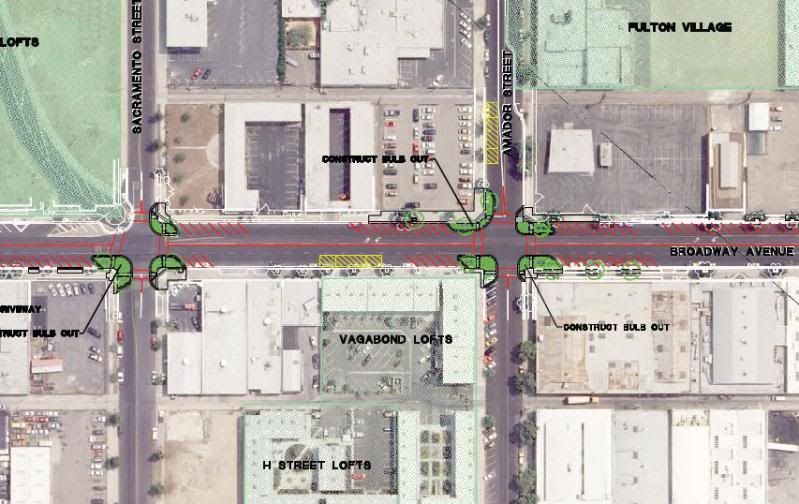 As we move along, we pass the Rainbow Ballroom (far right in above image). No angled parking in front because the concert tour trucks need the curb space.
However, we do have an opportunity here. Angled parking extends out 17 feet, while the largest of tour buses, parked parallel to the curb, needs only 12 feet. That leaves us with 5 extra feet. How about widening the sidewalk so that the concert crowds have more room to breathe? Currently, the line to get in takes up the entire sidewalk, and at the end of the event, people are pushed into the road.
Here I show the Rainbow Ballroom in a lovely rainbow color (it's actually not a gay club though). I've turned the parking to be the back-in kind (the northbound parking would be the parallel type under my proposal, not shown). I've expanded the sidewalk by 5 feet (cream color), and I've left space along the curb for loading/unloading of buses while preserving the full lane and proposed bike lane (green curb painting).
On this next image, I'm interested in the "future development" marked in green. What makes this parcel more likely for development than the rest?
San Joaquin street should have 4 crosswalks.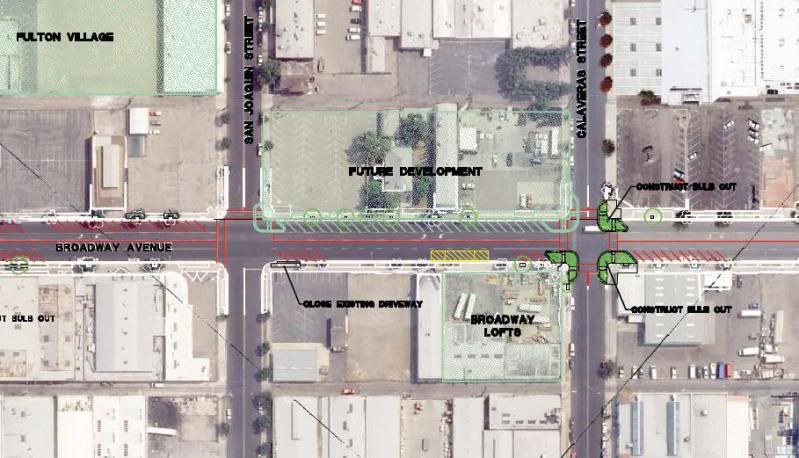 As we reach the end of the project we note that various useless curb cuts (driveways) will be removed, creating a smoother walking experience.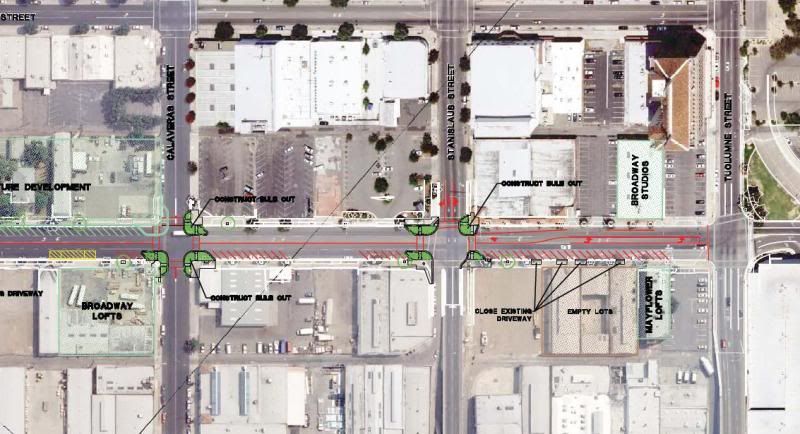 Overall, I think this is a good project, and should make Broadway better for drivers and pedestrians. That being said, it's not perfect, and I think the city can add bike lanes while still increasing the amount of street parking and lowering crossing distances for pedestrians.
That concludes the project tour. These are the questions I emailed the project team but have yet to hear a reply. If anyone reading this blog attends the meeting tomorrow, I would like to know if any of these thoughts were addressed.
A few of them I mentioned above. These are the questions I sent the city:
-Has the city looked into using angled parking in which drivers back into the spots? This is safer because when leaving, the driver is not blindly backing up into traffic (if there is a larger vehicle next to them) but is positioned where they can easily see the street. Back-in parking is becoming popular on the east coast do to the safety benefits it provides, although it does have a small learning curve.
-San Jose/Broadway should have crosswalks on all 4 legs.
-I'd like to see a crosswalk across Broadway at El Dorado/Yosemite street, for easier access to Divisadero from the west side of Broadway.
-I wonder if the angled parking will be metered or time restricted (or both)
And finally, is construction scheduled for this year or 2012?