This Thursday, the Fresno City Council will take up, and supposedly approve, the striping of one mile of bike lane on Fresno Street west of downtown. Bike lane striping is a routine issue for the council and I don't expect any objections or serious debate on the matter. The bid has already been put out, and came in under expected cost. Further, the city has added miles of lanes to downtown Fresno without any negative consequences. That's why I'm jumping the gun and putting this post up before official approval.
The City of Fresno seeks to construct commuter bicycle lanes along both sides of Fresno Street from California Avenue to 'C' Street. The scope of work includes grinding of existing striping, slurry seal, new Class ll bike lane striping and signage, and street striping to reduce Fresno Street from a 4 Lane Arterial with no bicycle facilities down to a 2 Lane Arterial with new Class ll Bicycle Lanes. The project is located in City of Fresno Council District No. 3.
According to the report, the low bid came in at $141,080. Amusingly, the high bid came in at $35,101,750. Yeah. There were no other bids.
The contract requires the work to be completed in less than 30 days after approval, so the lanes will be in by mid-October at the latest.
Here is a map of a project. I assume it ends at C street because that is where the highway overpass begins, which is most probably under jurisdiction of Caltrans, and not the city.
Here is how it will fit into the existing bike lane network. Before 2010, downtown only had one bike lane on H street.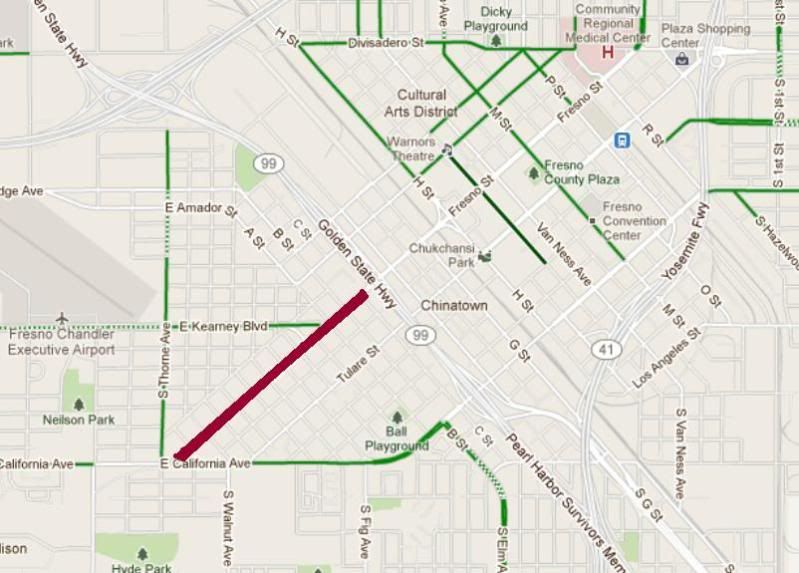 I look forward to the continuous expansion of bike lanes in all parts of Fresno.
Later tonight, I will have an update on the Broadway redesign.