A few days ago I posted about how Amtrak California has been breaking ridership records. That post has gotten a awful lot of views, and it's been linked to when other people want to point to a source of how many people are riding trains.
That got me thinking about why the real media hasn't reported on the gains made in these individual lines. If a real newspaper had written a similar article to what I did, most people would have preferred to link to that. Take for example the widely read California High Speed Rail blog which linked to my page to make a point about increasing ridership. Sure, my charts are amazing, but while my numbers are real (sourced straight from the Amtrak financial documents of course) I wouldn't blame Robert or anyone else from preferring to cite a major newspaper rather than a lowly blog. That makes it obvious that no other form of media had reported the news.
A quick check to the Amtrak websites confirmed what I suspected, that Amtrak doesn't usually bother to send out press releases highlighting performance of individual lines.
You may have seen your local paper report that nationally, Amtrak hit new highs. The Fresno Bee ran a small blurb that basically said this:
Amtrak announced last week that it had 30.2 million passengers in 2011 — more riders than in any of its previous 40 years of operation.
That's certainly important to get out there, but it doesn't really connect with the reader. A fiscal year isn't a very relateable period of time, and national stats are obviously not indicative of local performance.
But knowing how many people are riding the train that hits your city every month? That's more of an article.
In this case, Amtrak actually did send out a press release (PDF) related to the San Joaquin in late September….three weeks before the July financial report was released to the public.
Operating between Oakland, Sacramento, and Bakersfield with bus service to Los Angeles and other points, the San Joaquin carried more than a million passengers in the state's fiscal year that ended in June 2011, a 6.7 percent increase over the previous year. It also had the highest ridership of any month in its 37-year history — 103,933 riders in July 2011.
That's a start, but for whatever reason, local media didn't bite. I think once again the problem was highlighting annual ridership figures, which are too abstract. Another problem was that any reporter wanting to look at month-on-month changes would have to dive into financial reports, the press release didn't provide more background data that may be of use.
The graphic isn't bad however, but again, limited to annual numbers.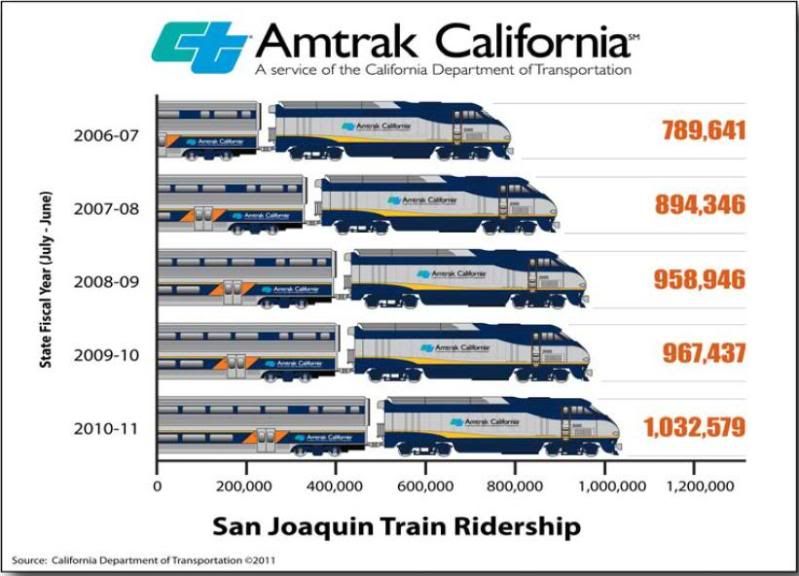 What Amtrak should do is be more aggressive about promoting the ridership gains. Almost every single line in the country has experienced gains in ridership this year, and Amtrak should release highly targeted information to the media in locations where the trains run. Only the San Joaquin got a press release, even though the Pacific Surfliner also hit new highs, as have other lines around the country. It doesn't make sense that in the past month, the only two releases related to ridership were the national number and the San Joaquin number.
In fact, Amtrak should aim to get as local as possible. Don't just highlight how many people are riding the San Joaquin every year, send the Fresno Bee a release on how many people, per day, are alighting at the Fresno Station. Do this for Hanford, for Bakersfield, for Modesto…all the way down the line. Obviously, Amtrak would be selective with which numbers they highlight, but when it comes to something Like July 2011, when pretty much everything is up, there's certainly a lot to choose from.
It would certainly be better press than the "Amtrak hits truck" news that we gete every month or so.