Amtrak has finally released their June performance report (2 months late, apparently due to one of those classic SAP switchover screwups) and California ridership numbers continue to impress.
Most notably, the San Joaquin broke the 100,000 barrier for the first time ever, after missing it by 609 passengers in April of this year.
The San Joaquin noted 100,947 riders, a big improvement from 88,638 in June of last year, and up 3,000 from last month.
The Capitol Corridor had 145,495, an increase from 140,941 in June of last year but a small decrease from May.
The Pacific Surfliner recorded 239,984, a massive 30,000 passenger increase from June of 2010, but also less than this May.
All lines have cyclical ridership patterns, so comparing year on year numbers is more informative than the month on month. That being said, the July numbers should be great, as Amtrak California always hits their best numbers during the summer travel season.
And because graphs are always more fun than words, here are the numbers in picture format.
The three state train services, September of last year to this June.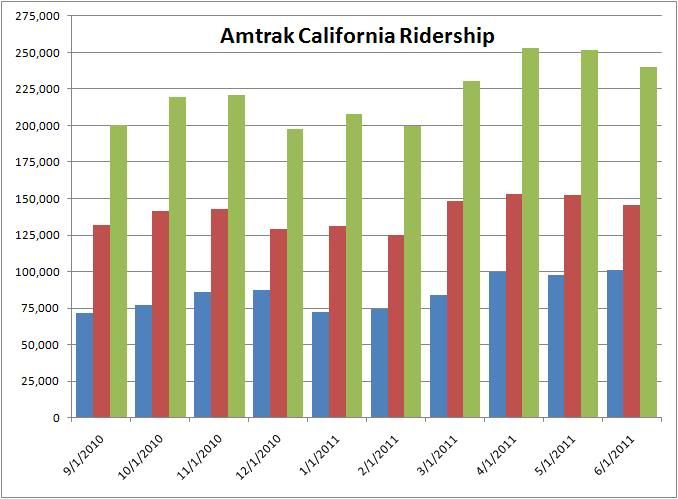 Each line individually, hopefully accurately sized in comparison.
San Joaquin hits 100,000.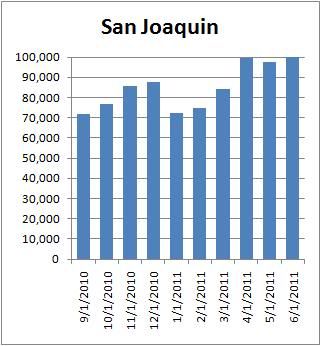 Capitol Corridor still near 150,000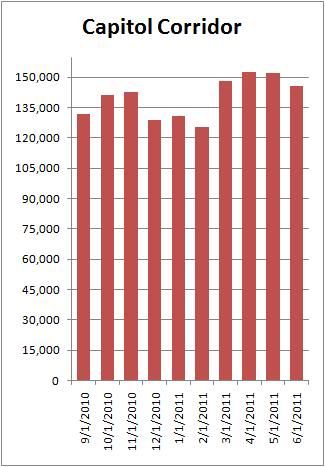 Pacific Surfliner is streets ahead, at 240,000.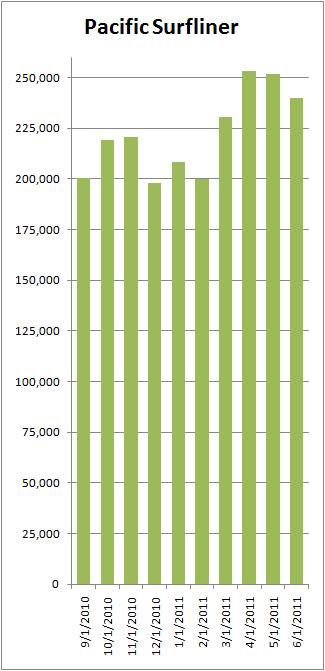 And how do the Amtrak California lines stack up nationally? Quite well actually.
Keystone, the San Joaquin is coming to get you. Even though the Keystone hits 110mph and the SJ doesn't top 79mph.