The PBID Partners of Downtown Fresno recently hired a new president, Kate Borders from Milwaukee. One of their first orders of business with the new head was voting to destroy the mall, and turn it into just another street. A week later, the mayor's office released her preference on what to do with the mall, and her preference was to return it to cars while leaving some token reminders of what once was.
Fortunately, things move slow in politics, and when funds are tight, even slower. As such, even if the mayor gets her way, the Fulton Mall will be around at least until 2014.
For many in Fresno, the reasons to go downtown are few. 40,000 people work in the downtown core, but have little incentive to stay after work. The PBID doesn't have the money or power to transform downtown in one swoop, but can continue bringing people downtown with the same kind of events that have been working for the last few years. That is, even though they voted in favor of destroying the mall, they, nor the city, actually has the money to go through with it.
So let's focus on using what we have. We all know that is a chicken and egg problem with downtown being a proper destination. Few retailers want to set up downtown because they lack (affluent) customers. Few affluent customers want to go downtown because the stores and restaurants they want aren't there.
It is very hard to find a trigger that will allow a pioneering store or restaurant to thrive long enough for others to join them. Indeed, various restaurants have set up shop and failed, and few retailers wish to go first.
I don't live downtown, and I don't work downtown anymore. As such, in the past year, I've gone downtown for the following reasons:
-Cinco de Mayo events
-Mexican independence day events (fiestas patrias)
-Grizzlies game
-Fresno Fuego game
-Amtrak station
-Concerts
I doubt I'm alone. Most people have no problem going downtown for entertainment events, the problem is there aren't enough of them.
Indeed, the PBID are the people who help plan and host many of these events on the Fulton Mall. Their website lists 10 events, held throughout the year, and some like the Cinco de Mayo festival are wildly successful.
I think that Kate Borders should expand on these events to continue to draw people downtown.
Let's start with the upcoming holiday season. The holidays are when most retailers make their money, so it's the most important time to bring people downtown.
What will bring people downtown? Well, we can start by looking at what people actually do for fun in December. In Fresno, that means driving around neighborhoods and looking at Christmas decorations.
Fresno and Clovis have three major Christmas light attractions. Christmas Tree Lane in Fig Garden, Huntington Boulevard near downtown, and Wawona Estates in northwest Fresno.
You can read about them in this Bee article.
One thing these three attractions have in common is that they rely on driving. Because of a lack of sidewalks, and because the neighborhoods are strictly residential, thousands of cars descend on these local streets. The amount of cars then limits walking activities because people don't feel safe walking in the same road.
As a result, the entire month of December sees giant traffic jams from 6pm to 10pm every evening. It's not optimal for anyone. The residents have trouble getting to their garages, and those who come to enjoy the lights get a sub-par experience. Seeing the lights from behind glass isn't as great, and the passengers on the left side of the vehicle get obstructed views.
Further, one cannot set their own pace. Once you're in "line" you're stuck. These meandering cul-de-sacs have limited exits, so drivers cannot come and go as they please. Speeds are restricted by the slowest vehicle, and occasionally you get the unfortunate experience of getting stuck in front of some idiot in a giant pickup truck who won't turn off his headlights.
To address these concerns, Christmas Tree lane offers two walking nights, where cars are banned, and is proposing a bike night this year.
But we can do better. Indeed, Fulton Mall can do better. And quite frankly, it doesn't take much originality to come up with a successful way to draw thousands.
Combine the two traditional events that draw hundreds of thousands of people around the country:
1) Christmas Tree lighting
2) Decorations
Imagine Fulton Mall lit up to rival to setups in these existing roads. But instead of observing the lights from your car, you can walk the length of the mall at your own pace.
No, Im not talking about something boring like this (which should be set up in surrounding streets)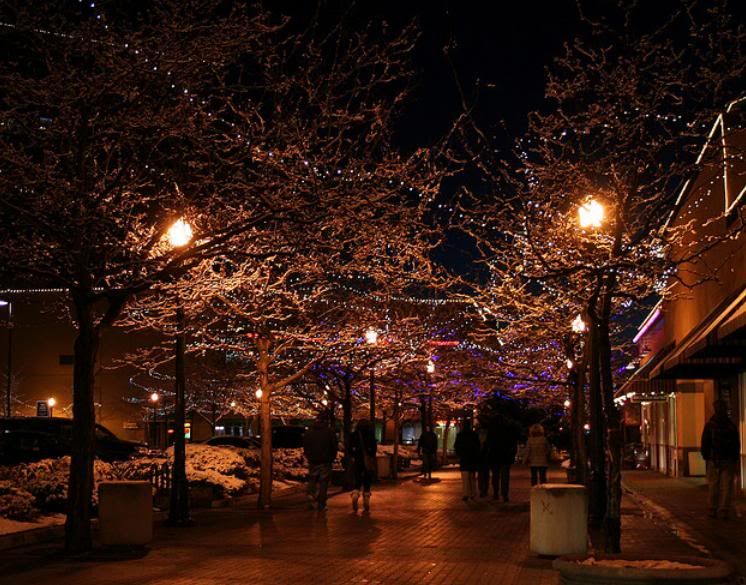 Boise
But a full on display, like what private homes do when they go crazy
A home in Boston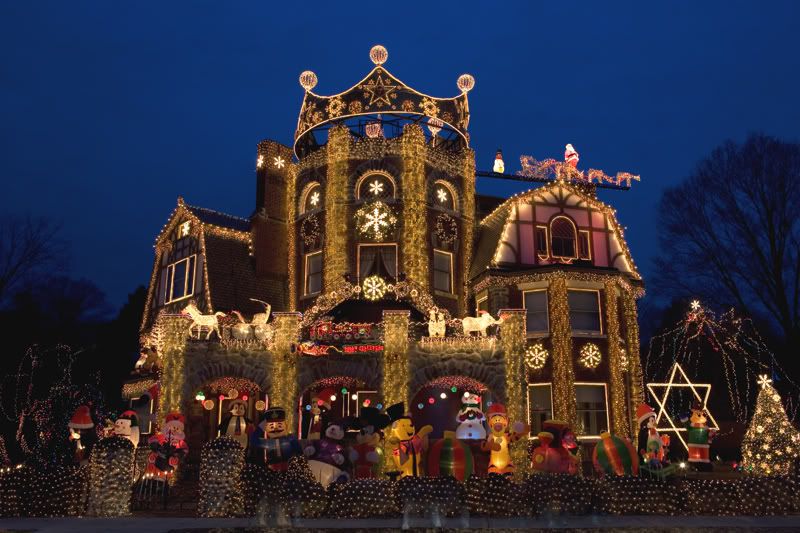 Source
You set up something like that, and people will come to gawk at it.
Having this settup on the mall also makes things easy for families.
Have kids with tiny bladders? On Christmas Tree lane…you're screwed. Traffic flows one way and there's no escape. At Fulton Mall, you could stop for the bathroom whenever you want.
And how about food and drink? The mall works best when full of vendors, and nothing says "Christmas" like warm comfort food on a cold foggy day.
Hot Chocolate. Roasted Nuts. Caramel Popcorn. Heated Wine. Pretzels. And yes, tacos.
Imagine Fulton Mall lined with vendors selling all the holiday favorite foods. That's something none of these residential roads can set up.
How about a group of carolers entertaining visitors while they eat and drink?
Of course, the anchor would be a giant Christmas tree. Los Angeles as an outdoor pedestrian mall called The Grove which is immensely popular. Their tree lighting ceremony is even broadcast on TV nationwide.
The Grove outdoor mall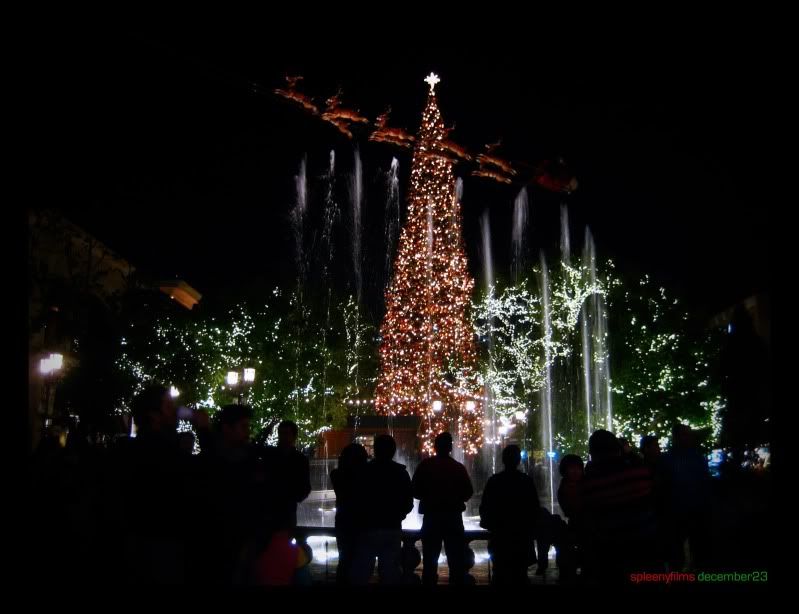 Source
One of the sad parts about the mall could be used as a benefit. The mall has many vacant storefronts. This is a perfect opportunity to allow artists to set up holiday presentations that must be isolated from the rain. Imagine a giant recreation of Bethlehem in what was an old bank. People can view the display from the windows, or even step inside.
Other retail spots could be leased to craft vendors and such. Homemade Christmas decorations, flower arrangements, wood carvings, affordable but thoughtful gifts. Again, impossible in the residential streets and unlikely at a corporate regional mall like Fashion Fair.
So what would help set the mall apart in terms of decoration? The block structure could be used to create multiple independent exhibitions. That is, multiple themes.
The area by the security bank could be decorated in the classic style. Think white lights, holly, candles and so on. Hand carved decorations and art.
Another block could be more modern. Think of the flashing light displays set to music, with animated animals and such.
Yet another block could be devoted to different faiths or different styles of decoration.
The best part is, there's room for even more.
This fall, Casino One hosted a beach party downtown.
Sand was brought in, a giant slide was set up, as were portable pools.
You can do the same for Christmas. Giant slide is now a sledding slide. Instead of pools, you can have the kind of temporary ice skating rinks set up at malls around the country. Instead of sand, a snow machine or two could create actual flurries on the mall.
Again, something unique to differentiate Holiday on the Mall from the existing events. There's no way residential street can get together and set up something like that.
So how about it PBID? You could draw thousands of people to the mall over two or three weekends. And because the exhibition would be based on lights, the mall would be full when it usually is dead, after dark. I'm sure the existing retailers would love it.