Nobody can predict what's next for the economy. We can make educated guesses, but if anyone was able to predict with certainty what was going to happen next, they'd be a very wealthy person.
The last few months, we've heard the word "double-dip" a lot. With poor employment numbers (flat or insignificant gains), troubles in Europe, and a weak commercial market, many argue that this economy is about to head back down into recessionland. Others look at indicators that manage to remain just above positive, like auto sales, and predict that the worst is over, and 2012 will be a much better year for the economy.
I think that even those that see the current weak recovery strengthening would be hesitant to predict a resurgence in the housing market. Indeed, the recession hit the market too hard. From 2004-2008, developers built as many homes as they could, propped up by artificial demand. When the bubble burst, and housing prices fell, those homes no longer had buyers. The mortgage crisis meant that besides those thousands of new homes that were never occupied, thousands more entered the market at distressed values. Values haven't recovered, in fact, 2011 has seen housing prices continue to fall.
Last month, Fresno home prices, which include distressed or foreclosed properties, declined 11.3% compared to a year ago at the same time, according to CoreLogic, a real estate tracking company based in Santa Ana.

Home prices fell by 11.4% in the Madera and Chowchilla area last month compared to August 2010.
11% decline in prices is certainly not insignificant.
So are people buying these cheaper homes?
Not really. In Fresno county (yes, the entire county) a grand total of 100 new homes were sold in September. That's down from both 135 in August and 117 in September of 2010.
The median price of a new home has gone from $236,250 in September 2010 to $221,500 this September.
So what does one do when the economic outlook is shaky, current sales are low, prices are falling, and any new inventory will only manage to continue to push prices down?
Well, if one is a home developer….build more homes!
A single new development, seen in April of this year. Infrastructure is almost done, and around 200 new homes are ready to pop up.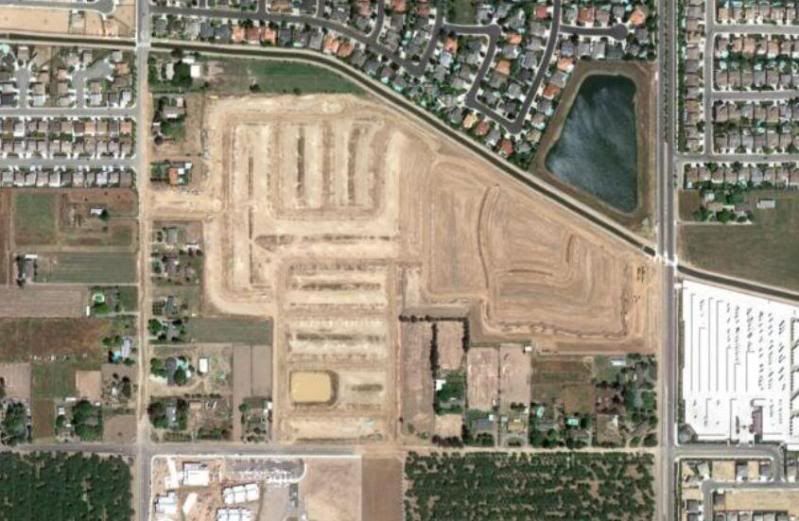 I've been keeping an eye out in one section of Clovis, and since July, various companies have pushed their home building into the high gear. And it's absolutely baffling.
Either these developers know something that rest of us don't about 2012, or they've been put in a position in which if they don't build, they go out of business. That is, a regional office can't survive if there's nothing to build and nothing to sell. I wonder if the current strategy is to go big or go home. I wonder if they're spending money because they can, and if their gamble doesn't work out, what it means for them.
Here is a map of home building that has erupted in Clovis since July.
Red are parcels where construction is moving at full speed. Roads are being graded, wood is being put up, and cheap vinyl siding is being installed.
Yellow are parcels that are flat and ready to go at a moments notice.
The map shows an area about 2.5 miles wide and a little more than 3 miles high. Parcel sizes vary, but that's certainly more than 1,000 homes currently being built.
And when sales total 100 a month….what are they thinking?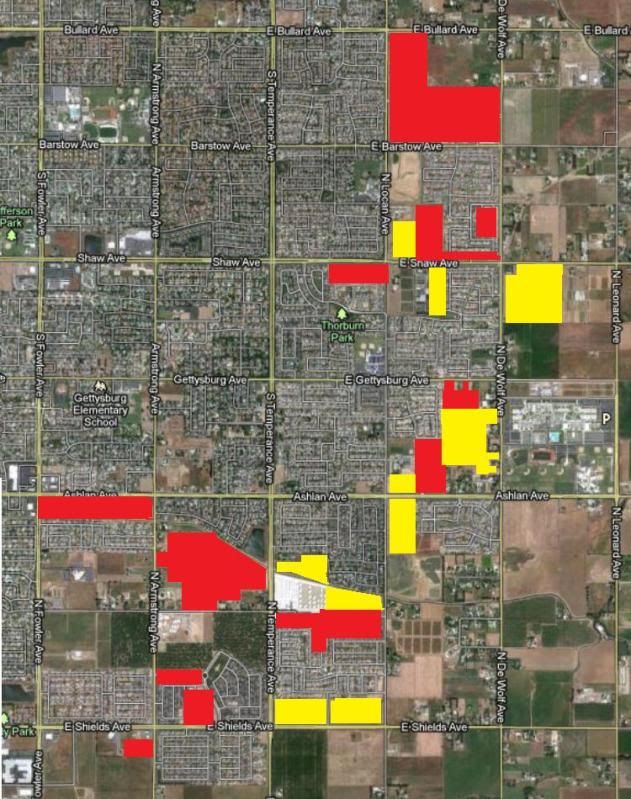 The good news is that the majority of these parcels aren't fresh agricultural takings. That is, many of these pieces of land were purchases in 2000-2006 and vacated in that time. They'd all been sitting fallow and not being productive. Only one parcel that started construction this year resulted in the destruction of an orchard.
The bad news is that when all these homes hit the market, and the buyers don't come running, we're going to see prices continue to fall. Existing homeowners will continue to get screwed over, the city will have to pay for roads and lights but not get taxes in return, and these developers will make their next move to save their own asses.
Troubling, no?