According to the World Health Organization, Fresno has the 2nd worst air quality in the country. Bakersfield, our valley neighbor, is first. This is not a surprise to anyone who lives in the valley or reads the local newspapers.
But what is a surprise is how little people seem to care, especially at the local government level. The feds have established a $29 million annual penalty that the valley must pay (guaranteed for 2012 and 2013, will extend as needed) because the air quality doesn't meet standards. The money will stay in the valley to help subsidize purchases of clean school buses, clean lawn mowers etc etc.
The problem with this system is that $29 million a year won't exactly solve the problem. So if ONLY the fine system is used, we're going to be paying the fine for a very long time (and it will go up in the future).
So what about one of those fabled public-private partnerships? A way in which we can help clean up the air, while actually encouraging business sales?
For example, why not take further action to support the electric vehicle here in Fresno?
I've been reading about a whole range of cities like San Francisco, Boston, Washington DC, Miami etc etc that have partnered with businesses to install EV charging stations to encourage the purchase of electric vehicles.
Chains like Costco and Walgreens have announced programs to bring EV charging stations to their parking lots.
But not in Fresno.
Apparently, our fine urban area of over a million people has a grand total of two EV charging station. San Francisco had more than that 15 years ago.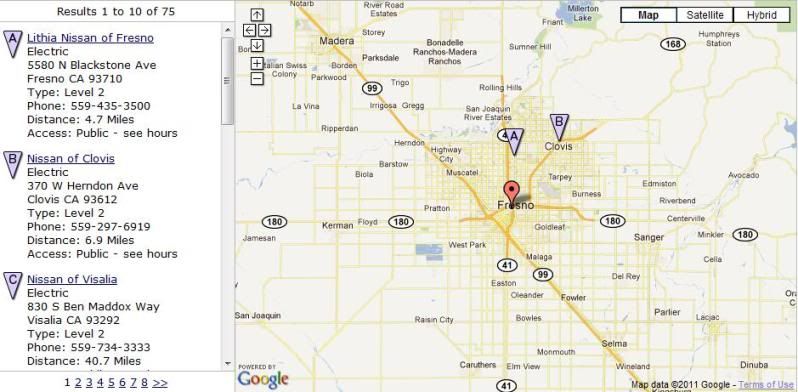 These stations aren't even "real" charging stations. They've been installed by Nissan to charge their Leaf test drive vehicles at the dealership. Are they open to the public? During business hours yes, but the dealers aren't located in places people would actually need to stop and charge, like the mall, or downtown. And most people aren't comfortable pulling up their non-Nissan vehicle to the Nissan dealership to charge.
Meanwhile, San Francisco has dozens. Look at just this small sample downtown.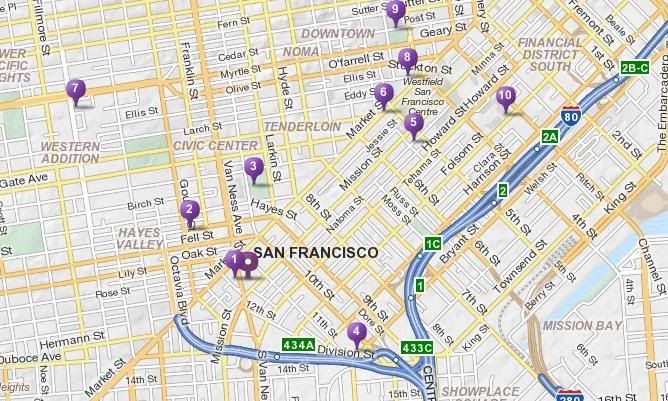 Indeed, this map shows us that the bay area has over 100 charging stations. Merced, Visalia and Fresno have a combined total of 6….all of them Nissan dealership installations.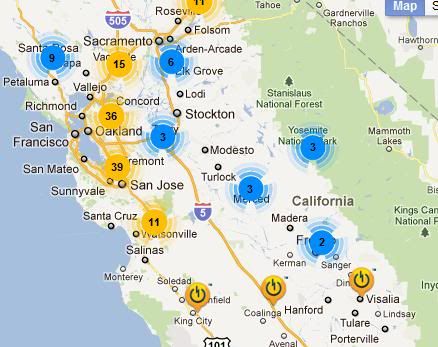 We need electric vehicles more than the bay area does, so why hasn't their been a bigger push to establish them here?