This new development is quite frankly, baffling.
Say you owned a mall built in the 1950's, that had seen better days. Much better days. Say almost all your national brand retailers had left years ago, and the entire second floor was now being leased to government agencies and other office uses. Say your biggest anchor, one of only two, went bankrupt and liquidated in 2009, and nobody has expressed serious interest in the location yet. And your other anchor, is Sears, a brand that has fallen on tough times.
In fact, your mall is in so much trouble, someone even took it upon themselves to visit it only to write about how it is a dying mall. And that was even written before Gottschalks died. (Lots of pictures of the mall in that link).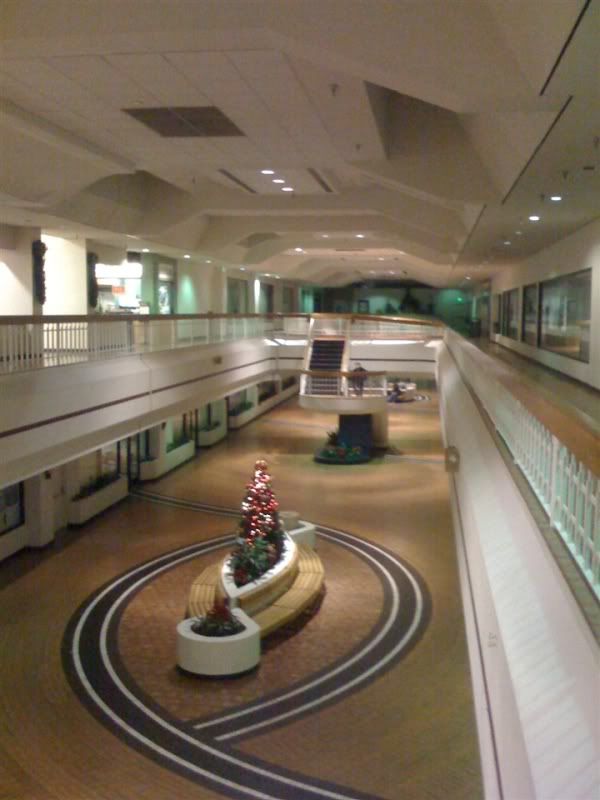 http://www.labelscar.com/california/manchester-center
I'm sure as the owner, the idea of turning things around, and getting people to come by would be appealing right?
Then say a group of organizers approached you, and asked to set up a market in one of your vastly underused parking lots, just one day a week. The deal would be beneficial. They'd have space at a well know landmark, and you'd get exposure and even BUZZ(!) something that has been lacking in your mall for decades. And for both parties, the costs would be minimal. It's like a fancy new mall expansion, but built with aluminum poles and canvas canopies.
Win, win, win.
So the new market starts.
And it's a success. People keep coming. Your parking lot is filling up for the first time since you opened over 50 years ago. Your mall is being referred to as a place to go to, and not to lock your doors as you drive by. Trendy blogs are telling their readers to check it out.
Indeed it's so successful, you kick them out after five weeks.
Wait, what?
The owner of Fresno's newest farmers market, Manchester Marketplace, announced today he is shutting down due to a disagreement with Manchester Mall representatives.

Paul Gilchrist, who opened the market five weeks ago in the mall's parking, said in an email that the popularity of his market didn't sit well with Manchester Mall.

"I have been told there were too many cars in the parking lot, there were too many vendors and the outside vendors are getting more business than the inside vendors," Gilchrist said in an email.
Manchester Mall market closed after 5 weeks
That's right. Too many cars. Too many sales. Too popular.
At a mall.
OH THE HORRORS!
Let's see why it doesn't make sense.
Competition? Uh, it's a mall. Retailers selling identical products set up next to each other on purpose, because quantity attracts people. Were people spending money outside? Yes. But many of those people would never have come to the mall anyway. They can shop outside, then say "oh sears, I need something there" and then "oh lets stop by the food court" and so on.
That's how malls work.
Parking? It's a 1950's suburban mall. It's made of parking.
Incompatible with mall image?
Here, let me list the national retailers that the mall has managed to retain:
Footlocker
Payless Shoes
Z Fashion
Radio Shack
Cricket
Verizon
Sears
That's it. Even the Red Robin finally ran away last year.
Quite frankly, it's more insane than baffling. It's like some people are so scared of change they will actually tell money to leave.
From TasteFresno, a sample of the market. And yes, there are probably more people pictures below than inside the mall at any given point (excluding the Sears store, which does good business).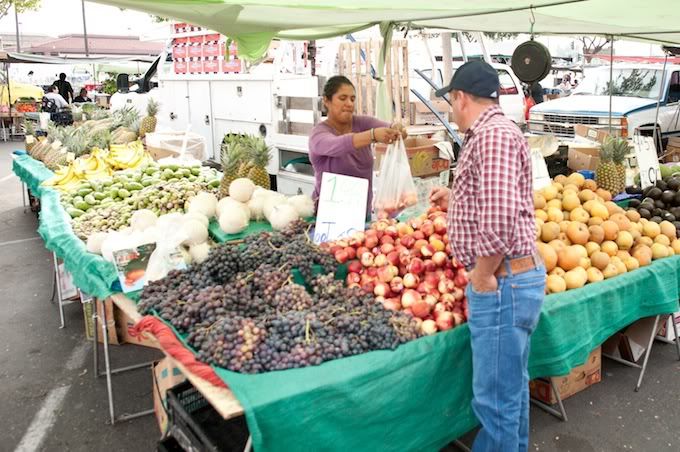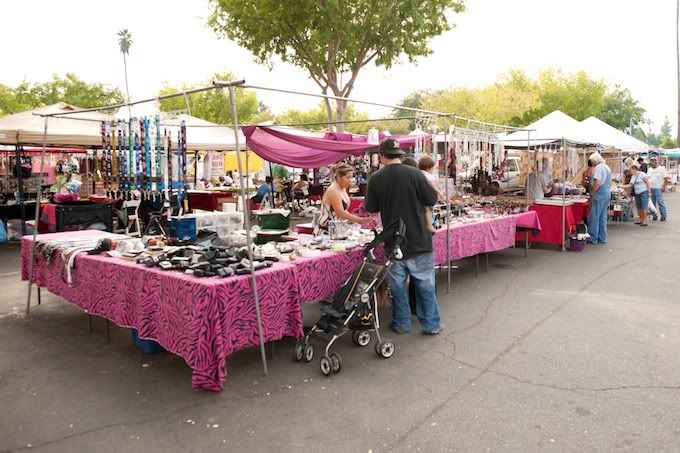 All images by James Collier