Note: I am currently in Boston so my upload schedule may be light in the next week.
Anyone who follows development in downtown Fresno knows one brand: GVUrban. This subsidiary of Granville homes has been one of only two serious developers to go out and build new housing and renovate existing buildings downtown. The other development team are the ones who are proposing to fix Hotel Fresno, and have a couple of other successful renovations.
I've talked about all of GVurban's projects that have or are set to debut this year, including Fulton Village, Van Ness Cottages, and Biz-werx. But these developers are far from done. While their website doesn't mention it, they have two more projects lined up for 2012.
One of these projects, which I talked about in September has gotten media attention because the proposal includes demolishing two old homes.
The other project has only been mentioned in passing. Last month, a downtown farmer's market had to change locations because their site was slated for development, but as far as I can tell, no one has talked about what the development is.
So here are the details on the two 2012 GVUrban projects.
Fulton and San Joaquin
This project recently broke ground and displaced a parking lot, home to a farmer's market. The location is basically GVUrban central.
As you can see in this map, they've concentrated their focus on a small area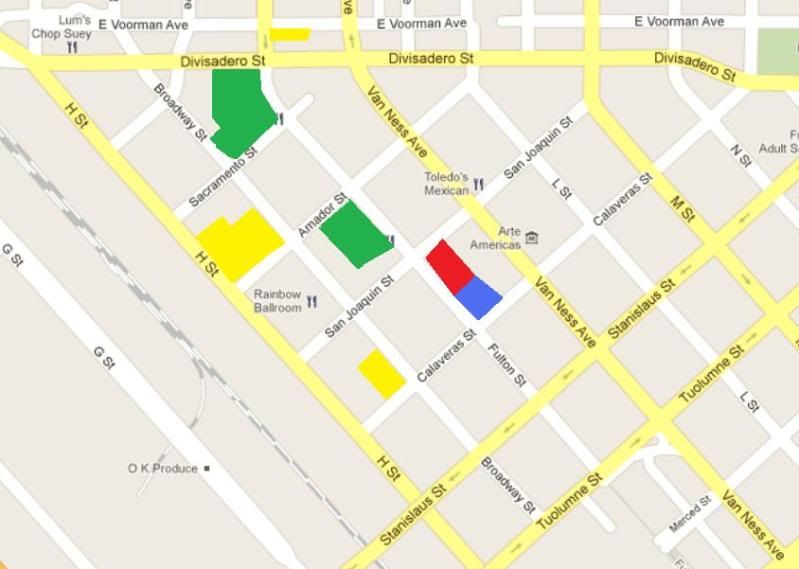 Key:
Red = New project
Green= Project they built from scratch (mostly housing plus some store fronts)
Yellow= Renovated building for housing (and some storefronts)
Blue= Biz-werx (commercial renovated building)
Lets take a closer look at the red plot
Home to a farmers market. Unfortunately, if Fulton Village is any indication, those trees will be removed and replaced by stuff that provides no shade.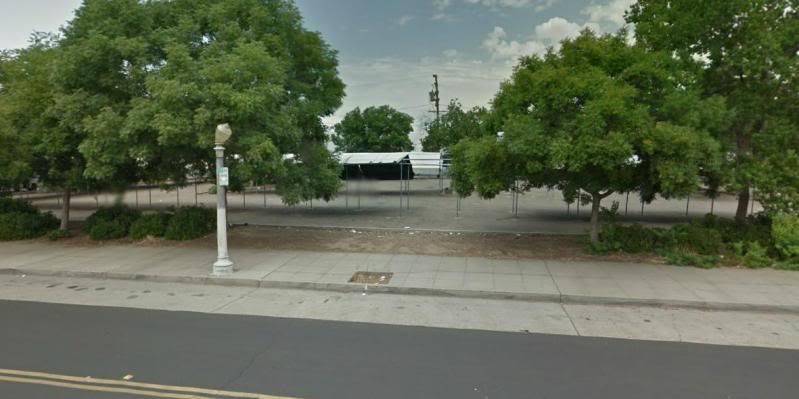 What they're going to build will be very similar in concept to the recently finished Fulton Village. While it will resemble Fulton Village more than the Iron Bird Lofts, there will be more live/work units, so the street will have more commercial uses. Like Fulton Village, instead of one long building, it will be set up as slightly detached two and three unit structures.
3 stories
2,939 sq. feet of ground floor commercial
29 residential units, made up of:
9 live/work units
6 studio units
12 townhouse units
Continue reading this lengthy post by clicking this button.
Here is the site plan, grey = asphalt, pink = pedestrian access, white=buildings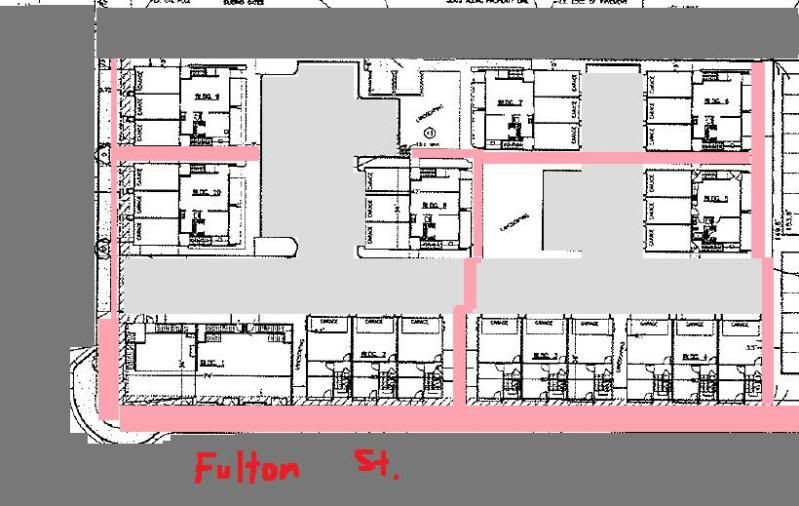 And this is what we'll see from Fulton St, again, a lot like Fulton Village

No rendering exists yet, but expect it to look just like this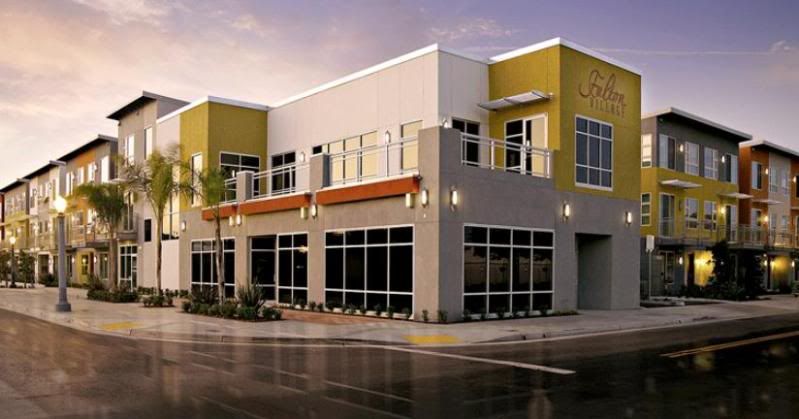 If you're interested in the source of the schematics, you can browse the document they come from here (PDF).
San Joaquin and L aka "L Street Project"
This project, which has been in the news due to the required demolition of two old homes, will closely resemble the Van Ness Cottages, which are set to open next month.
2 story town-homes
28 units
No commercial
Location: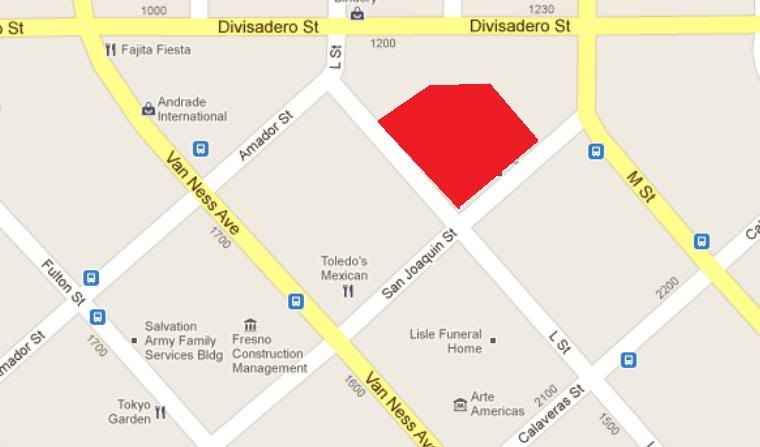 Existing: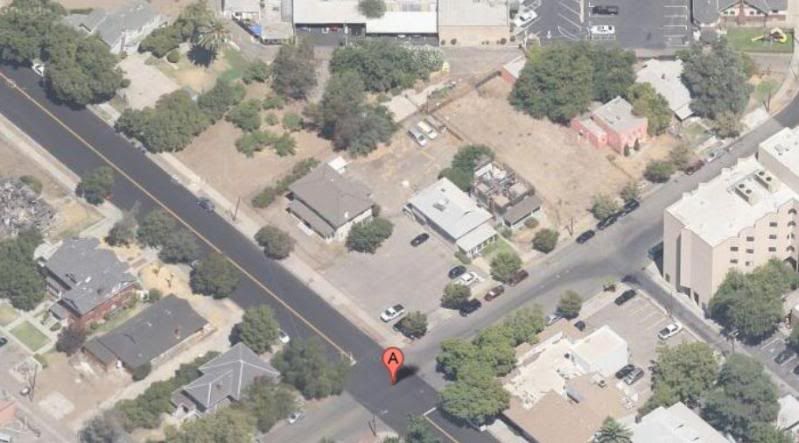 The project will resembles this


San Joaquin St at the bottom, L St along the side
Looking at the front elevations, it's a little bit disappointing that Granville is starting to repeat designs downtown, in the same way developers love to repeat the same suburban home model over and over again.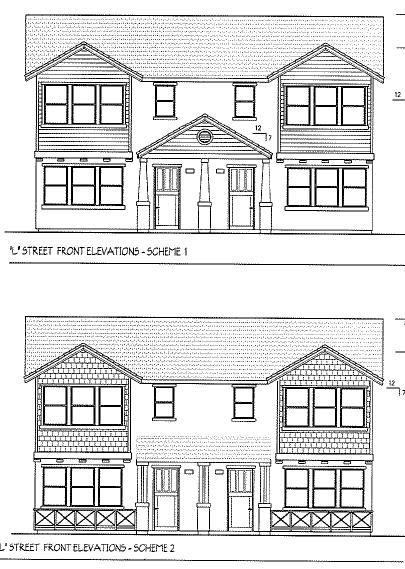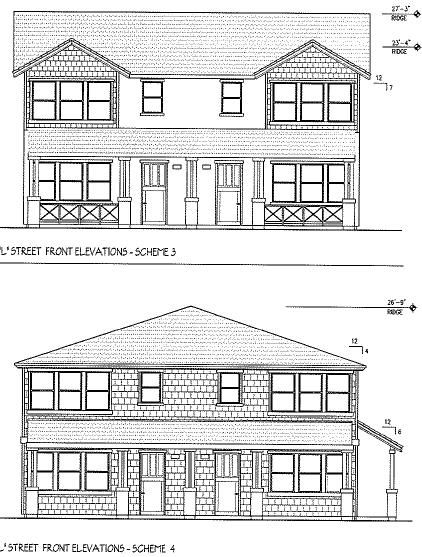 Pretty much a carbon copy of the Van Ness Cottages.
Anyone interested in seeing the source of these diagrams can find them at this document. Warning: Large PDF.
And that's all I have for now. I will continue to visit these projects as they are built. I look forward to even more construction downtown, but I do hope that beyond these two, GVUrban develops completely new designs. It would be a tragedy to see interesting new apartments morph into cookie cutter buildings.