Quick look at interesting walk/bike/transit related stuff going on in Fresno this weekend.
Tonight:
Arthop meets Jazzhop for the very first time. Enjoy art, music and food at local businesses downtown and in the Tower District. Walk between venues to get the best experience.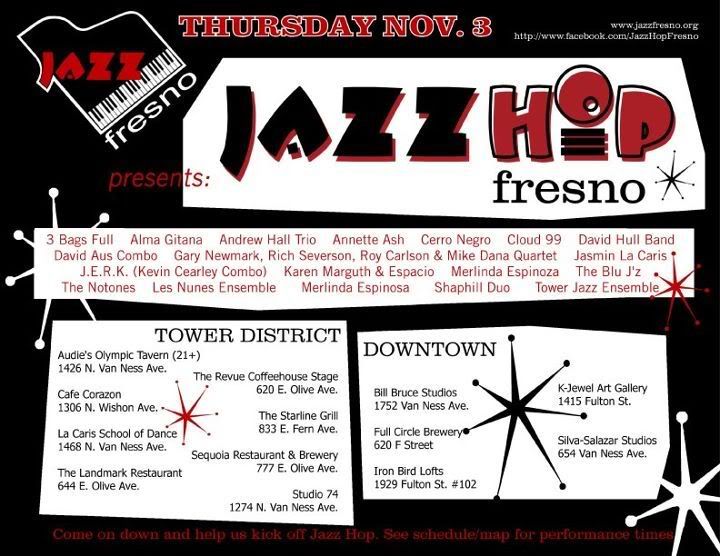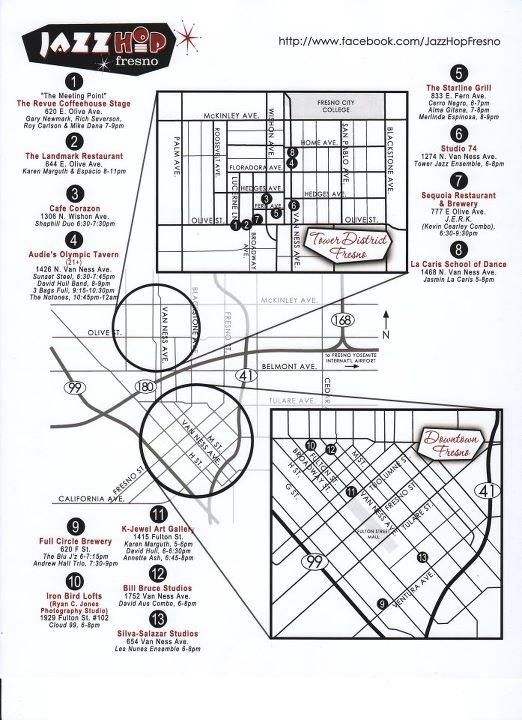 See the very large version of this map in this PDf file:
MAP
Not mentioned in the ads or map is the grand opening of "Biz-werx" featuring art and food, not no music. Thats at Fulton and Calaveras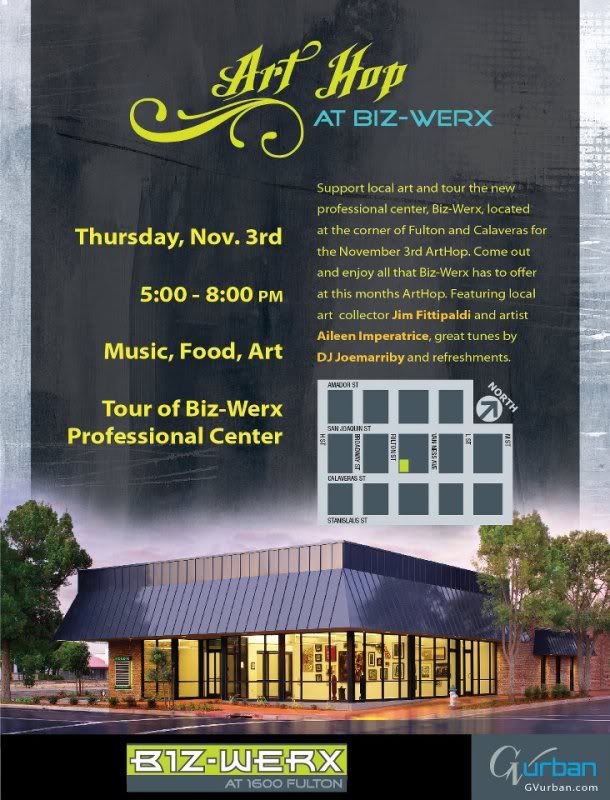 Tuesday November 8th
Put on your advocacy shoes because there are two important meetings that will shape the future of Fresno.
This is the final chance this year to let your voice be heard about the future of Fulton Mall. Discuss the plan and tell the officials what you like and dislike about the plan.
Tuesday
Nov 8th
5:30pm – 7:30pm
FULTON CORRIDOR SPECIFIC PLAN WORKSHOP #10
Location: City Council Chambers, 2600 Fresno St., Fresno, CA 93721 .
Downtown Plans Website
This other meeting is very important if you value safety and how roads are designed in Fresno.
Tuesday, Nov. 8 at 5:30 p.m. at Edison High School, Councilman Oliver Baines is holding a hearing on road diets and a bike lane project in south Fresno. The engineers have told him that Fresno St between California St and C St is designed to carry 20,000 cars a day, but only 6,000 are using it. They say that a road diet will add bike lanes, make the road safer by adding a turning lane, and will not increase congestion.
Unfortunately, Mr. Baines dosn't quite understand how reducing the size of a road can make it work better for everyone.
The city even has a page set up explaining why road diets work so well.
Residents from all over Fresno are encouraged to attend and tell Mr. Baines why he should support bike lanes, especially in a "duh" location like this where the street has been improperly designed.
Long time readers of this blog will know I discussed the lanes back in September, back then, the lanes were all but assured, before Mr. Baines decided that he knows more about Fresno St. than the engineers at city hall.
I'm sure the councilman means well, but one would have hoped he could have picked a project that actually inconveniences people, like say, the widening of Peach avenue. Considering many roads downtown got road diet treatments last summer, and all of them have worked fantastically for everyone, I don't see where this doubt comes from. He can walk from his city hall office to see a real world implementation of a road diet.