The Street View feature from Google Maps is a fantastic tool which I use many times a week. It lets you explore places you haven't been before, scout out locations before heading out to visit them (ie, exact location of a restaurant) and it lets you see changes that have been made to an area.
Since launching in May 2007 in select cities, Google has expanded their pictures to most of the US, most of Europe, an other countries around the world.
Here you can see that most of the US, Mexico and Canada have Street View images available, in blue. The blue circles are user submitted pictures in areas not yet covered by the cameras.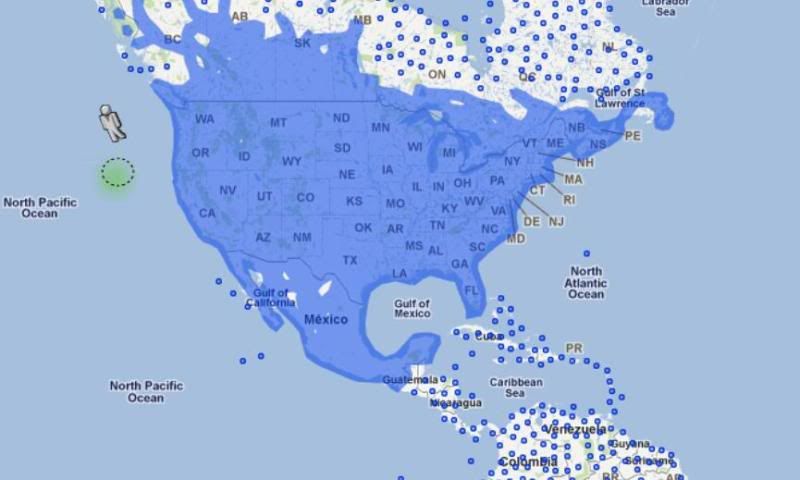 Besides visiting new areas, Google does return to streets already captured to get new images of the area. Unfortunately, Google does not announce when they will visit a city, or when new images will be posted.
But as a frequent user of Street View, I noticed that within the past two weeks, most of Fresno and Clovis have received new images, which appear to have been taken in late June and early July.
This is the third time Google has visited Fresno, and with some searching, you can find some roads that sill feature the oldest imagery.
Here I will present some of the new pictures, and how you can tell if your street has the new images or if it's still the older ones.
Oldest Imagery
The first time Google visited Fresno was in late 2007 or early 2008. These images made their internet debut on Tuesday, June 10, 2008. At that point, all the kinks hadn't been worked out, and the images weren't of very high quality. Most have been replaced, but you can still find side streets that haven't been revisted that still use the oldest type of image.
The picture is washed out, and not very clear.
This is what the oldest type of image looks like, here, in Clovis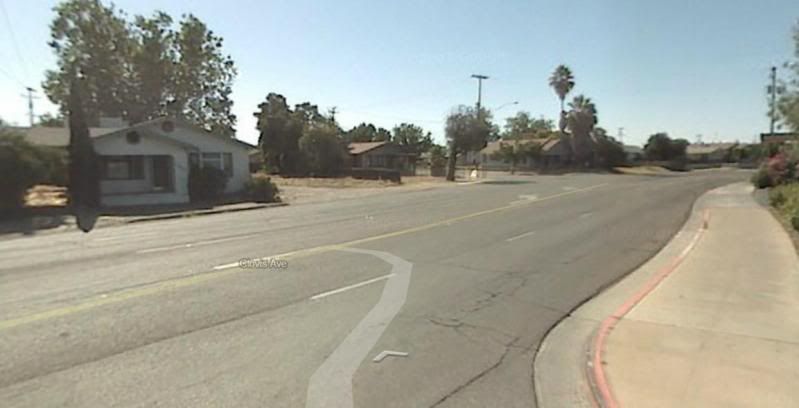 And here is what a new picture of the area looks like. Note the difference in quality.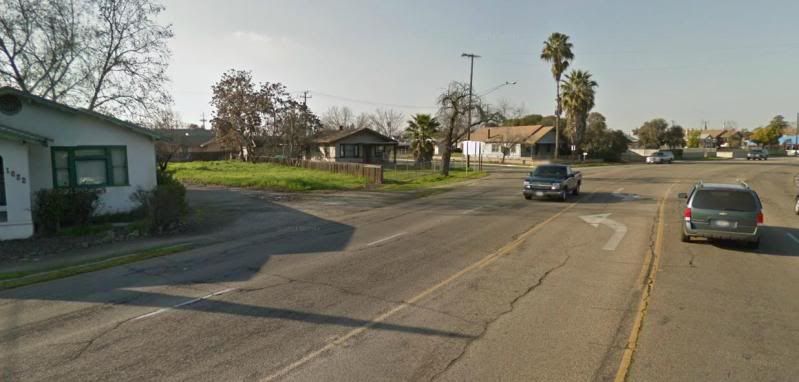 However, this second image isn't part of the new batch. Instead, it's from Google's second visit to Fresno, in late February 2009.
2009 Imagery
The 2009 images and the 2011 images are both of similar high quality. The real difference is that the new imagery is obviously better when it comes to locating businesses, bike lanes, new construction etc because it was taken this summer.
So how to tell if the images are from 2009 and 2001?
The easiest way is to make note of the season. The 2009 images were taken in mid-winter (February) while the 2011 images are from late June.
The clearest giveaway are the trees, although the sky is a good indicator as well (no clouds in the summer!)
Here is a comparison between 2009 images and 2011 images. I chose this location because a sidewalk was built, so you can note the change.
Also pay attention to the weather and the trees, which indicate the seasons.
So how was I ever to know when the pictures were taken? Theaters!
Google's second visit is made obvious by the venture into River Park.
2009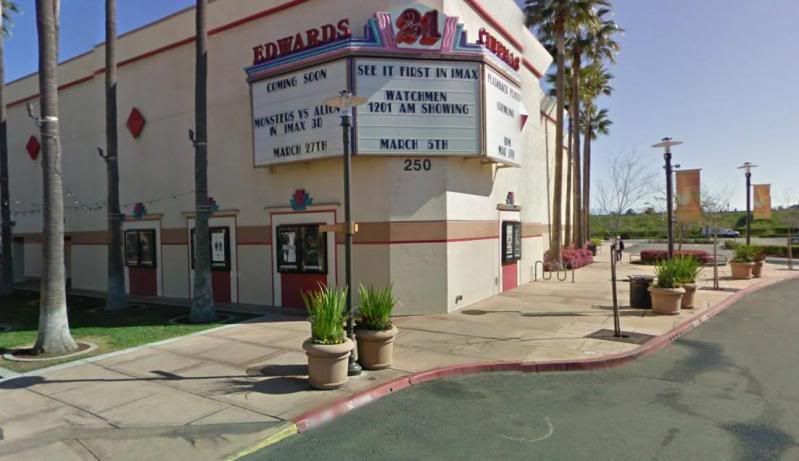 The 2011 visit can be dated with these marques downtown
While Google probably didn't revisit every street this summer, they probably did all the main ones.
If your street still features 2008 or 2009 pictures, check again in a few weeks. In Boston, the transition took over a month. While all the pictures are taken over the course of a few days, it takes a lot of time and energy to convert all of that into data we can see.
One thing that is unfortunate, is that at this point there's no way to see older images. As you'll note in my examples above, to get the same pictures in different 'times" I had to move to a slightly different portion of an intersection. That is, if Street A has 2011 images, and Street B has 2009 images, only at the intersection can you "travel though time" and compare them both. There is no other way at this point in time to compare a location using 2008, 2009 and 2011 pictures.
That is, unless Google has made a mistake. I highlight an example of time traveling on the same street below.
Here are some changes you can note that the 2011 imagery highlights.
Fulton Village, a complex I have talked about previously, nears the end of construction in July 2011.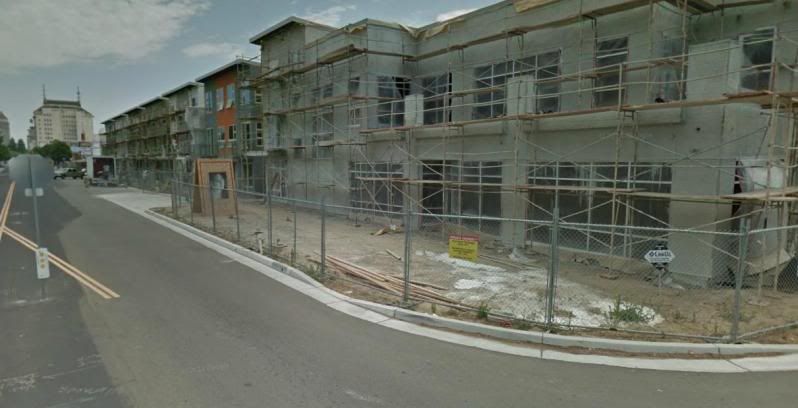 Another downtown project, the Van Ness Townhomes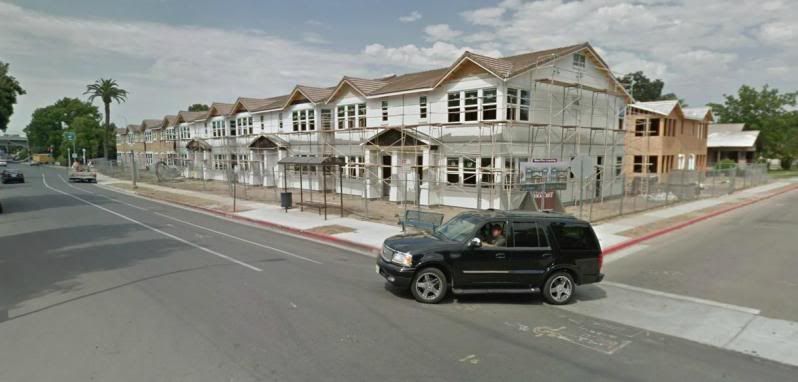 A couple of months ago, I wrote about how the city of Fresno is destroying 54 homes to widen a road (Peach).
Due to a mistake in the uploading process, Google allows us to see the before and after. Can you believe this is the same street?
I think I'll be giving this stretch of Peach another complete post in the near future.
So there you go, fresh new imagery is available. Can you find yourself, or anything interesting of note? Unfortunately, my home still has imagery from 2008!