As I mentioned in my last post, the first ever Jazzhop was held downtown this weekend.
I decided to attend, and so, here are my thoughts of the evening, along with pictures of recent developments downtown.
We started out by visiting GV Urban's Biz-Werx, which was part of ArtHop but not Jazzhop. This building officially reopened this week after an extensive remodel, taking an abandoned eyesore into a good looking, and potentially lively street corner. The plan is to rent out the first floor into many offices, art studios or similar type of spaces, and the basement to be rented out as storage space. You can tell the building is old, because nobody in Fresno builds basements anymore.
Main corridor, very sharp looking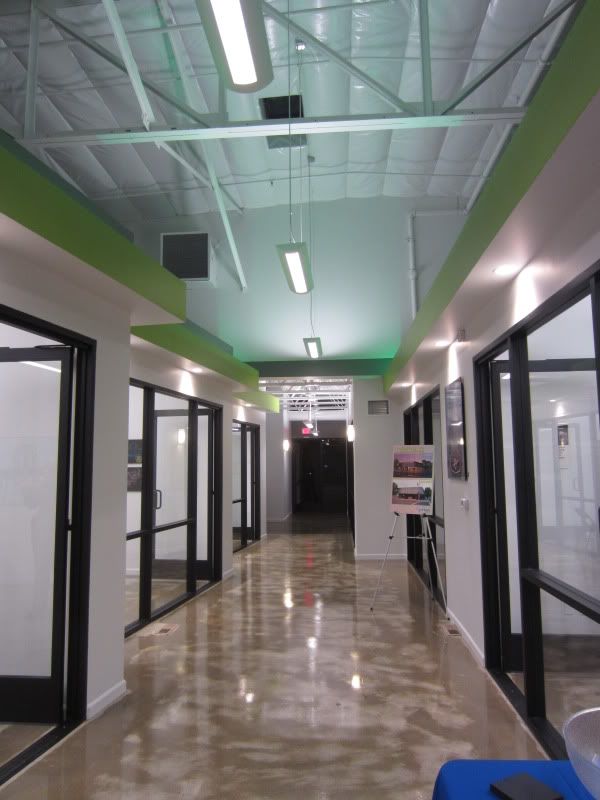 Space is available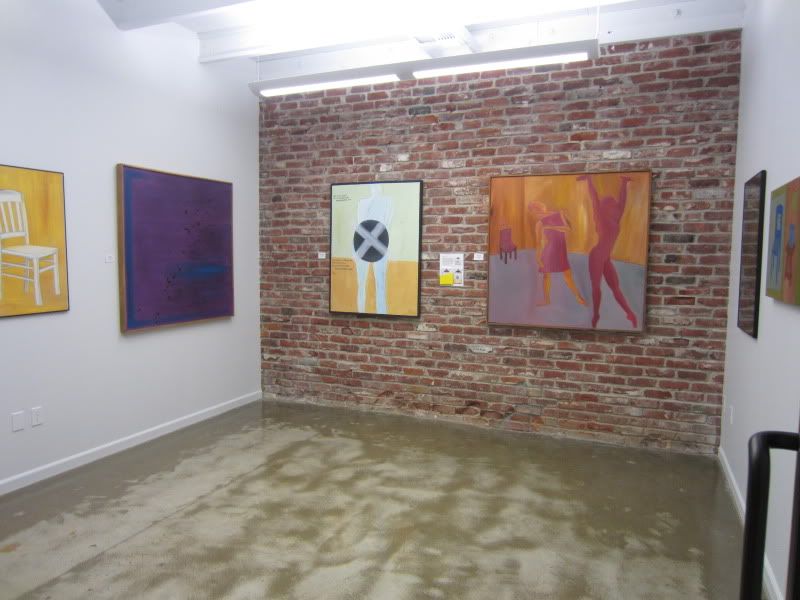 Outside, the sidewalk was made greener(and pink!), and lots of light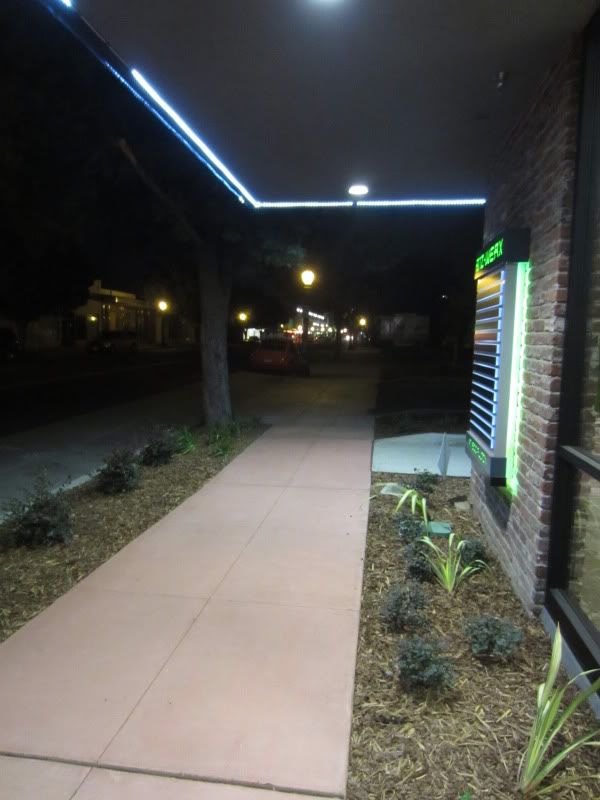 My favorite part about the GV projects downtown is all the light they give to the sidewalk. Downtown is way too dark, which makes it seem less safe and uninviting. Bright white lights make the area feel more alive and walking feel safer.
Also nearby, Fulton Village finally opened last month. I've posted pictures of these apartments under construction before, and now here it is finished and lit up at night. Again, the amount of light really helps the street.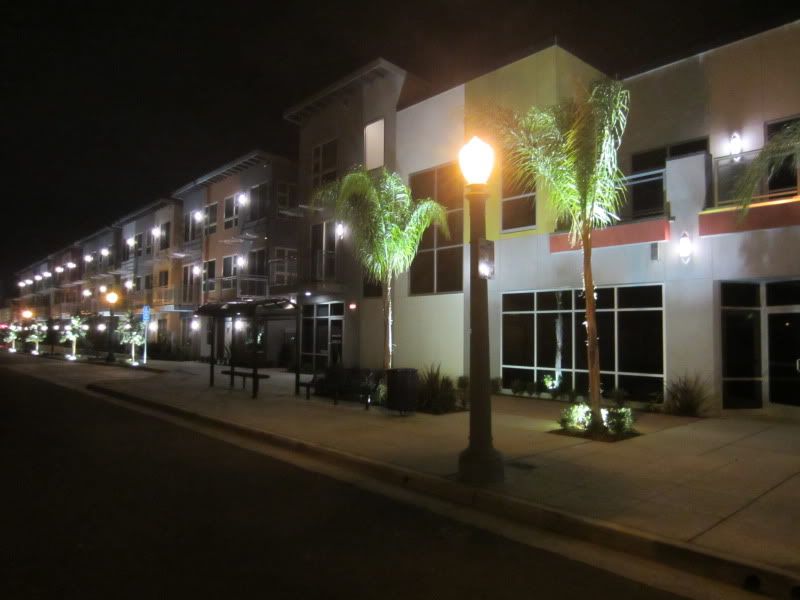 But of course the title of this post is about Jazzhop, so how was that?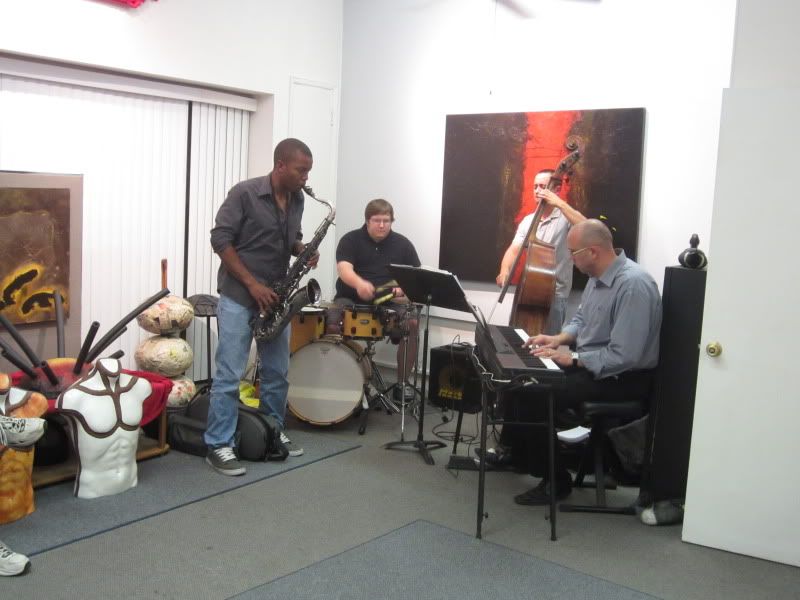 I had never attended Arthop, so I hadn't been to any of these galleries before. Most of them are tiny studios with different forms of art. All of it interesting to see, although none took too long to explore.

Jazzhop added music performers to the galleries, so you could look at the art and enjoy music, or come for the music, and enjoy the art in the background.
It's certainly a good concept, but it's far from perfect.
Like my thoughts on Fuse Fest, I thought there was a shocking lack of people. Supposedly, ArtHop has been going on for quite some time, and this was Jazzhops big premiere….and yet, there was no such thing as a crowd. It's hard to tally up the total amount of people, because there were so many venues, but I'd be shocked if more than 350 people made their way to see the art and listen to music. In a metro area of over a million people, that's pretty bad.
So why doesn't Fresno show up? I have no clue. The art was enjoyable, and the music even more so.
And it's all free.
Anyway, another problem with the event is that the venues aren't really close to each other, so "hopping" from one to another on foot isn't that practical. And some of them are hard to find. This is made worse by the limited time, as the event pretty much takes place from 6-8pm.
So after visiting some galleries downtown, we headed to the Tower district for dinner (at Mr. Sushi) and then went to Audie's Olympic, for some more free jazz music.
In terms of music, this was the best venue, as, you know, it's actually a music venues. We stayed for a couple of hours of free Jazz jamming.
I hope that the event ends up growing, because it makes for an enjoyable evening, and for the price of free, what's not to like? It's not like there's much else to do in on Thursday night. Perhaps that's the problem? People are just too used to staying home…?