Tried two new places downtown tonight, here are my short reviews:
Cozy Thai
Opened this summer in what used to be a ribs place. Large restaurant space, with lots of booths. We went because of a Groupon and had no expectations. Our last attempt to eat there failed when we arrived at 8:15pm to find out they close every day at 8pm. Sort of early, so take note of that (Wednesdays they remain open later, but I wouldn't expect their kitchen to serve you past 8).
Arrived tonight to find a full parking lot, quite surprising. Entering the restaurant, we were greeted by a live band playing sing-along country music. Not what we expected, but apparently Wednesday is open mic night, and at least for today, all the performers were of the country variety, cowboy hats and all.
In typical Thai fashion, the food came in enormous portions at modest prices. I, like always, ordered the Pad Thai, because I've yet to find Pad Thai in Fresno as good as I had in Boston. And like always, I was not impressed, so the search goes on. Not that it was bad, it just wasn't as good as what Boston showed me, and it lacked in bean sprouts and green onions.
Best part: Cologne machine in men's bathroom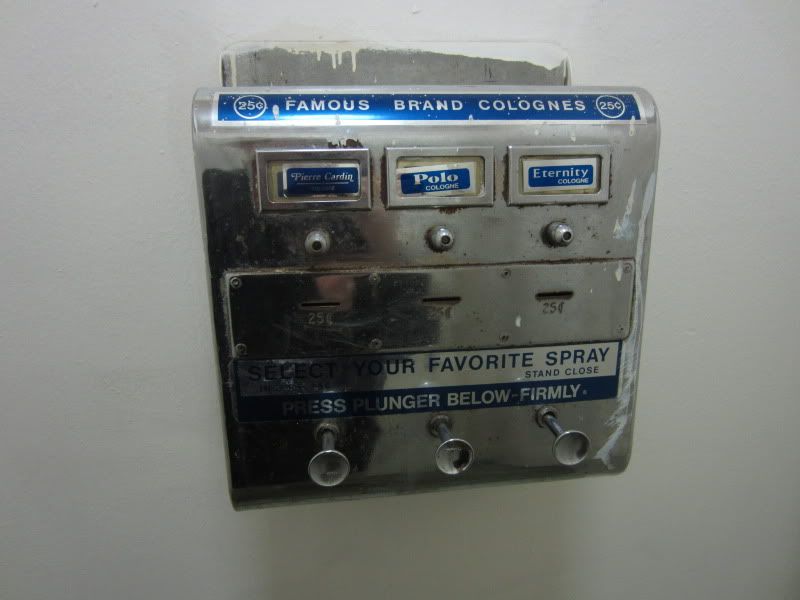 Biggest disappointment? The cologne machine in the bathroom took my quarter, but did not dispense my requested cologne. I, for one, expect my thai-restaurant-cologne-spraying-machine to be kept well stocked.
Would I come back? Yes, but I wouldn't go out of my way, but again, that's how I feel about most Thai places in this town. The restaurant itself is odd for a Thai place (originally being a steakhouse and all), but if you find yourself in the area, I'd give it a shot.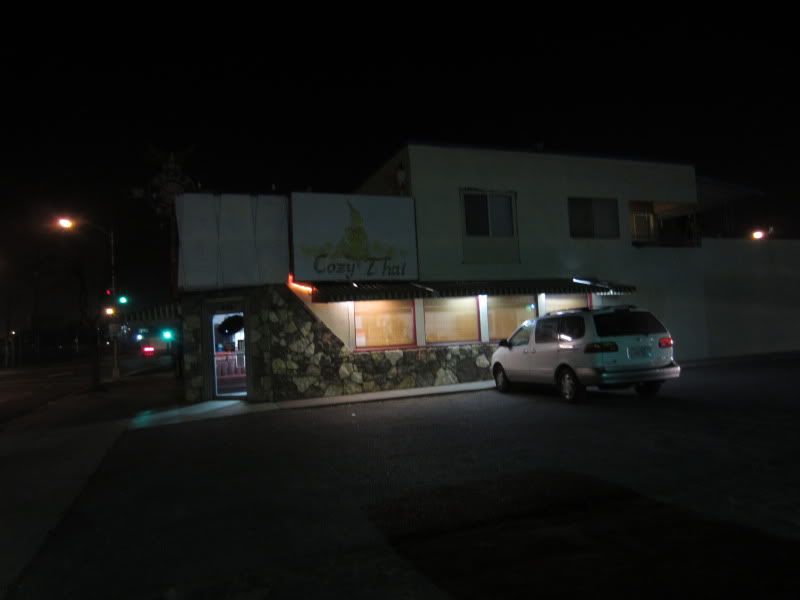 The Lamp Post
What's odd about this little block is that it has three eat/drink establishments, a real rarity downtown. Besides Cozy Thai, there is what appears to be an old diner, now serving Chinese food. Between them both is a small bar called The Lamp Post.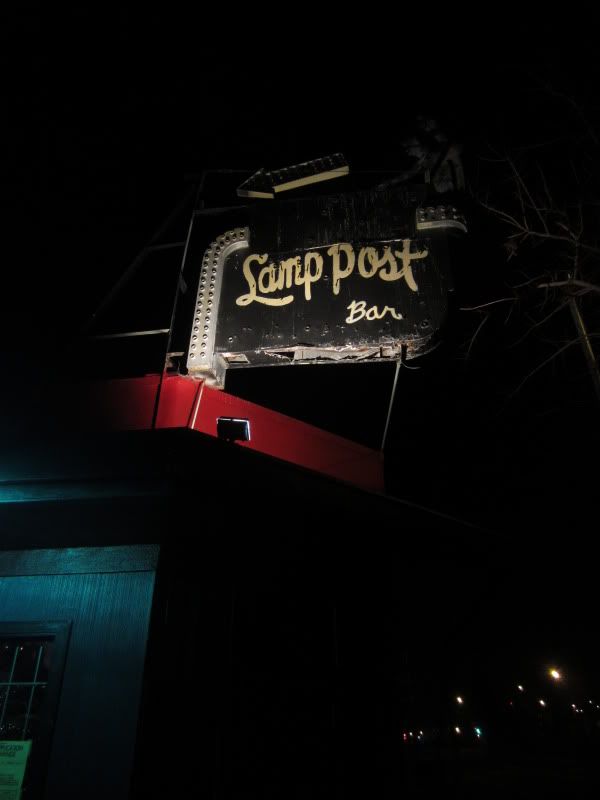 As mentioned by the Fresno Bee, the bar opened (re-opened) just a couple of weeks ago, and it looks nice inside. Sort of odd for the area, with art on the walls (for sale), posters of music legends, and a vinyl collection in one corner. By the door, there is a space for a small band (with appropriate ceiling lighting), and a projector with a screen capable of adequately showing sports, concert videos and more.
The drink selection is beer and wine only. I'm not a wine drinker, so I can't tell you how great their selection is. As for beer, there are only 6 taps. 3 with local (Madera) beers, two with a couple of varieties of Shock Top and one with Stella. Many more bottled selections of course. I would have expected a beer and wine place to offer more taps, but I know little of the logistics involved with that.
Tonight was sort of lonely in there, but I can see the place being a hit on a night with a live band, as people sip wine and observe the art. Without the action, the room felt sparse and cold (literally, the door was open).
It's a hip, artsy bar, in an odd place, just like the neighbors. I'd assume the owners would have preferred setting up somewhere more appropriate, like at the Iron Bird lofts, but this was the only suitable space available. I do hope people find it, as it is walking distance from those lofts, and the decoration should be enjoyed.
Would I come back? I wouldn't head downtown just to hit this bar, but if I'm nearby trying some more food, I would. Maybe next time, we'll try the Chinese.
Where:
West end of Divisadero, a couple of small blocks from Fulton 55 and the Iron Bird Lofts.

Bonus: the Chinese diner