Starting a decade ago, the cities of Fresno and Clovis have transformed some streets with a "road diet" as they were repaved. These streets were taken down from a 2×2 configuration (+ parking) to a 1x1x1 configuration, with the center lane being used for left turns in both directions. Parking was maintained, and bike lanes were added with the leftover space.
These changes were usually crafted by the roads department (or public works) and simply striped in when the new asphalt was laid down and it was time to paint lines.
But something happened this past year. For reasons I don't quite understand, road diets became a political thing, with citizens claiming that "city hall mandates" were being sent down to ruin life as we know it.
Last night, the council-member of district 4 held a meeting to elicit feedback from locals over the proposed reconfiguration of Gettysburg. This road has undergone a diet in many parts, but still has missing pieces. This diet wouldn't be the result of paving, but thanks to a grant by the feds to improve air quality…in this case, because of the installation of bike lanes. The grant is to be matched by Measure C funds, a local portion of the sales tax that is dedicated to transportation needs.
The meeting was held, because some people (up to 20) contacted him after another road in the district road got treated last year, and were unhappy they weren't consulted.
The theme of the meeting was generally "we're terrified of change, government is evil, and homeowners know better than engineers." The average age was well north of 65, and apparently civility was lost somewhere during the Korean war. Anyone who thinks that "kids these days" lack manners should attend a city forum and see where the rudeness comes from. Lots of shouting, booing, and interrupting of speakers.
The councilman, Larry Westerlund, seemed to be in support of the project. He said he talked to the engineers, and after explaining to him the enormous safety benefits of a diet, he was a convert. he tried to explain these safety benefits, but the audience seemed to be more concerned about "common sense" than years and years of crash data.
The person from the city was a disappointment. He went out of his way to make it clear he wasn't a cyclist, and he would never use a bike lane. The emphasis from him was also the safety benefit of a turning lane, and the bike lanes were a necessary evil. But even then, he brought up the term "suicide lane" for the turning area for no reason at all. Why throw in a scary term for a safety improvement? I didn't catch the name of the engineer, but I think the city would be best off finding someone else to represent their department at these meetings.
After much discussion, it seems like a majority of the crowd was convinced that yes, road diets can increase safety. But that didn't stop many from complaining that congestion would be caused, even though all the numbers show the road is underused, and will continue to be underused well into the 2030's. Apparently for these seniors, having to wait at a light is more damaging than being rear-ended when trying to turn left.
And the bike lanes? Those speaking in favor of the lanes were shouted down by calls of "get a car!" and "pay taxes!". One senior, after being informed that roads are paid for by property taxes made the statement that "I probably pay more of those than you". Right.
I found it quite sad that many of these seniors, who won't be able to drive in the next 4-8 years because of their age and deteriorating senses are fighting tooth and nail against improvement that will give them a safer neighborhood.
I guess change is really that scary.
Not visible: The acres of white hair in the crowded room behind me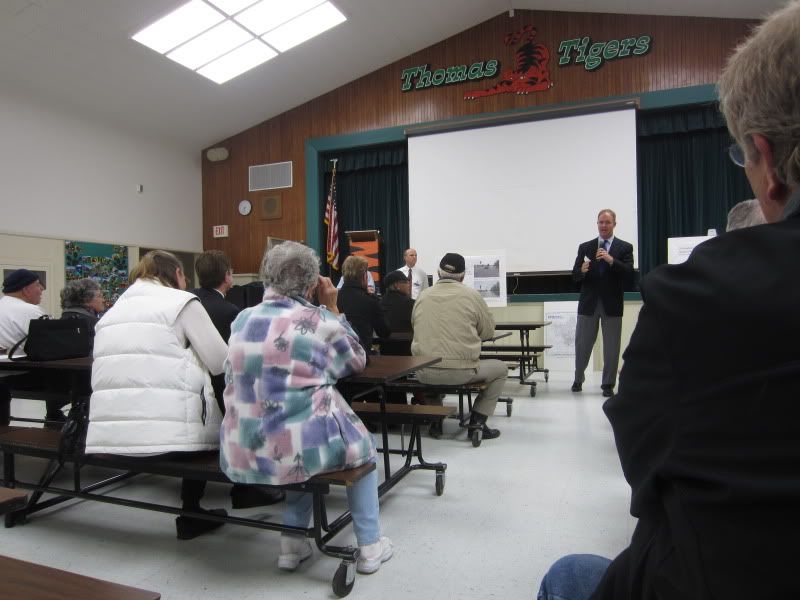 (Tried to post this last night but high winds killed my internet)