Blackstone Ave is by far Fresno's busiest north/south route. It begins downtown near the biggest regional hospital (as Abbey) and then heads north, passing by Fresno City College. It then passes by the first suburban mall in the city (Manchester), continues north near the second suburban mall (Fashion) and then onward to the newest shopping mecca, River Park.
Along the way, there are a series of "zones" where auto-centric businesses cluster together, from an area of mostly motels, to an area of mostly car dealerships. Fast food outlets litter the sides, include the 10th Mcdonalds ever built.
Blackstone is also home to the busiest bus line in the city, thanks to all the shopping/job destinations. While there is no housing directly on Blackstone, there are many dense apartment buildings behind the commercial strip.
Dense housing + heavy commerce + busiest bus route….sounds like a great place for pedestrian activity!
Let's take a look as I walk .5 of a mile.
My walk: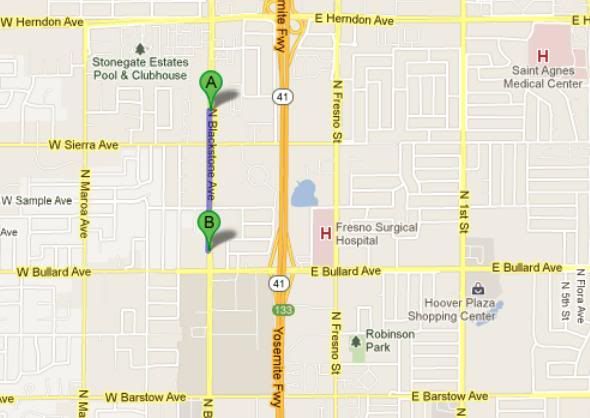 The commercial strip is visible thanks to the massive parking lots. The housing is obviously the greener areas. Apparently, trees are not business friendly?

We begin the walk south. Sidewalk is narrow and next to the road. Blackstone is more than wide enough for bike lanes, but none are painted. Instead, theres the occasional space for street parking (almost never used) and right turn lanes
When I say auto-centric, I don't just mean the road design. At least on this stretch, almost every business is car related.
The signs are ugly. Also, up ahead, whats going on with the sidewalk?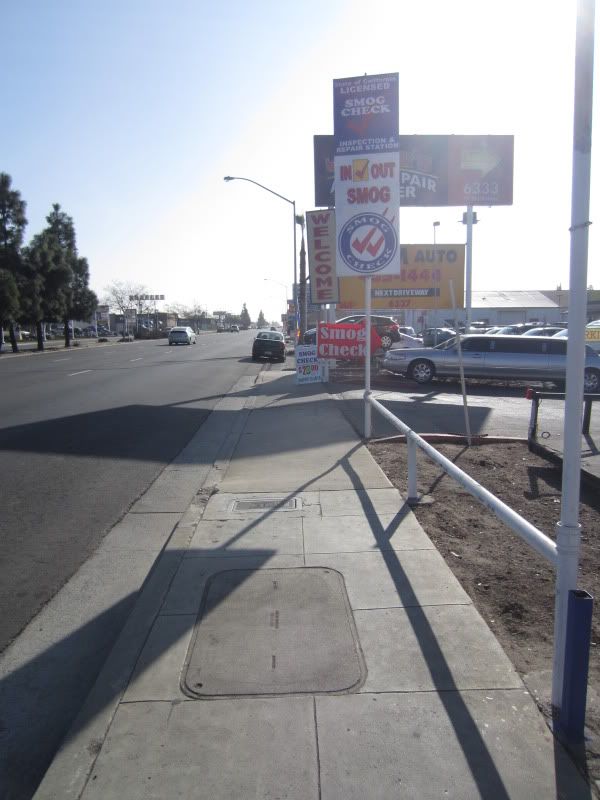 The sidewalk ends. A half-hearted attempt at creating sidewalk space with a curb has failed. The one person looking to park on the street didn't realize that the right lane is wide enough for parking, so they mistook the "sidewalk" for a place to pull out.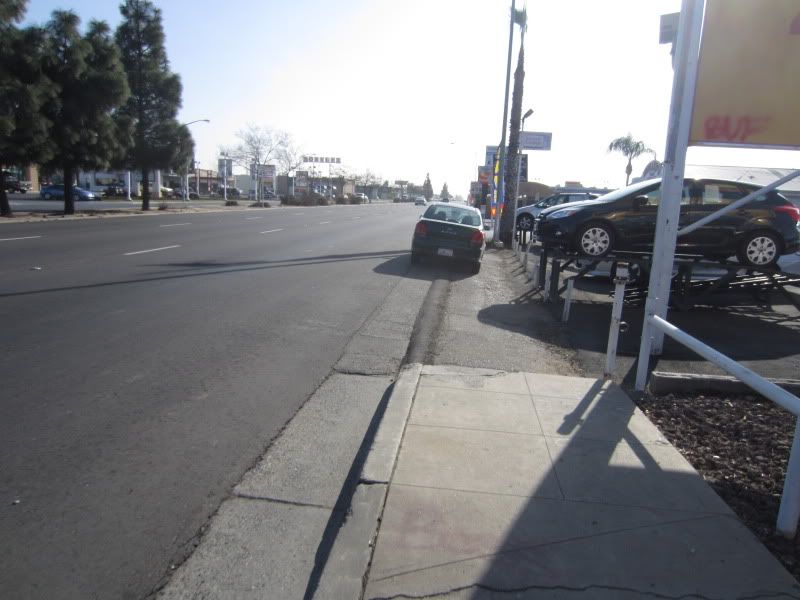 Not that this is much of an issue to pedestrians. Right in front of the car, the attempt at a sidewalk dissolves completely.
This is 2012, on Blackstone. The entire road was repaved last year with Obama-money. And yet they managed to ignore this.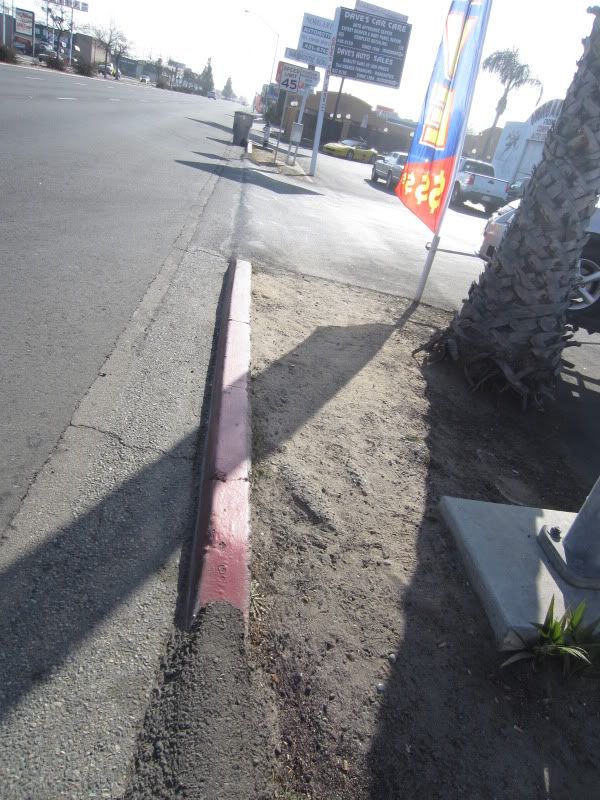 This picture says it all. 45mph speed limit, no sidewalk, auto sales….and amusingly, a trash container waiting for curb-side pickup. That metal box is a mail-box.
It's like they haven't gotten the hint yet that Blackstone isn't some sleepy country road.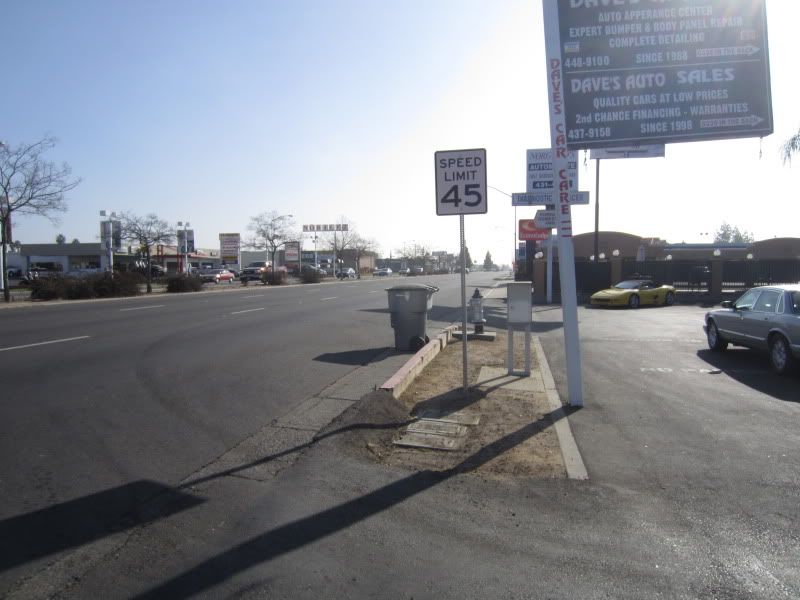 Right up ahead, not only is this a major ADA violation, but it's also dangerous.
Who wants to break an ankle and then get a nice liability settlement?
This picture serves two purposes. The first, is to show the quality of the concrete. Again, the entire road was ripped up and repaved last year. The asphalt part anyway.
The second is to show that while street parking it allowed in parts, there are so many driveways that street parking is not allowed (red curb) in most areas.
So why not paint a bike lane?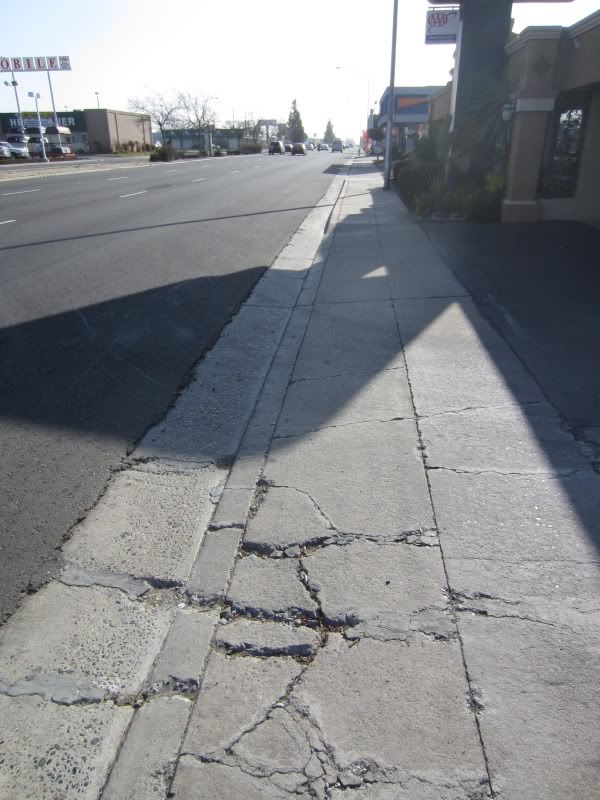 Looking back, doesnt that beautifully landscaped median just bring out the color of the signs? Why is it that the trees are placed where no one can reach them, but the sidewalk doesn't have a single piece of greenery? I guess cars need the shade more…?

Looking forward. Remember how I said Blackstone is the busiest north-south street in Fresno? It looks empty because the cars arrive in "fleets" from the traffic light, and I prefer taking pictures when there's nothing in the way.
Also, note the Herb Bauer? Nothing says "shop here!" like a big blank wall, right?

Anyway, as we continue our walk, the sidewalk appears to end again, and become a road/sidewalk/lot hybrid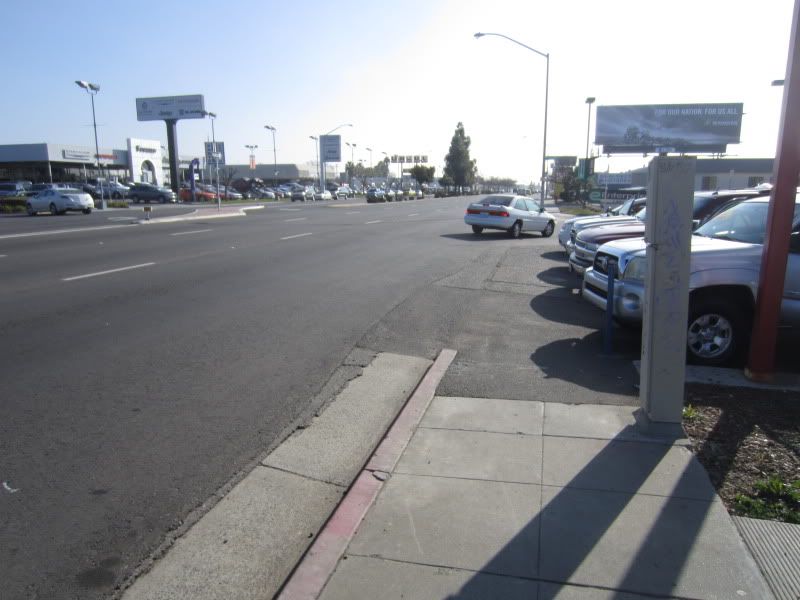 I dont know why this is allowed.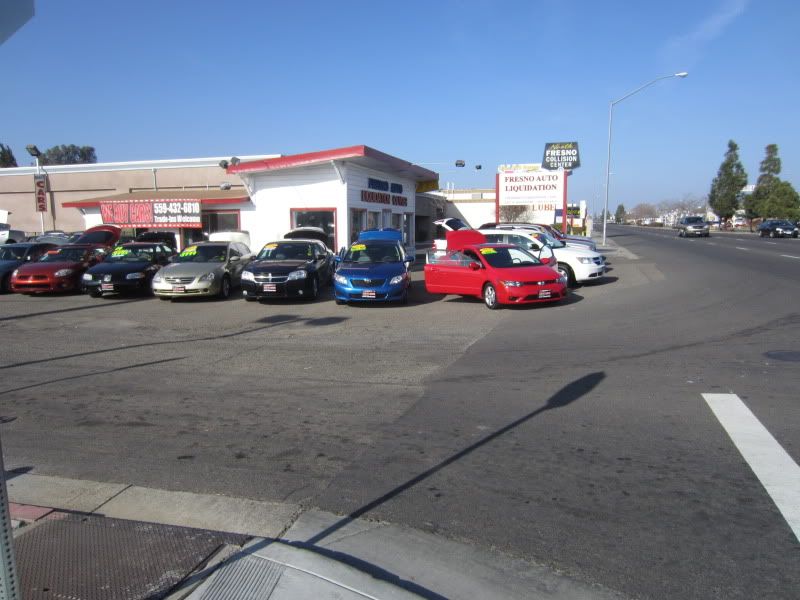 Theres a side street here, which under California law means there are unmarked crosswalks across Blackstone. Fresno doesn't care about wheelchair users, so only the able bodied can risk their lives to cross here. Incidentally, notice how new the ramp looks? That's because it also got federal money for ADA improvements. Now wheelchair users can glide down the ramp in comfort…..as long as they're not going anywhere, because as the pictures above show, the sidewalk is unusable. The stop bar, recently painted, ignores the small crosswalk here as well, as cars stopping at the line would be blocking the invisible crosswalk.

You can cross Blackstone here legally. Feels safe?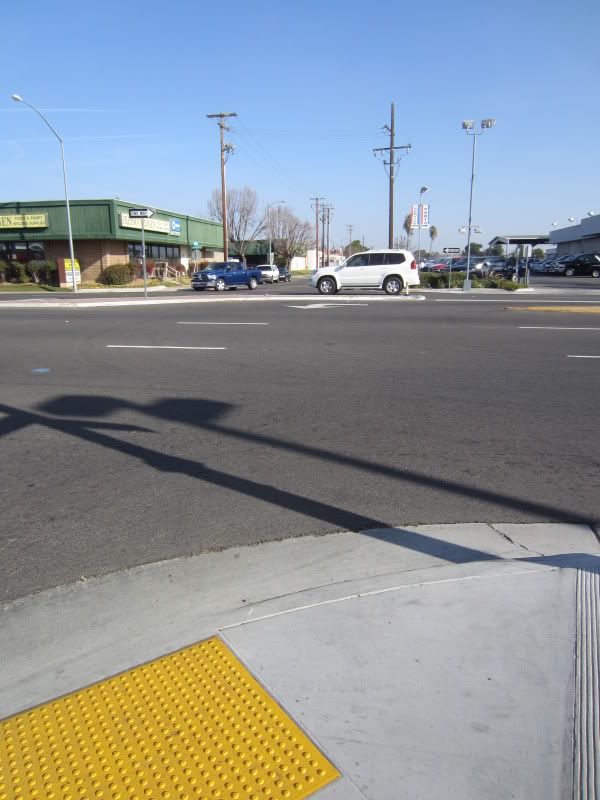 Note the last few pictures where I say "looking back and looking forward"….can you spy a crosswalk?
Of course not, the crosswalks are half a mile apart (in green). Of course, if you're a vehicle, left turn lanes are provided at multiple points (in red). We wouldn't want a driver to have to go out of their way to cross the street right? It would just be unreasonable!
Let's keep going. Another place where the sidewalk disappears.
Here comes one of those car fleets I was mentioning, as the light let them through.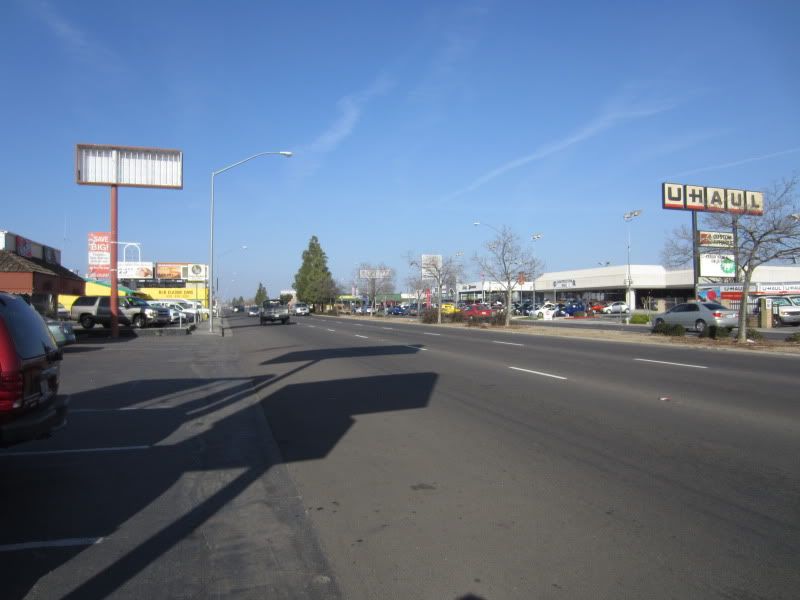 Something nice to look at!

The one "urban" building. Parking in back, windows at street level instead of a wall, and an actual door facing the sidewalk.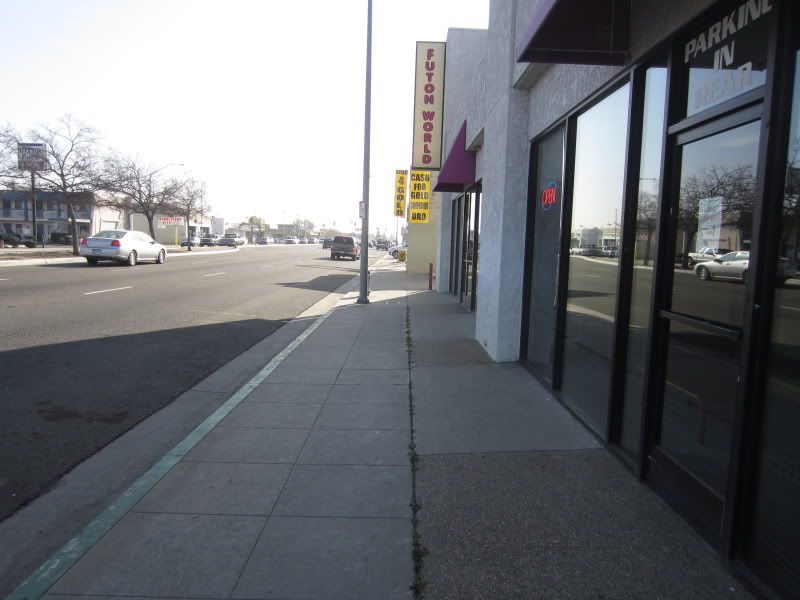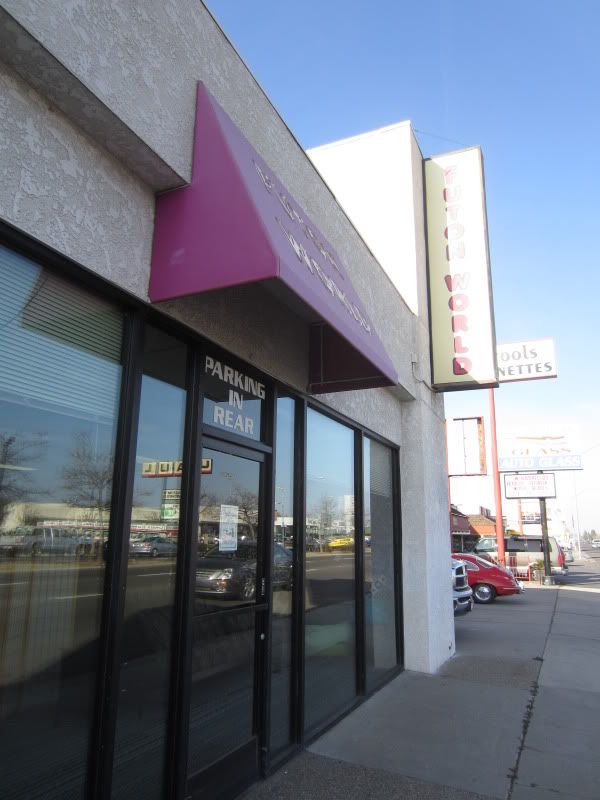 The neighboring store is sort of similar, but that's it.

I mentioned the lack of bike lanes. Is there a suitable alternate route? Not really. The only other streets that are parallel are .5 miles away in each direction. There's an alley behind the buildings…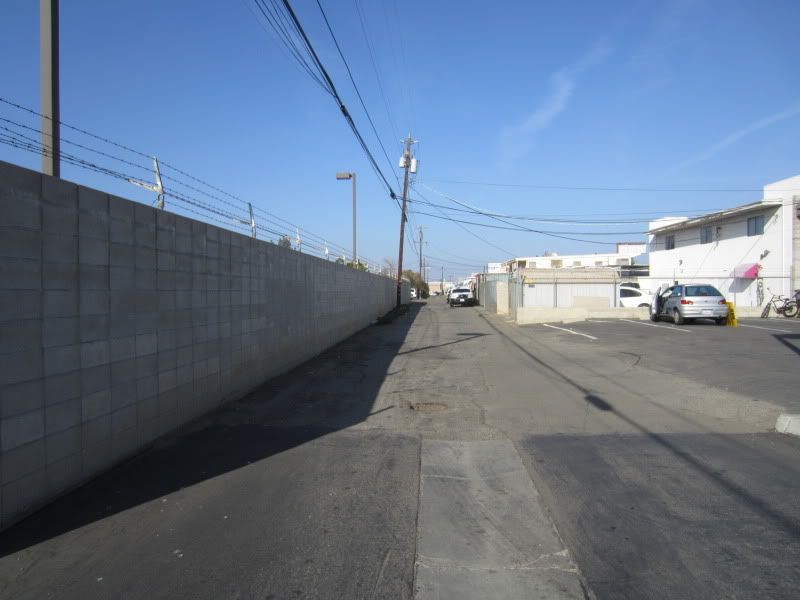 But there are (probably illegal) interruptions to it

Wasn't that a pleasant walk?
Blackstone is home to the planned BRT line. If they add shelters….well, they can't shelters won't fit. BRT indeed.