Clovis and Fresno look a lot alike, so it's hard to tell sometimes when you cross from one city to the other. The street signs are a good giveaway, as Fresno uses green and Clovis uses brown. But now, at night, there's one other difference: Clovis is installing LED street lights at almost every intersection. According to the city, they are in the process of installing over 400 LED street lights. I've seen them at most intersections, although a section of Clovis Avenue, by Old Town, has all been redone.
Willow Avenue, the border between Fresno and Clovis is interesting. There are four lights at each intersection, and now two are LEDs, and two are sodium.
LED has a few advantages over the existing high pressure sodium lights. The most obvious one is color. The sodium lights are your standard yellowy-orange lamps that make it very difficult to see colors at night. LED's, on the other hand, are very white.
At this intersection, you can see the lights mounted on the traffic polls have been switched. All the other lights are of the older kind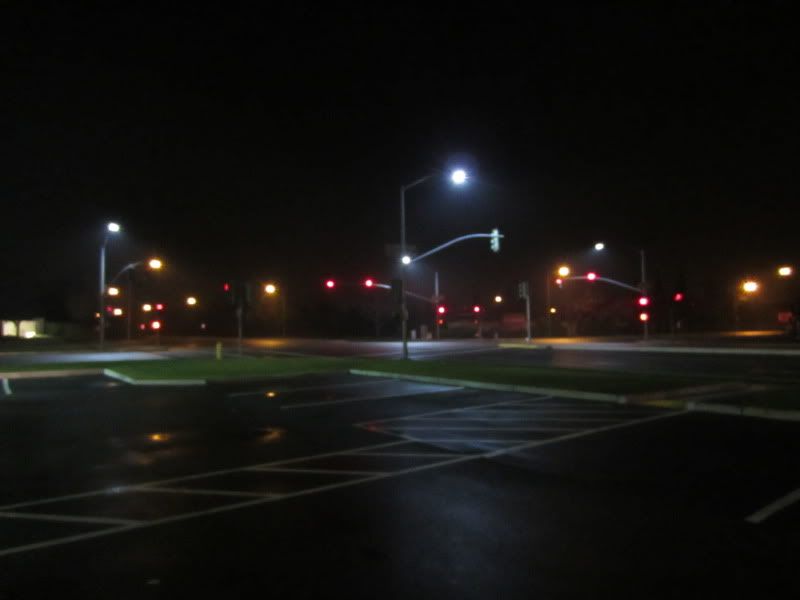 From my observation, the LED lights appear to be brighter than what they replaced. This is a very good thing, as the street lights here can be placed quite far apart. At intersections, the brighter light helps make pedestrians more visible. The better color clarity also makes it easier to distinguish what's in the crosswalk.
The regular street lights are very yellow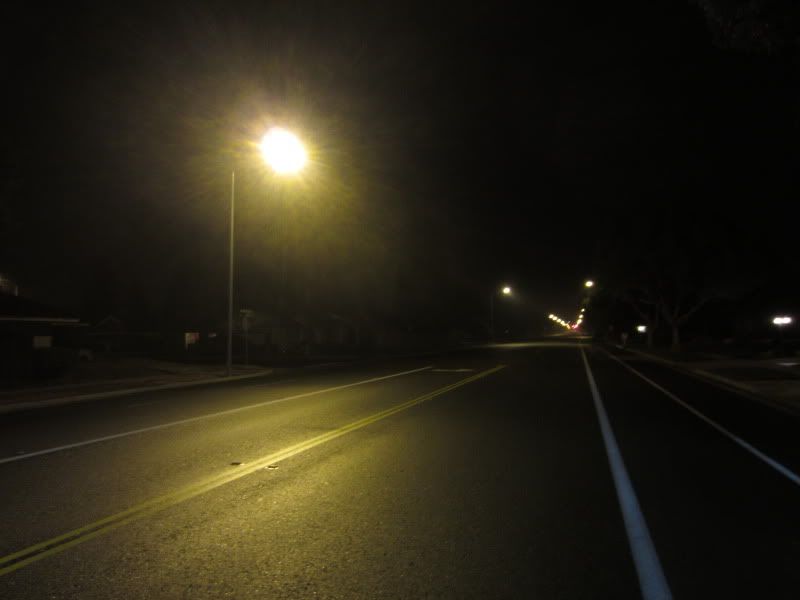 There are a few other advantages to, besides color, and in this case, light output (light output will vary based on what model the city buys).
-Energy efficient. It's not a huge savings, because the old sodium lights are pretty efficient themselves, but every bit helps.
-Longer lifespan. LED is much more expensive than the existing installations, but is supposed to have a longer life. The savings in labor should be enough to justify the switch, along with the energy savings
-Better light distribution. The LED lights are more focused, unlike the sodium ones which have three distinct bright spots, and then darker areas. The older lights have glare and create shadows, as seen in this comparison.
LED lights provide a more uniform coverage

I'm excited to see the new lights around Clovis. Hopefully the savings mean that they can continue the transition throughout the year.
The intersection has been done, and is very well lit, but there are thousands and thousands of street lights in the city. If you like the sodium lights, don't worry, you'll be seeing them for a very long time

One other thing I'd like to see the city experiment with are lights with solar panels, but that's really something that PG&E has to push through. Maybe next year.