As I mentioned yesterday, Clovis is holding community meetings on ways to revitalize the Shaw corridor. Today, I will discuss the problems facing Shaw. Before attending the meeting, I was baffled about how they're being held just weeks after development began on a massive new commercial center just two miles north. I wondered if those in charge were failing to draw the connection between approving new development elsewhere and the abandonment of existing retail corridors.
Tomorrow, I will write about the meeting itself, and what the Clovis planners said.
This post will discuss three reasons why Shaw is failing
1) The car-first approach actually hurts stores
2) Lack of pedestrian and bike access
3) Approval of new development elsewhere
——–
Shaw avenue is a major east-west corridor that ties Fresno and Clovis together, and is primarily commercial*. If you are a chain, and you opened before 2002, you would probably open on Shaw (such as the first Target in Clovis). In Clovis, it's home to the city's only traditional mall (Sierra Vista). In Fresno, Shaw is where you'll find the regions only truly successful traditional mall, Fashion Fair.
Shaw is also where Fresno State is, and it's the southern border of Old Town Clovis.
The make up of Shaw is strictly autocentric. Every commercial property features acres of parking in front, to the sides and sometimes behind it too. Sidewalks exist at almost every point* but are narrow, at maybe 5 feet wide. In some places, the sidewalks are actually dangerous. Crosswalks are rare, and are limited to signalized intersections which are usually .5 miles apart…and some intersections ban pedestrian crossings on some sides. While most of Shaw has room for bike lanes (as the street was probably designed to accommodate parking) none has ever been painted. The speed limit varies from 40-50pmh.
*There are maybe a dozen private homes that abut Shaw, remnants of when it was a rural road. There are no sidewalks in front of those homes, and the dwellings are run down and of low value.
I think most will agree that Shaw is ugly. It is suppose to be the prime commercial street, but like Blackstone, bad design has made it an eyesore.
This is compounded by the fact that large portions of the commercial real-estate on Shaw is empty, and will probably never be occupied. According to the meeting I went to, 30% vacancy is typical.
Here is an example of one of those commercial developments. You can tell by the amount of cars in the parking lot that this center is dead. Take into account that some of those cars are employees, leaving….one customer?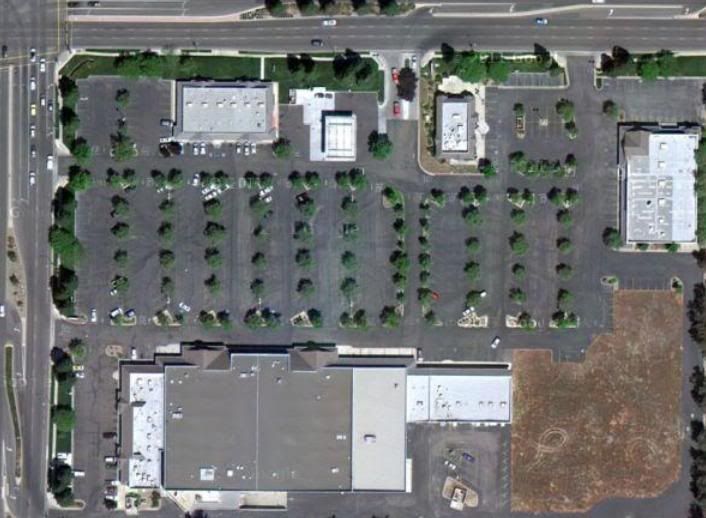 Red shows empty space, yellow is a gas station, green is leased space. The tenants are all low-income stores, like a Little Ceasars, a Tobacco shop and a nail salon.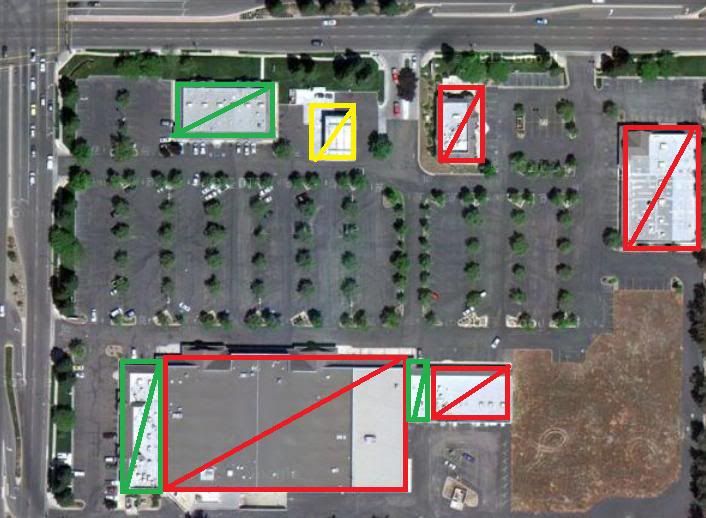 The largest space was a supermarket, the second largest was a Wallgreens. A Boston Market also closed. When a fast-food chain closes, in this town, you know something is wrong. The largest leased space is a Chase bank.
1) Car focus kills business.
Because so much of Shaw is fronted by parking, the businesses on Shaw find themselves in an odd position.
Every day an estimated 60,000 car trips are made down the crowded Shaw Avenue corridor. But with so many shuttered businesses and vacant buildings not many people have reason to stop.
These businesses locate on Shaw because of all the traffic…yes customers!
They build giant parking lots so all those customers can park…yay sales! Isn't is so pretty?

….but hold up. Isn't visibility a prime factor when it comes to getting sales? 60,000 cars a day passing by sounds like visibility, by the irony is, those businesses aren't visible.
They're hiding behind parking!
If you're driving on Shaw ave, you're paying primary attention to what's in front of you. Are you seeing all those tiny signs of those businesses all the way out in the back? There might be thirty businesses in this one shot, can you name them?
In green, what the driver focuses on, how many businesses does the driver become aware of? Remember, the speed limit is 45mph.

Most cars don't have passengers. But those that do have eyes that can focus on sightseeing.
But even then, when the stores are so far away from the road….well, how many businesses can you see here?

I don't think it's shocking that so many businesses have failed. What's shocking is that so much money was poured into building this way. There appears to be a huge disconnect between "location, location, location! We must maximize visibility!" and building retail centers that aren't actually visible.
2) Terrible pedestrian options
Unlike those driving, pedestrians and cyclists move at a slower, calmer speed, which allow them ample time to observe their surroundings. If these surroundings are commercial, then the pedestrian has time to read the signs, and if the shops aren't too far away, look inside.
But Shaw ave wasn't built for the pedestrian, at all. Worse, is that on the Fresno/Clovis border lies Fresno State. Like most universities, Fresno State has a large population of people willing to spend money, but perhaps lacking in cars.
Getting Fresno State students and staff to eat or shop east of freeway 168 has been very difficult. Clovis Development and Economic development director Tina Sumner said, "That is really a roadblock."
ABC
Correct. Fresno State is kept separate from Clovis by freeway 168. To accommodate the car traffic, every design choice in the book was taken to speed up vehicles. Huge intersections, as many lanes as possible an so forth.
But most damaging, in my opinion, are the on and off ramps which encourage cars to see Shaw as a portion of the freeway.
You can see Fresno State, dense student housing south of Shaw, and the freeway blocking off access to Clovis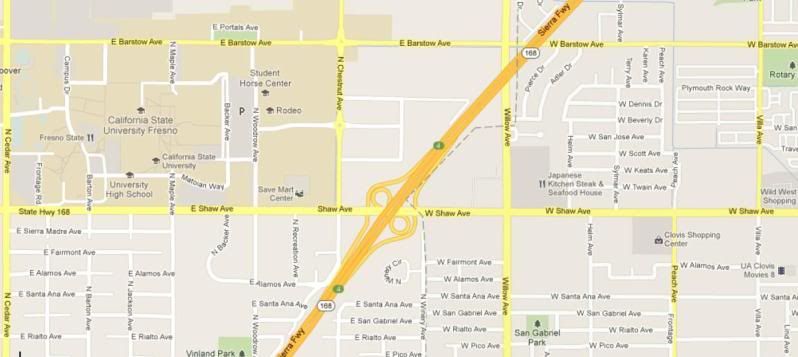 It's not just the freeway. An abandoned car sales lot, the home depot parking, an empty Fresno State lot, and more make this short distance seem like an eternity. The remarkably wide road doesn't help.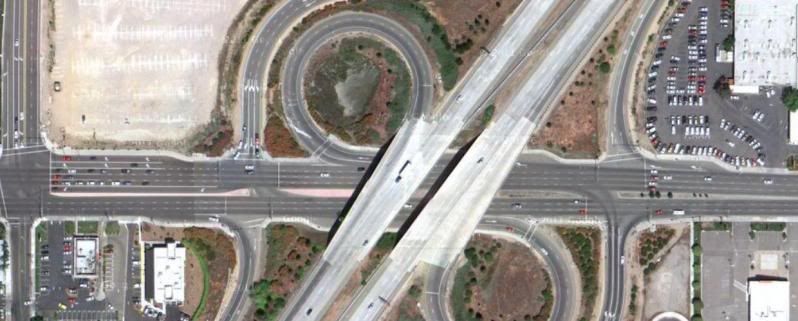 In my opinion, it's the Caltrans on-ramp design that really kills any pedestrian and bike activity.
Look at this poor guy on a bike. Suddenly, the three lane + shoulder road opens up into a massive space, pretty much 6 lanes. If you're going straight on a bike, you "should" take the lane and be 3 lanes from the right (the lane with the circle). Yeah right, that's a death wish. What's also odd is how wide the road becomes. The space on the right leads to a single lane…so why is it a good 20 feet wide?
Tiny sidewalk, no bike guidance or lane…but apparently, enough money for all this extra asphalt. Tailgate parking..?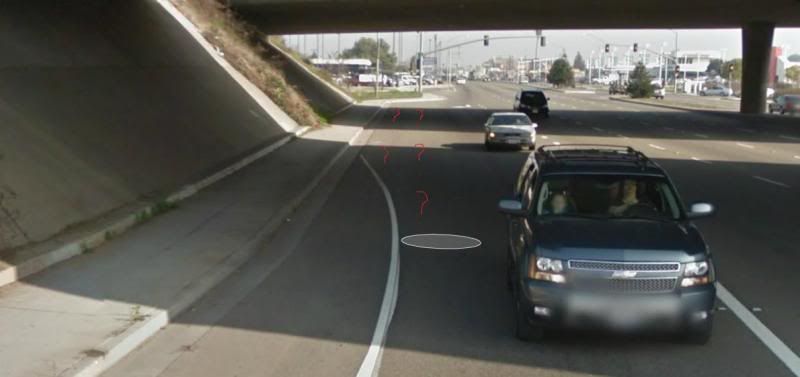 And for pedestrians, how many vehicles do you think stop at this crosswalk? There's no enforcement of course. Fresno State's basketball arena is visible in the back.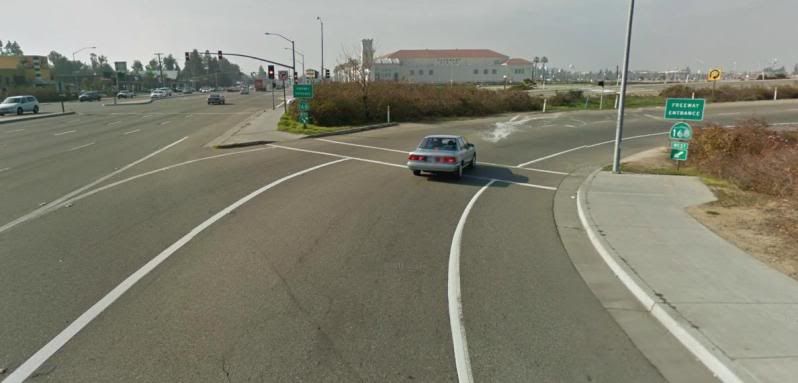 The offramp isn't as bad, but still, notice how its so wide, to allow people to make turns as quickly as possible? The freeway was built less than 15 years ago. When it comes to pedestrian, the older freeways from the 50's are so much easier to deal with.
New:

Old: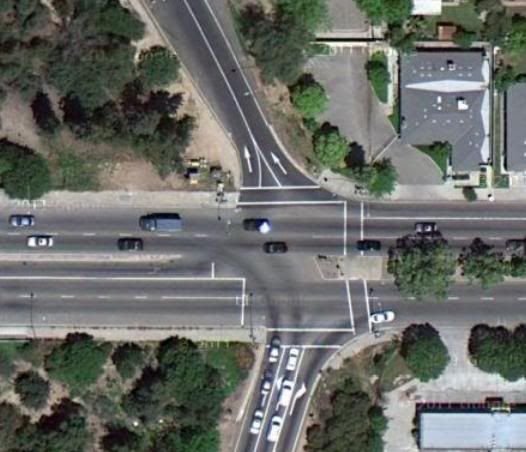 And yes, the old design (seen on highway 41) carries more vehicles today.
One can shake their fist at Caltrans for their bad designs. But Clovis is just as bad. Look at this entrance to the Home depot.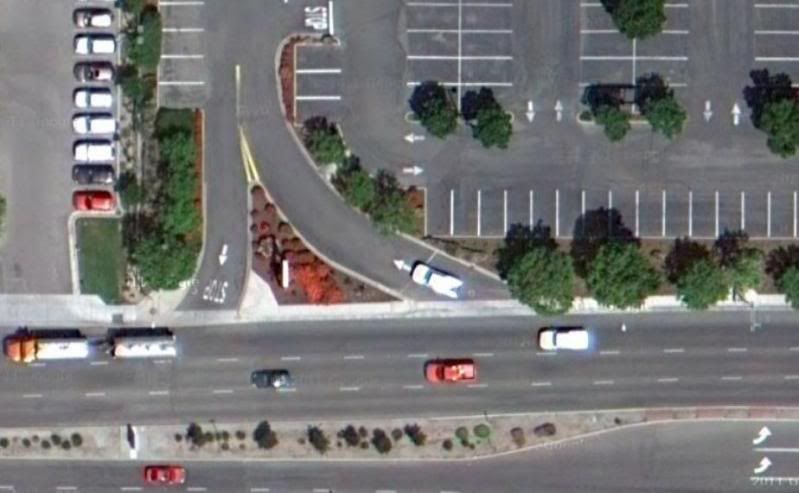 Even the Home Depot gets an on-ramp! Of course, the Home Depot offers no pedestrian access.
Care to take your date on a stroll here?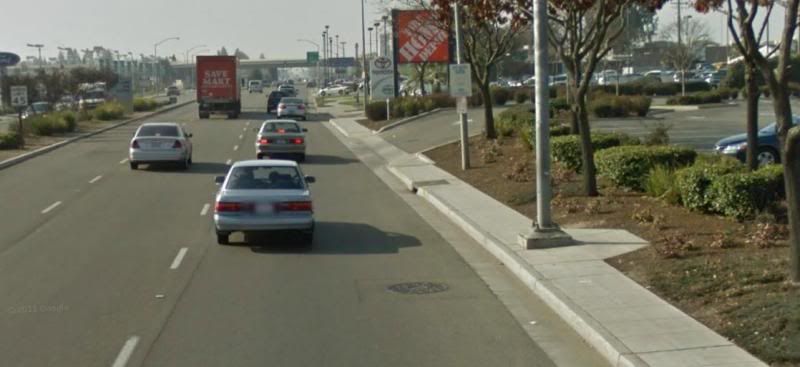 The point is, no, Fresno State students will not walk to your shops if this is the way you great them. They're not suicidal.
3) Aiming development elsewhere
So you've got yourself a stretch of road with high vacancy rates, terrible bike and pedestrian access, but a whole lot of promise (everyone knows Shaw, many people use it daily).
Want to kill a dying commercial strip? A good way to start, is by building a highway, and then directing all new commerce north.
Here you see the Clovis city limits, the Shaw project area in green….and Herndon in yellow. In pink is "Old Town Clovis"
So what new commerce is being built on Herndon, 2 miles north?
1) Opened 3-4 years ago
Best Buy
Target
Petsmart
TJMaxx
10+ smaller stores
2) Proposed Winco and associated Stores
3) Walmart SuperCenter, Dick's Sporting Goods, and Marshall's currently under construction.
Note the shopping center directly south of this lot, is an abandoned grocery store (old Vons or Albertsons maybe?)
4) Vons, SaveMart and Fresh and Easy (yes, all three supermarkets, one intersection)
5) Old Town (no chains, all small stores)
6) Shaw
7) Sierra Vista Mall (including a Target, Kohls and Sears)
8) An existing regular Wal-Mart
The freeway, was not there 10 years ago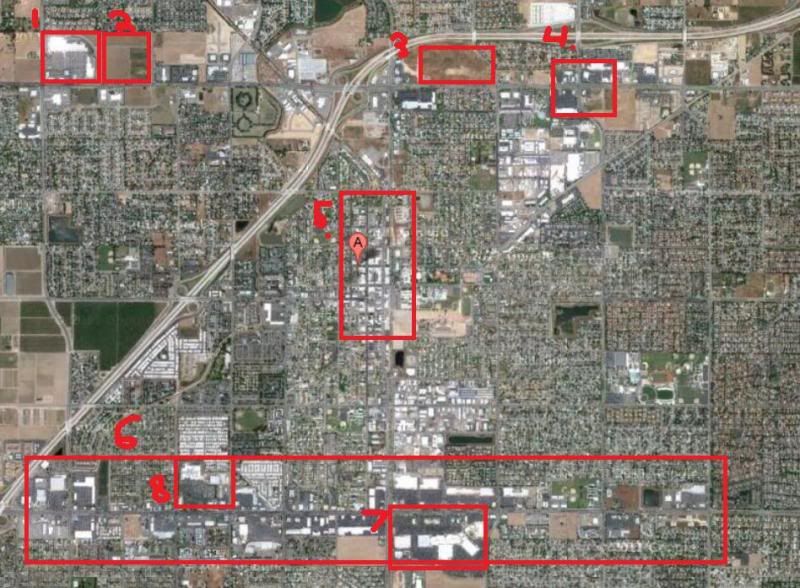 Again, Shaw to Herndon is only 2 miles. You're looking at an area that is basically 2.25 x 3.25 miles. Just on Herndon, a road with zero residents, you will find 6 full service grocery stores, and one abandoned grocer. Seems like overkill, no?
What's especially interesting is that the Wal-Mart SuperCenter was actually proposed in 2003, and the city approved it.
A group of residents then sued the city, saying the Environmental Impact Report was not proper. They claimed that while the EIR covered things like traffic, water use etc, it did NOT take into account the huge amount of blight that a Wal-Mart would bring to the area by causing many store closures. The residents were especially concerned about the proximity of the Wal-Mart to old town Clovis, an area which the city had spent a lot of time and effort revitalizing (with much success). The city/walmart fought this lawsuit, and the city won in 2011, clearing the way for construction to begin, as it did last month.
I think the residents were right. I don't think the shops in Old Town have much to fear, as they're the exact opposite of Wal-Mart (small mom and pop antique stores and such).
But Shaw Ave?
It's already dying, and I do think the Wal-Mart will help kill it off.
The irony is that the city spent so much time and effort fighting the lawsuit so that Wal-Mart could be built on Herndon, and then turns around and asks for ways to revitalize Shaw.
Bonus. Something I don't get…the distribution of grocery stores. They're all together, so close to each other…but far from the homes. :/
Not including dollar stores, 7-11s etc…
In yellow, stores with grocery sections, including Savemart (2), Vons (1), Target (2), Grocery Outlet (1), Fresh and Easy (2), Foodmaxx (1), Foodco (1), Smart and Final (1)
In red, abandoned grocery stores Savemart (1), Vons (2)
In blue, future wal-mart supercenter and winco