When Fresh And Easy came to Fresno 2 or so years ago, I became highly interested in their small-format stores and their location scoping. What especially caught my eye is the way they distributed their stores, which included both a downtown location and a (sort of) South Fresno location.
A non-fast-food chain opening south of Shaw? What magic is this?
Well, it turns out that the party didn't last so long, as the chain will be "temporarily" closing their Cedar and Shields location (temporary meaning from 2 years to forever). The report comes from the Fresh and Easy Buzz Blog which has a list of the 12 stores the chain is closing. That's a shame. Ceder and Shields is a busy intersection in an area lacking cheap grocery options.
While Supermercados Vallarta is a quarter of a mile away, and is highly successful (and always crowded), they jack up their prices on stuff like milk to cover the cost of their imports. Fresh And Easy, while not a discount store, offers competetive prices and frequent store coupons.
Fortunately, the downtown location is to remain open, and continues to be one of the only stores in the chain to open at 7am, vs 8am for the majority.
Map:
The Fresno locations. The closing one is crossed out. Three locations have been "coming soon" since 2010, but probably won't open this year, even though two are done and ready to go. F&E has not announced any new Fresno-area store locations since they entered the market in 2010.
The yellow line is the Shaw divide.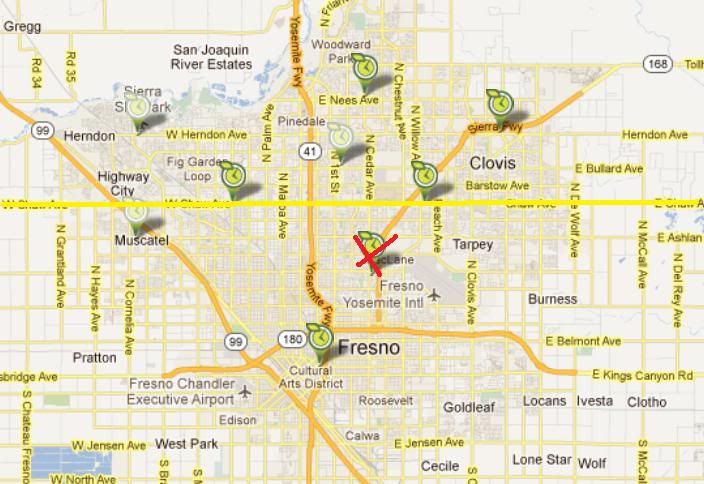 In a Fresno Bee article, an expert makes the following claim
Although many retailers expand during economic downturns due to good deals on property, the grocery industry is a tough field to succeed in, Testa said.

"That segment is just so hyper-competitive to begin with," he said. "The margins are always small. They're competing against everything from Walmart to the grocery store chains to the convenience stores."
I disagree. That doesn't accurately explain this particular closing. There is a Vallarta, Save Mart and Target within 1.5 miles, but that is less competition than their Herndon and Fowler location….which manages to be located across the street from both a SaveMart and a Vons.
Personally, I think the location in the intersection is poor. It doesn't jump out at you, among the barrage of signs and ads.

Of course, Id say this is true of many of their locations. Can you see the Fresh and Easy at Shaw and Willow?

Part of the problem with this lack of visibility is a Fresno planning issue. Signs everywhere + giant parking lots + obsession with being on the corner = things get lost.