It appears to me that this summer we will see the highest gas prices of all time…again. Predicting exact price is always impossible, because of so many variables, but while oil and gas can be quite unpredictable, they also follow very clear seasonal patterns. What that means is that from now until memorial day, expect gas prices to increase….as they always do. What makes this year special is that our starting point is the highest it's ever been.
The ingredients that will lead us to new records this summer:
-Economy is improving by all metrics, and looks to continue that way. More demand = higher prices.
-Ethanol subsidy is gone, leading a 4.5 cent increase per gallon of gas (should be in effect now)
-We are currently at the highest January prices ever, and…
-Last year had very few events which caused spikes in prices (hurricanes, strikes etc). That means that any spike this year caused by a one-off event will send prices way higher than last year, and even without any spikes, prices should still follow last years trajectory. While last year did see the events in Libya rattle investors, it caused a general rise and not a spike (as would happen if a refinery blew up, or a hurricane hit Texas). As the arab spring is still in effect (see Syria), prices will not drop.
So lets take a look at what the patterns show…(all prices will be California numbers, subtract 30 cents for US average)
Our starting point is today, January 20. We're 37 cents higher than the same day last year.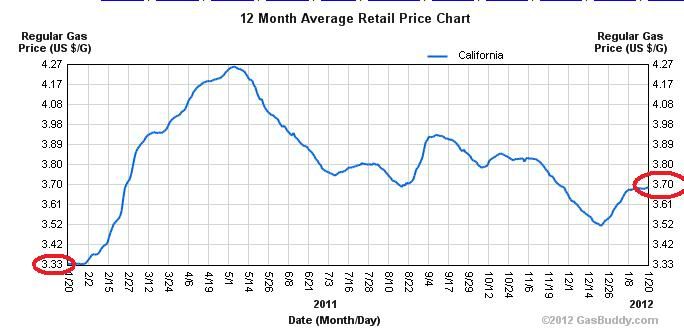 Which itself was higher than 2010…


2010 actually saw stable prices throughout, thanks mostly to the bad economy. The pink line is a surprising, but mostly not relevant line showing a linear increase. Just thought it was interesting.
This next graph is very misleading, because January 2009 was after the huge collapse in prices. The pink line shows what the lovely linear line would have given us, if it werent for the 2008 boom/bust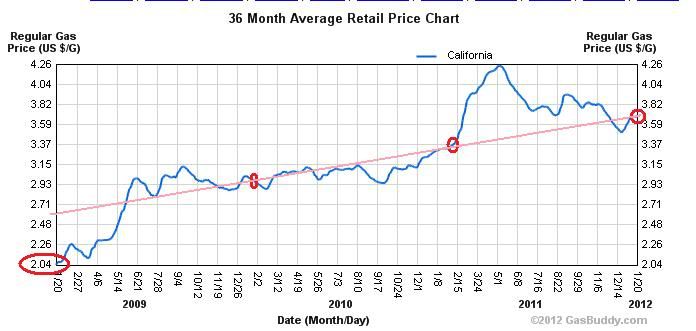 Including 2008 shows us when gas prices last hit a record.
What's interesting is the January starting point….which was lower than where we are right now. Oh-oh.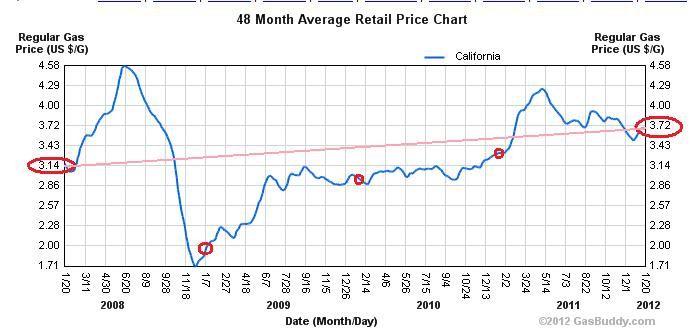 That giant bump in 2008 was caused by blind speculation. Expect that speculation to return as the US economic indices continue to look better. Unless Europe explodes, investors will go back to oil.
Including 2006 and 2007 is useful because it shows us that typical summer bump, which we got again last year after not seeing it in 2009-2010. I fully expect we will see that pattern emerge again this summer as it did in 2006, 2007 and 2011. That bump has been around $1 in the past. I think it will be less this time, but enough to break records.
Just for fun….
Blog prediction! Predictions exclude major world events (earthquake in Texas, Iran explosion, Nigeria coup etc). Prices in California averages, according to Gasbuddy.com. Dates chosen at random.
$3.70 on January 20th (today)
$4.00 by March 4th.
$4.25 by March 25th
$4.50 by April 25th.
$4.66 (record) by May 15.
(prices to drop after May 15)
Feel free to leave your own predictions in the comments. Winner gets their name in big bold letters.