There's an interesting, unique event happening downtown this weekend, a downtown-wide open house.
How does it work? Well, it's really something that could only work in Fresno. Basically, 5 new residential developments downtown (aka, the majority) will open their doors for viewings. That's not something that could ever happen in Miami, Boston or LA, but because Fresno has so little housing downtown, something like this can be coordinated.
I'm excited. The open house includes a mixture of places, such as brand new development (Fulton Village), industrial/commercial that has been rehabbed into lofts, and even one of the cities tallest buildings, being converted into residential. That last project, has been ongoing for years, and it's exciting to finally see something come of it.
For those of you reading this blog from afar, note that Fresno went through a 20+ year period with not a single new residential development downtown. There was a lot of activity in the area over the past 5 years, even through the recession, and for the first time, one is able to tour them all and compare what is available.
If you're interested in urban living, there will be no better showcase. Even if you have no interest in moving (I don't plan on moving anywhere), it could be a fun way to spend the day. Personally, I'm mostly excited about the tour of the Pacific Southwest (Security Bank) building.
From the Bee:
Here's your chance. Developers of five downtown properties will open their doors from 12 to 5 p.m. Saturday and Sunday during the Fresno Downtown Open House to give the public a look at residential and business spaces.

Traditionally, people have to make an appointment to see these units, but this event, which has never happened before, gives everyone an opportunity to go and take a look if interested, said Elliot Balch, Fresno's downtown revitalization manager.

The much awaited Mayflower Lofts, from Pasadena-based developers Romi Baghgegian and Jake Kojikian, at Broadway and Tuolumne streets is on the list of properties that will have tours.

Beverly Hills developer Sevak Khatchadourian and his brother and business partner, Serko Khatchadourian, will allow visitors to see what they have done with the 16-floor Security Bank building now known as The Pacific Southwest Building on the Fulton Mall.

Other participants include the Iron Bird Lofts, Fulton Village and Van Ness Cottages from the Assemi family.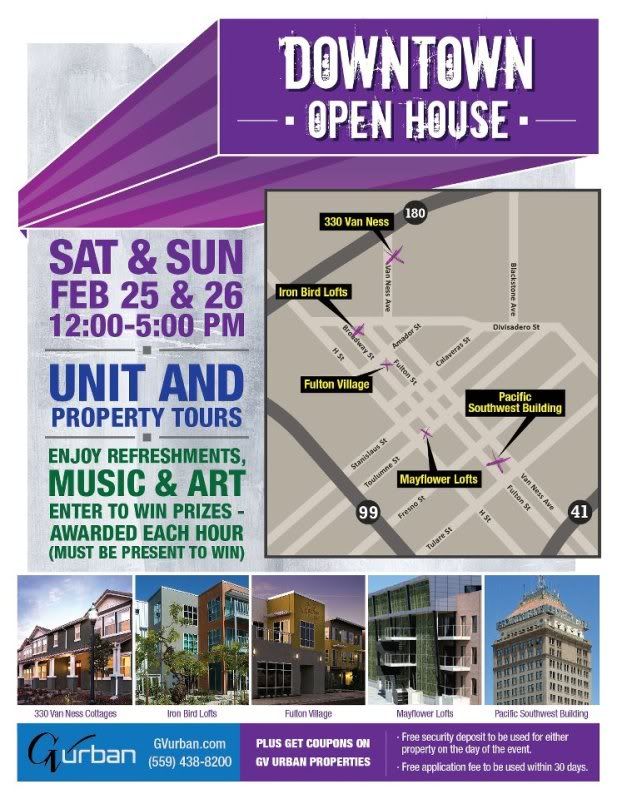 I've written about Fulton Village and the Van Ness Cottages before.
If you do swing by and look around, make sure to stop by the other new stuff happening the area. Iron Bird Cafe has re-opened, as has a coffee shop on the Fulton Mall (Fresno Bewing Company). I've written about those as well.
I'm not quite sure yet if I'll swing by either Saturday or Sunday, but perhaps I'll bump into a reader?
BTW:
On January 20, I made a post predicting gas prices.
I had said (for California average according to gasbuddy.com)
$3.70 on January 20th (prediction date)
$4.00 by March 4th.
$4.25 by March 25th
$4.50 by April 25th.
$4.66 (record) by May 15.
(prices to drop after May 15)
I was wrong.
Gas hit $4.00 on February 17th, well ahead of schedule. Fresno hit on the 21st, again not really close to my March 4th guess.
As of 2/23, gas is at $4.20 meaning my $4.25 prediction will be wrong by an entire month.
I still stand by my other guesses, not that it matters!
Check out that slope.