FAX = Fresno Area Express, Fresno's bus system which also (just barely) serves Clovis and Fowler, and county islands.
A small ad in the paper the other day (yes, an ad, not a news story) mentioned that changes were coming to Fresno's bus routes. The small ad only said that routes 26, 28, 30, 32, 39, and 58 would undergo changes, and one could read about said changes online. This got my interest because that included the busiest bus routes in the system.
What could it be? Were they finally going to expand service, after over a decade of contraction? Would they begin serving areas that had grown greatly over the past 20 years, but were ignored by a route map that looks like it was designed in the 60s? Would they close gaps? Would they completely shift routes to serve origin-destination pairs that riders want?
Well, no.
Big changes are coming, but the changes mean switching around which bus route gets to serve which street. The service area appears to remain exactly the same.
IE: if Route 1 serves Main and Broadway, and Route 2 serves Peach and Cherry, the change would mean Route 1 would serve Main and Cherry, and Route 2 would get Peach and Broadway.
In other words, these changes appear solely to achieve operational goals, and not passenger goals.
Thats not a bad thing, because improving operations does benefit the passenger if it makes service more reliable.
But are major changes to long-established lines worth the effort? Especially important is that fact that the ad directed people online, and many of FAX riders may not have internet access, may not be proficient with computers, or may not speak English.
What's also curious is that the changes are listed as "proposed" but absolutely no info is given as to the process to get these changes passed. Will there be public hearings? Rider feedback? …..anything?
Here is the wealth of information provided on the website
FAX proposes route adjustments for 2012. To see a map of the proposed enhancements, click on the specific route number below:
I've talked about the badly designed FAX website before, but this takes the lack of information and public accountability to a new level.
Anyway, on to the changes.
The Fresno bus system is still designed with downtown as a hub, which makes sense historically, but not today. Because of the way the city grew, downtown is in a corner, with all growth being to the north and east. It is not centrally located, except if you are on a freeway, but FAX buses do not use the freeways*.
*The Children's Hospital Express does, but that's a special hospital funded service.
While downtown is a hub, buses don't actually terminate there. Most lines go out of their way to hit the downtown transit center (aka, a plaza) before heading out in another direction.
This is an odd situation, because while downtown is still a jobs destination (40,000 jobs), it doesn't match ridership needs.
Someone going from the north to the west has no interest in a downtown detour, but has to deal with it anyway. And "nobody" is going from north fresno to southwest Fresno, but a bus serves that route. In reality, theres probably a 99% turnover downtown, and it's essentially one number serving two distinct routes.
Line 26 is an excellent example of the absurdity, especially because it serves the airport….and well, everything else. It is currently the 4th busiest bus route in the system. Service begins at around 6am, and there is service every 30 minutes until 6:30pm, at which point it becomes hourly until 9:30pm. Yes, it's pretty sad.
Here you can see downtown Fresno in the bottom left, the area inside the three freeways.
The line serves the wealthy and popular River Park shopping center (aka, every chain ever), shifts to move down Palm, making sure to pass by the Wal-Mart supercenter, then continues on Palm, a street lined with medical officers, expensive restaurants and car dealerships (even the regions only Whole Foods!), goes south of Shaw where it hits the tower district, serves downtown and the transit center, and turns east along Butler, a very low income area with many abandoned businesses.
But thats not all! It hits Fresno Pacific University, turns up to Kings Canyon to hit another Wal-Mart Supercenter (and a Winco) before heading up Peach avenue pretty much to serve the airport.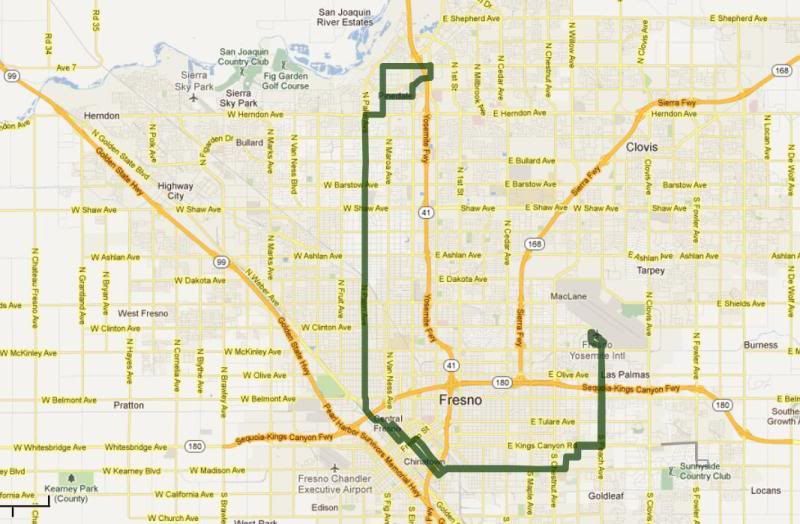 In other words, if you were coming to Fresno, and only had an hour, and wanted to hit all the "sites" than this is the bus for you! From BMW dealerships, to extreme poverty, a christian university, the "trendy" areas downtown and not one, but two wal-marts, you get to explore most of what Fresno offers and get deposited at the airport on your way out.
But aside from social commentary, does it offer much to the rider? It probably does a good job at getting people from south Fresno to jobs at the airport and downtown. It does a decent job of serving the busy Palm Avenue corridor. It manages to link the Tower with downtown. The question is, should one bus route be doing this all?
Probably not.
And FAX is planning to change that….but maybe even not for the better.
Here is the proposed route change. In the north, the change is minor. Currently, River Park has a mini-transit center, which many northern routes try to hit. The problem is, this "center" is spread out, and not fully convenient to bus movement. So it looks like 26 will no longer serve the stop inside River Park, but stay on Blackstone. While this will require longer walks for some, the time savings should more than make up for it. Forcing a bus to make multiple left turns in a busy shopping area is not very effective.
The big change is in the south. No more bus service to the airport. Instead, the bus line will loop around the IRS/Wal-Mart/Winco area. This area serves lots of people, yes, but it leaves airport employees (and the few airport passengers) out in the cold.
The shorter route may allow for improved headways, but passengers going to the airport will now be forced to make a transfer, possibly adding an hour to their trip.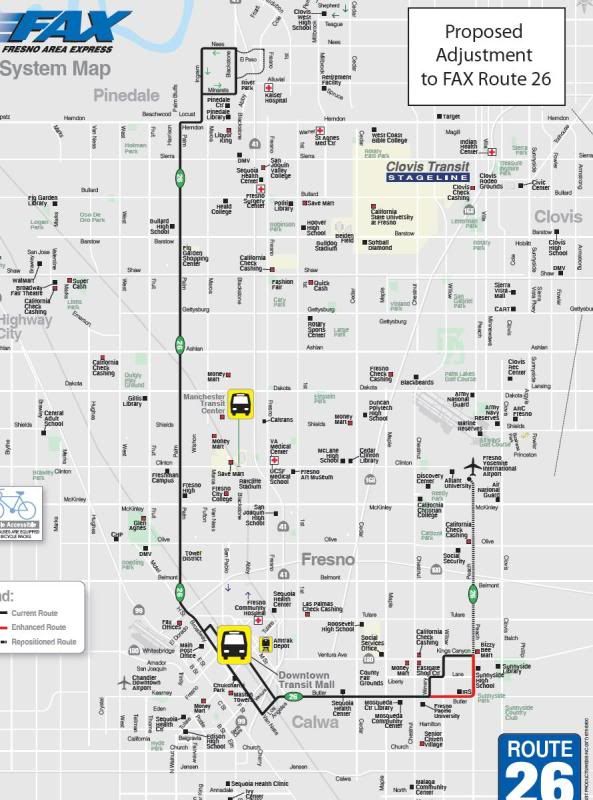 Meanwhile, route 39, the other route serving the airport, takes over the Peach portion of 26, meaning one line will handle airport duty from both directions. In reality, it means an added transfer for those in South Fresno. Oddly enough, the jog to the Manchester Transit Center gets eliminated, making said transfers more difficult. So now only one bus will serve the airport, but it will be probably the only bus line in the system to not hit a major transfer point.
One thing the diagram does not make clear is how the airport is served. Currently, the two bus routes enter the airport, and pickup/drop off directly across from arrivals. I can't tell if the curbside service will be limited to north/west trips only, leaving a long walk for west/south passengers.
Fortunately, route 39 comes at the same frequency of 26, providing service from 5:30am to 6:20pm every 30 minutes, and then hourly until 9:20pm on weekdays. Lets pretend weekends don't exist, because FAX sure does.
I will talk about the other bus routes this weekend, as this post has taken longer than I thought it would to prepare. I will include comparisons to the existing routes and so forth.
You can see the proposed maps here (PDFs):
26 -See above
28 –Major changes to the systems busiest bus route
30 –If changes go through, will become by far the systems busiest route.
32 –Minor change
39 –See above
58 –I think this map is actually wrong…