Fresno has finally begun to take advantage of its extensive canal system by starting to build a section of a multi-use trail, one of hundreds of planned miles. But what if the trail is being built to satisfy lines on a plan, and the design choices make it clear that accessibility or ease of use was never really considered? Below, I take a tour of a recently completed section of trail and document many of the design flaws, including terrible access for those in wheelchairs.
——-
The Fresno area, thanks to the agricultural roots, is crossed by many canals which bring much needed water to farmers. As the city grew, and buildings replaced farms, the canals remained but the city turned their back on them. The canals weren't seen as a place to enjoy, but as a place to be kept off limits. This is odd because the area is lacking in water features. There are no natural lakes in the region, only artificial ones, like the bird habitat at Woodward Park or the dam-reservoirs up in the mountains. The San Joaquin river marks Fresno's northern boundary, but access to it is limited and difficult. Indeed, because of the way development was organized, it has become isolated, leading to drug use and prostitution along its banks. This only scares off people wanting to enjoy a water feature.
I mention all this because people generally love water features in their urban environment. Around the world, rivers are places where people gather, walk, and enjoy life. What's more romantic than walking along the banks of the Seine in Paris, watching geese wade into the Charles in Boston or taking a cruise on lake Geneva in Switzerland? But like most things, Fresno appears to have taken their design cue from Los Angeles, which did their best to destroy and make inaccessible their major river.
Embracing the river has made Boston a much more pleasant place to live

Paving the river has only helped LA look more blighted and unpleasant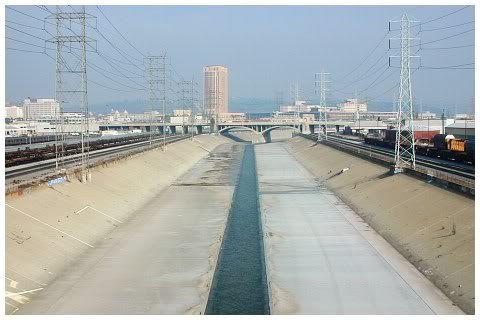 Fortunately, most of the canals still exist, with ample right of way preserved. Most have been buried as they cross major streets, but outside the grid, the canals curve and run unimpeded, open to the air. In many places, the canals do what the .5 mile grid doesn't, and provide shortcuts for pedestrians and bikes. Except like I said, Fresno hasn't embraced this, and instead has tried to limit access to the canals.
That is changing. The bike-master-plan takes advantage of the space made available by canals and plots a large system of future trails. Some of these trails are rather useless, for transportation purposes, but will make excellent recreational spots. Others, like the canal running next to McKinley, offer the perfect opportunity to create bike-highways, as they are straight, have very few crossing points, and have ample space for a path and trees.
Every proposed trail in the bike master plan uses an existing right-of-way, either a rail line or a canal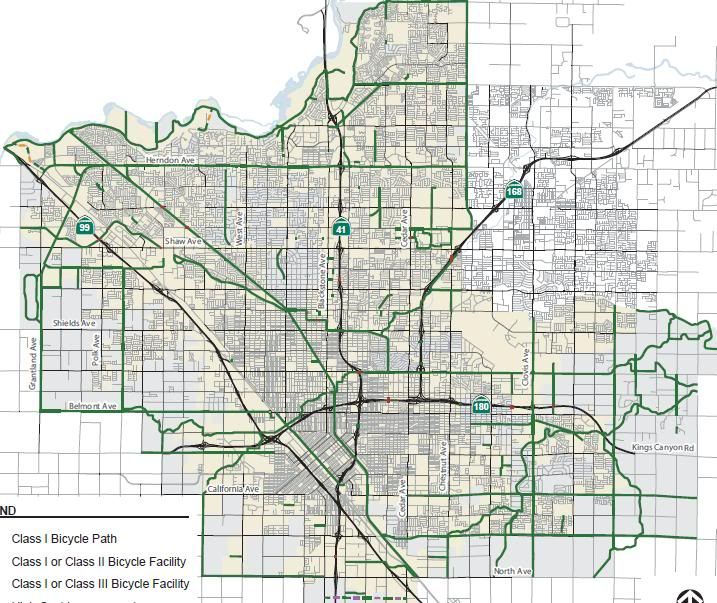 One thing a master-plan doesn't convey, when showing us a proud network of future trails, is whether or not the trails are being built so they're actually useful. Sadly, Fresno has recently broken ground on a new canal-trail, and the design choices show me that no real thought was placed on actually making it accessible.
————-
This specific trail is under construction in east Fresno, on the border with Clovis. Fresno and Clovis are divided by the Gould Canal, with Fresno to the south. Here you can see the location of what I will be talking about, and the relation to Clovis.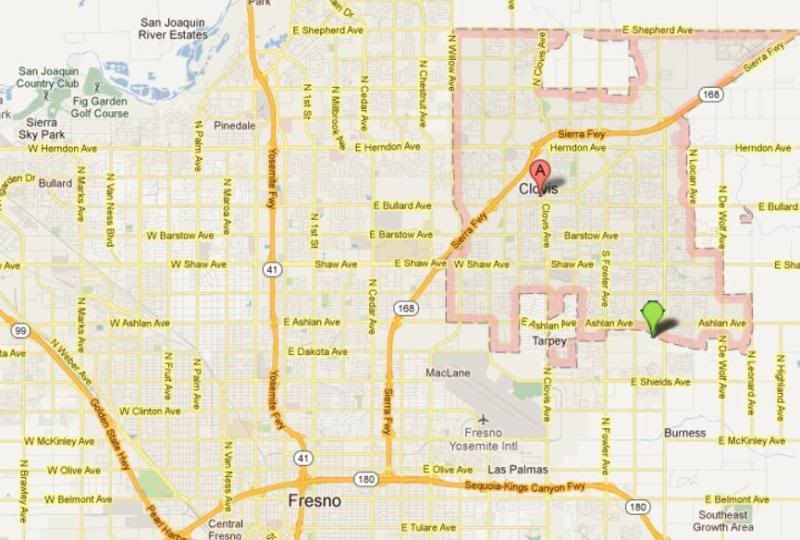 The trail is being constructed because a very large parcel is being developed into housing. I assume as part of the agreement, the developer has to build the trail along their portion of the property. The property is very easy to spot in this map.
In dark blue, the canal which divides Fresno from Clovis. In light blue, the sections of the trail which run in Fresno County. In green, the only existing trails in the area (not in Fresno, in Clovis). There are other, minor canals, but they've been buried, and cannot be used for trails.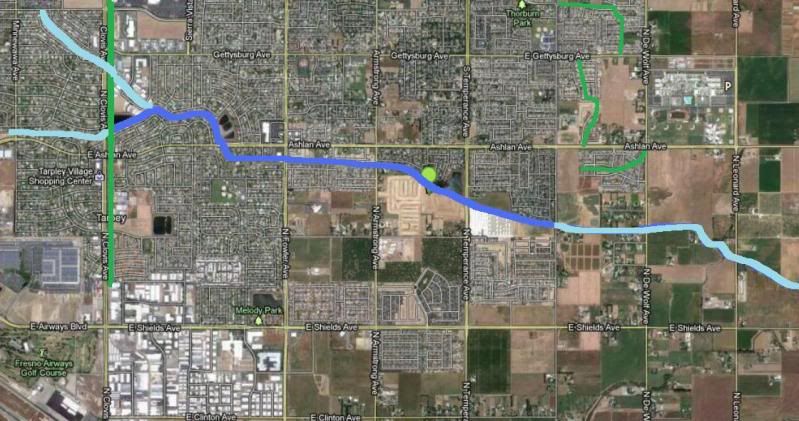 It's easy to see that the canal can make an excellent trail, as it connects to the popular Fresno-Clovis rail trail in the west, and runs between the grid, so can act as a shortcut.
Especially noticeable is that Fresno has a grid in which major streets are spaced ever .5 miles. But here, Dakota terminates at multiple points, meaning the only east-west routes are a mile apart – huge for pedestrians and bikes. The canal/trail provides the necessary east-west access, without forcing cyclists and pedestrians into a maze of housing subdivisions.
The portion under construction is less than .5 miles long, but that's enough to see that if this method of connectivity is what Fresno has in store for their trail network, it will be much less useful than it should be.
In red, the portion that has been constructed. Temperance is the north/south road on the right. Fresno plans show a 10-12 foot path running alongside this future "expressway".
On to the ground then.
We start at the intersection of Temperance and the Gould Canal.
Here is the canal. On the left, Fresno. On the right, Clovis. It's ugly now, but you can imagine with trees, benches and such, it can be a pleasant walk. The trail is visible on your left.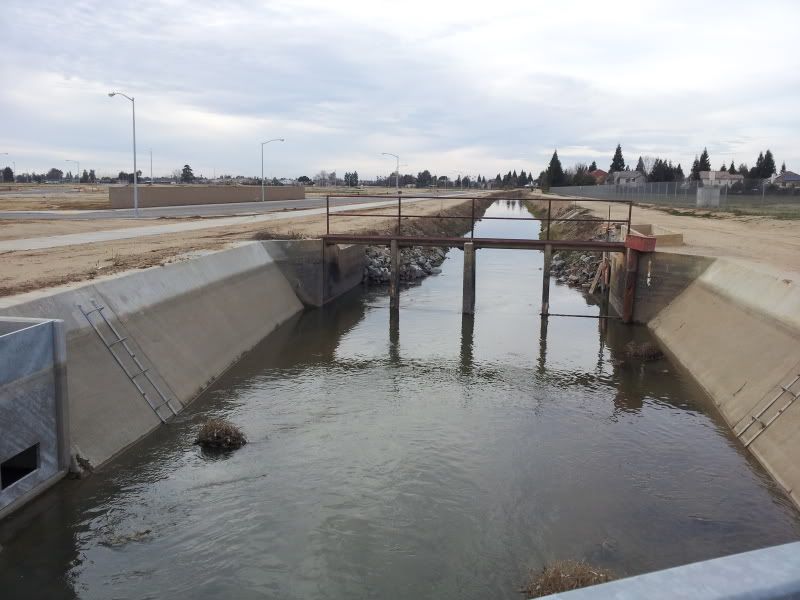 Looking north into Clovis, there's no sidewalk, even though we can see three people walking. That's inexcusable because the parcel on the left is owned by the government, it's a retaining pond.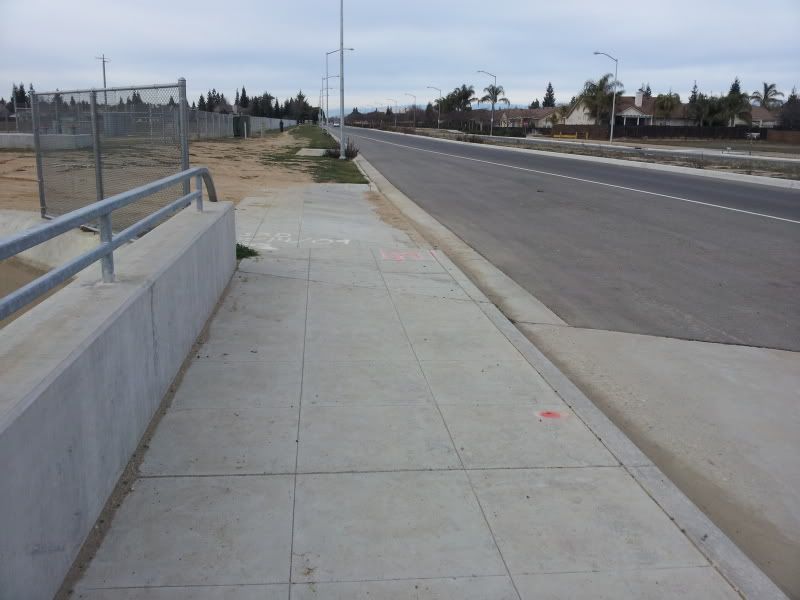 You can see the sidewalk ends on the north where the homes do. The government has not deemed it necessary to build a sidewalk along their portion of land. The road has just recently been widened, from 2 lanes to 4/6 (4 painted, 6 fit). But that's a whole other issue anyway. I can write a whole post about the retaining ponds and their disregard for the world around them.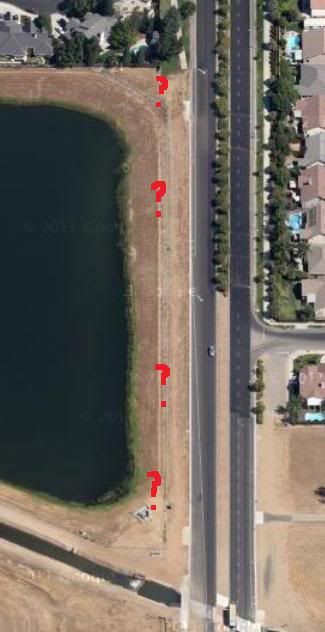 Looking across Temperance, to where the trail is one day planned to continue, you can see that there's no suitable crossing spot. No crosswalk, no ramps. Further, on the right (Fresno's side) you can see the lovely giant wall of Derell's Mini-Storage. When they built their center a few years ago they weren't required to build the trail. Instead, they've put up a fence, so only the Clovis side of the trail is accessible. Thanks Derrels, for your lovely contribution to the community.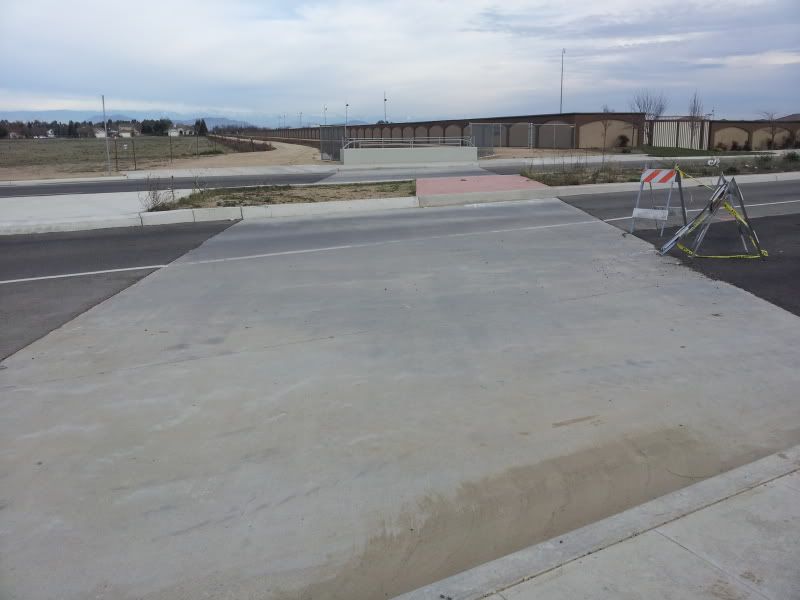 (Speaking of Derrels, there's an item on the Fresno city council this week about them trying to get the fees they must pay to the city lowered)
Now we look south, and here's where the troubles really begin. The trail has been designed and built to not even attempt to connect with Clovis. I guess in this world, pedestrians plan their travels around city boundaries? So no way to (legally and safely) cross Temperance to continue along the canal, or to walk north into Clovis.
Note the wall on the right, it's going to be massive pretty soon.
Looking south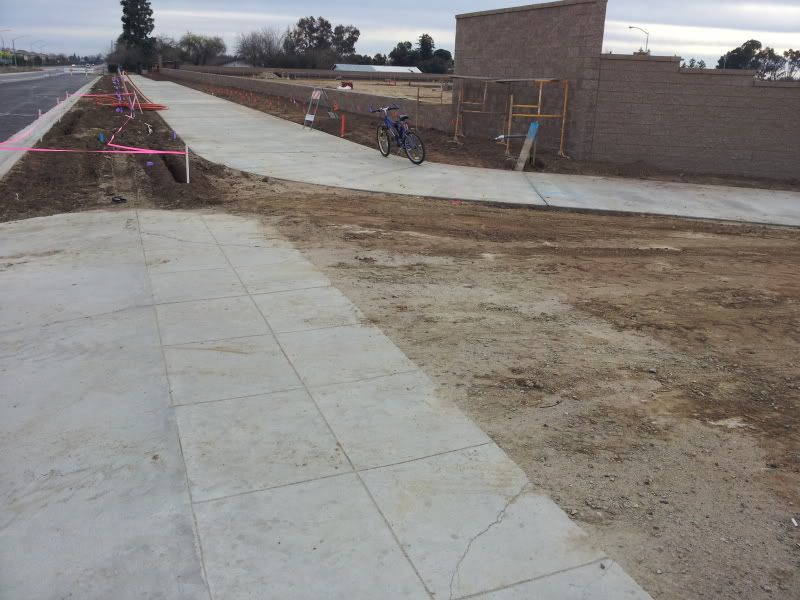 Looking north

Not a crossing point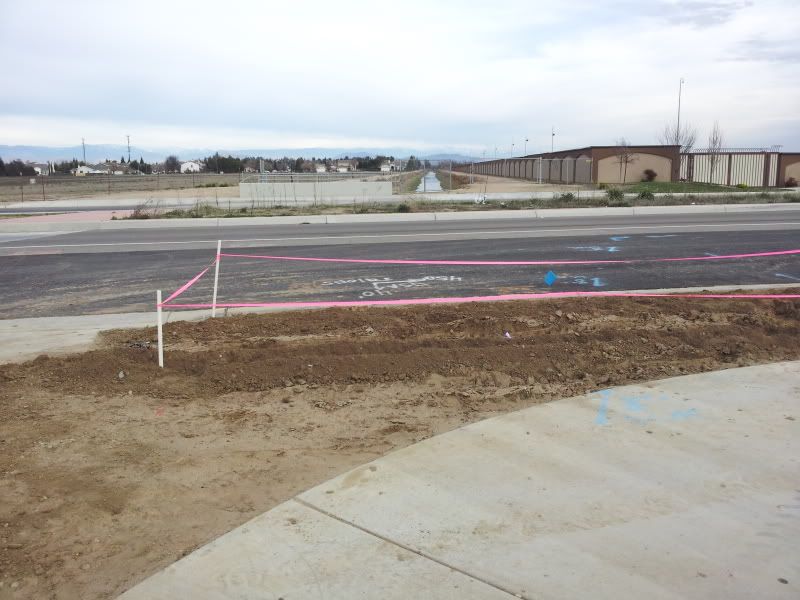 Homes will be built behind this wall, which has another 6 or so feet to go. Pay special note to the residential street in the background
Those pedestrians we saw walking in the dirt have caught up. Looks like a couple of high school students. Poor kids. You can see the brand new trail ends right ahead, but these kids are used to walking on dirt.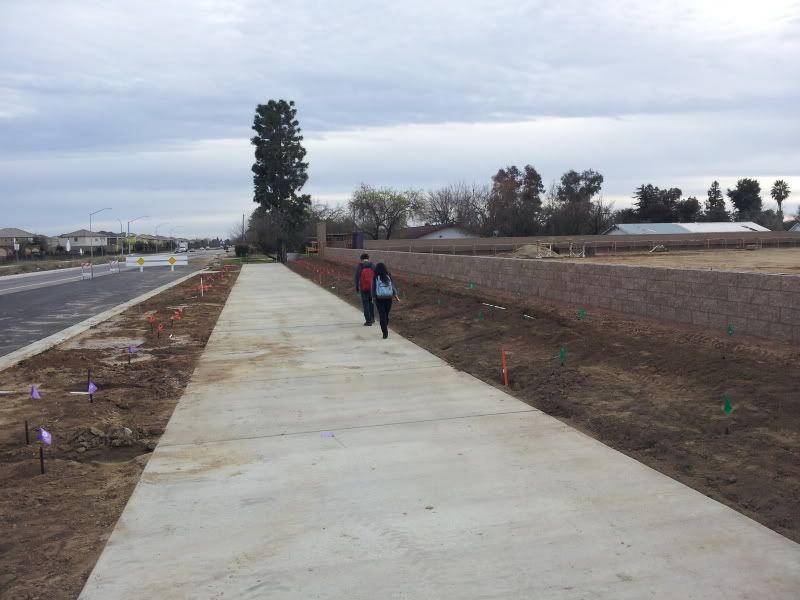 On the other side of the street, the sidewalk is kept behind a fence. Someone is jogging, enjoying the beauty of Derrel's. The point here is to show that even with terrible pedestrian connections, people still walk.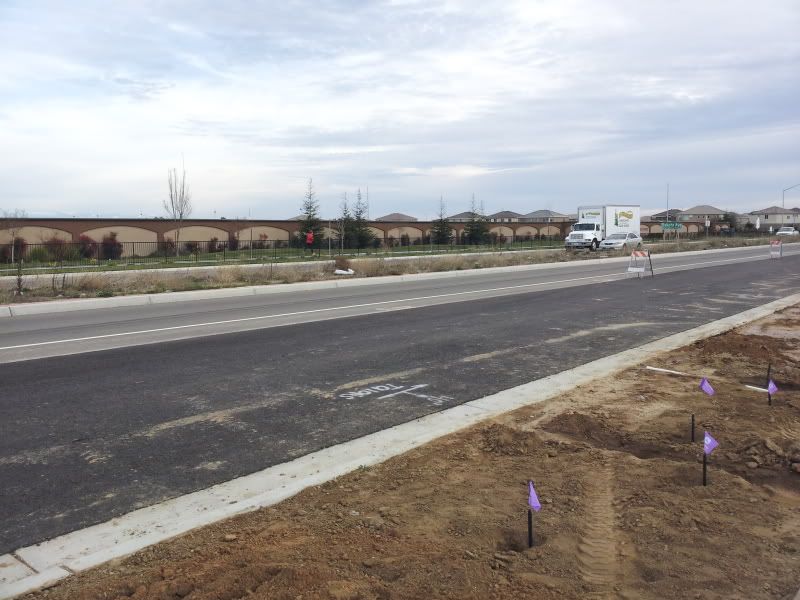 The new trail ends at the property boundary, but I'm mildly surprised. Unlike the north end, where there is no connection given to the sidewalk over the canal, here a ramp has been provided. Not as a place to cross the street, but so someone can enter the roadway to continue their journey. This is probably the one and only place where accessibility was taken into account, and a major issue later in this post. You can see the kids walking in the dirt, alongside the 50mph road. Have fun guys.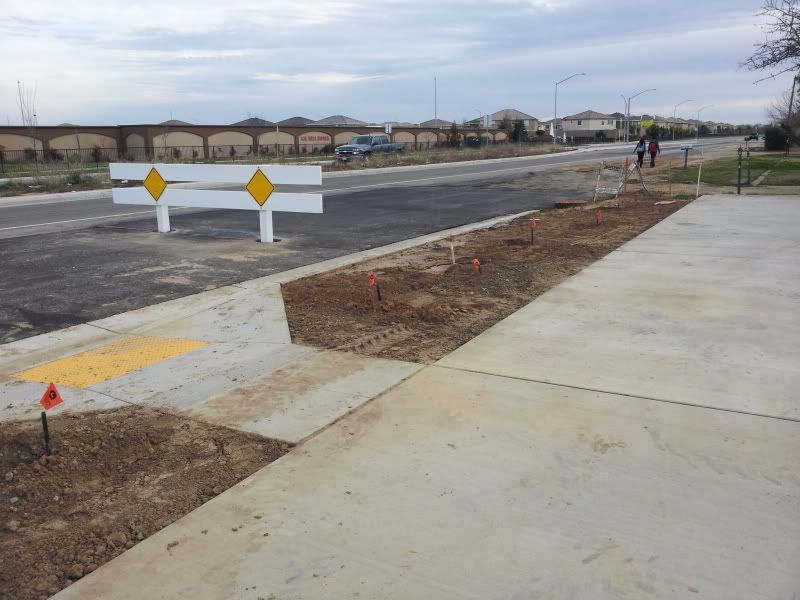 The median, and then a fence, shows this is not, nor ever will be a crosswalk, just a temporary measure.
One day these homes will lose their yards and trees to the steady march of road widening. That day may be 20 years away, or just 20 months. No way to know.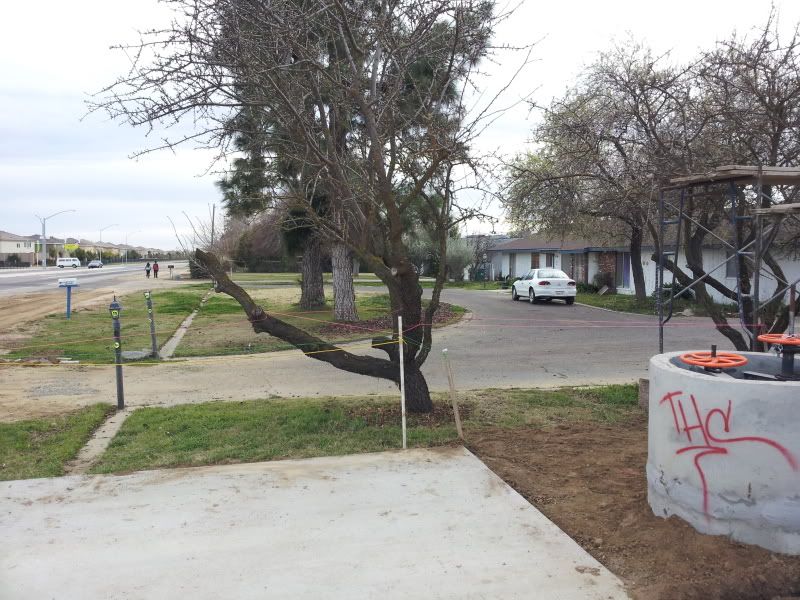 Anyway, back to the curb cut. Remember before when I asked you to note the residential street in the back? If accessibility were, you know, considered, then there would be a sidewalk connecting said residential street to Temperance.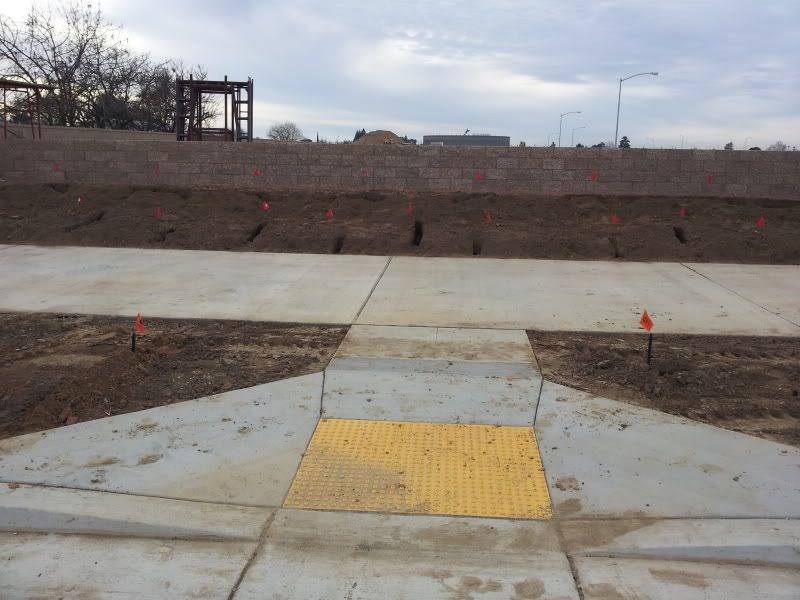 Instead a home will be built here, ending any such connection, forever.
So any pedestrian wishing to quickly access Temperance will have to take a rather round-about method of getting to the sidewalk behind their home.
Ok, let's return to where we started, at the canal. We enter the future residential neighborhood. You can see Temperance and the mini-storage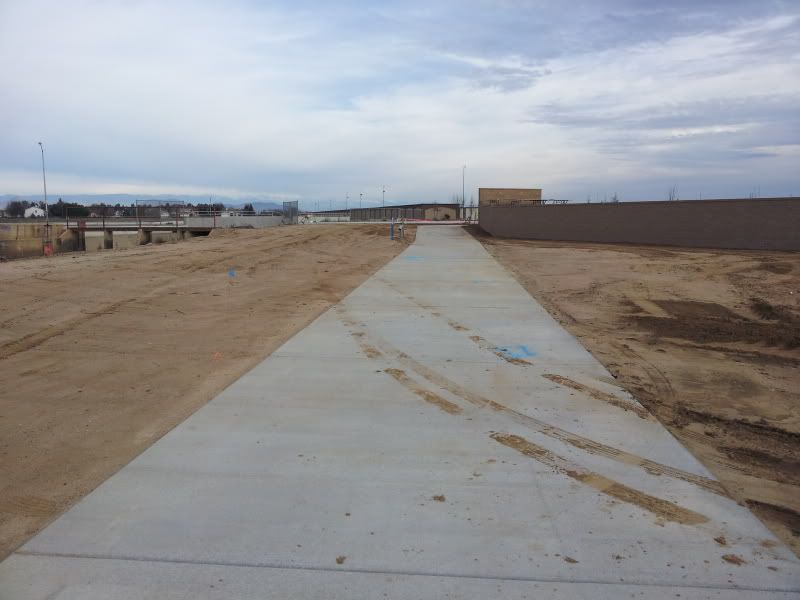 Hold up, how does one on a bicycle, or in a wheelchair get to said trail…?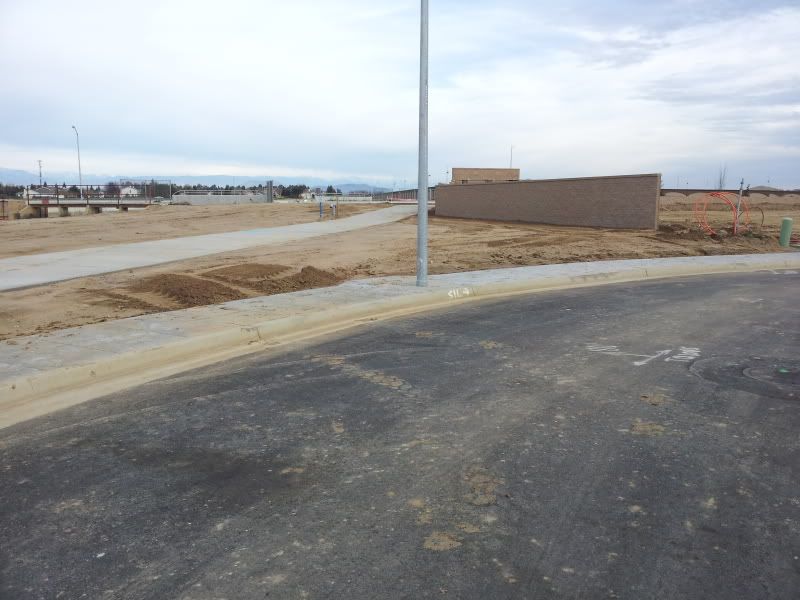 It's 2012, and we're building trails without ramp access now? On a bike, it's a hassle. With a stroller, it's a pain. On a wheelchair, this is impossible to maneuver. ADA was passed in 1990….what happened? I guess if you are disabled, and you live on the wrong side of the street, no trail for you.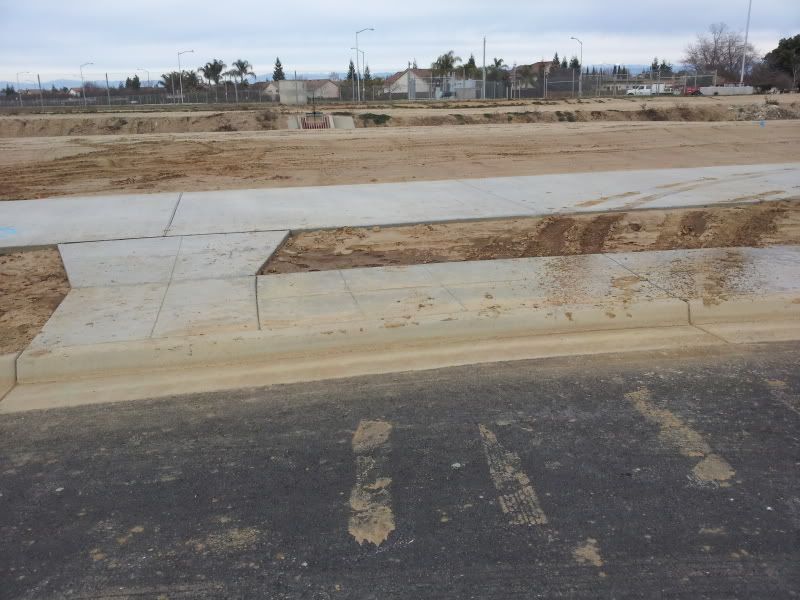 No ramps at all. That's why I was surprised they installed one on Temperance.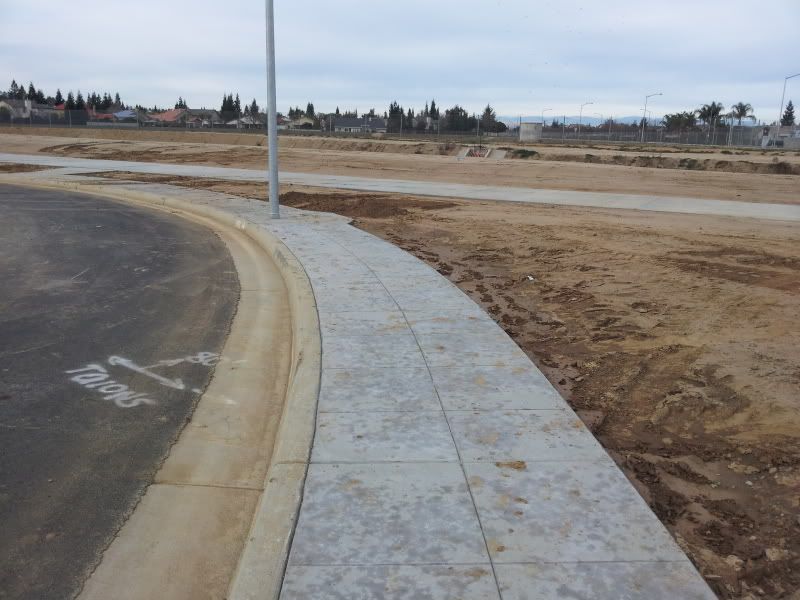 As we turn to continue down the trail, you can count 5 pedestrians in this next shot. As I said, folks like their water features when it comes to taking a walk. Imagine how many people will use this trail once there are actually homes here.
We reach another intersection, and not only is there no curb ramp, there's no sidewalk connection either.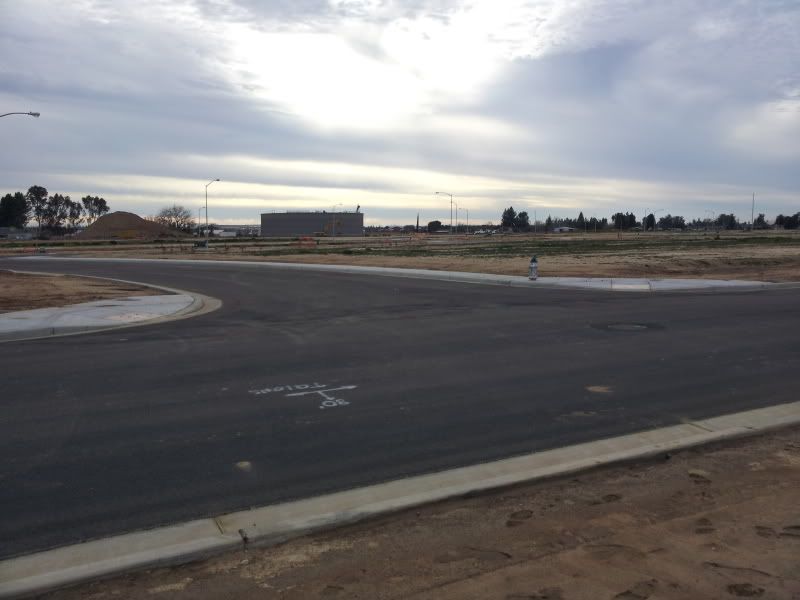 One of the selling points of this future subdivision will be trail access. Except, you know, without the trail access. How does this make any sense?
Imagine if someone proposed a residential neighborhood with a dense street network, and then a moat between the neighborhood and the shiny new highway. Obviously, something like that would never happen. But for wheelchair users, that's what is being built here.
Continuing.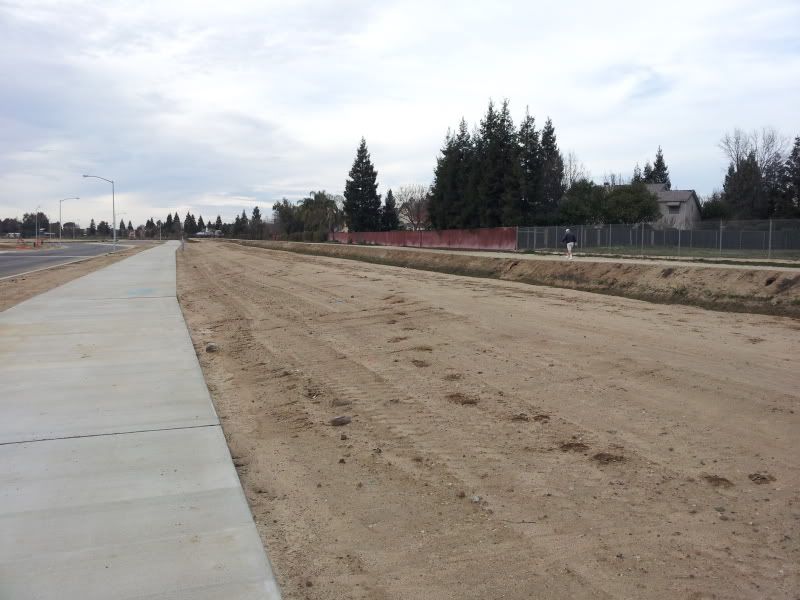 Looking back
Here we are again, next intersection, no pedestrian connection.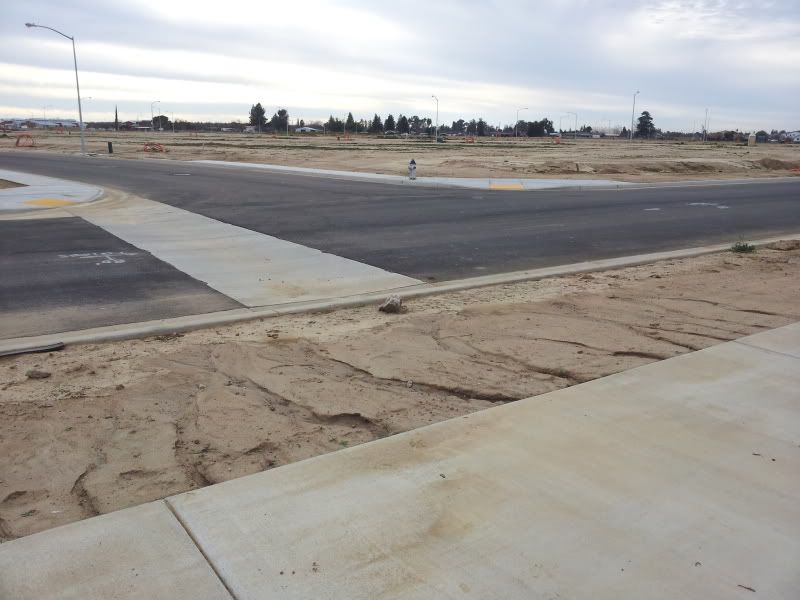 Up ahead, we reach an intersection that finally has a curb cut, but it's not bike friendly. I'd wager a park is going in here, but to get to the curb cut, you need to hit two 90 degree turns and a 5 foot sidewalk. Not the end of the world, but for brand new construction, does it make any sense?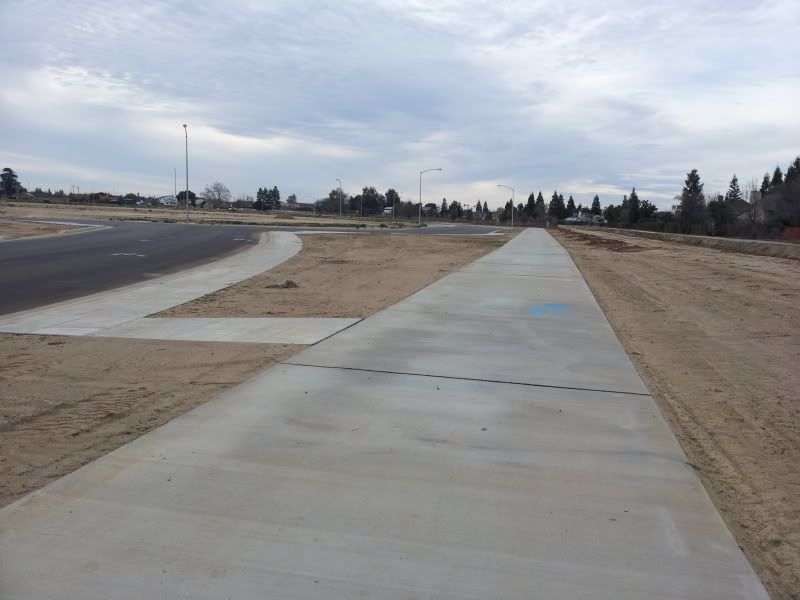 There she be, the curb cut ramp.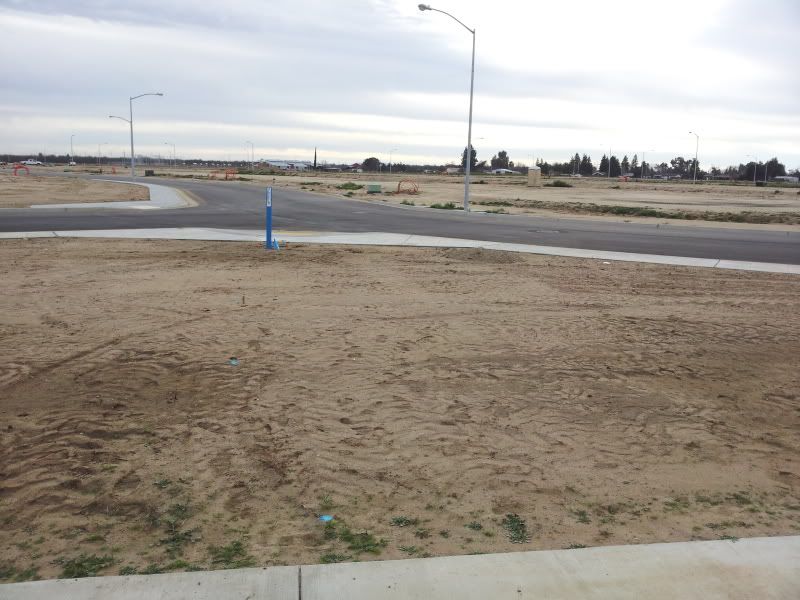 From this side, access is just as stupid.
Next intersection…no ramp again.
Fail.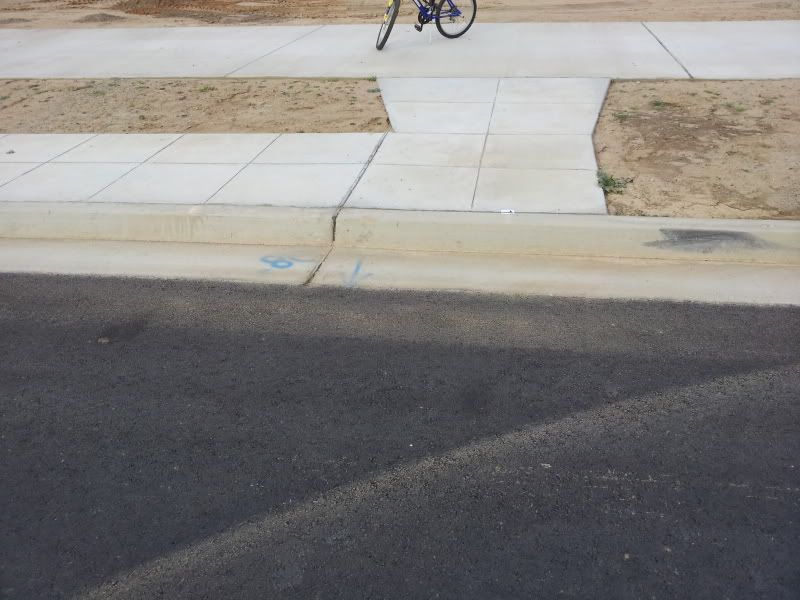 I then decided to hit up the google maps measure tool to see the distance between the first curb cut, and Temperance.
1270 feet.
Or .24 miles.
That's funny. When Fresno designs their mega-streets, crosswalks are generally placed every .5 miles apart. Sometimes, if you're lucky, a crosswalk is located at .25. I guess someone read up on those "standards" and decided that it would make sense here as well…? Quite frankly, I can see no other logic behind the spacing of the wheelchair accessible ramp. Unless there's some court case precedent that says that "equal access to the disabled" is satisfied with ramps being placed .25 miles apart?
When you're building brand new infrastructure from scratch, why not do it right? How much work are the basic ramps…?
Intersections with no ramp access (purple) and with (green)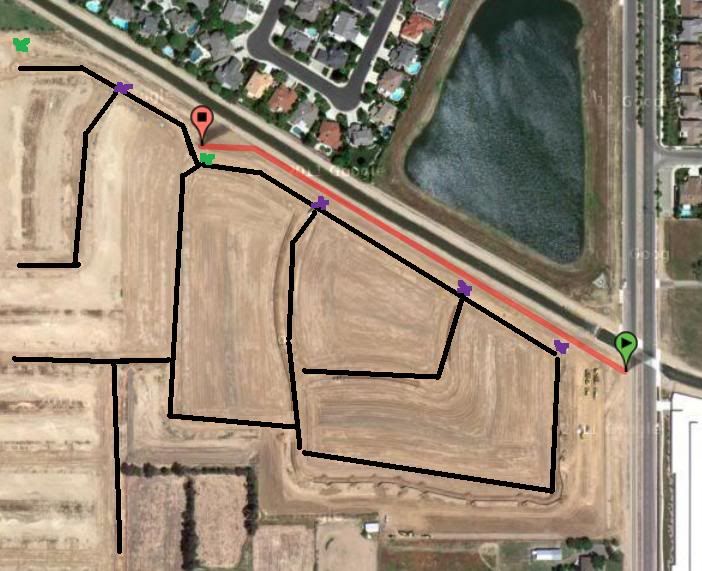 Continuing on then, the path ends because someone decided not to sell their home to this developer. There's room along the canal, but what will happen here is a 50 or so year wait for the trail to be completed.
A connection to the road, temporary in nature, to tide over those 10-50 years? Nope.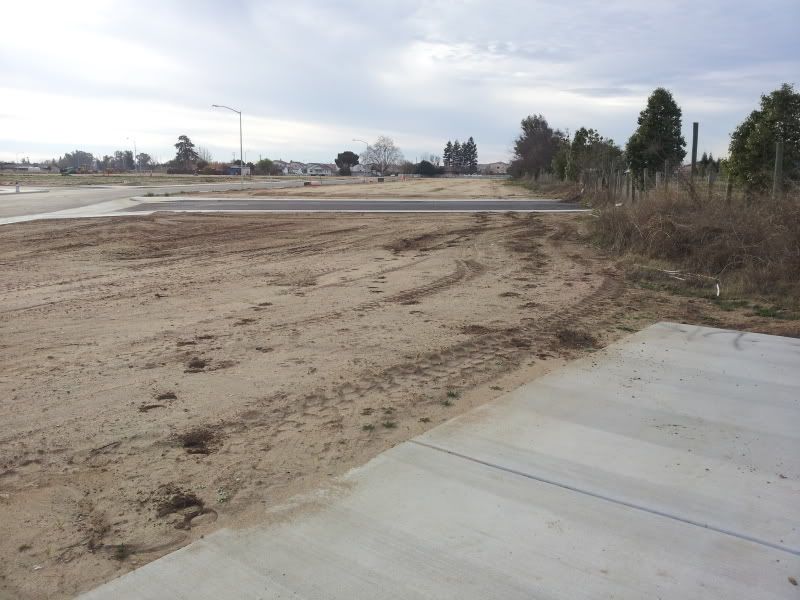 Anyway, we reach Armstrong (by detouring through a maze of streets) and arrive at what one day will be a trail crossing. I count five pedestrians in this photo by the way. While those homes on the left are pretty damn new, the developer was not required to build any path here.
On, and if you went alongside the canal, around that private home where the path ends?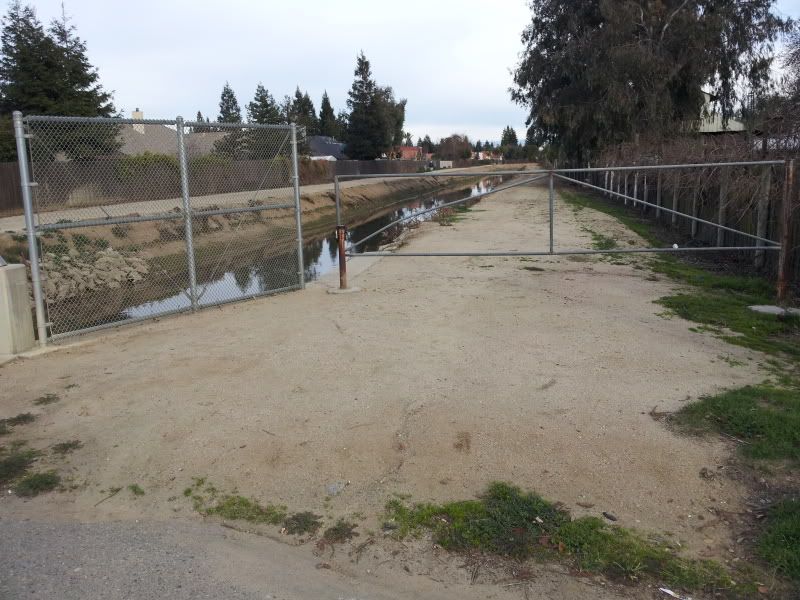 As I said, Fresno is not a fan of using their natural assets.
Not that Clovis is that much better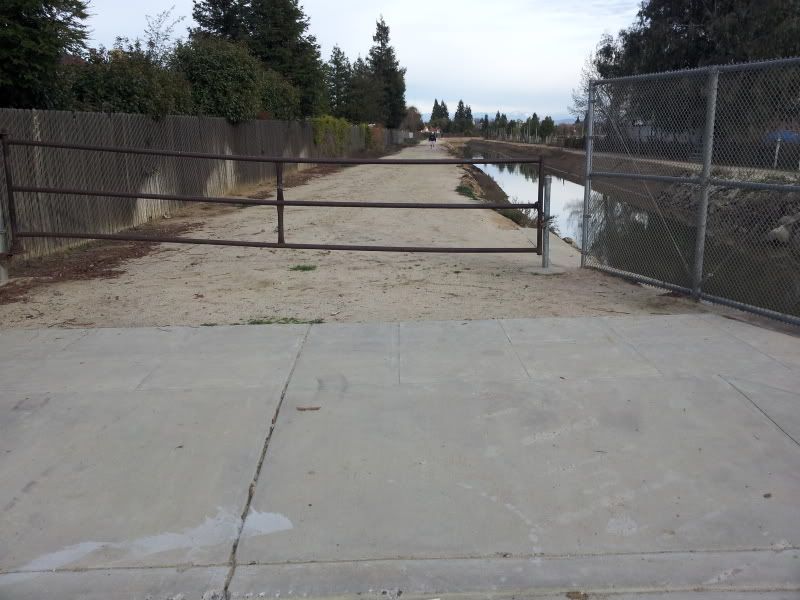 I like trails. I like new trails. But I hate seeing shoddy construction like this being approved. Actually, not just approved. Someone had to draw it up. Someone had to sign off on it. Someone else had have reviewed it. And they all thought it was perfect.
I will revisit this construction in a month or so once it's done.
Hope you enjoyed my tour about how to badly build a trail, close off your natural recreational assets and ignore common-sense access, all in one day.
🙂