Last week I talked about how FAX is proposing route changes. Still no info on a timeline, public comment etc, but here are some maps showing the rest of the existing routes and the proposed changes. While mapping out these changes, it really hit me how incompetent the FAX routes are at serving destinations and balancing the routes.
The FAX route system seems to have been designed in the 1950's, and yet here we are, with proposals that do nothing to address some of the major failings.
In the last post, I highlighted the changes coming to routes 26 and 39, which would switch off on areas covered. I noted that these changes would probably help balance operations, but not necessarily help out riders. The changes would not include an increase or decrease in area served, time of service of frequency.
This post will discuss proposed changes coming to lines 28, 30, 32, and 58. Here are the lines and their current ridership numbers:
28 – 1st (yellow)
30 – 3rd (pink)
32 – 6th (purple)
58 – dead last (not mapped)
Here are the areas these routes serve (not including 58 which is a special route)

Like with 26 and 39, routes 28 and 30 will see a switch-off between routes.
In my opinion, the changes to 30 make sense, but to 28, not so much. You see, Fresno is planning a BRT (bus rapid transit)* system that was supposed to launch in 2012 but has been delayed to 2014.
*It will be BRT in branding only, as the proposal is not in any shape or form real bus rapid transit.
It seems like the changes to 28 and 30 are a direct result of the proposed BRT system. The proposed BRT line will serve Blackstone, go downtown, and then head out on Kings Canyon.
The changes will mean route 30 will now almost fully cover the proposed BRT route. This is a good thing for a couple of reasons.
1) One route will cover both of the busiest bus corridors, allowing for good transfers, and better operations, and will better justify improved headways and longer hours.
2) Will allow for more prudent deployment of the new 60-foot articulated buses scheduled to arrive later this year. (PS: dear Fresno Bee, some reporting on that would be nice. Why must I read bid notices to find news about FAX…?)
3) Will result in a seamless transition to BRT (BRT = look, the buses are now a new color!)
A big downside is that the added length may mean service problems like bunching. A problem (like an accident) on Blackstone may delay service on Kings Canyon, and many riders have no interest in riding the length of the route.
Here is what route 30 is proposed to do.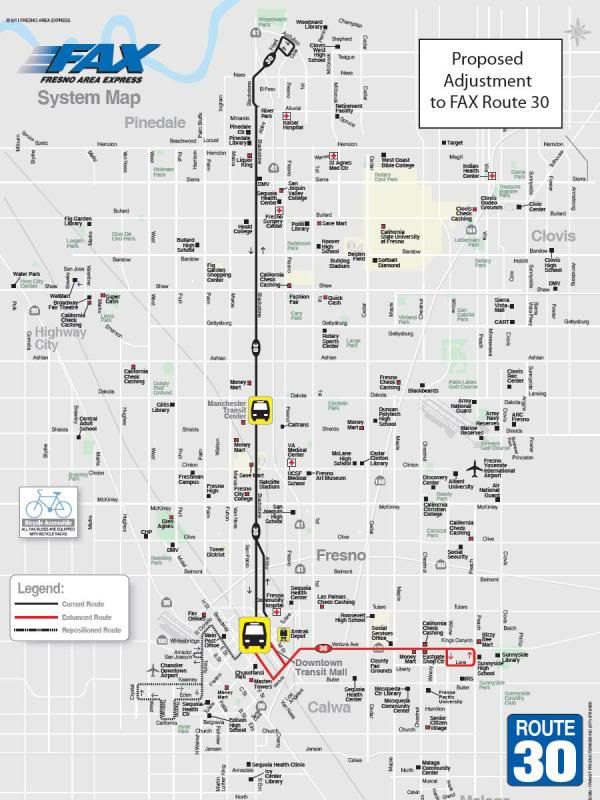 The only difference between the new 30 and the future BRT is that the planned BRT will extend an additional mile to Fowler Ave, at the proposed "Fancher Creek Transit Village". (mmhmm)
What this means is that 28 will take over the section of route that 30 abandons. This isn't necessarily a great thing. 28 is a busy route because it serves Shaw with Fresno State, hits Fashion Fair Mall, heads down to Manchester Mall, serves Fresno City and then hits downtown. The area that 30 is vacating is not really relevant to any busy route. It's an underdeveloped area that deserves transit, but not the kind of service that that rest of the route requires.
I'm talking about the area west of downtown, in red.
The reason is, the demand for rides is simply not the same. Look at the Shaw section. University, dense apartments, the major mall…

Versus a streetcar suburb that never quite developed, and a small general aviation airport.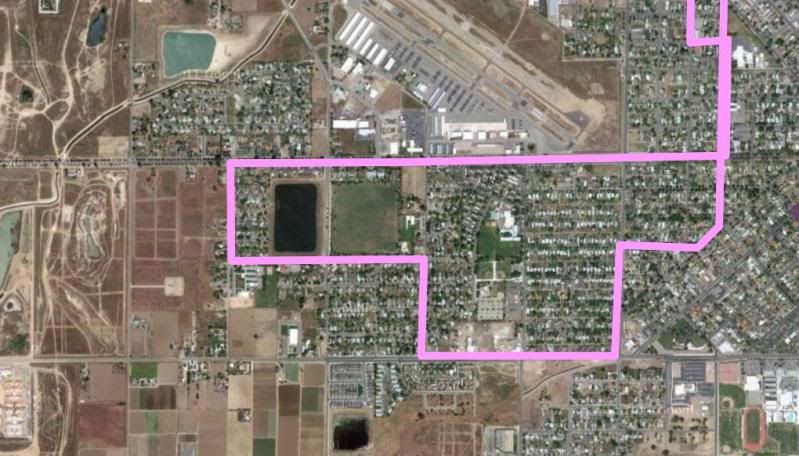 The area should be served, but with it's own route, not some haphazard branch of one of the cities busiest and most frequent bus lines.
Or looking at it on ground level…
The same bus gets to serve both of these bustling roads.
That's just not right.
———
That leaves the changes to routes 32 and 59, which are really quite minor.
The only change to route 32 is in the River Park area, where the loop it does reverses in direction.
The good part is that three left turns become three right turns. Due to right turn on red being allowed, this should speed things up. For customers, it may make things worse if it means they have to cross the street to transfer, but I don't know enough about transfer patterns at River Park to say if the change is good or bad.
You know what the best solution would be? Eliminate the 2 mile loop and build a small transfer center/loop for all buses, like at Manchester.
Meanwhile, the route sees no changes at its southern end, again, another area where having one bus serve two very different service areas makes no sense.
The northern loop area has every chain possible, hospitals, apartments etc.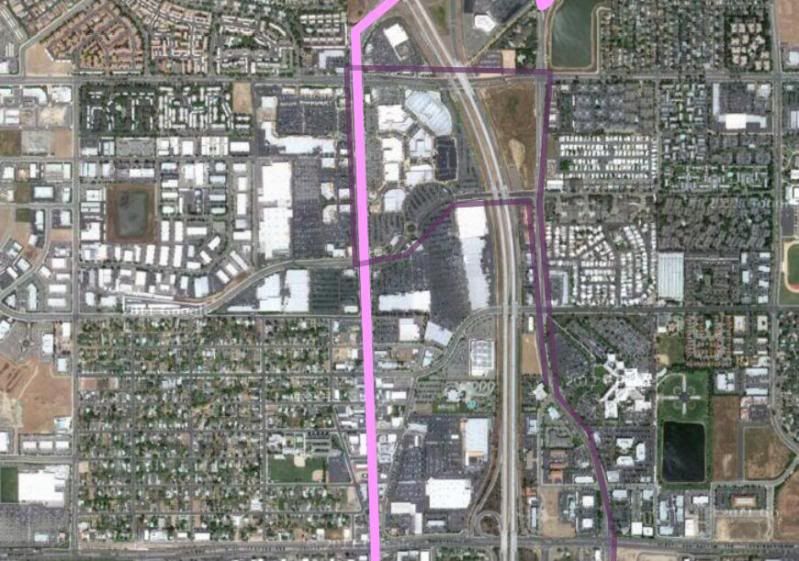 The southern loop? What appears to be another failed streetcar suburb.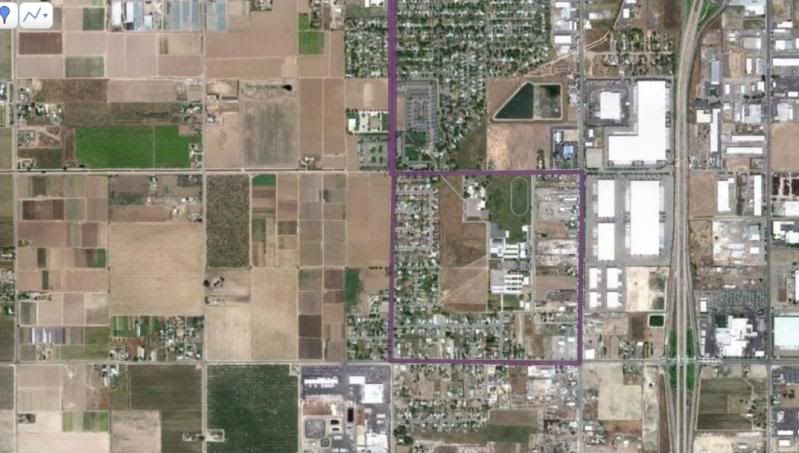 This is where change is needed.
Why are we serving this area (see the bus stop sign?)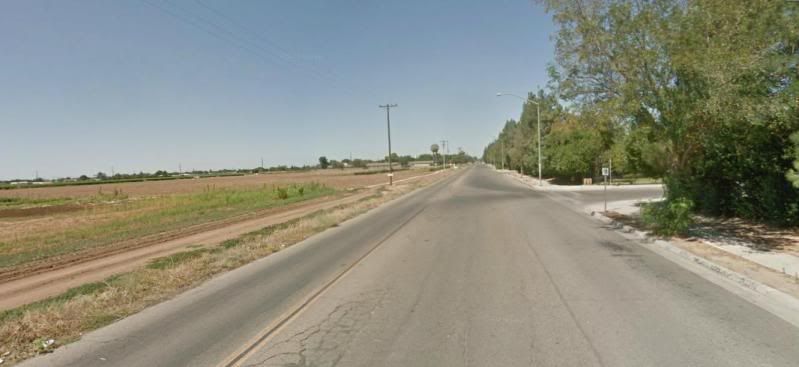 With the same level of service this area gets?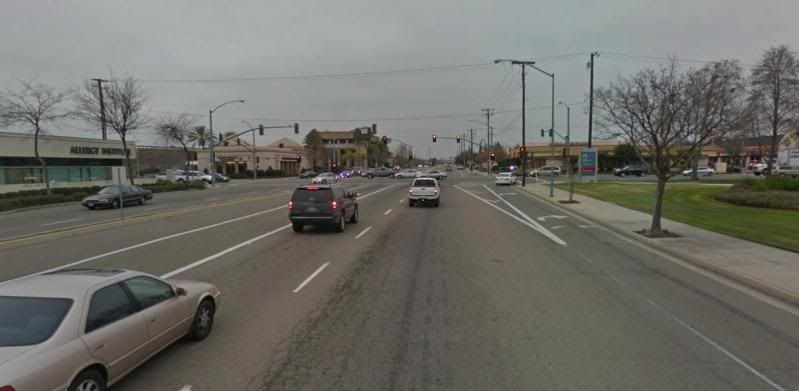 Finally, route 58, a route that doesn't really matter. A decade or so ago, Children's Hospital packed up and moved across the river into Madera county, a completely isolated and inaccessible area….unless you own a car and want to drive on a highway. As part of some mitigation deal (worst air in the country, remember) Children's has to pay for FAX to provide a bus to their hospital during visiting hours (employees must drive I guess).
The only change here is that the bus will now make an unnecessary loop around River Park, instead of proceeding directly to the transfer point.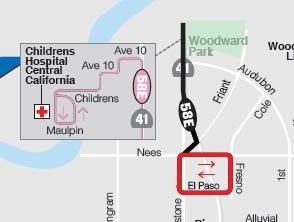 I doubt any of the 5 riders will care about that change.
If FAX releases more info about a timeline, public outreach etc, I will be sure to write a post about it.