In November, I attended the inaugural Jazzhop event, which was an extension of the existing ArtHop concept. The concept involves opening up studios and galleries downtown to the public, for free. Jazzhop added to the art by introducing local jazz musicians to the scene. These events are held once a month on a Thursday evening.
When I attended in November, I was impressed by the music and scope of the options, but very disappointed in the amount of people. Fortunately, that seems to have changed, and the event held last week was much more popular, even though more venues were added. Part of the credit goes to the Fresno Bee, which produced a large spread in the Sunday issue prior to this month's event.
Because so many venues are included, and hours are limited, we decided to hit up locations which we did not visit in November. Even then, there are still multiple locations we have yet to stop by.
We began at Fresno's only Pão de Queijo store and bakery, P*de*Q near Fresno High. This is not a jazz location, but it was an art one, and the tiny space was filled up with 10 or so people eating their cheese breads and enjoying the art.
From there, we went to the water tower, which was listed as a jazz venue, but we found no music. There was plenty to look at, and a good amount of people.
Instead of going to the Tower district as we did last time, we went to the Van Ness and Ventura section of downtown. Only a single jazz act was listed here, but there were 4-5 art venues in total we got to see just by walking around. These were packed and required waiting just to get close to the paintings and sculptures. Parking actually involved turning down a side street, instead of arriving directly in front of our destination. For something after 6pm, in downtown, thats "remarkable".
Side note: Dear Fresno, all your streetlights are off. Please fix them.
Pictures do not show full crowds, I find it awkward to take pictures of crowds when they're bumping into you, so I only took some when the venue was less-full.
After those five venues, we hit the Full Circle Brewery for a beer and some Jazz. The place is pretty damn massive. Clientele? Surprisingly old. Like 60+ old. Wonder why.
This was the only venue that was empty, mostly because of location (it's all alone).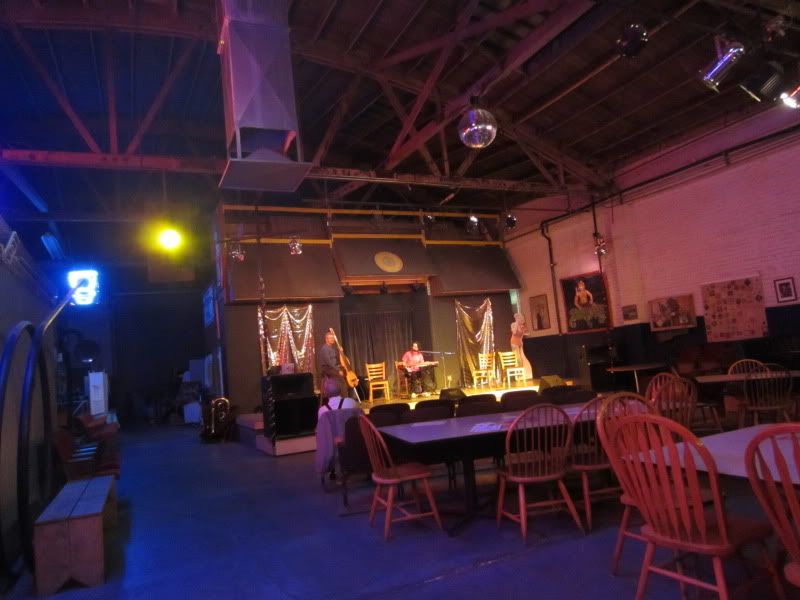 From there, it was time for food. We stopped by the recently reopened Iron Bird Cafe, but apparently they don't prepare food after 3pm. So we walked to Tokyo Garden right before the kitchen closed.
They had a special Jazzhop menu. Soup + salad + tempura appetizer(veggies and shrimp) + rice + chicken + steak + ice cream = $12. Wonderful value. The venue also had some rocking jazz, which was great to listen to while we ate.
The activities continued until 1am at Audie's, but we were too tired, so we went home. We'll be back, in 2-3 months for some new jazz and art, and to hit up some other venues. I look forward to see more and more people discovering the fun, free, evening that can be had downtown.
1) P*de*Q
2) Water Tower
3) various galleries
4) Full Circle Brewery
5) Iron Bird Cafe
6) Tokyo Garden