In his Sunday column in the Fresno Bee, Bill McEwen informs us of a plan by a restaurant owner to grab some of the right-of-way used by the Fresno-Clovis rail trail and convert it to private restaurant space.
While the land-grab wouldn't decrease the size of the currently paved path, it would take a large portion of the publicly held land, and so block any future improvements, including something in the far-future, like a rail-transit line. It would also remove mature vegetation which makes the path comfortable to use.
Most importantly, it would take public land, held by the city and useable by all, and privatize it. Walls would be built and only paying customers would have access during business hours. If the business were to fail, then nobody would have access to the walled off section.
McEwen is also concerned by the complete lack of public outreach on a project that has regional implications, because once one developer is allowed to privatize the right-of-way, then every other developer will be lining up to do the same.
The project also requires no environmental review because the proposal is an expansion of 2,408sqft, which just so happens to be conveniently less than 2,500 feet, which would trigger an environmental review.
Here is what McEwen had to say:
David Fansler, owner of the Yosemite Ranch restaurant in the Via Montaña shopping center at Champlain Drive and Shepherd Avenue, wants to build a walled patio that would take up half of the trail's 60-foot right-of-way.

I'm confident the patio would be nicely done. I'm fairly sure the patio wouldn't risk the safety of trail users. You can bet that the restaurant owner will pack the house with supporters when the Fresno City Planning Commission hears the proposal Wednesday night.

But the manner in which the project quietly has been pushed through City Hall is alarming. And if the patio is approved, what's to stop other businesses from jutting into the trail, too? The Fresno segment could be spoiled over the decades — one piecemeal decision at a time.

The big question is, why has City Hall been so secretive about this? Changing a regional trail deserves a public hearing before it even goes to the Planning Commission. Another question: Shouldn't the city have a policy on trail changes before barging ahead with Yosemite Ranch's request?

Fresno City Manger Mark Scott, who doubles as head of the Planning Department in these tough economic times, disputes my contention that this potential public land grab has been hush-hush.

He says residents within 500 feet of the restaurant were notified and patio opponents have spread the word. In effect, Scott says, the Planning Commission meeting "will end up being that first public hearing."
The last part is particularly aggravating to me. The city claims that by informing people who own property within 500 feet of the proposal, they've done all they have to do.
That's some major bs. This is a regional trail, not some random access alley that is only used by the immediate neighbors.
To be fair to Fresno, Clovis pulls the exact same line when concerns about projects in their city arise. Clovis also claims that all that public outreach that's needed is to send a postcard to people within 500 feet.
It's 2012. The city has a website, twitter, facebook etc. Every resident should have access to development proposals so that they can be informed and make proper recommendations.
So let's take a look at the project.
The restaurant sits at the corner, and would eat over 50% of the trail ROW, up to the red line.

That space is currently full of mature vegetation, planted by citizens of the town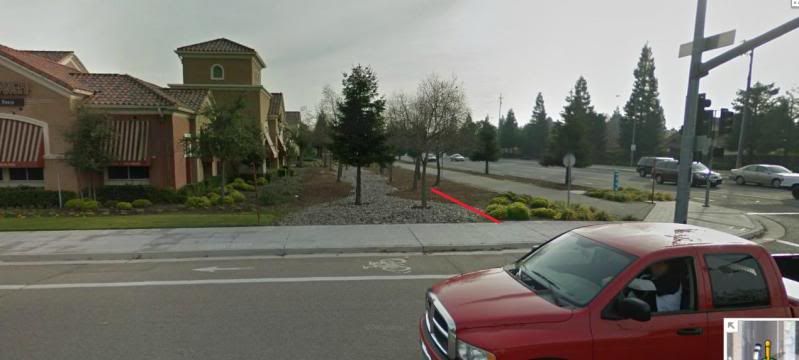 The restaurant currently ignores the trail, even though it was built after the trail had been established. The trail was completed in 2000. The restaurant wasn't built until 2006, and made a conscious decision to almost completely ignore it.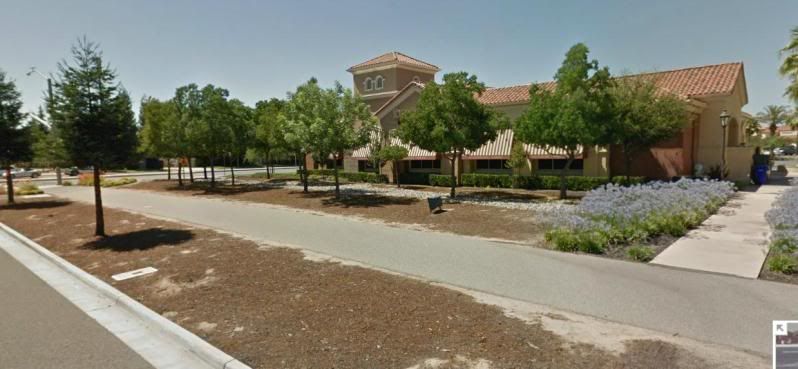 Now they claim they want to embrace the trail. Convenient, isn't it, when embracing the trail involves a land grab.
The report claims that the project is beneficial because it encourages pedestrian-oriented links. They also claim that it will increase safety by adding eyes on the trail.
That may very well be true.
But if these factors are so damn important….then why does Fresno approve development left and right which provides blank walls to sidewalks…? Why was this development built in 2006 without all those important pedestrian features? It seems like the "good urban policy" line is being pulled out as a convenient excuse, and not actual good planning. Maybe Fresno is changing? I'd love to believe that, but new development in other parts of town takes the exact same "back facing road" design which this restaurant deployed.
Think of it like a bank telling you they're "saving the environment" by beginning to charge money for paper bills. We all know that it's just an excuse to hide the real reason behind the change.
The report also states that the project is excellent for trail users because it will provide a great rest area, with shade and water and such.
Really? The current trail has mature trees providing plenty of shade. For free. The project will also provide nice resting spots….for paying customers. That's not a change for the better. Other portions of the trail do have benches, water fountains and such. This section COULD have those amenities as well, either funded by measure R (the regional transportation tax) or by private businesses wishing to help the community.
That also leads to one main point of contention:
The patio is not really a patio. It's an extension of the restaurant with windows that may open sometimes.
Does this look like a patio to you?
The documents propose turning this: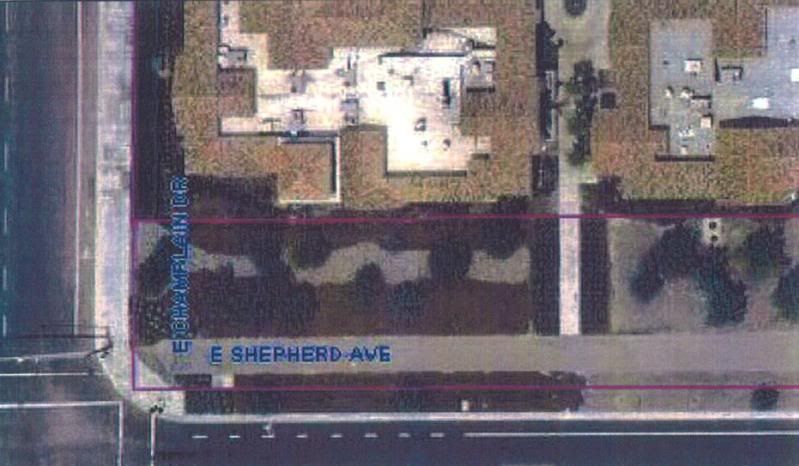 Into this:

I'm sorry, but a patio with glass doors….? That's not right.
I'm all for outdoor dining, and I'm all for improved pedestrian connections, but taking over public trail space is not the solution. The restaurant owns plenty of land they can turn into an outdoor patio area, and STILL have it interact with a street.
I've quickly drawn up some engineering plans for how to construct outdoor patio space and not steal public land.
1)
I've gone ahead and transformed a barren wasteland into a lovely outdoor patio area, with improved pedestrian access points.
In red: the proposed patio. In green: my proposed locations, which appears to be roughly the same size. Turning unused asphalt into happy, drunken customers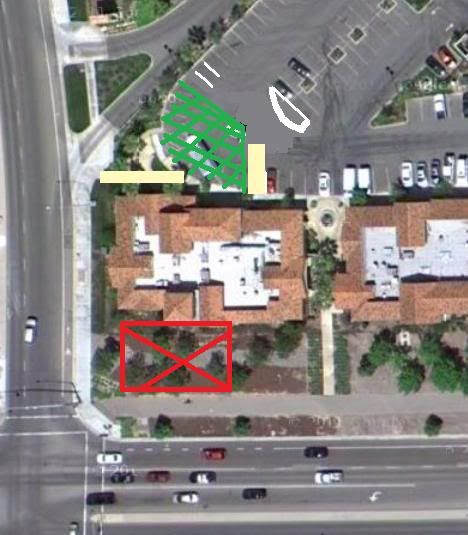 2)
But wait. Even though the parking lot is enormous and never even close to capacity, those spaces MUST be preserved under all cost. 30 feet of trail can be discarded, but those parking spots must never be touched!
Ok.
There's another easy solution. Simply change the entrance to the shopping area, from a very dangerous, pedestrian-unfriendly "on ramp" to a standard driveway.
From this:
To this: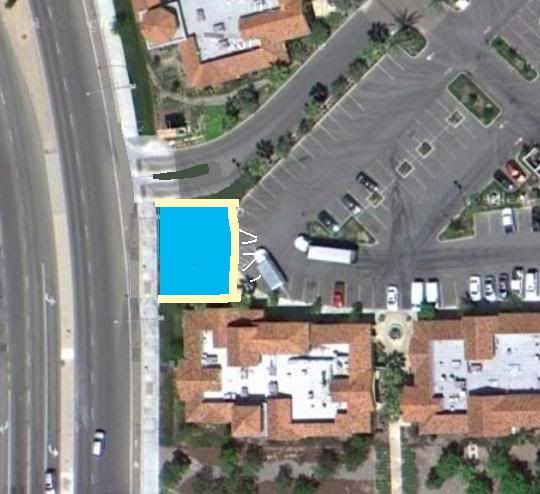 It's large. It leaves the parking almost intact. It provides "eyes on the street".
It's all about enhancing pedestrian amenities, right Fresno? That's what your planning document says. Nothing will enhance the pedestrian experience more than changing the entrance from a high speed ramp to a place where people can walk in peace. The current design allows cars to enter in at 20+mph, because of the gradual curve. My revision, requiring a hard right turn (like most driveways) requires motorists to come to an almost complete stop. That's the safest option for pedestrians.
You can see the planning council documents here (PDF)
The project will come up to vote on March 7th, 2012 at 6:00 pm in the City Council Chambers located at 2600 Fresno Street, 2nd floor. Once they approve it, I believe it heads to the full council in a few weeks time.
I won't be able to attend due to work, but I hope some of my readers do, and speak up against the proposal. I will however be sending in paper correspondence, but we all know that in-person feedback is taken much more seriously than an email.
Oh and one last thing, those planning council agendas? Sort of a pain to find on the Fresno website, which may or may not be intentional.
If you're interested in keeping track of what comes up, the agendas are posted here:
City Website Page