A month ago I decided that instead of rolling my eyes at the lack of bike racks at some businesses in the Fresno area, I would be a little bit more pro-active and send out customer-complaint feedback.
I decided to only do this with corporations, because of two reasons.
1) They have more flexibility in making "changes" to their property than some mom-and-pop store leasing space in a strip mall
and
2) They supposedly have established departments and standards on how to respond to customer issues.
So why send out online feedback instead of talking to the local manager? Same reasons as above. A manager has almost no authority to approve the extravagant $250 expenditure that would be the installation of a bike rack. And also it was to gauge how the corporation as a whole handles requests by customers, and not just the local reaction.
Also, I would have assumed that if a company has enough business sense to become a nationwide mega-corporation, they would realize that a small improvement that would allow customers to shop at their store is generally a good thing. Again, a bike rack comes at the grand cost of $250 and allows two customers to stop and enter their store. A single asphalt parking space costs around $8,000. it just seems like such a small prive to pay to increase business.
Anyway, I contacted:
Taco Bell (what prompted this thing)
Lowe's
Subway
….and the Fresno County Library system.
Not a long list, no, but honestly, I haven't done much shopping in the past month, outside of supermarkets….and every supermarket I've seen has at least a basic bike rack.
BTW: Go ahead and take a wild guess at who was more responsive to their customer feedback
A) The corporations who should theoretically make it as easy as possible for customers to access their stores to increase sales, and who should provide the best experience to encourage customers to promote the brand, and thus make more profit
or
B) The government-funded library whose financing has absolutely nothing to do with the amount of happy "customers". In fact, the less visitors, the lower the costs….
Onto the results then!
Taco Bell
Contact date: February 16th
Contacted the in two ways. One was via the website they post on every single sales receipt which directs you to "tellthebell.com". I mean, if they're asking for feedback, why not give it right?
I also contacted them via the standard customer service response area on their website.
Results:
Absolutely no reply from Taco Bell and their store still has no bike racks. Seriously, not even a form-reply.
Grade: Fail.
————————–
Subway
Contact date: February 18th
Here things get funny.
Shortly after sending in feedback, received a system-generated email response.
Dear Mr. Sinclair,

Thank you for contacting SUBWAY® Restaurants. Your feedback is important to the SUBWAY® brand and your recent inquiry has been forwarded to the appropriate areas for further review.

Sincerely,
The Customer Care Team
SUBWAY® Restaurants
Excellent, can't wait to here what the appropriate areas have to say!
On March 6th, they did indeed reply!
Welcome to the SUBWAY® Restaurant Career Website

Please click on the link below to be directed to the application page.

Subway Application

The link will be active for 24 hours. After 24 hours, please return to www.mysubwaycareer.com to request the link again.

Should you experience trouble accessing the link, please contact webmaster@mysubwaycareer.com
Wait, what? I didn't apply for a job at Subway. I was asking a question. Unless they plan on hiring me to be their bike-rack general executive, this form reply makes absolutely no sense.
And that's the last I heard from them!
Grade: Double fail.
———————-
Lowe's
Contact date: February 16th
I actually got a real-person reply from them! Indeed, I got a reply the very next day!
Good afternoon James,

Thank you for your email. I apologize for this experience with the stores not having bike lock ups.

In order to assist you with this issue, I will need the following information:

Your phone number
Your address

Best time to call

Once I receive your reply I will take steps to assist you.
Thank you,
Kathy J.
Lowe's Customer Care
Hm, I thought the store location was made clear when I submitted the form, so I don't see why they need my address, but anyway…
There was a brief confusion about that, so this email didn't arrive until February 28th.
Good morning James,

Thank you for your email regarding wanting bike racks.

I forwarded your email to the Clovis, CA store so management back with assistance regarding bike racks. You will receive follow up within 24 hrs.

If you need additional assistance please reply to this email.

I will be waiting for your reply.

Thank you,

Kathy J.
Lowe's Customer Care
Ok, so now we're getting somewhere. Follow-up in 24 hours? I'm excited. Even if they say "screw bike racks" that still more of a customer response than the folks at the fast-food places.
Well, 24 hours came and went. Indeed, a few days came and went. On March 4th, I got this email from them:
Thank you for your interest in a position with Lowe's.

As part of the minimum qualifications for 308012BR, Weekend Customer Service Associate II, we require an assessment(s)be completed. For your application to be considered for review, all assessments must be completed within 2 days from the date of application. Failure to complete the assessment within 2 days of application will result in your application not being considered for this position. Please click on the link below to ensure your have completed all pending assessments.

…

Please click here to complete your assessment: Lowe's Store Hiring Indicator

Good luck with the remainder of the application process.

Thank you!
Lowe's Human Resources
Are you freaking kidding me? Not only did I never apply to a job at Lowe's, but instead of being told about bike racks, I'm being threatened with failure of an application? What is this?
Well, on March 5th I got another email reminder that my application was going to time-out.
So I sent along Kathy an email asking what was going on.
And then got an email being told that sadly, they have decided to pursue other candidates for the position I'd never applied to.
Being told that I'm being rejected for a job I never even applied to? That's special. Thanks Lowe's for making me sad. 🙁
On March 8, I got the following email:
Good Morning James,

I apologize you have not heard back from the store about the bike racks. I have made the Senior Management aware of this issue and they will be contacting you within 24 hours, have a great day!

Thank you,
Samantha H.
Lowe's Customer Care
It's now March 14th. Obviously, I was never contacted by the senior management team.
Epic fail.
I don't quite know what's worse. Is it the fact that a corporation as large and well-staffed as Lowe's can't manage the complicated task of replying to a customer in a competent way…
Or the fact that not one, but two of the companies I contacted about bike racks managed to stick me into their job application system for some unknown reason?
I thought the private sector was all about being competent. I guess not.
———-
And finally, the Fresno County Library System – Clovis Branch.
I didn't mention this last month because it's not entirely related, but I figured this post needed a happy ending. As I mentioned before, this experiment was limited to businesses who offer zero bike parking. The library obviously isn't a corporation, and does offer bike parking.
The Clovis Library actually has two bike racks, one in front and one in the back. However, the one up front is usually full. The one in the back is sort of useless. The back entrance is convenient to folks parking in the car-lot. But why on earth would someone on a bike go back there? Anyone arriving by bike would be arriving to the front door.
The front rack frequently looks like this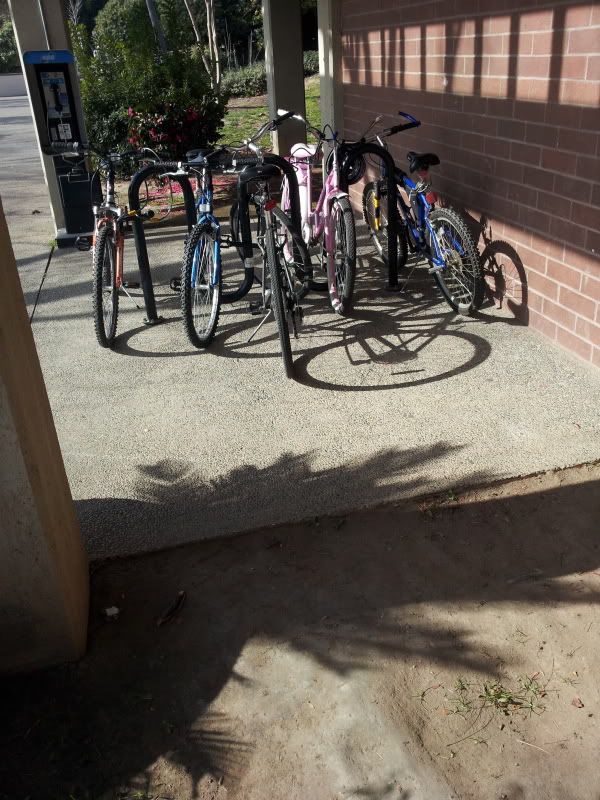 I submitted a query about additional bike parking on the county website.
Within 48 hours, I had my response (take that corporations!)
(This reply arrived January 11th)
Dear Mr. Sinclair

My name is Mark Berner and I'm looking into your suggestion. At the moment I'm trying to determine who owns the bike racks. The county owns the building but the City of Clovis has everything else. In any event I was just outside and found the rear bike rack empty and the front one holding just one bike. I'll let you know what transpires.

Thanks
Mark
Well, it's not "I'll get right on that, an order has been placed!" but it's certainly the best reply of the lot. It's perfectly understandable too. Keep the customer informed while you gather information. Good job Mark.
I replied with my thanks, and then got a second rely on the very same day.
The library's facilities office tells me the county is responsible for the bike racks. I'm going to monitor the situation for the next week and see how bad it gets. I'll let you know what I find.

Mark
Again, makes sense. The library system isn't exactly rolling around in money. $250 is absolutely nothing for someone like Lowe's. For the county library system, that's an entire day in labor costs to staff the Selma branch. In fact, NOT doing research on the matter would be a misuse of taxpayer money. Makes perfect sense to see if such ane expense is prudent.
Mark didn't get back to me in a week, but he did fully follow up. A month later I got this email.
Hello Mr. Sinclair

I've been working with David Chavez, the library's Facilities Manager, and we've determined there is adequate bike space at the Clovis Library. True, the front bike racks are full with bikes from students at Clark Intermediate across the street but there is always space to park your back in the rear of the library. Thank you making this suggestion and pointing out the problem.

Mark
Not the response I was hoping for, as I did want to see more racks, but again leaps and bounds ahead of the other people. (Corporations are people too my friends).
And again, Mr. Berner has no market-based incentive to follow-up on something like this. If I boycott the library and stop visiting….well, that may help him as it would actually keep costs down (wear and tear on the books and facilities). If he had never replied, what would happen? Absolutely nothing. His job isn't exactly dependent on replying to folks complaining about bike parking.
I shall continue this grand experiment and will keep you posted on any developments, if any. I may bug Kathy at Lowe's again about the constant lies. We'll see.