The last portion of this post has been updated.
As part of their attempt to privatize public space in an unprecedented land-grab, Yosemite Ranch is going all out to bus supporters to the planning meeting, a meeting almost nobody would have known about had it not been for Bill McEwen's column in the Bee.
They've posted a flier on their facebook page which is quite unbelievable.
Let's ignore for a second the mistakes in spelling and grammar and such (an elipses made of commas, really?) and focus on the message.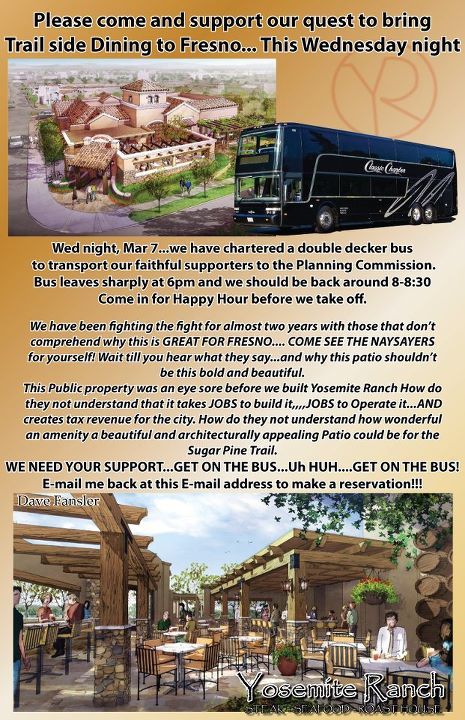 -They've been "fighting the fight" for two years, but who were they fighting? The process was done in secret and not made public until recently. Must have been quite the fight.
-"Come see the naysayers for yourself" makes it sound like those opposing the expansion are some kind of circus freak show. Interesting way to demonize those that don't intend to bend over to a private business's land-grab.
-Apparently, the rail-trail was an eye-sore before Yosemite Ranch so generously came in and built their restaurant in 2006. First of all, that's quite the fallacy. Even IF the area was an eye-sore in 2006, has no relevance on the area today, which is well maintained (by the city) and has mature vegetation. Of course, the only reason it was an eye-sore was because the trail was bordered by a very large and very empty dirt lot. Yosemite Ranch was so kind as to come in and build in a way which completely ignored the regional trail. On top of that, a cursory review of the entrance to the restaurant shows not a single bike rack.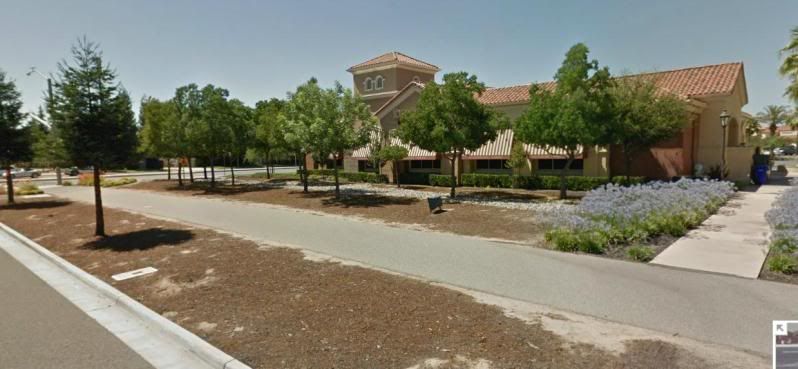 Don't they just make the trail so gosh-darned gorgeous?
-The rest of the message is also just a constant barrage of fallacies. "JOBS" are thrown in, but has nothing to do with the proposal at hand. Then they attempt to appeal to the "beauty" of a walled patio and claim that the naysayers apparently are blind to the wonderfulness. Quite frankly, it doesn't matter if they are attempting to build the Sistine Chapel. It should be on private land, and not the ONLY regional bike trail.
Yosemite Ranch, build your outdoor patio. But do it on private land in a way which actually enhances the pedestrian experience.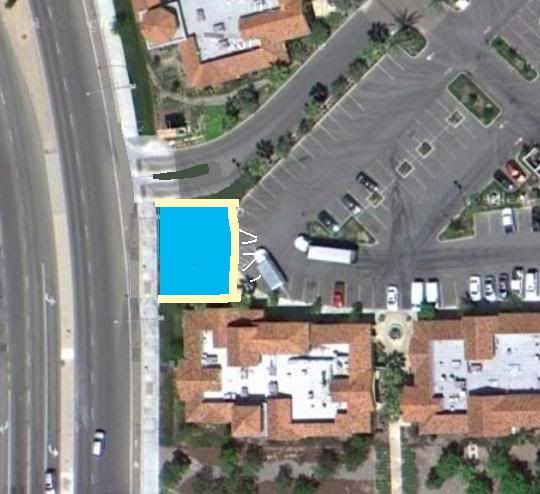 The flyer is really quite amusing. It's amazingly childish and comes off like it was written in a drunken stupor in about five minutes. The problem is, the people behind the flyer can back up their land grab with a whole lot of money and influence. Who else can charter a double-decker bus, probably brought in from LA, to whisk people to an obscure Wednesday planning council meeting?
I wish I could attend the meeting, but those pesky JOBS are in my way, and I can't miss work. I called the planning department today to find out where I can send an email to have it entered into the record, but no one answered, even though I called at 6 separate points. I'll try again tomorrow and update this portion of the post with the proper contact information for those of you who also can't attend but want to speak up.
Update:
Finally reached someone at the city. I was told feedback should be directed at
Sophia Pagoulatos, the planner in charge of this project.
You can contact Sophia Pagoulatos at 559.621.8062 or Sophia.Pagoulatos@fresno.gov.