You know how it seems like most American bike lanes are almost entirely in the door zone?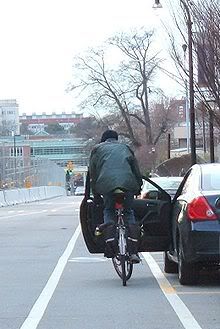 And you know how most local governments will claim it's just an unfortunate side effect of limited road space?
Well, the Fresno Public Works Department has decided to be extremely candid about the REAL benefit of bike lanes. That is, bike lanes are great because they keep drivers safe from those pesky doors that may suddenly be opened.
Behold the department's report to the city council about an upcoming road diet.
This Gettysburg Avenue Bike Lanes project will improve Gettysburg Avenue by installing on-street bicycle lanes and creating a center two-way left turn lane between Fresno Street to Winery Avenue. No parking will be impacted along Gettysburg Avenue and through vehicles will be separated from opening car doors by the bicycle lanes. Click to read more!