You know how it seems like most American bike lanes are almost entirely in the door zone?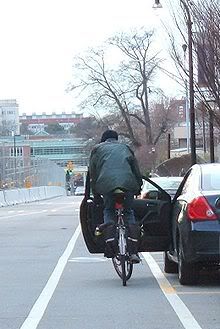 And you know how most local governments will claim it's just an unfortunate side effect of limited road space?
Well, the Fresno Public Works Department has decided to be extremely candid about the REAL benefit of bike lanes. That is, bike lanes are great because they keep drivers safe from those pesky doors that may suddenly be opened.
Behold the department's report to the city council about an upcoming road diet.
This Gettysburg Avenue Bike Lanes project will improve Gettysburg Avenue by installing on-street bicycle lanes and creating a center two-way left turn lane between Fresno Street to Winery Avenue. No parking will be impacted along Gettysburg Avenue and through vehicles will be separated from opening car doors by the bicycle lanes.
Isn't that sweet? The REAL reason the council should approve this project is because it makes driving fast so much safer.
That shouldn't be too much of a surprise though. The "bike lanes project" was modified so that almost half the project mileage includes no actual bike lanes.
If this project rings a bell, it's because I discussed it back in December when a council member decided to delay a routine public works project (a resurfacing and restriping) and make it political.
Of course, the entire project is a game of politics. It became clear at that meeting that the bike lanes were simply there so that the city could grab money from a grant program and be able to use it to repave a street and make it safer for cars.
The project is funded with CMAQ (Congestion Mitigation and Air Quality) funds, namely funds intended to reduce air pollution. That's where the bike lanes come in, as obviously people on bikes are not causing air pollution.
As was stated in the meeting, the real purpose of the road diet was to increase safety to motorists. This is definitely not a bad thing, as safer streets are obviously better (and road diets are also safer for pedestrians and cyclists). However, the attitude of the city representative was pretty bad. He pretty much stated that the only reason bike lanes were going in is because the grant required them.
The person from the city was a disappointment. He went out of his way to make it clear he wasn't a cyclist, and he would never use a bike lane. The emphasis from him was also the safety benefit of a turning lane, and the bike lanes were a necessary evil.
Half a year later, I guess the city has found a way to make that necessary evil into a positive. Now that bike lanes can be rebranded as door buffers, all is well.
But that's not all.
Remember the Bike Master Plan (BMP) that was promoted in 2010 as a great new thing, a turning point in cycling infrastructure in Fresno?
The plan that the report makes sure to mention?
This Gettysburg Avenue Bike Lanes project from Fresno Street to Winery Avenue will allow for a safer route for existing bicyclists to use this corridor as an alternate to the heavier travelled Shaw Avenue to the north and Ashlan Avenue to the south. Gettysburg Avenue was identified in the 2010 City of Fresno Bicycle, Pedestrian and Trails Master Plan as a critical east-west link in the bike lane network. Neither Shaw Avenue nor Ashlan Avenue is considered viable for bicycle lanes.
That's funny. Neither Shaw nor Ashlan are viable for bike lanes? But yet that very same master plan shows….
Bike lanes on Shaw and Ashlan in the project area.
(Gettysburg is between the two)
Whoops.
I guess since those streets don't have street parking, door buffers aren't needed.
I mean seriously, look at the size of that right lane and tell me with a straight face that bike lanes aren't feasible.
Shaw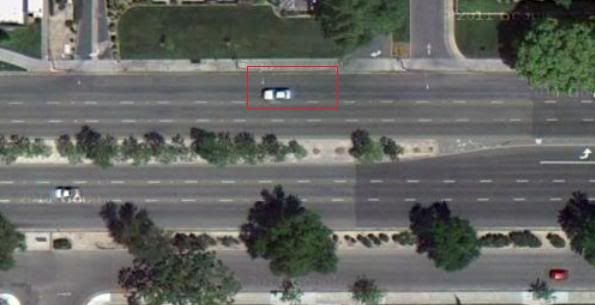 And I guess Gettysburg isn't THAT critical for cyclists, because the plan was changed from what was supposed to go in last year. I guess they did the math and figured out the absolutely bare minimum bike lane mileage required to be able to pillage the CMAQ fund.
Somehow, that math worked out so that a little less than half the bike lane project will actually involve bike lanes.
In response to neighborhood concerns, the Public Works Department was able to modify the planned roadway striping to maintain four lanes of traffic between First Street and Cedar Avenue, the location where traffic volumes are the highest along the corridor. These four lanes of traffic consist of two eastbound travel lanes, a single westbound lane and a center two-way left turn lane
Of course, the BMP includes bike lanes between First and Cedar. But I guess that no longer matters because a couple of seniors expressed concerns.
So what is it Fresno. Is the BMP important or not? You can't claim the plan called for lanes on a minor street, and hype that up, and then ignore the very maps in the plan that call for lanes on streets people actually want to use. And you can't claim that Gettysburg is critical for cyclists but then throw them under the bus (or SUV) because of the small chance that congestion MAY appear for a few minutes a day…in 20 years (during the meeting, the studies shown states that congestion wouldn't be an issue until 2030).
And you can't claim that bike lanes will reduce air pollution but then promote the project as a way to make driving safer.
Well actually, I guess they can, because that's exactly what the city has done.