Here are the rest of my thought about Philly, in which I spent a whole day! Part 2 is here.
—–
When we left off, it was evening and I was walking around center city. This was on a Monday, and things were oddly quiet. Certainly not the hustle and bustle of NYC.
I noticed an oddly placed sharrow for bikes.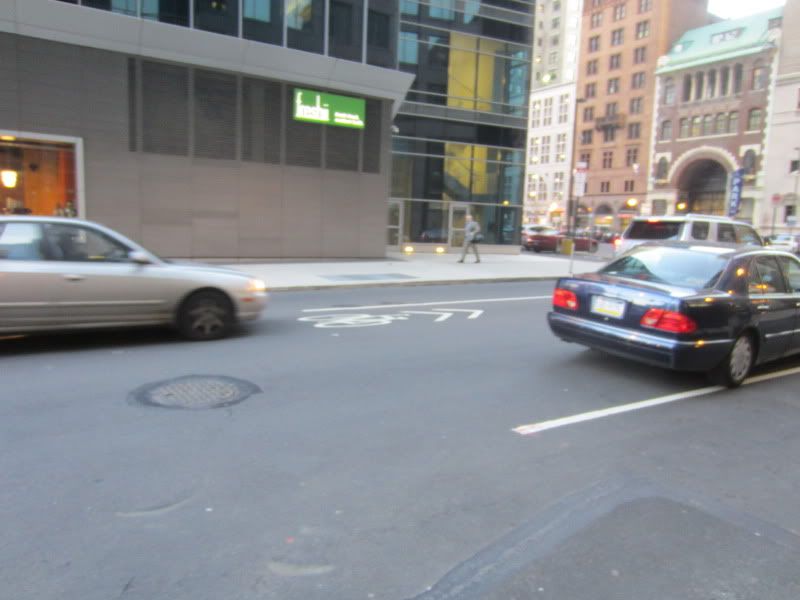 The city has great signage for pedestrians. Lots of signs and even maps. This was was oriented so the top of the map is "forward" making it very useful for pedestrians. My one complaint was the location up there makes it hard to read for those with poor eyesight.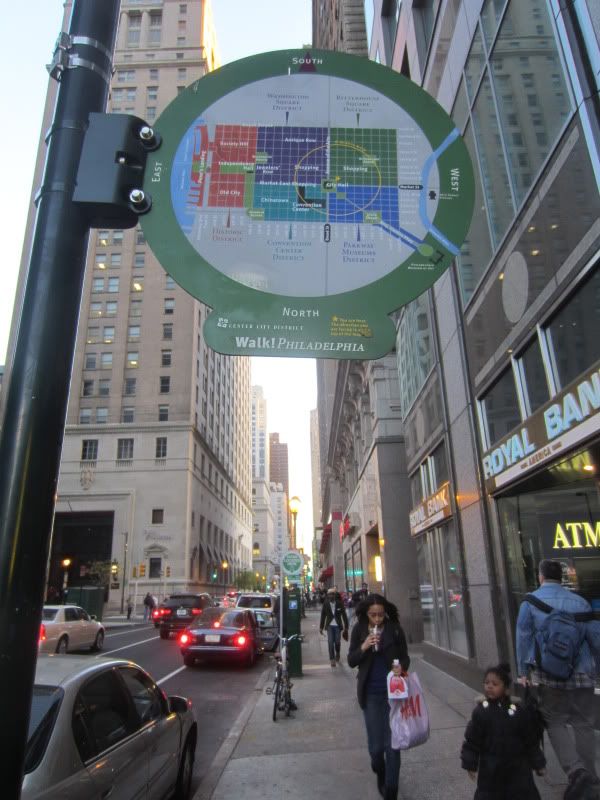 Philly has much more extensive bike infrastructure than I was expecting. When bike lanes didn't fit, they had bus/bike lanes. One thing is that they could do a better job painting them.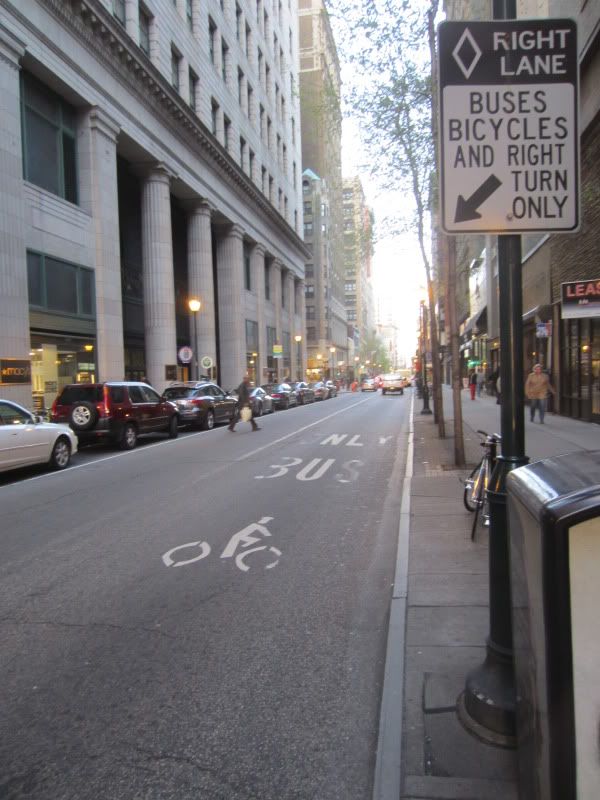 One thing that caught my eye was the almost complete lack of pedestrian signals. Instead, pedestrians use the standard traffic signals. This was especially interesting because most streets are one way, but there are traffic signals facing every single direction, for use by pedestrians. Boston should certainly take this into consideration.
Note the location of this signal, far to the right of the intersection, and facing the "wrong" way. Its exclusively for use of pedestrians. There is no countdown, but the streets are narrow enough that yellow is all that is needed. No stupid flashing hands here.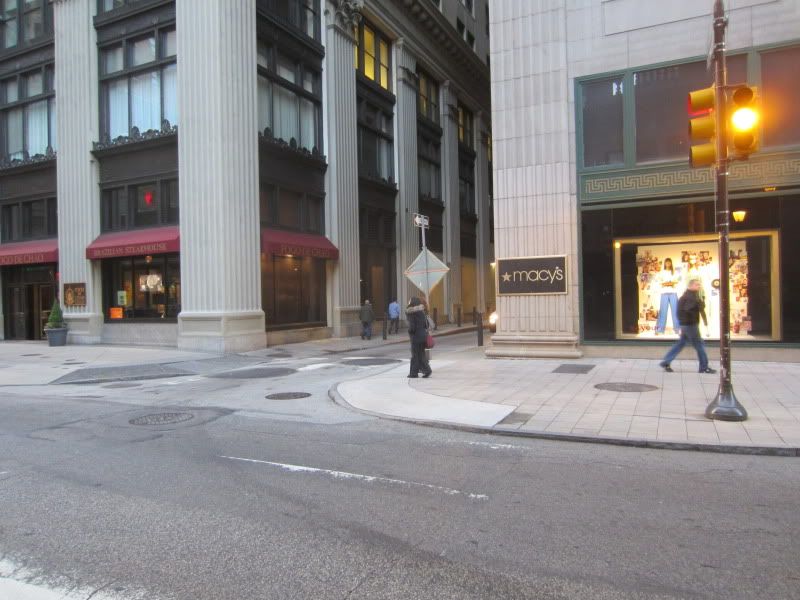 Construction never looks like this in California.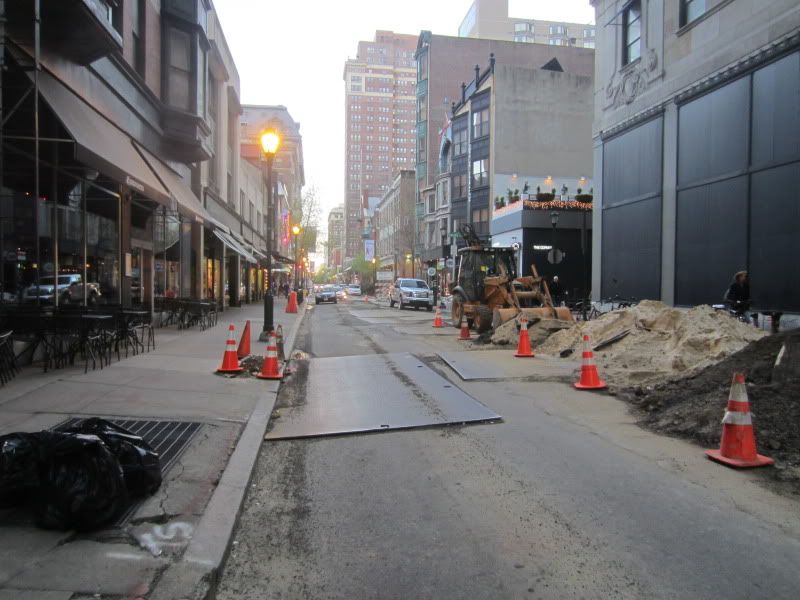 Lots of bike lanes, including buffered ones.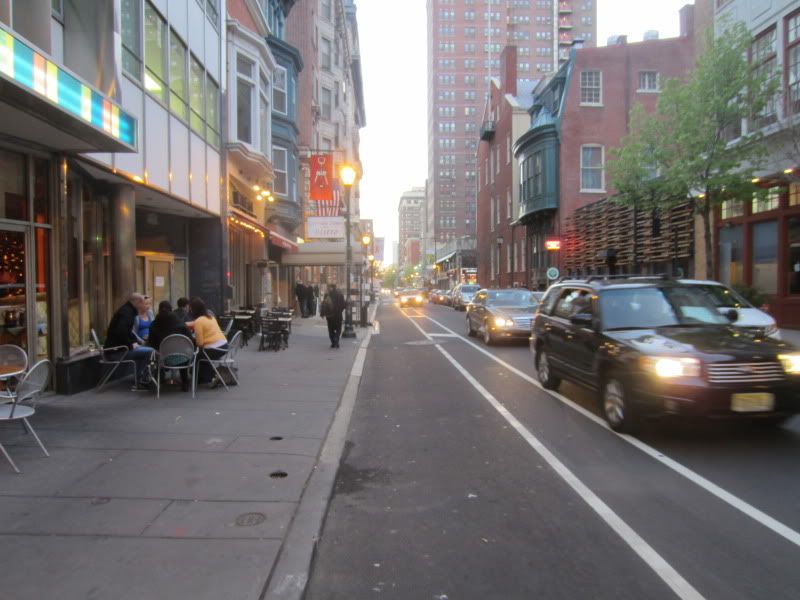 Philly has many great small alleys. Look at the signs, this is for two way traffic.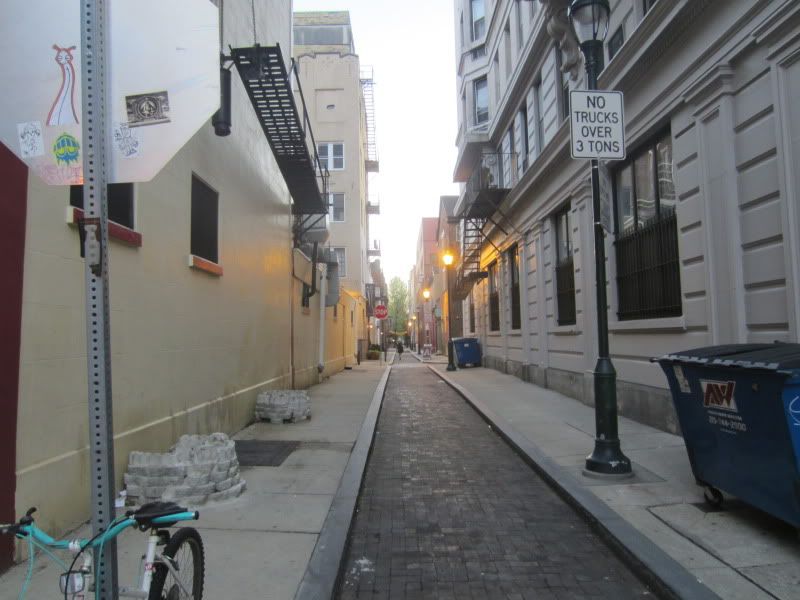 They make for great spaces, but the one biggest failing is how pedestrians are treated when the alley breaks the sidewalks. Instead of raising the alley so that drivers must enter (and yield) into a pedestrian space, people are forced to step down to cross.
This is very pad for the disabled, as wheelchair ramps are very poor. This must also be a huge hassle in the winter, as these look like prime puddle grounds.
Why not construct them more like driveways instead of streets? Take note of the ramps, one is facing diagonally, and one is straight. Fail.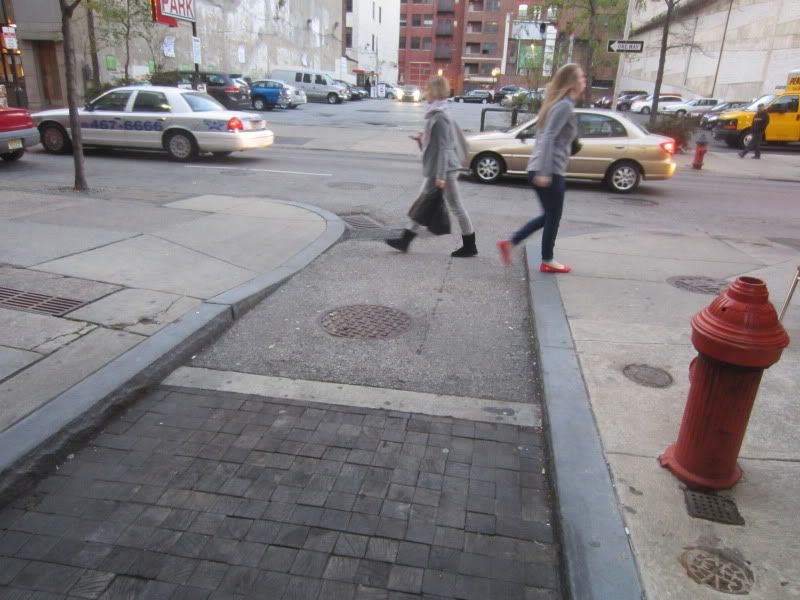 These streetcar tracks appear to be abandoned.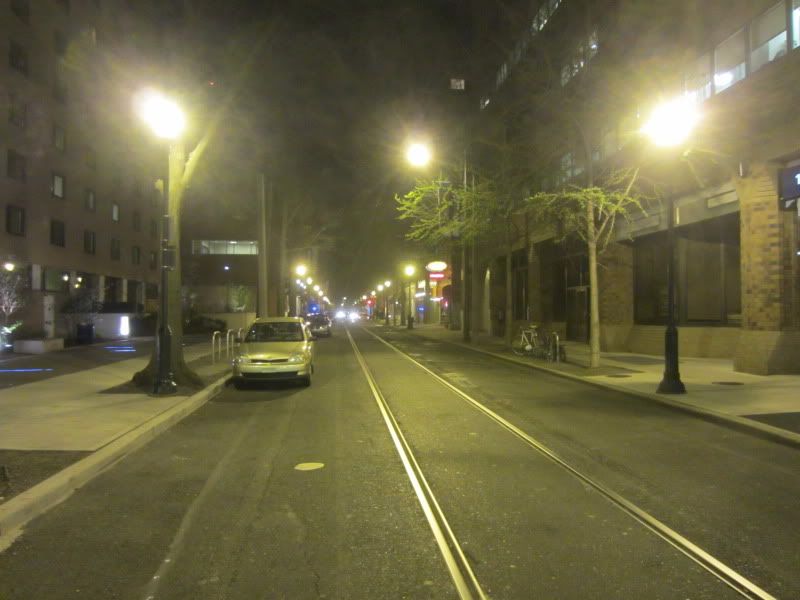 The parking signs are very informative, and easy to read. They are not ambiguous at all. You can see an older model hiding underneath.
Only the historic area has cobblestone, all cities need more cobblestone.

Sidewalk dining makes everything look nicer, even in the winter.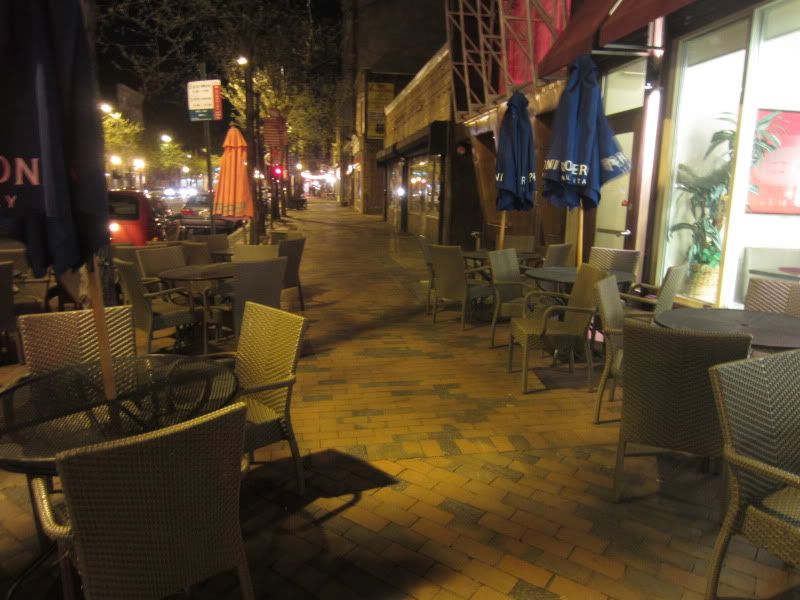 More of those pedestrian signs.

Unlike Boston, Philly actually sees fit to provide a night network of public transit. The signs are also very useful to tourists.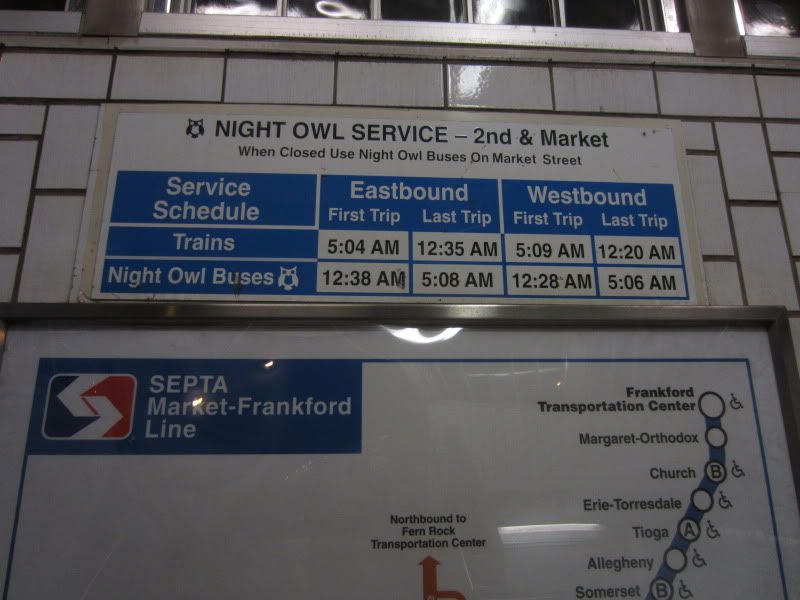 9:30pm and this subway stop looks desolate. I wonder why that is?

One thing I didn't get into but should mention is the many instances of terrible drivers. Haven't seen anything like it before.
In a five minute span, I witnessed the following while being a passenger in a car.
1) We were waiting at a light to make a left onto a small one way street. The street was only one car wide. Except a car was stopped there, driving the wrong way. We were signalling our intention, and honked, as this idiot had to get out of the way. He didn't move. Eventually, we said screw it and decided to just continue to the next street. As we did so, the light changed, and the guy driving the wrong way had the nerve to honk.
2) 2 blocks away, we were on a two way (2 lane) street, driving behind a slower moving car. Suddenly, another car is driving along next to us, in the wrong lane, as if it were a one way street. ignoring the double yellow line, this driving continued cruising with as if nothing was wrong. We slowed down to let this idiot merge into our lane. Instead, he made a right turn directly across our path into the next street. WTF.
Anyway, it was fun to visit Philly, and I hope to be back.