It is Bike Month, and there are a few exciting bike-related activities going on, one of which includes lots of free stuff. We may have ended April with some negative bike news but even that can be changed (maybe). Let's use bike month to push Fresno and Clovis to make cycling better for everyone. Besides the three events that are scheduled below, I'll try and finish my series on bike commuting here in the valley over the course of the month.
Let me start off with the item that has prizes, because that's probably the most exciting bit.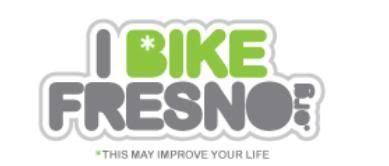 Ibikefresno is once again hosting the million mile challenge. How it works is super simple. You visit their website, and then register in the top right corner. You then set a goal for how many miles you think you can ride in May. The goal itself doesn't matter – it's all for you. If you never ride your bike, set something like 5 miles, and you may be surprised when you hit it. Don't let the road racers with their 1,000 mile goals scare you off, it's all about personal achievement.
And prizes. As an added incentive this year, prizes will be given away every single day, just for entering your miles. Prizes include food, new bikes and even a hotel stay.
What's also cool is that the website tracks the miles you did last year if you also took part. Because I now bike to work, I have a feeling I may blow past what I did last year.
And remember, joining the challenge and getting prizes is free. All it takes is a few seconds to add your daily miles…and remembering to do it.
Oh, and not sure how many miles you biked today? Not a problem, just use google maps. Set it in bike mode, and put your origin and destination. Then pull the line around to reflect what you actually did. If you're biking for fun, in a circle, you can calculate it as well by stretching the line so it follows what you actually did.
Here's how you would build a loop.
Note: The maps aren't perfect for biking, so sometimes the map will refuse your route (especially if a trail-road connection is missing). Better than nothing though, as most of us don't have fancy computer trackers.
——
There are also two races going on this month. One, we can only spectate because it is for racing professionals. The other allows people to participate in courses of various lengths.
The California Classic Weekend is exciting because it features a unique opportunity for cyclists in Fresno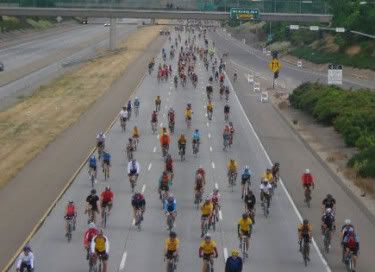 That's right, part of the rides include a trip up 168. If you're registered anyway. While the race is open to the public, you can't just join the crew onto the highway, you must have a race number.
On Saturday, May 19, join one of the three bike rides we are offering: the Rabobank Classic Century, Classic Metric and 35-Mile Mini Metric. Riders will line up inside of Chukchansi Park before being lead by a police escort to the McKinley on ramp of Freeway 168, where all riders will be released to ride as they wish. Thanks to the California Highway Patrol, City of Fresno, City of Clovis, the Fresno Police Department and the California Department of Transportation, they have made it possible for riders to ride Freeway 168 for ten miles with no vehicle traffic, from McKinley Ave to Shepherd Ave. That is why we are urging cyclists up and down the Central Valley to "Ride the Freeway to California's Year Round Playground!"
The weekend isn't just for cyclists. There's also a marathon which goes into the Zoo.
Saturday May 19, 2012
7:00am – All bike rides start
9:00am – Kids Marathon begins
2:00pm – Criterium begins
Sunday May 20, 2012
7:00am – Half Marathon and Relay begins
—-
Finally, the AMGEN Tour of California bring professional riders into the heart of Clovis. The 130 mile stage will bring riders from Sonora into Old Town.
Some good stuff to look forward to. I also recommend checking out the IBikeFresno Facebook Page for more updates on all these events, including a promotion by the Fresno brewing Company coffee shop where people who arrive on a bike gets $1 off their drink.