If you've heard only one thing about the California State University system in the past couple of years, then it's probably the words "budget cuts". Details like "enrollment slashed" or "tuition hiked". "Classes eliminated". Remaining classes "doubling in size". That's what we've been reading in the news every month for the past few years.
So it's especially maddening to see this piece of news which hit every station in Fresno today.
Fresno State faculty members gathered Thursday to express dismay and confusion over the university's decision to chop down 160 mature trees, making room for 600 more parking spaces on the east side of campus.
There may not be money for silly things like classes, but adding 600 unneeded parking spots, and taking away some of the little greenery the university has?
There's always money for that.
The problem:
"We use other areas for overflow parking."
(overflow parking areas being used for parking is apparently a problem)
Sollution:
"So we want to have available parking for students on campus. The project is going to add 600 new spaces," Amy Armstrong, Fresno State Parking Administrator, said."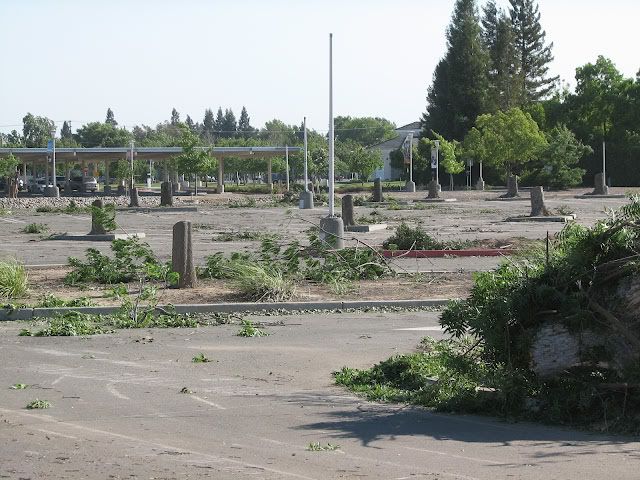 Picture taken from series posted on Huron County Extract
There is not a lack of parking at Fresno State. There won't be a lack of parking in the near future, as enrollment keeps getting cut. Even if there WAS some kind of parking shortage, there are many ways to work around it, outside of dumping $4,000,000 into asphalt.
As English professor Craig Bernthal stated
"The University is set to have about 1,200 fewer students next year," Bernthal said. "How many parking spots do they need in the immediate future?"
Take a look at Fresno State's campus.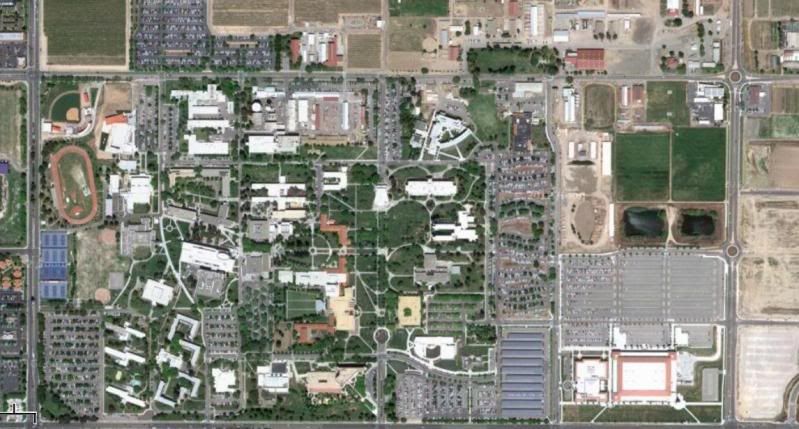 Do you see which portion of campus is dedicated to parking?
Let me make it extra clear.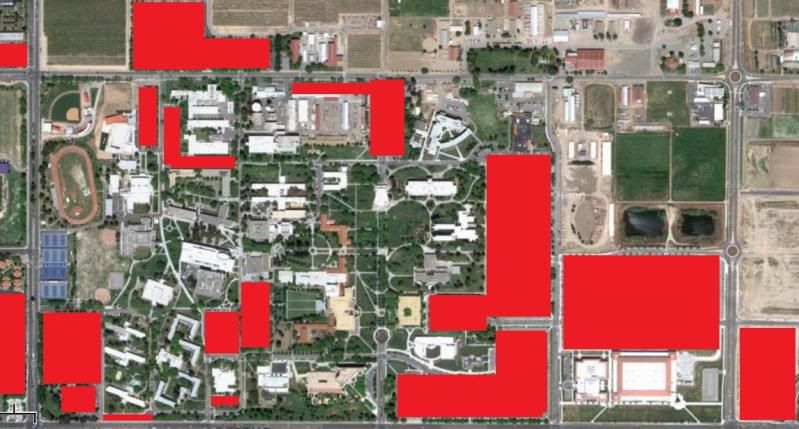 Forgive me if I missed a few spots.
There is no shortage of parking. Parking is only $3 a day, less if you buy a semester pass, so many students drive. But even with the incentive to drive, the lots are never full. I've never been a student at Fresno State, but I spent a large portion of time at their library last year, and when I did park, finding a spot was no harder than doing so at the local Target. The only "shortage" was a scarcity of spaces directly under shade-giving trees.
The Fresno State rep is remarkably cynical about the "improvement".
"It's definitely hard for people to see the trees gone, but the end result will hopefully change peoples' perspective," said Amy Armstrong, Fresno State's Parking Administrator.
That's right folks. Once you see how SMOOTH the new asphalt is, all we be forgiven. No, but seriously…it's a surface parking lot. We all know what they look like. We all know how hot they get, and how uncomfortable they can be. How exactly will the end result change ANYTHING?
At least FSU is building a state-of-the-art lot.
"We've added additional security cameras and emergency phones," said Armstrong.
Can't wait for the ribbon cutting!
The parking lot in question is this one.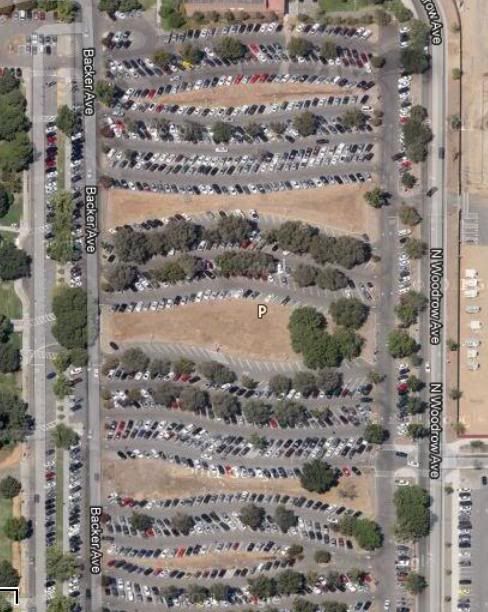 The project will turn the "wasted" space into more asphalt. Why is that space wasted? It's for water basins. Parking lots, of course, prevent rain from entering the ground, but I guess that's not an issue at Fresno State, a school which prides itself on the agricultural focus.
Another non-issue is apparently the heat-island effect that giant lots of asphalt create during Fresno's scorching summers. Again, I guess a school with large agricultural holdings doesn't care about micro-climate-changes caused by their development.
So what could have been done instead?
Let us imagine for a second there was a parking shortage of some kind.
Here is the Savemart Center on campus, which is the basketball/hockey/concert arena. Of course, most of the year, the parking lot sits empty. Wasted. Lots of spaces for students. One solution could have been….using the existing lots!
Even during events, which happen in the evenings after classes are done, the lots never fill. I've been to sold out events at the SaveMart Center. The lot's never get full, because most people go in groups.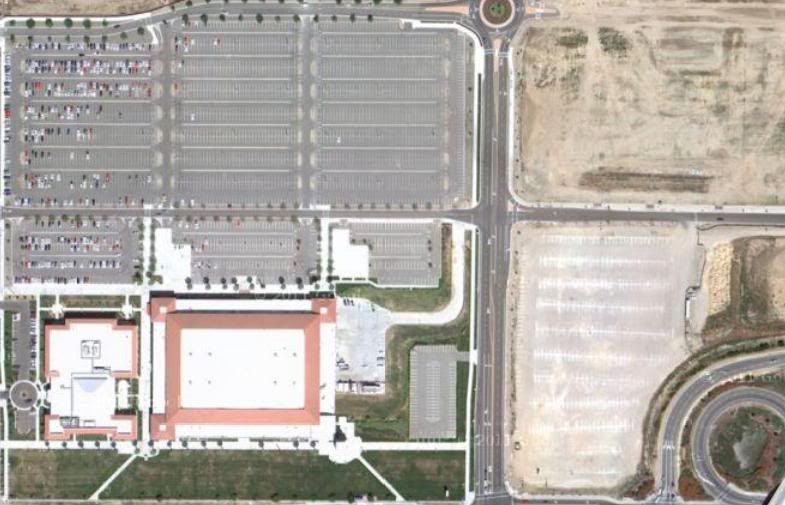 But now let's imagine that these lots are full. Let's imagine that Fresno State suddenly increased enrollment. Let's imagine there are events at the arena every day. Let's imagine that students are indeed circling for parking.
Could a university filled with so many bright heads not think of a way to lower demand for parking….and not spend $4m in doing so? perhaps a way that instead of eliminating greenery, could add to it?
The formula is simple.
1)
Make parking less attractive by using demand pricing
2)
Make other forms of transportation more attractive.
Spend $1m to do so. Then use the $3m leftover for things like….education.
Fresno State is filled with students, many of whom don't drive when they arrive due to the expense of owning a car. Many already arrive to campus on foot, bike or on a bus.
Instead of pushing them to buy a car as quickly as possible, why not make the experience worth continuing?
Look at how Fresno State fronts Shaw. A narrow, extremely ugly sidewalk lined with a metal fence.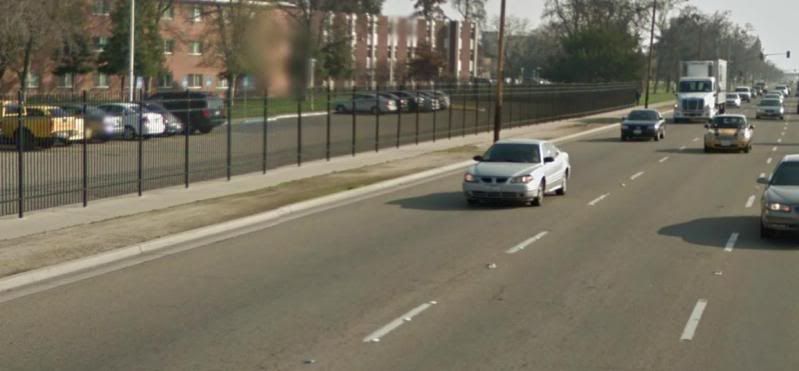 A fence which was actually only just added a few years ago, as this older google image shows. That's right, FSU spent money to making walking less attractive and more inconvenient.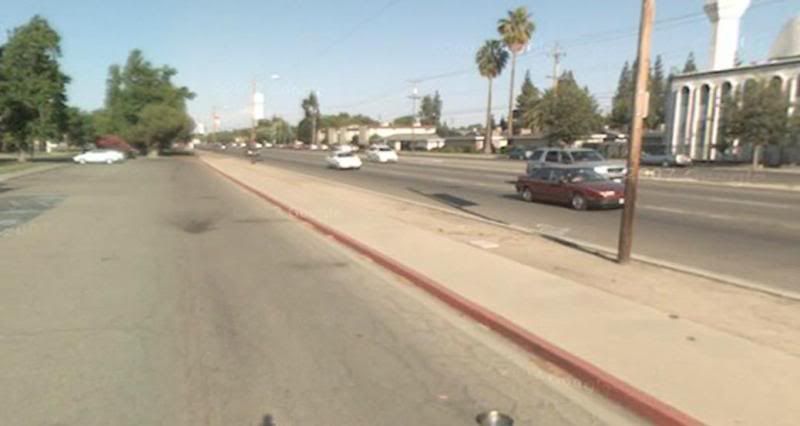 Start by planting trees. Widen the sidewalk. Add lights. Add a bike lane.
On the other side of campus, on Barstow, walking is more pleasant (thanks to the trees!). But bike lanes and such? Not over here either. Doesn't take much money to add those.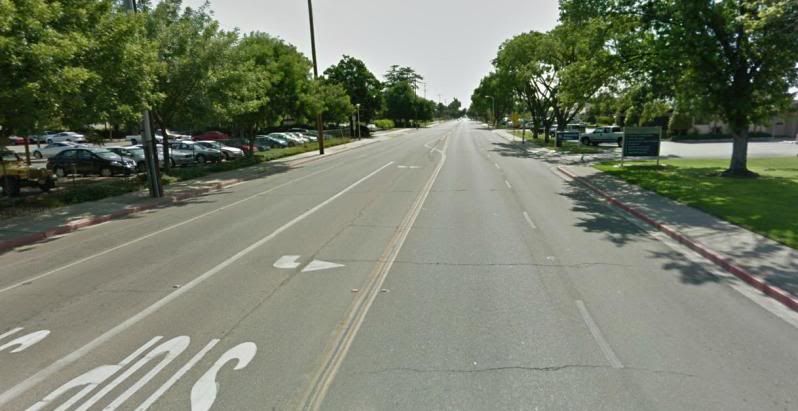 As the Fresno Bee photographer points out, it doesn't take much work to find people arriving to campus using other forms of transportation.
So what's the big problem here?
Fresno State frames transportation as parking. Walking is not transportation. Cycling is not transportation. The bus is not transportation. In some twisted way, not even driving is….just the parking.
Take a look at the entire transportation page on the university website
Transportation

Our transportation demand management objectives are to develop and maintain commuter programs, promote transportation alternative, mitigate traffic congestion and reduce parking demand.
Reduce parking demand eh?
Not much detail on how they'd do that. So let's click on the next link….
Traffic Operations welcomes you to California State University, Fresno.

Our goal is to provide you with safe and reliable access to our campus. We are dedicated to maintaining accessible, attractive and safe parking facilities.

Our objective is to manage parking resources efficiently, emphasizing customer service, so that students, faculty, staff and visitors are able to park without difficulty and lawfully.

We are always exploring new ideas and methods to improve our existing parking and transportation system, and we welcome any suggestions that you may offer. Please take advantage of the information provided on this web site and the services we offer so you can make the most of your campus experience.

Amy Armstrong, Parking Administrator
Fresno State Traffic Operations
Adding 600 parking spaces obviously won't reduce parking demand, but when the sole focus of your job is to administer parking, it's not a surprise that the only solution to any transportation problem is "more parking".
One last thought:
Usually, in stories like this, you see some ridiculous PR attempt to save face.
IE: "Sure we're cutting down 160 trees, but they'll be replaced by 300 trees, so this is actually BETTER! More trees, yay! It's a tree planting project!"
I found it amusing that FSU couldn't even muster that.
She said the university removed 160 trees and plans to plant 148.
Come on.