If you've ridden a subway in a new city, you've certainly found yourself exiting a train and not knowing which way to go. Many stations offer a multitude of exit options, but which one takes you closer to your destination? It can be a confusing experience, as there are no landmarks to guide you.
Apparently, the folks at Google know that feeling well, because they have teamed up with the MBTA to offer maps of the inside of stations on the Android version of Google Maps. Previously, all that the maps would offer was a single subway station logo, giving you a good idea of where the station was, but no details on the many exit options. Now, every hallway, stair, restroom and information booth has been mapped.
A few months ago, Google launched maps of the insides of certain buildings. For example, every Home Depot in the country now has a map of the store layout available for browsing.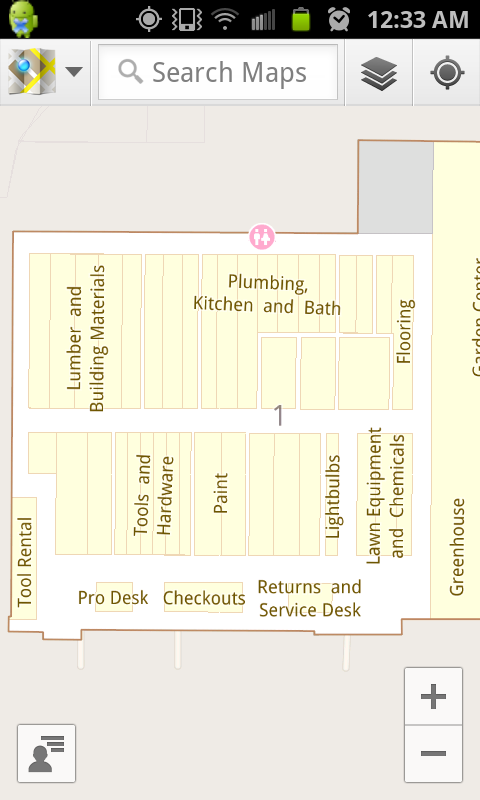 You can find the same for Nordstrom and many Simon Malls.
The transit stations are in the same format, but made a wee bit more complicated due to the many levels involved.
As you an see here, South Station has multiple levels, and two are actually not even included.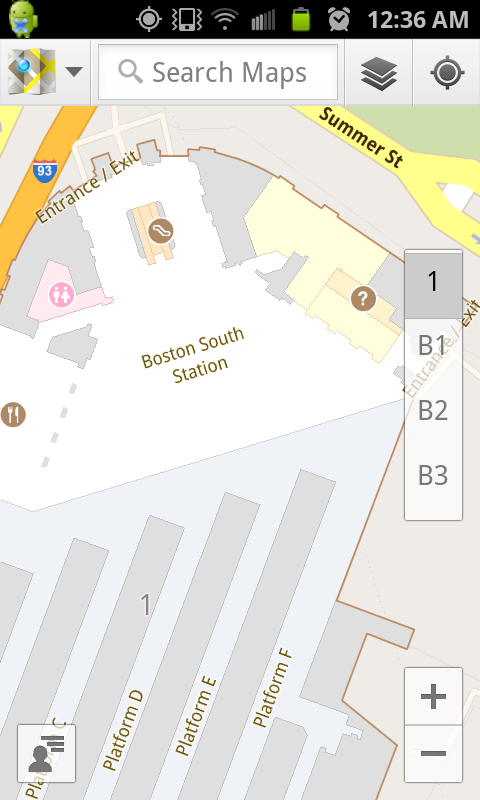 The levels are:
3 – Bus terminal (not included yet)
2 – Bus mezzanine (not included yet)
1 – Ground level, train platforms, ticketing etc
B1 – Subway mezzanine, ticketing etc
B2 – Silver line bus tunnel
B3 – Red line subway tunnel
South Station is pretty easy to navigate, but the maps have certainly shed new light in understanding how larger stations work. I've been inside the Park Street/Downtown Crossing combo station hundreds of times, but it's such a maze that it's hard to understand how the series of stairs and turns correspond to the streets above. The map actually makes it easier to decide which exit to take. That can be extra important if it's raining or extra cold and you want to cover as much distance underground as possible.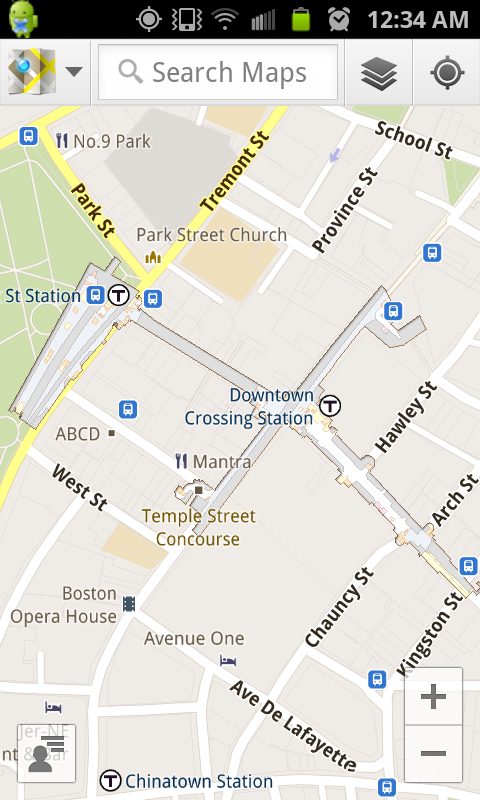 The maps aren't perfect, as here for example I can't quite tell where the entrance into Macy's is….but look, a bathroom I didn't know existed. Hooray!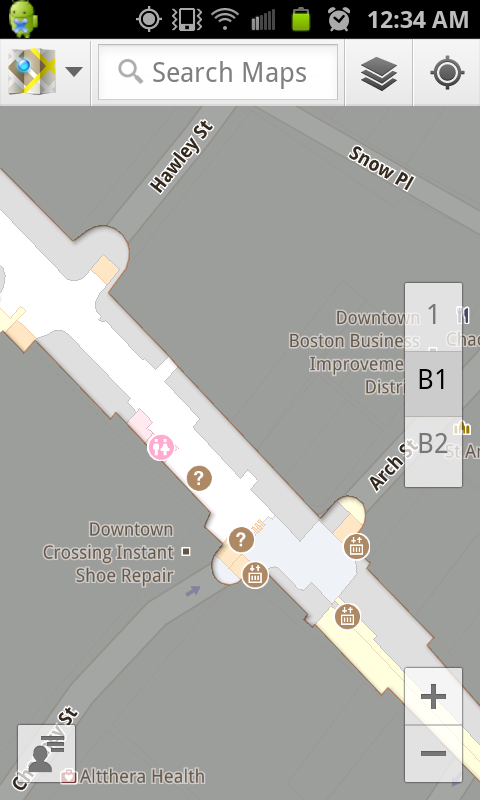 Here we go one level down to the red line.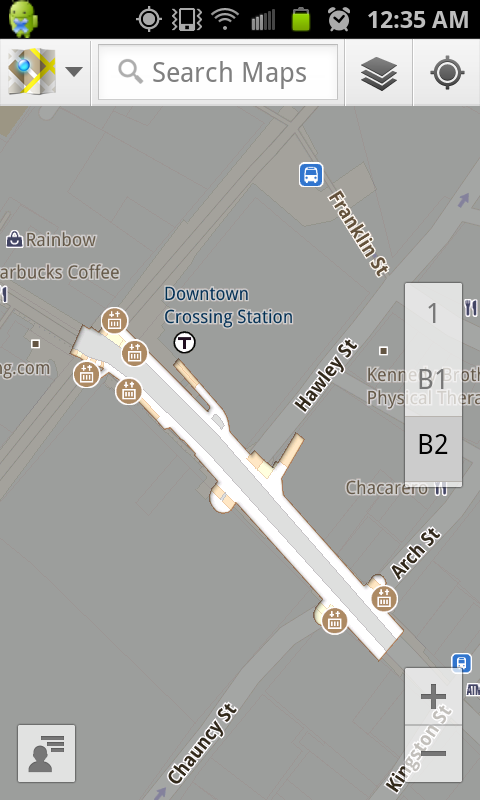 The maps work best in larger stations with odd shapes. Like Harvard for example.
It took a little bit of playing around to get the secondary entrances to display. Note it's B1 but the level thing doesn't offer that. There are still some kinks.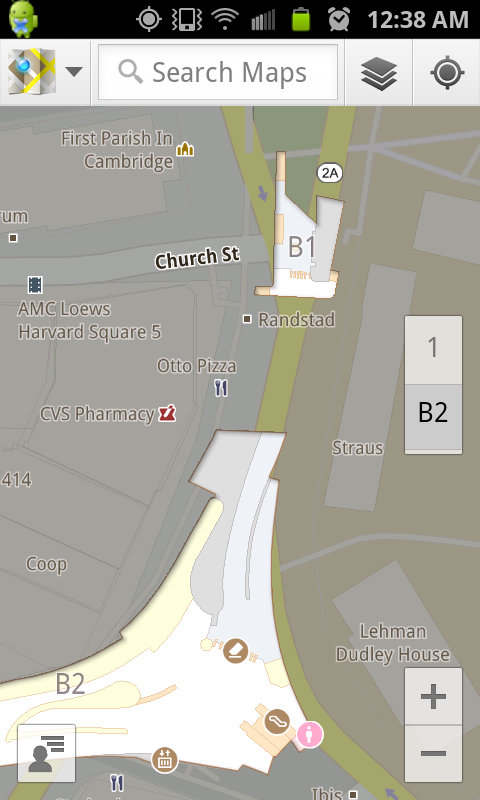 There's also a much larger kink in the map for Kenmore. I loaded up what used to be my home station, and was surprised by what I saw…
Bathrooms!?! I thought the great renovation of 2005-2010 (yes it took that long) eliminated the public restrooms (isn't progress great?)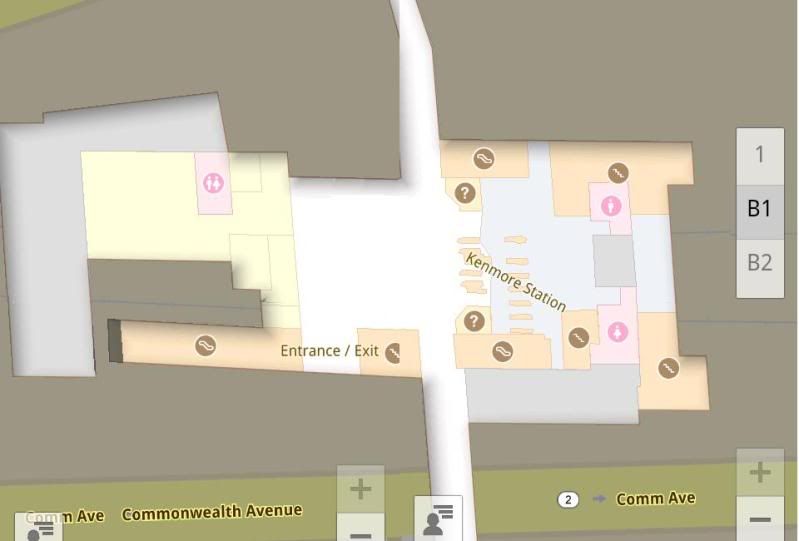 Upon closer look, it's clear that the map is wrong. This is the Kenmore of 2005, with two token booths and no elevators….and bathrooms.
The Kenmore of 2012 has the same shape, but not the same details. Why would the MBTA submit station schematics for a station that hasnt existed in this form for years?
Odd. But there is one other thing of note….this map shows a THIRD bathroom in Kenmore. Hm. Is that still there, hidden behind an unadvertised door? MBTA policy is that all restrooms are now available to the public, so someone should go and see what the agent says.
I'm glad to see that the MBTA was the first transit system to give station schematics to Google. However, outside of 3-4 stations, it's not of much use. MBTA stations are super-simple, and the agency has a terrible policy to eliminate as many exists as possible, leaving riders with just one choice, so it's hard to get lost.
I do look forward to seeing this expand to NYC, and better yet, Paris and London. Some of those stations truly do need maps.
Bonus:
Logan Airport has maps as well, not sure if this is also new