A few weeks ago I wrote about FAX taking out an ad in the Fresno Bee to promote new signs coming to bus stops. I thought it was absurd. The sign itself wasn't very good, and the concept of a bus agency taking out an ad in the paper to tell people about a new sign was baffling.
There is some good news. Kiel Famellos-Schmidt of archop posted a picture of a new sign today and I was happy to see that large route numbers were included, even though the ads didn't mention them.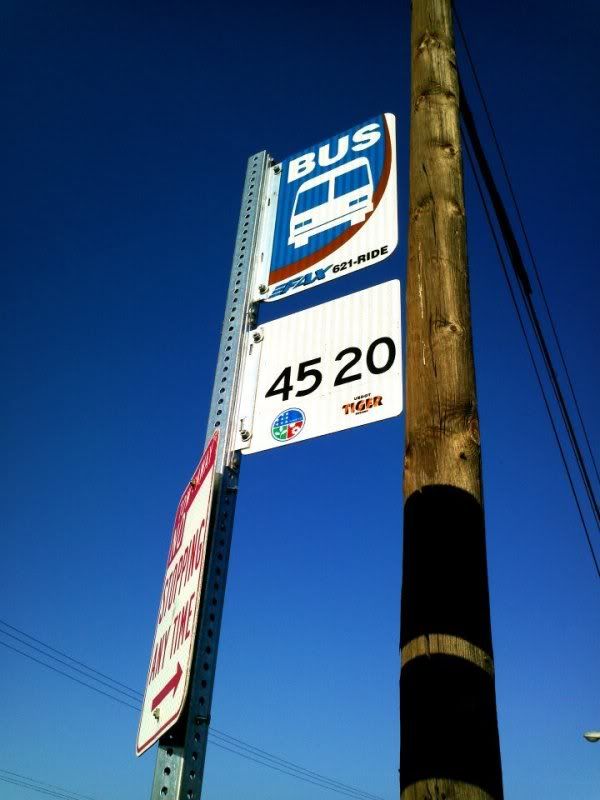 Where do those routes go? What is the service frequency? What are the service hours? Who knows, but at least the sign does do the bare minimum and inform people of the routes that stop there.
At least the route numbers are large and easy to read.
Still doesn't quite deserve an ad in the paper though.
And speaking of ads, note the TIGER logo on the sign itself, which feels ill-advised. The sign is meant to provide information to riders about the bus system, and the TIGER logo may cause confusion. The average person has no idea what TIGER means. Is it a new route? Is it some fare promotion? Is it a special branded bus? Is it paratransit?
No, nothing like that, it's just the federal grant that funded the signs. That information is completely meaningless to the rider.
On top of potentially causing confusion, it's also not great branding for the program itself, or for FAX.
So what is TIGER?
The Transportation Investment Generating Economic Recovery, or TIGER Discretionary Grant program, provides a unique opportunity for the U.S. Department of Transportation to invest in road, rail, transit and port projects that promise to achieve critical national objectives…..Each project is multi-modal, multi-jurisdictional or otherwise challenging to fund through existing programs. The TIGER program enables DOT to use a rigorous process to select projects with exceptional benefits, explore ways to deliver projects faster and save on construction costs, and make investments in our Nation's infrastructure that make communities more livable and sustainable. "These are innovative, 21st century projects that will change the U.S. transportation landscape by strengthening the economy and creating jobs, reducing gridlock and providing safe, affordable and environmentally sustainable transportation choices," said Secretary LaHood. "Many of these projects could not have been funded without this program."
When you read that, does your mind jump to "new signs that say BUS"? Probably not. Is that really the best FAX can do when the feds offer free money. Probably not.
What's also odd is that the TIGER website map doesn't show Fresno as ever having gotten grants. Perhaps they're not too proud of it either.
New signs are good, but how about using that space taken up by the logos to give riders actual information? As I said, a destination is sort of important, especially for folks who aren't the most geographically oriented. Schedules are sort of a big deal too. Even one of those bar codes (QR) readable by smart-phones would be nice.