Does intellectual dishonesty make you mad? Then sit down and enjoy a hearty laugh instead, this* article is so bad it deserves nothing more than an extended chuckle.
*(that's where the hyperlink would usually be)
The article starts with grand claims, claims that any reporter can latch onto quickly to create a firestorm. Make no mistake, the following paragraph was carefully written to create as much outrage as possible in one easily digestible scan.
Los Angeles' brand new $930 million Exposition light rail line is carrying so few riders and bringing in so little revenue that it will, at best, take 65 years for the train to earn back its capital investment (not including ongoing operating costs). If the project completes its next phase and establishes an at-grade train that runs through heavy street traffic from Downtown L.A. to the city of Santa Monica, it will not pay for its construction for 170 years.
Shocking claims!
$930 million is an outrage!
The super expensive train is a failure!
No one is riding it! No revenue is coming in!
There is doubt (if) that phase 2 will happen!
The trains must compete with heavy street traffic!
One should expect transit to pay off its own costs directly!
170 years to be paid off!
Get the sirens ready!
So what cutting edge masterful research went into crafting the claims that it will take 170 years for the line to pay for its construction?
That's the most optimistic figure Reason can come up with after two days of counting weekday riders on the Expo Line.
That's right. They sent someone to count people on the first week of service.
That's it. That's the research. That's the hard work that went into this scandalous claim. A dude with a clipboard counted heads at some unspecified time at some unspecified place during week one of service….a week in which two of the stations, including the freaking phase 1 terminus, aren't even open yet.
So if you're tempted to continue reading the article, stop. If you're tempted to unleash a counter-argument, stop. If you yearn to just point out simple facts that rebuke every point made in the article, then stop.
Look, it's easy to point out that ridership in week 1 of a transit line is meaningless.
For example, this excellent ridership chart of the Gold Line in LA shows that after opening an extension (which was almost like a brand new line), after 2 years ridership still has not stabilized and continues to increase as people become aware of the line and have time to adapt their patterns to take advantage of it.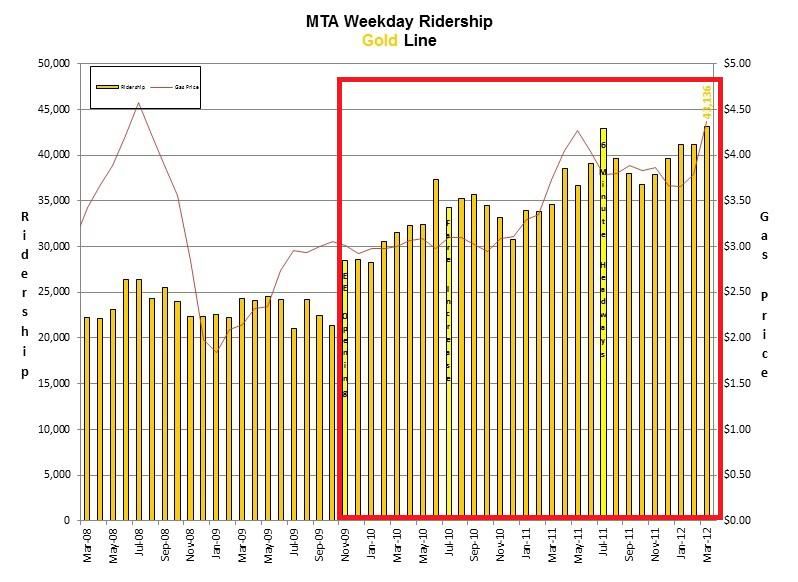 Source, Rubbertoe on Transit Coalition
On the left of the red box, you'll note that when the extension opened, ridership did increase….but that increase was just a fraction compared to the real growth.
If after 2 years ridership is still growing as people get exposed to the line, how on earth could you make 100+ year claims on 2 days of data on the first week of service?
….oh no, I'm doing it. I've wasted valuable seconds of my time trying to point out mistakes in the article. And I know that you, reader, are itching to point out that the foundation apparently demands that the train make money but has no such expectation for roads. Don't do it.
That's time wasted that would have been just as effectively been spent questioning the "all natural" claims on bottles of soda, or the ludicrous lies sent out by Pizza Hut when they say you can get ANY pizza with ANY crust for $10 (and then charge extra for stuffed crust).
Instead of wasting time on the article, it's best to simply understand how something so ridiculous can be written.
It's simple. The article is an ad by an oil company, and as such, should be held to the same standard as health claims on bottles of soda and the word "any" in fast food advertisements.
The Reason Foundation is primarily founded by the Koch brothers. They of course, are billionaires who became rich on oil. The foundation is also funded by a fun assortment of other oil companies, and foundations that itself are funded by the same companies.
Example:
Charles G. Koch Foundation $57,000
Claude R. Lambe Foundation $857,000
David H. Koch Foundation $1,522,212
Exxon Mobil $105,000
A list can be seen here.
Instead of wasting time on that article, use your time on this excellent piece by the The New Yorker from 2010.

Covert Operations
The billionaire brothers who are waging a war against Obama.
by Jane Mayer August 30, 2010
Don't let the title fool you, the article is an excellent exposé on how and why foundations like Reason exist, and why they jump at the opportunity to release crap articles that they know will be used by other people hoping to prove a misguided point.
As for the Reason article itself, you notice I didn't link to it. Of course I will, but I prefer you didn't follow the link, Why reward crap with page views? So here's the link, if you must. But if you will reward them with a page view, reward yourself with a glance at the comment section. That's what you get for clicking.