Last weekend, the Catacomb Party was held downtown, with a whole bunch of bands. That was a big success, and being free may have helped.
This week there's another music event, but this one requires buying a ticket. Truth be told, the way the price is set up, you can consider it a ticket for the attractions, with the music being free. It's being held at Blackbeard's, known for its minigolf, go-karts, batting cages, arcades and more. $25 gets you a day of music and also access to the attractions.
Where: BLACKBEARDS
When: SATURDAY JULY 28TH
Time: Gates open 1pm / Music 2pm
ALL AGES | 21+ to Drink
Entry: $20 Adv. $25 VIP (Unlimited Attractions!)

*Children under 5 are FREE & for $5 for unlimited attractions!
*Ages 6-11 are $20 for entry & unlimited attractions!
*12 & over its $20 for entry and $25 for unlimited attractions!

***VIP Includes UNLIMITED ATTRACTIONS!
Which includes:
Batting Range
Bumper Boats
Miniature Golf
Race Track
Waterslides
XTreme Laser Tag
Ropes Course Adventure
Cap'n Kids
Bankshot Basketball
…plus more!
More at the official Facebook page including the full band listing.
Blackbeard's is not downtown, but it is sort of south fresno. South of Shaw anyway.
And the poster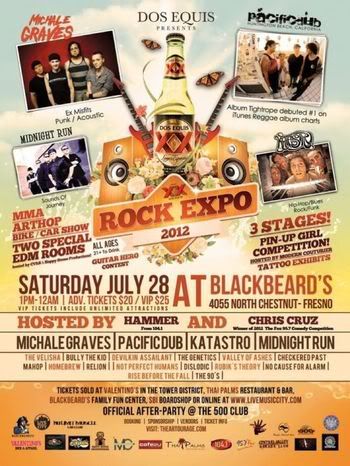 It's good to see so many music options in this town, and there's another similar event coming up in August.