This is my sixth time posting a summary of Amtrak California ridership and the story continues to be the same – more riders. Those increases come with a poor economy, no improvements in service and (slight) increases in fares. The fastest grower continues to be the San Joaquin service, which runs from Bakersfield to Oakland or Sacramento, which just so happens to be the starting point for California's future high speed rail service.
Amtrak has just released the May 2012 numbers, so lets take a look inside.
In 2008, hitting 80,000 riders on the San Joaquin was a big deal. In 2011, the train broke past 100,000 riders for the first time. This year the San Joaquin didn't even go under 80,000, and has already seen two months of 100,000+ ridership. That's with the summer ridership not being reported yet.
Contrary to what some might claim, the Fresno train station is not a sleepy little place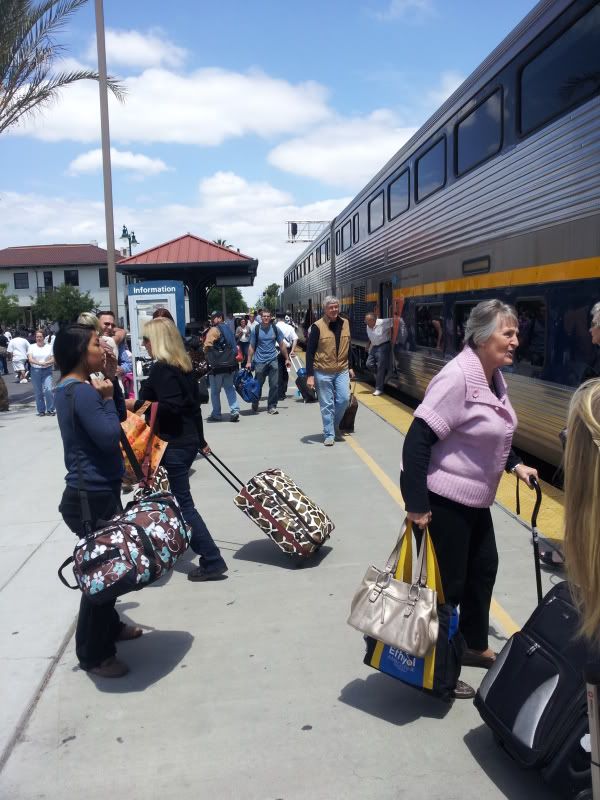 Take a look at the continuous growth. Not bad for a service that is running the same trains on the same schedule its done for years.
May 2012: 100,992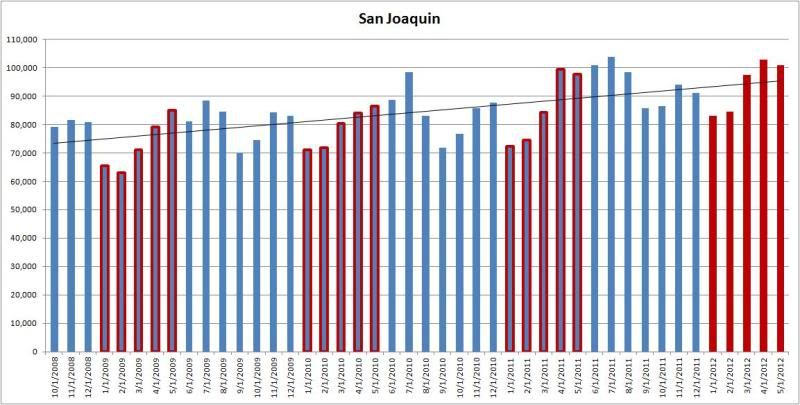 (I've highlighted the first five months of the year, I think it makes it easier to read)
The Capitol Corridor (Sacramento-Oakland-San Jose) is growing as well.
On the Pacific Surfliner, ridership has stalled….
May 2012: 236,375
But there's a reason.
Fares are going up, meaning constant increases in revenue.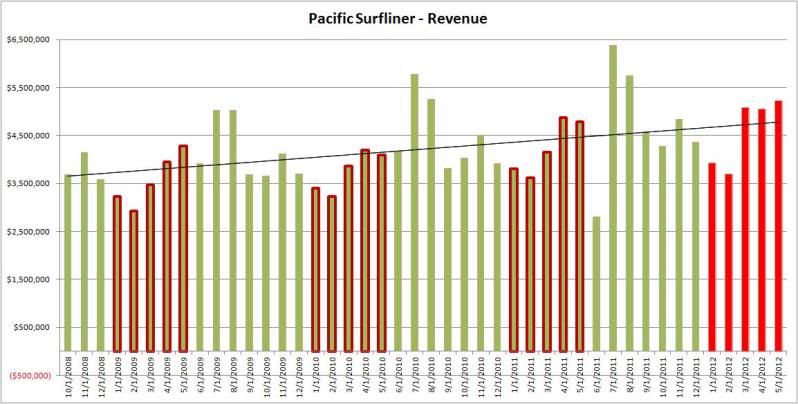 Does that mean the San Joaquin and the Capitol Corridor are cooking to books by offering low fares?
Not exactly. Revenue is going up faster than ridership, which makes sense, as more people pay into the higher buckets.
And take a look at this, while the San Joaquin has less riders, it brings in more money than the Capitols.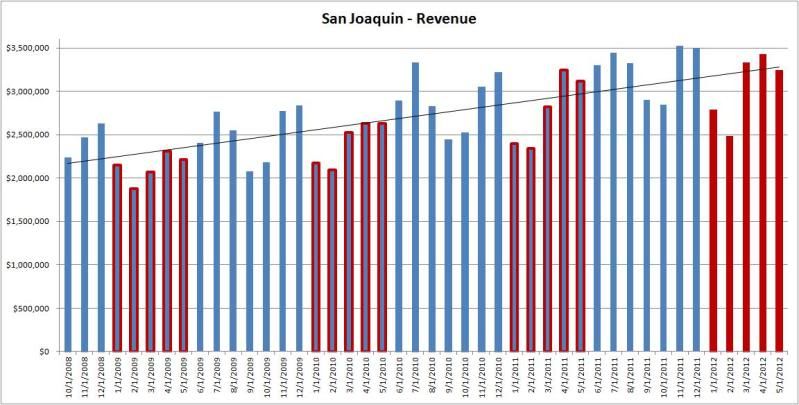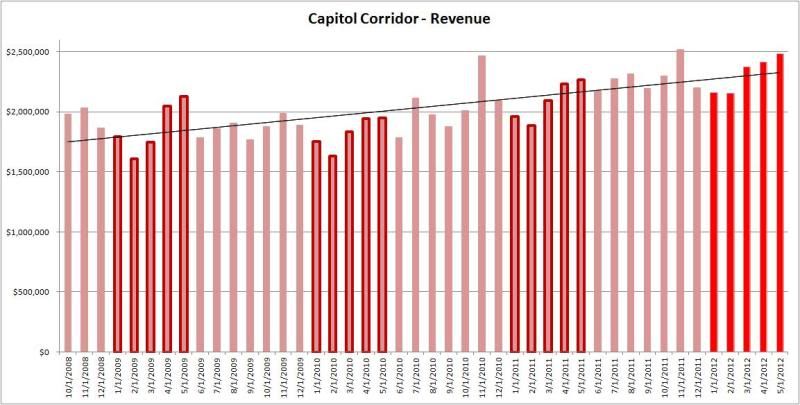 This is what May ridership looks like, year on year.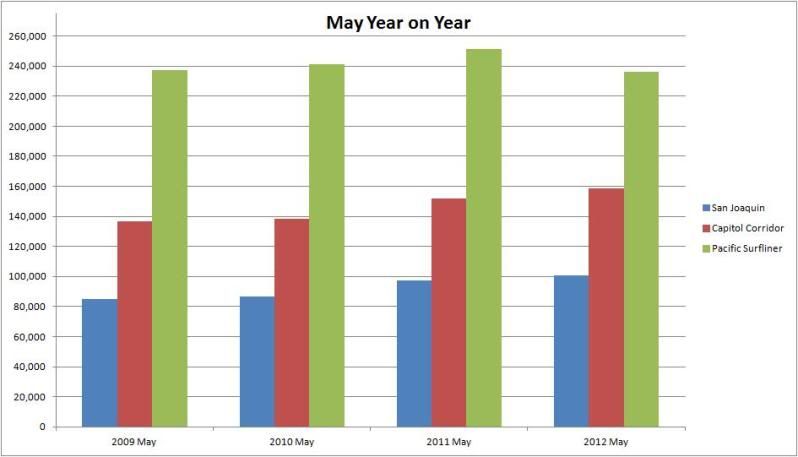 A bigger picture, all three lines with every month I have.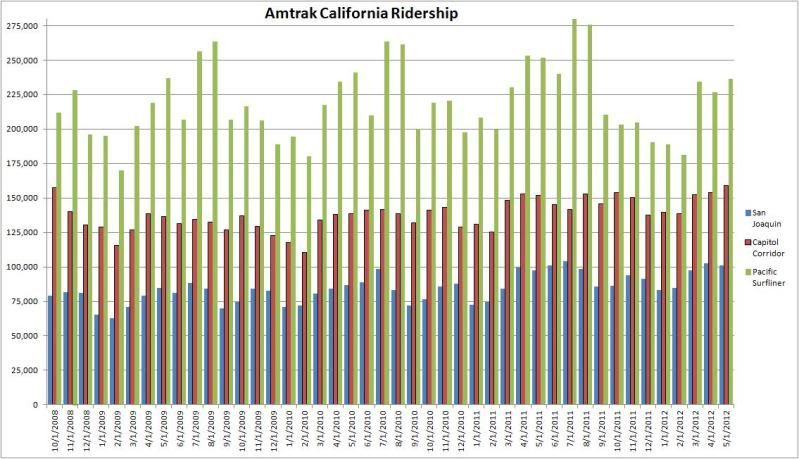 And finally, this is how the California lines stack up against the rest of the country.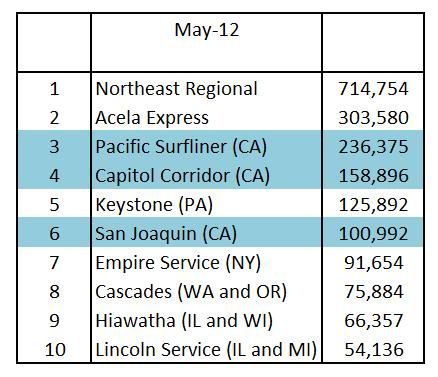 The rankings are pretty consistent
A northbound San Joaquin makes a rare stop on the second track, and the crowd is forced to use one of the two pedestrian crossings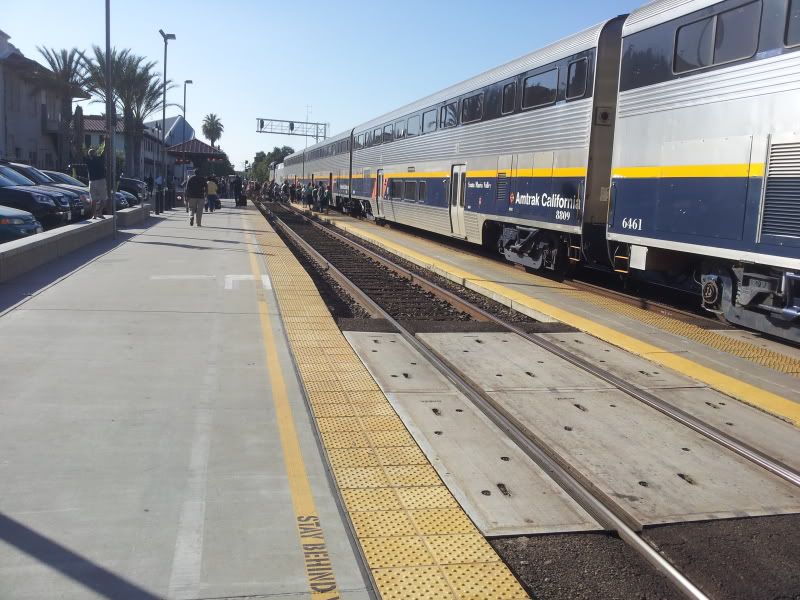 Previous posts:
April 2011
June 2011
July 2011
August and September 2011
December 2011