It's almost time for Clovis's newest big box to open up, and that is the sports retailer Dick's. I decided to take a walk in the area where the giant box has been dropped down, which is just a mile from the historic old town. Fresno and Clovis are packed to the brims with big boxes, and I was looking to see if one built in 2012 is any different from one build in 1980. I was also looking to see if a store which caters to "athletic and outdoor enthusiasts" would design an experience that….well, that actually caters to being athletic and being outdoors. Any marketing professional will tell you that the brand shouldn't end at the front doors, is that the case here?
I was wondering if Dick's does anything to make their 2012 big box look and feel anything different from something like a Mervyn's or Petco big box built in 1980. How do they engage their customers who have active lifestyles?
And assuming the corporation doesn't do anything to cater to walking and such, does Clovis do anything to require new development be walkable and bikeable?
Let's explore.
(The title may be a spoiler).
Location, relative to old town.

——
Here is where the newest and biggest box is located. As you can see, the imagery doesn't show the construction. The yellow dots are the walking path I took. Dick's is almost done, the mega-enormous walmart is a few months away from being finished.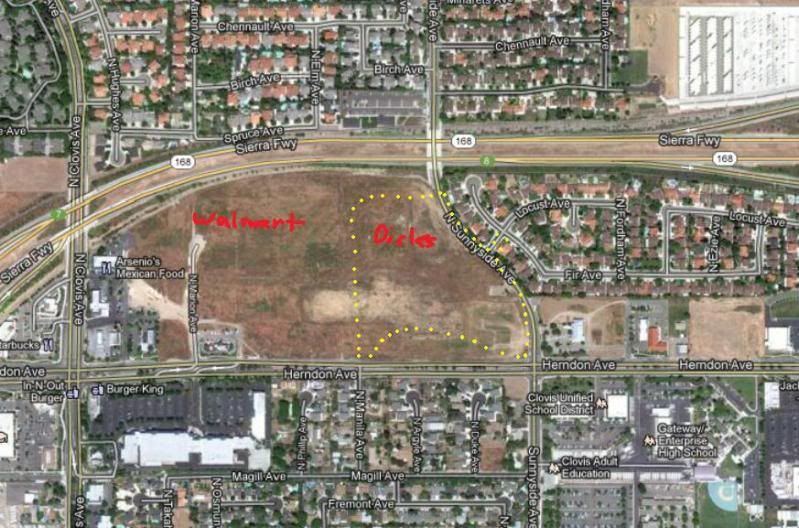 We start in a residential development, a small section of houses nestled between the freeway and Herndon (a wannabe-freeway). These homes can now see Dick's from their backyard.
….sort of. They get a beautiful view of a lovely wall, and the parking lot lights behind it.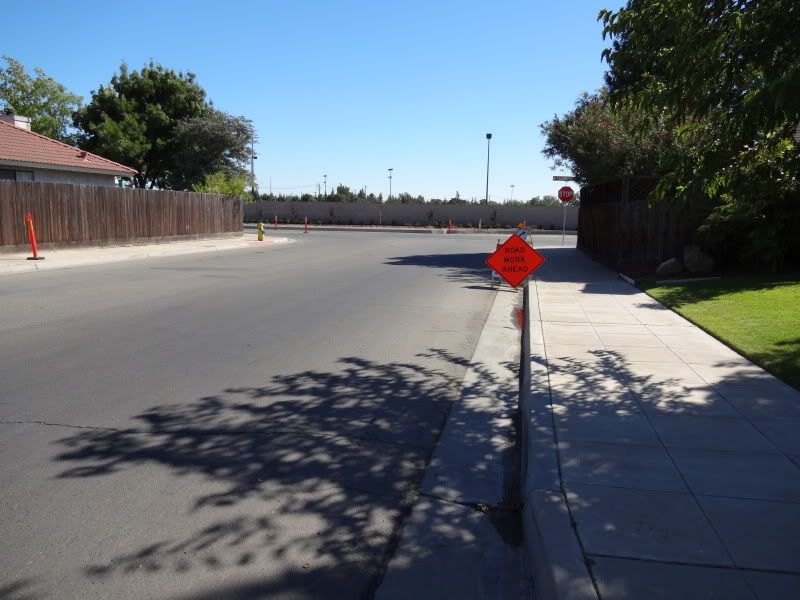 Previous view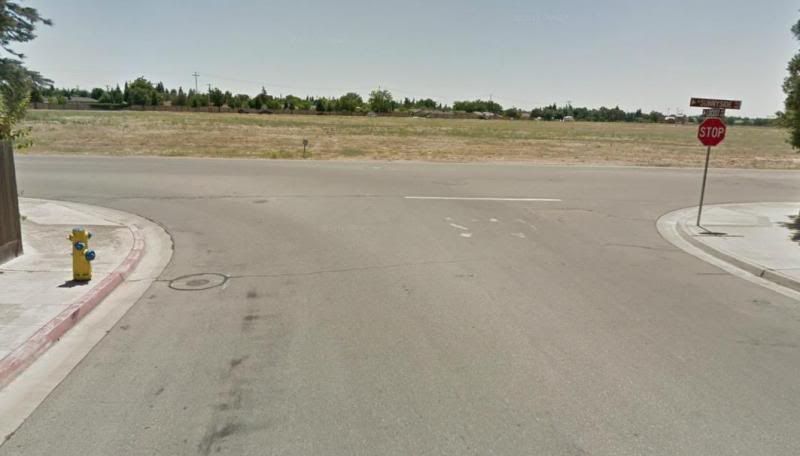 A median was built, meaning the dwellers of this area are now inconvenienced as they can no longer make left turns. The pedestrians have a legal crosswalk, and yet the city doesn't want them to cross.
Look how close Dicks is, yet for a pedestrian, it's so far away, unless they're the kind that can vault over walls.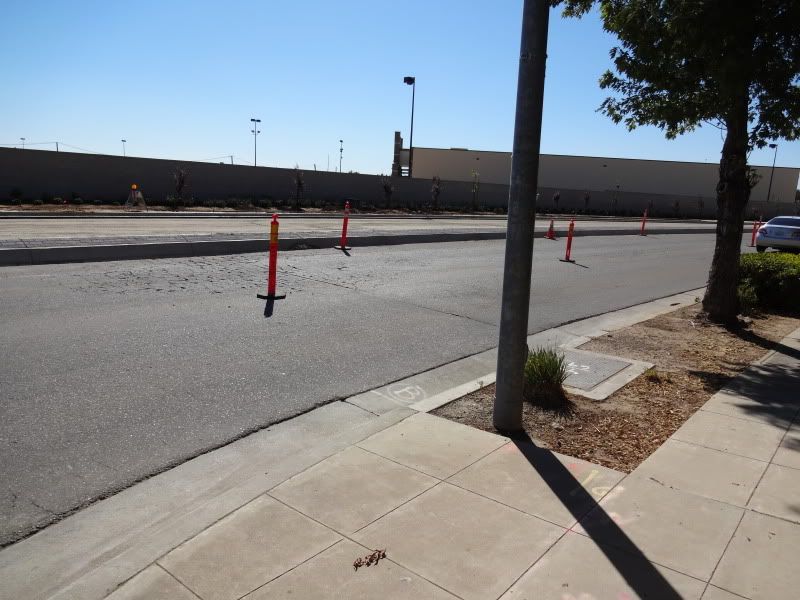 No crosswalk here, not that one could get past the wall.
There is a back entrance up ahead.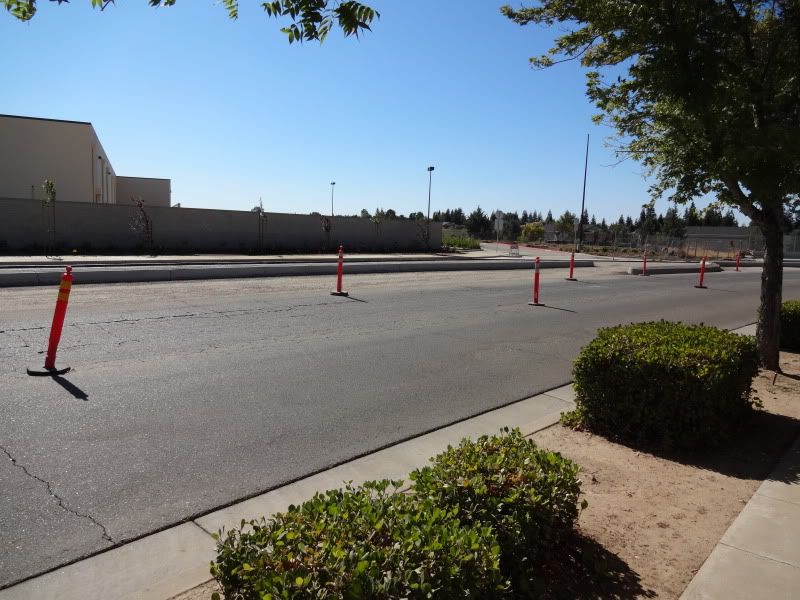 But again, the crosswalks, as defined by california law, have been blocked with curbs. The crosswalks still exist, as there is no sign indicating otherwise, but wheelchair users are screwed.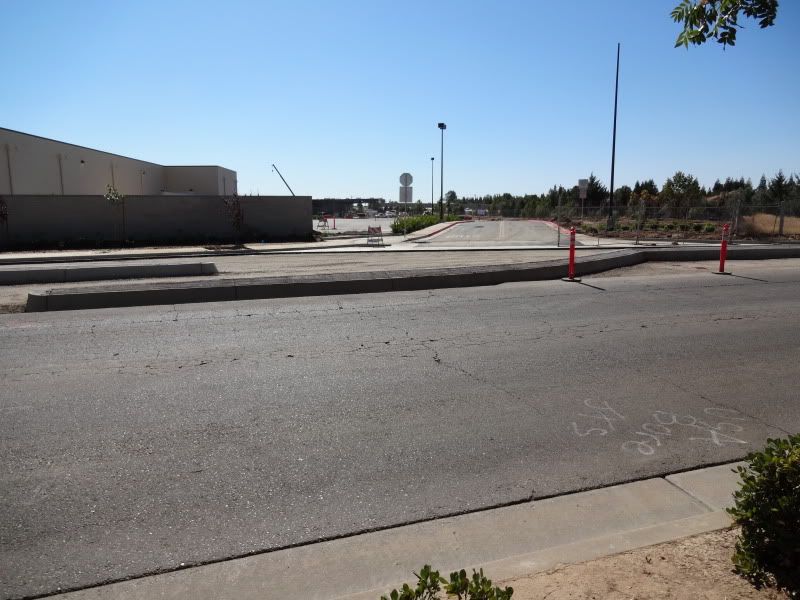 Up ahead, across the highway, more homes, but no crosswalks.
This could be a crosswalk, as there's a ramp and all, but it's not ADA friendly.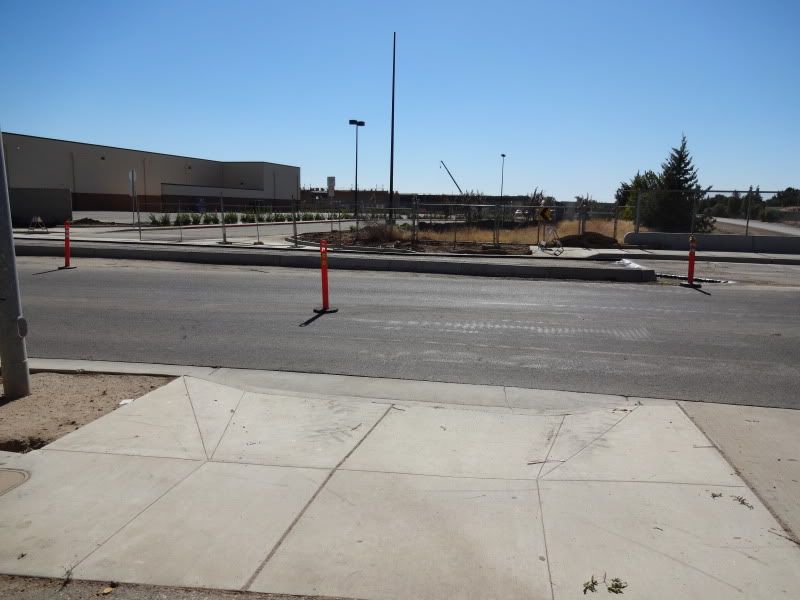 I'll cross anyway, let's go shopping!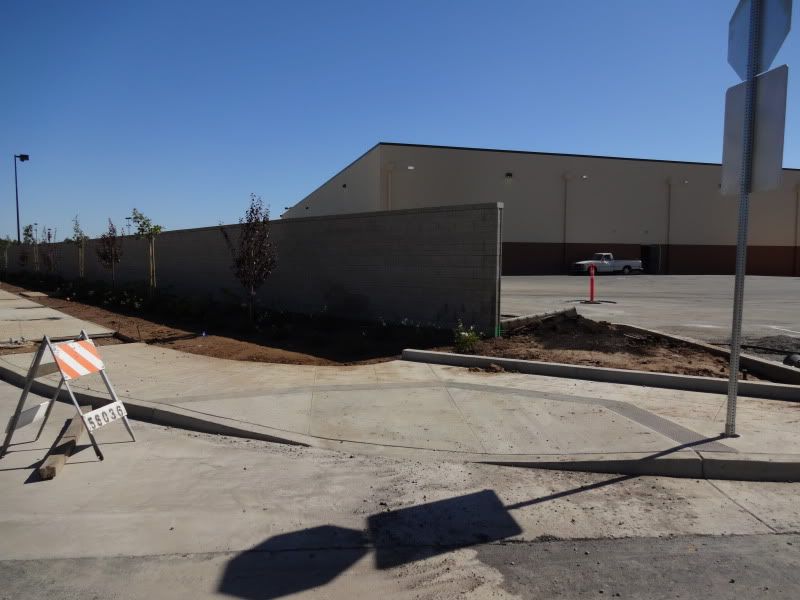 Oh lovely, a parking lot that will never, EVER be used.
And also, remember my dotted line drawing showing the walk I took to the store? Well, I followed the only sidewalks.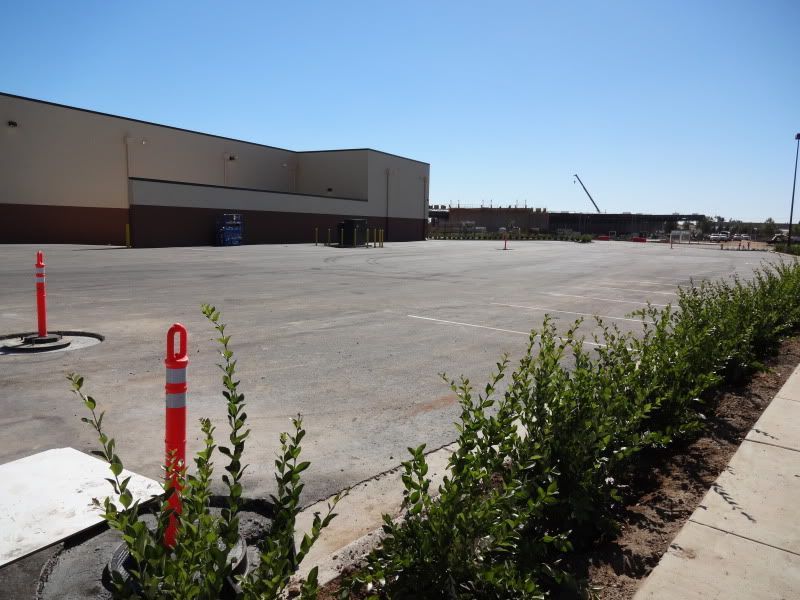 As you can see, someone wanting the shortest walk to the front entrance must walk over the planters. Someone in a wheelchair? Screwed. I guess it was inconceivable that someone walking to the store would want a quick and direct path.
So we go all the way around the back, which has an abnormally large rear lot that will never, ever be used.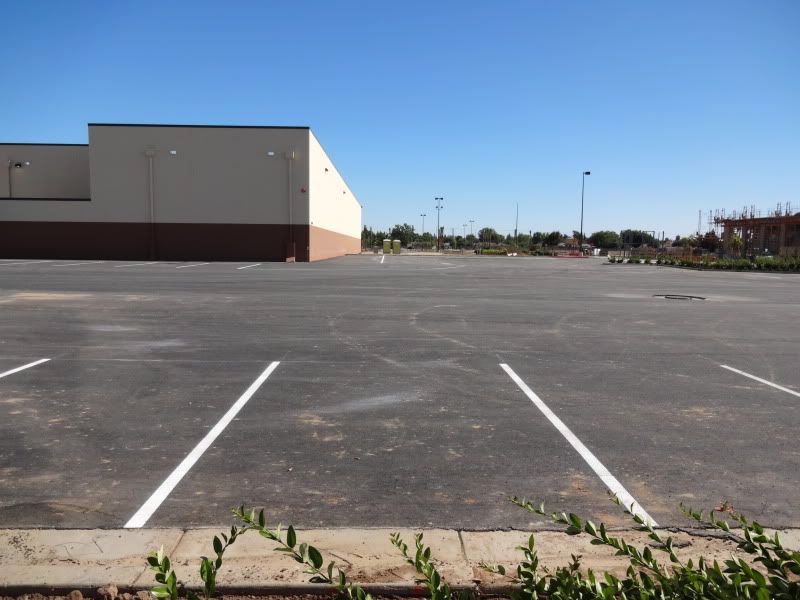 I follow the one and only pedestrian path, and can see the wal-mart being built.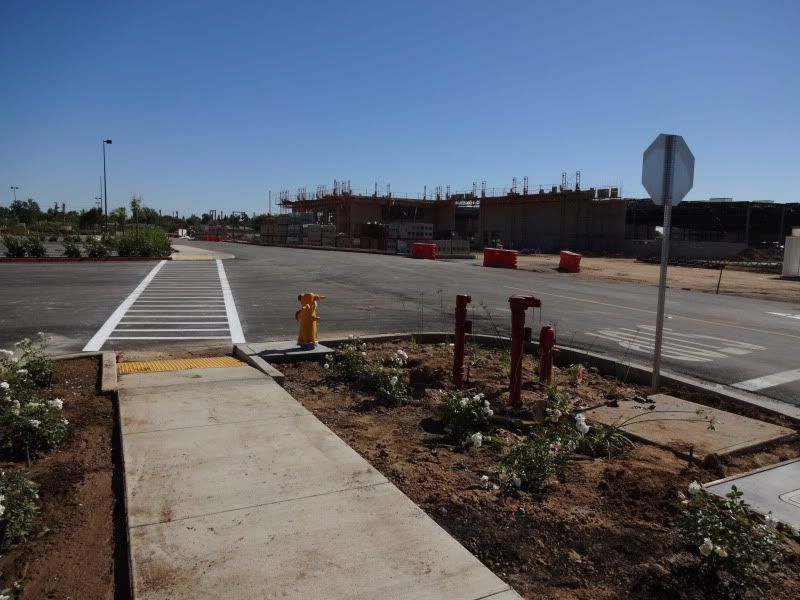 Notice how the one and only pedestrian path has kept me away from the store, again, adding distance to my walk. I guess the store really does want athletic customers, as it has designed the longest possible walk.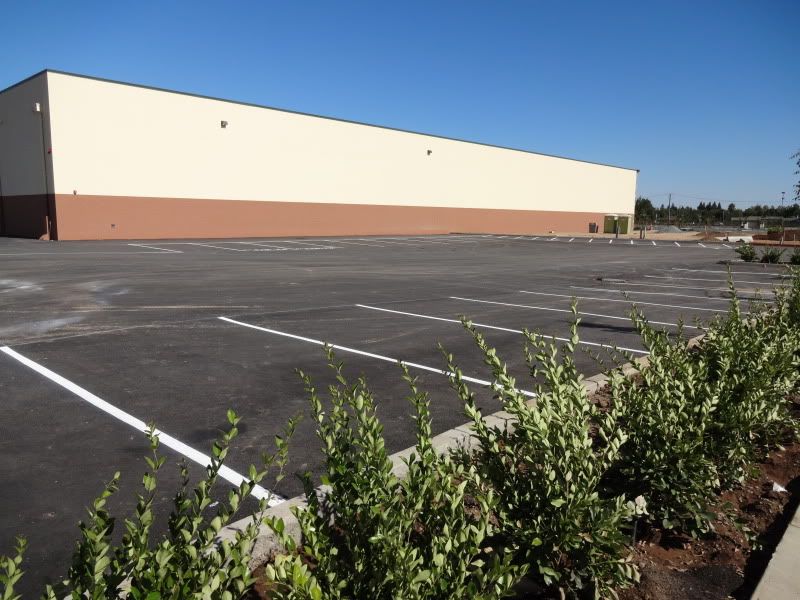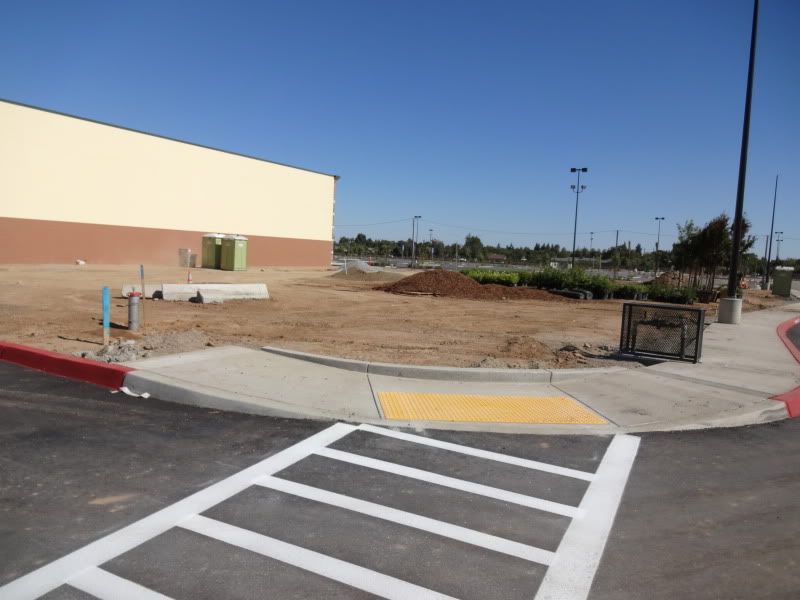 A small intersection, with the walmart on the other side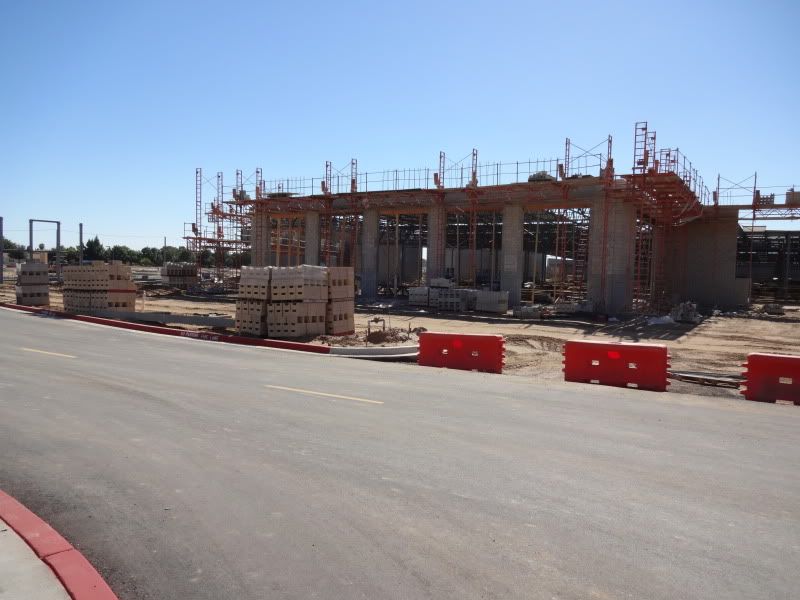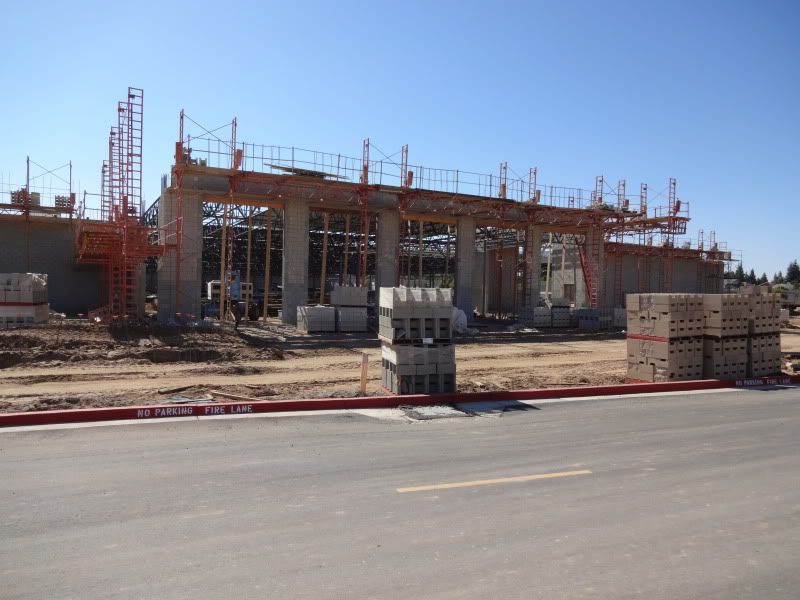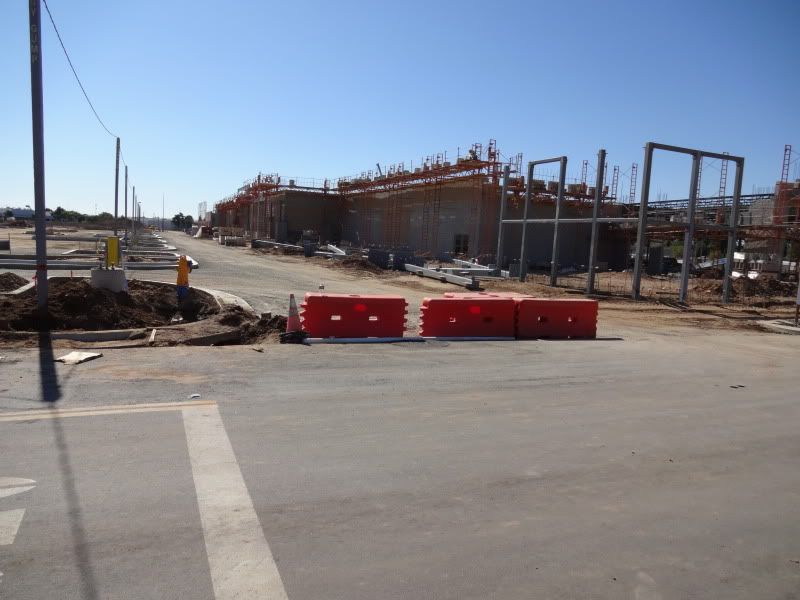 Hooray, we've arrived at the front. I didn't actually go to the front as there were construction folks, and I'm not fully sure how friendly they'd be to my taking pictures of that area.
Staying in the parking lot then…
Oh look, how sweet, Dick's is environmentally conscious and has designated EV parking spaces! Any charging stations? Of course not! Any form of mechanism to enforce the "rule"? Nope. Are they even conveniently places? Absolutely not.
But it's such a lovely gesture.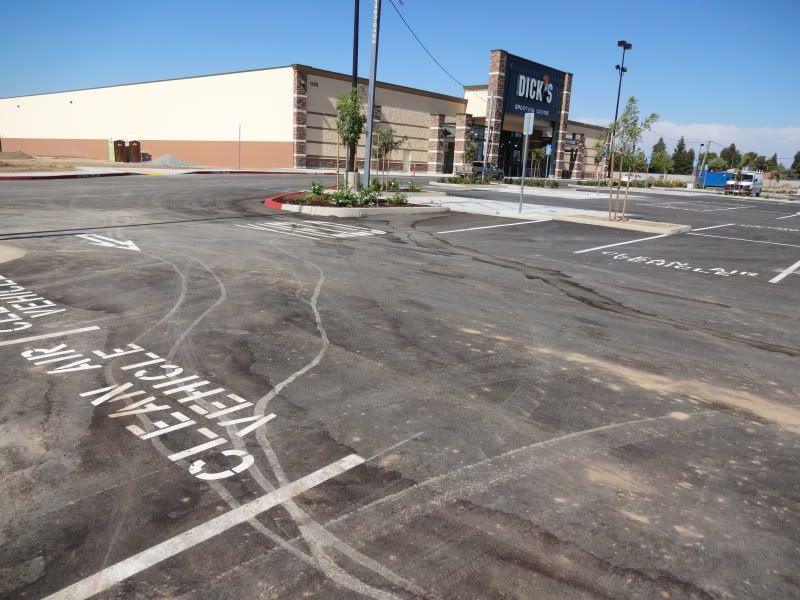 The one and only pedestrian path does continue to herndon.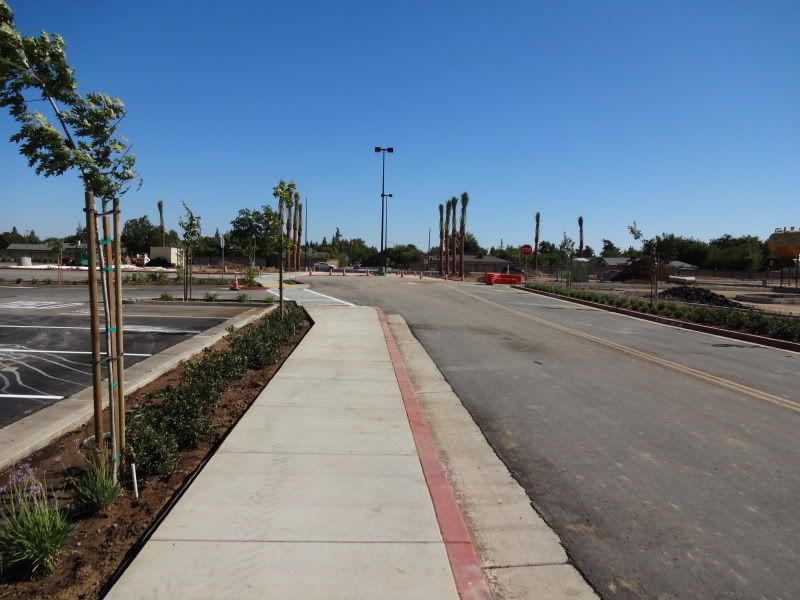 Ok, the lovely gesture is now insulting. Seriously Dick's? Does this placement make ANY sense?
I can't wait to buy a Chevy Volt so I can park as far away as possible!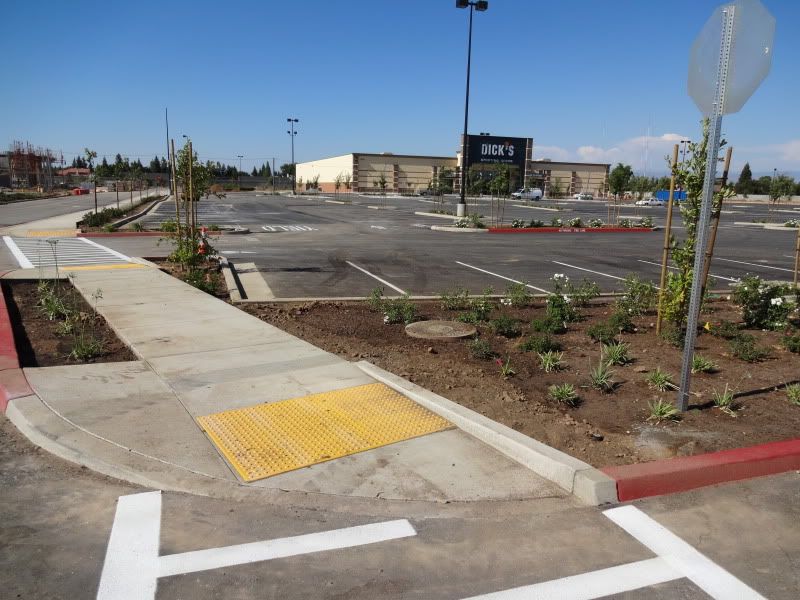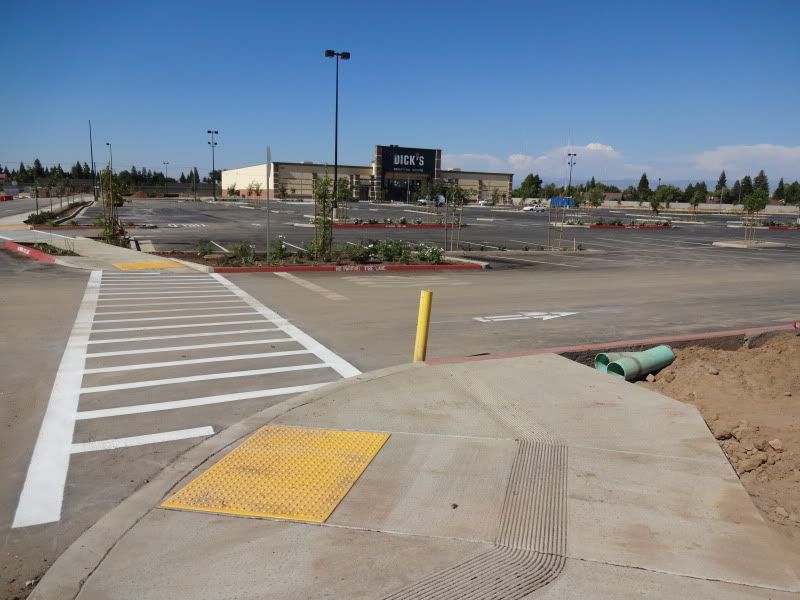 We get to Herndon, and again we find ourselves wanting to cross the street to get to the lovely homes….but can't. Another median in the way blocking the unmarked crosswalk.
(Remember unmarked crosswalks have the same legal standing as marked ones)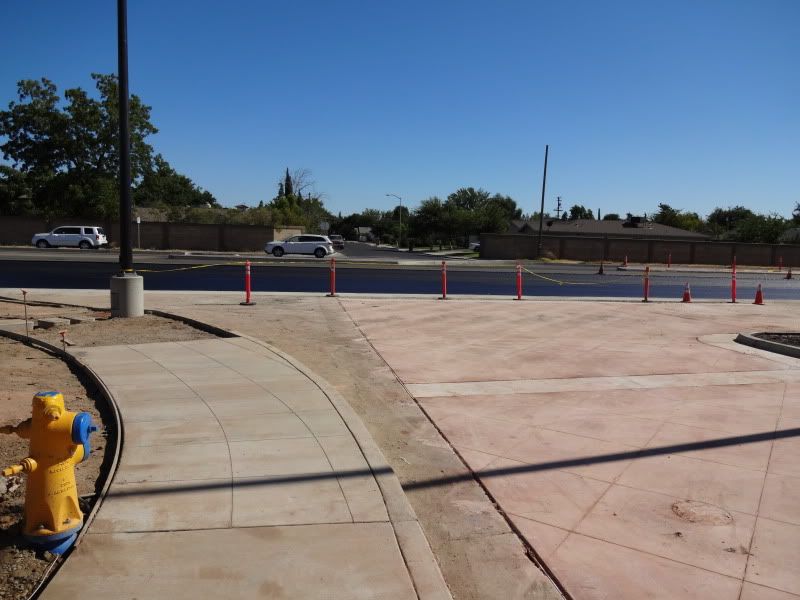 And yet….just recently the crosswalks were accessible!
Take that ADA!
To be perfectly honest, the people in these homes will rarely go to Dick's.
But Wal-mart? That's the sort of place you might want to walk to to pick up groceries.
But with this kind of walk, most will drive just to cross the street.
No one in their right mind would make this long walk to cross the street.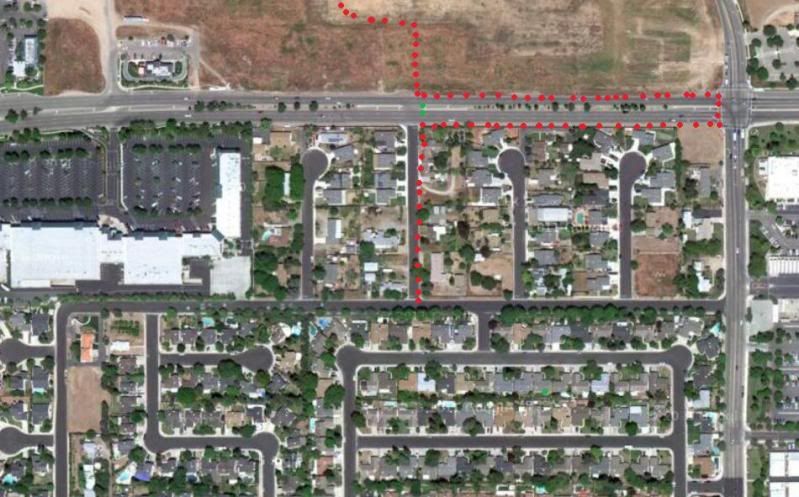 So since Clovis puts up a wall, they'll drive.
Anyway….
Herndon, naturally, has been widened. Since walking is made as inconvenient as possible, Herndon must be widened to accommodate the people driving across the street.
The new lanes give lovely views of all the parking spaces that will never be used.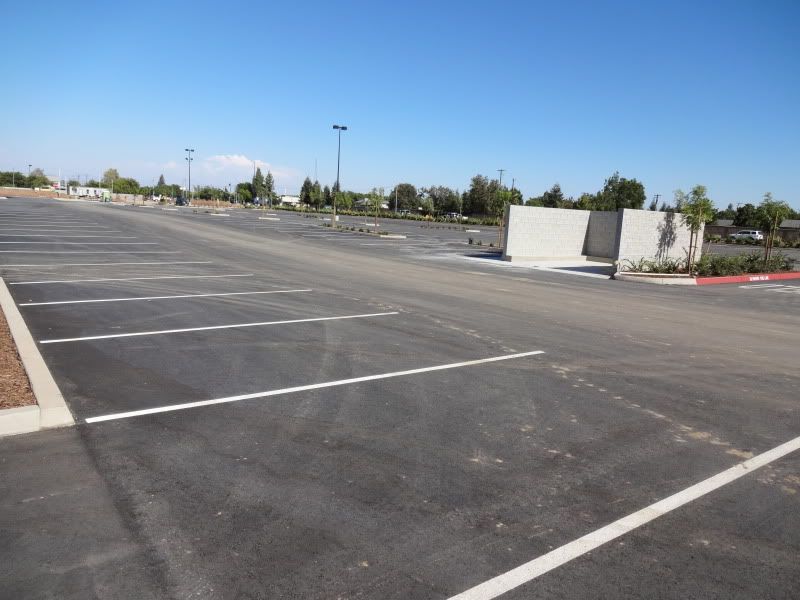 Would you ever park out here?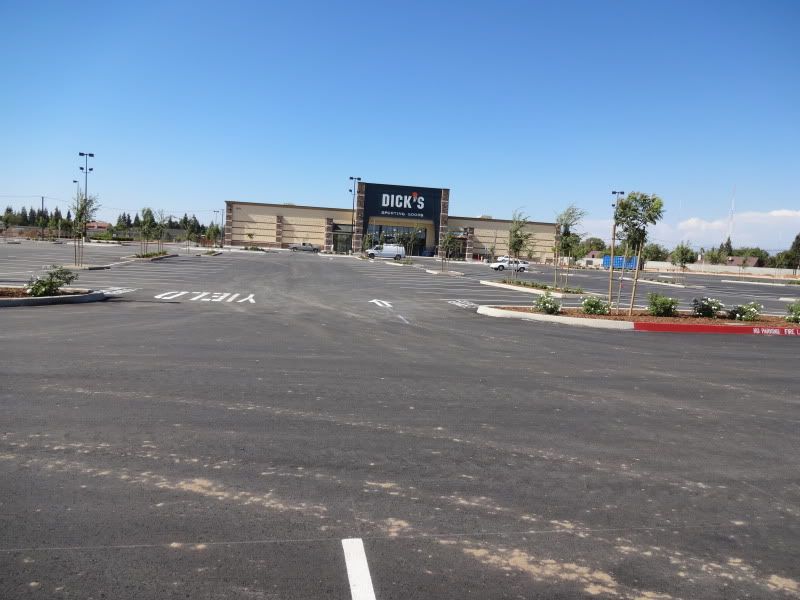 So many wasteful spaces, the stores never need so many.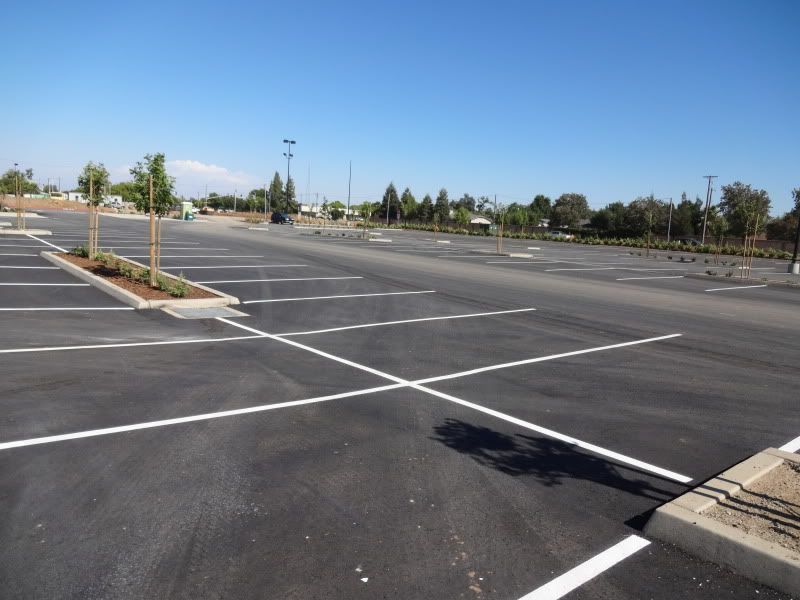 Such a large parking lot for a store that is usually pretty damn empty (based off their location on West Shaw). Note more "clean air vehicle" spots.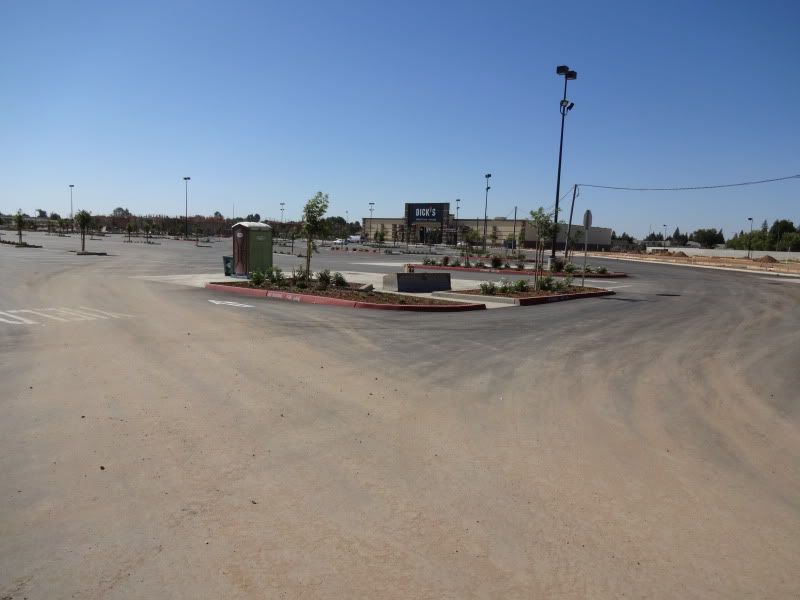 Some smaller retailers will also be built on the sides…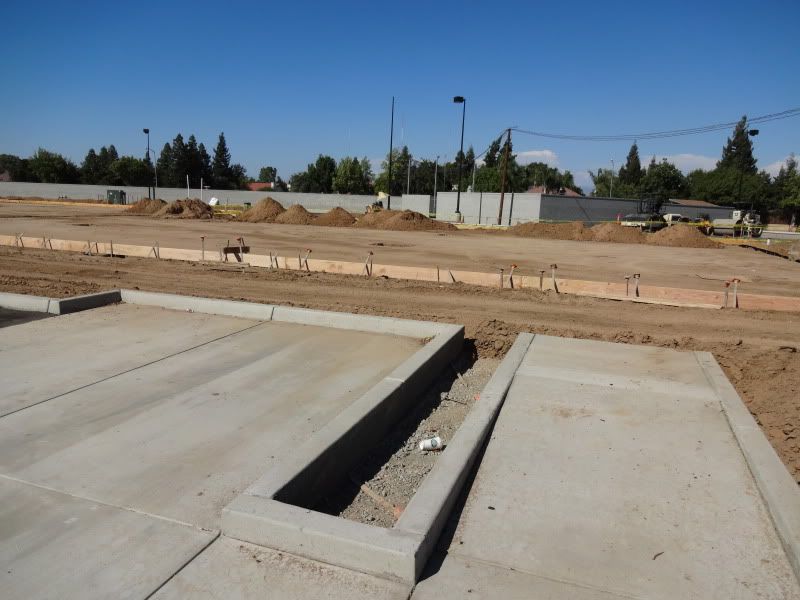 Which just so happens to put another barrier between the location where I started and the shopping destinations.
Secondary entrance on Herndon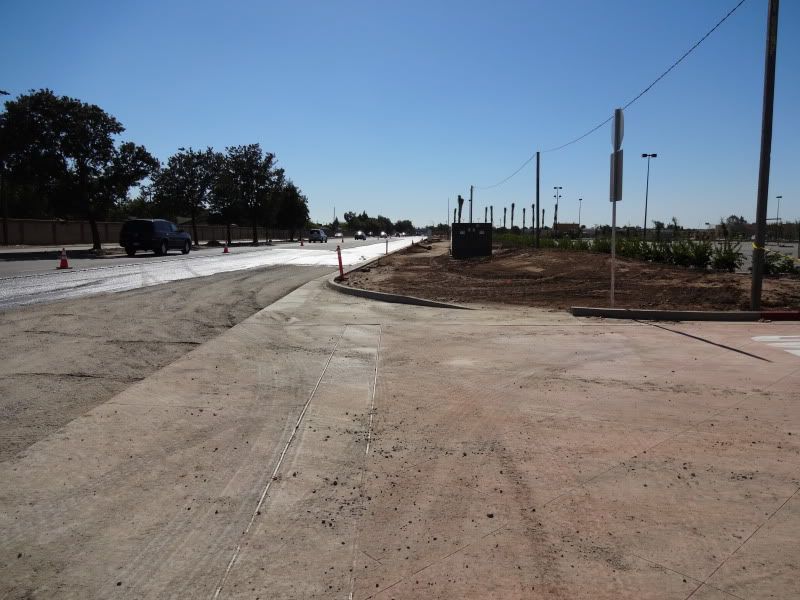 Nearing the only intersection where crosswalks are provided.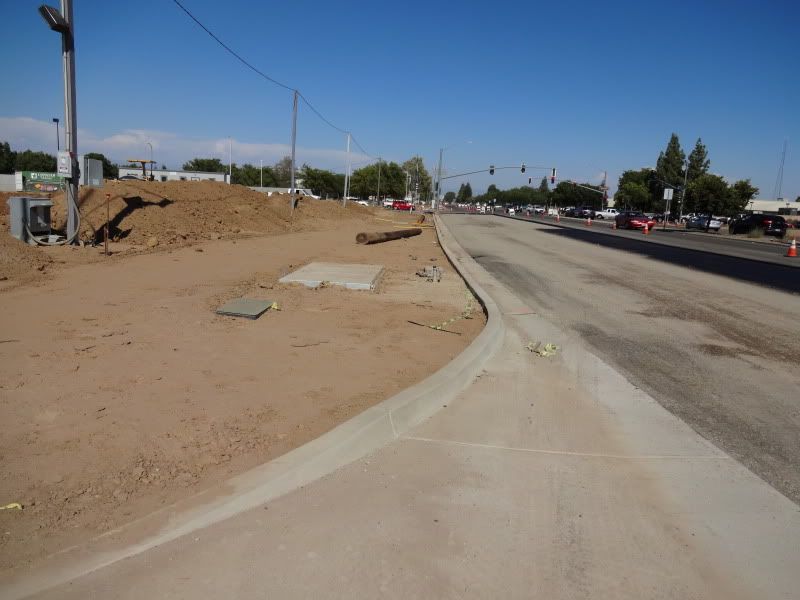 As you can see, wider than ever.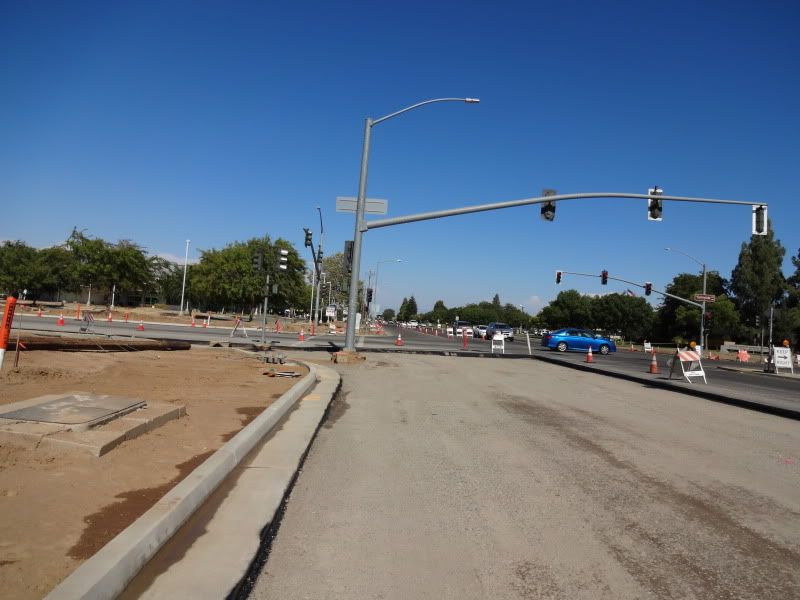 Bigger turning radius please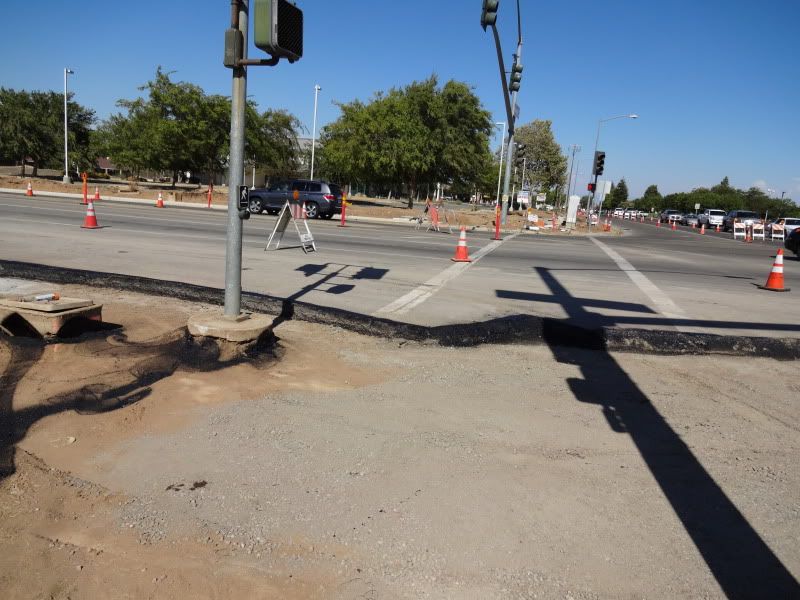 Even the corner gets blocked with walls, no shortcuts for pedestrians here!
Widening is fun. Pedestrian accommodations during the construction period? Not so fun.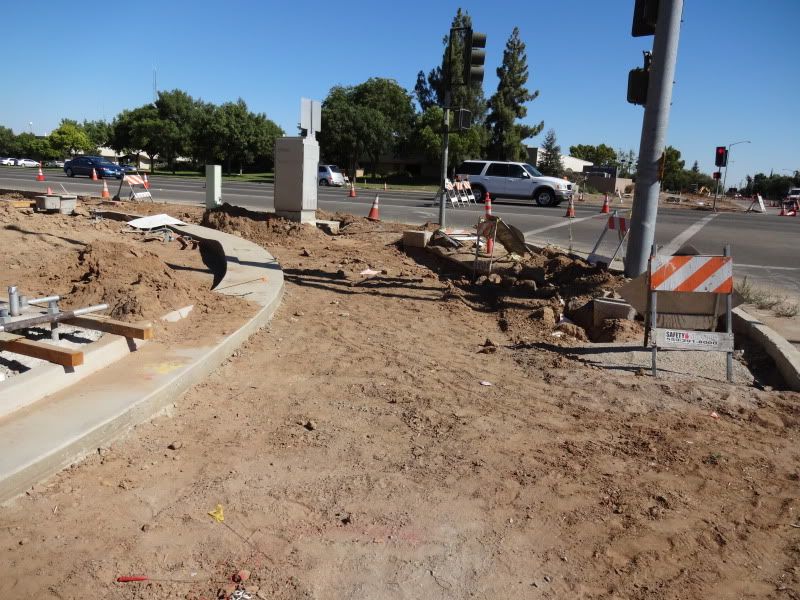 Sunnyside is also getting wider, naturally. All those homes that can no longer make convenient left turns now have to drive up and down to get where they're going.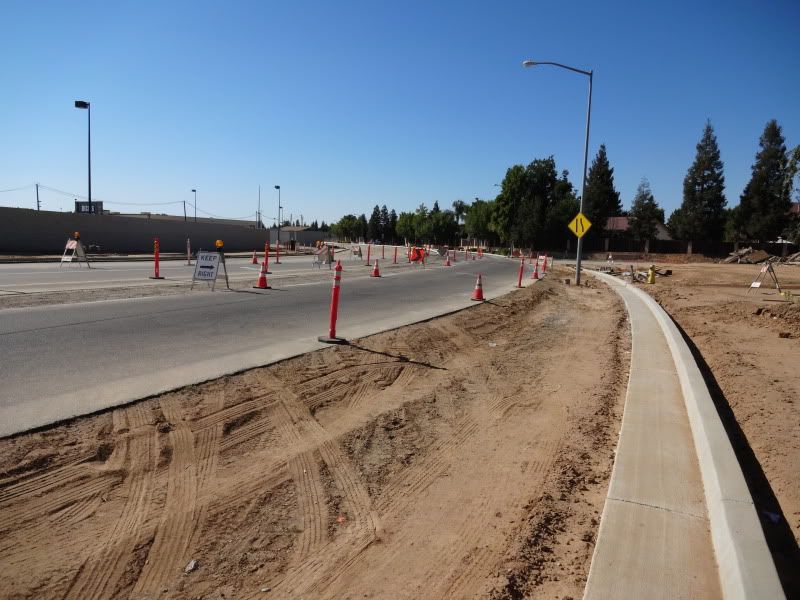 Guess what that sign says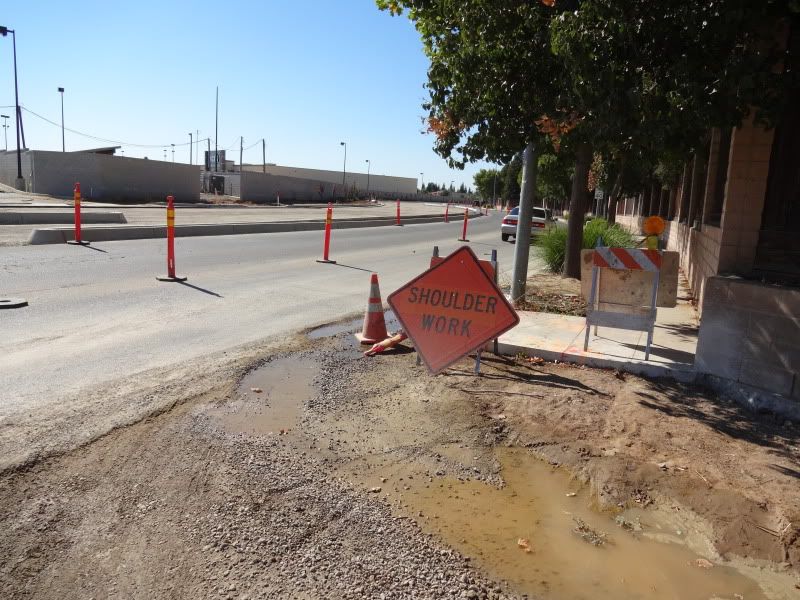 That's right, they acknowledge people use the sidewalk…..but if you're walking, you're out of luck. No detour or accommodation of any kind.
Another blocked crosswalk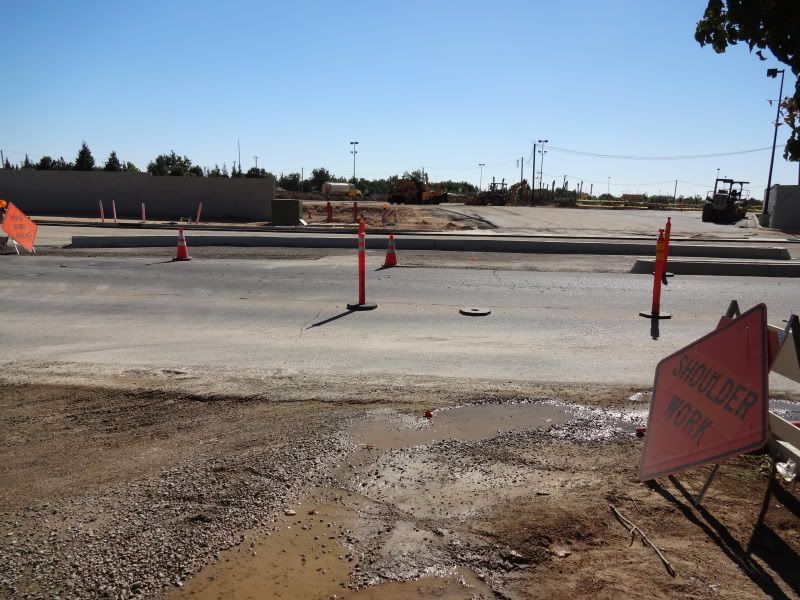 Almost back to where we started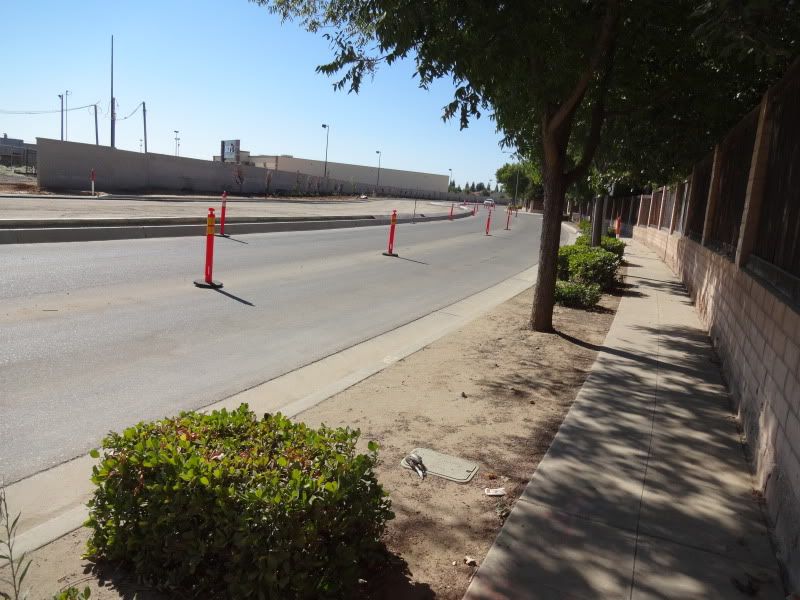 So close but so far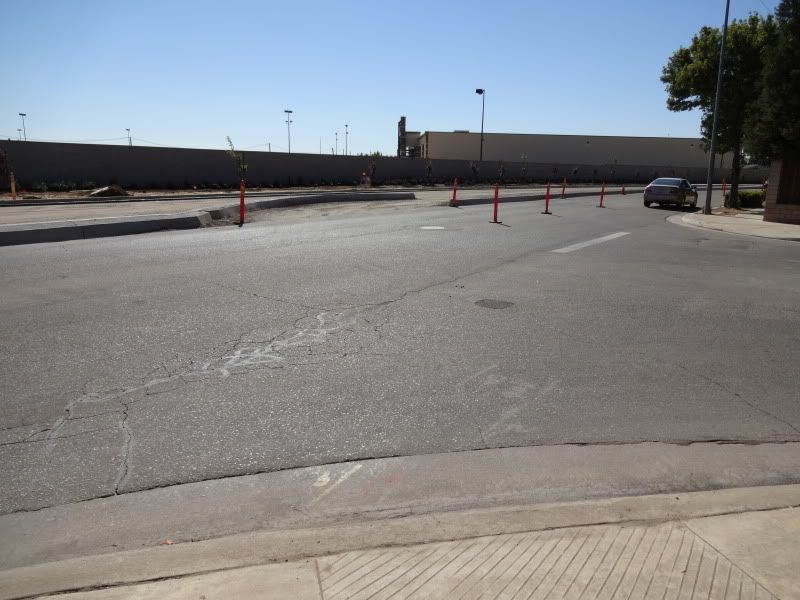 And that concludes our tour of Clovis's newest shopping experience, Dick's. Looks a whole lot like the kind of stuff built on Shaw 20 years ago, doesn't it?
Don't bother trying to walk or bike there. But I guess that's what they want.
So here's a summary of the walk.
In green, what the residents would like to do.
In yellow, what they can do, assuming they're not disabled and are comfortable using an unmarked crosswalk that has a barrier in the way.
In red, the "official" walking path. So pleasant.