When it comes to planning street infrastructure, there is a rule of thumb traffic engineers use when designing roads. That rule is that vehicle volumes will always go up, usually at 0.5% a year. That's what results in roads almost always being overbuilt, as a street designed today is built to comfortably hold projected traffic 50 years from now. As the projects always show increasing vehicle volumes, we get extra lanes and such.
But what if that prediction and the rule of thumb is wrong?
Can a city gain residents and grow economically if traffic values stay constant….or even decline? As one study in Boston shows, the answer is absolutely yes.
Boston University recently released their campus plan and it includes a discussion on Commonwealth Avenue. That road is the heart of campus, but is also one of the few east-west roads available in this part of the city. Besides students, teachers, staff and others associated with the university, Comm Ave is used to access many businesses, reach the Allston and Brighton neighborhoods of Boston, and is monumentally important to folks arriving for games at Fenway Park and also events at Agganis Arena.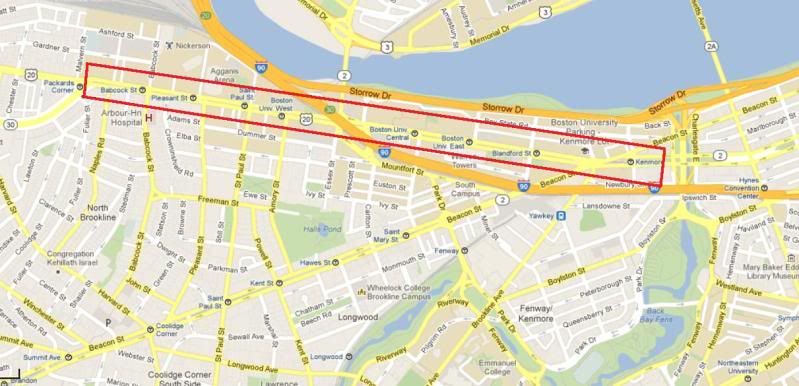 The interstate has no on or off ramps in the area, so those going east or west must pick between Comm ave or Storrow drive.
As BU has continued to grow, the area has been built up, and yet vehicle trips have declined.
The long-term traffic volume trend along Commonwealth Avenue and adjacent streets has been downward since 1987. Daily volumes west of the BU Bridge are approximately 17 to 18 percent lower in 2012 than in 1987. East of the BU Bridge, 2012 daily traffic volumes are lower than 2001 volumes by 18 to 32 percent, depending upon the location. On Bay State Road, daily volumes are down nearly 23 percent during this same time period. Peak-hour traffic is also down throughout the campus: since the 2003 Master Plan (2002 data), peakhour traffic has decreased between 9 percent and 25 percent.
Here's an example of some growth.
This entire complex on Comm Ave was built over the past 7 years. It features student housing and also Agganis Arena, home to hockey games, concerts and other events. Thousands of visitors need to use Comm Ave to reach this every week.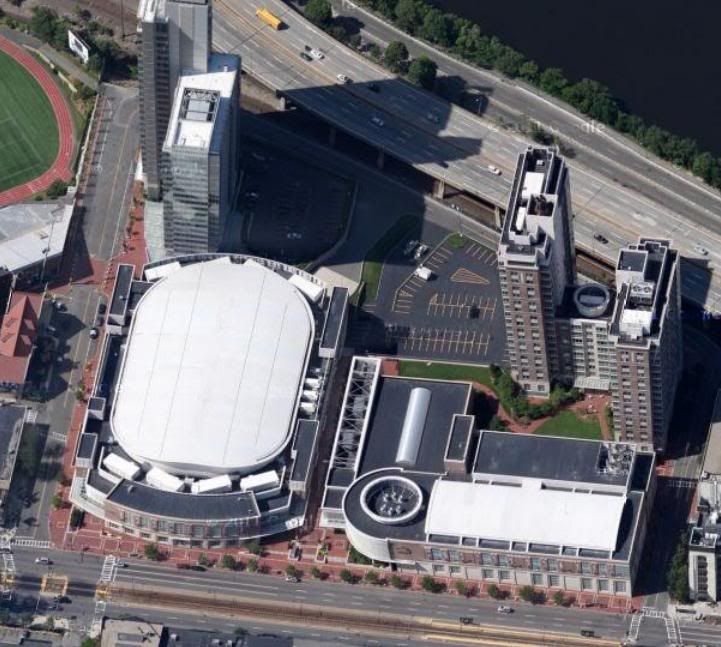 Those crowds, and the never-ending Fenway crowds don't seem to be causing massive congestion.
During peak periods on a typical weekday, the roadway network in the vicinity of the Boston University campus functions reasonably well. Most of the intersections with traffic signals along Commonwealth Avenue function at LOS D (overall) or better during both the morning and afternoon peaks.
As the area has been built up, vehicle trips have declined, resulting in a lane being removed and bike lanes added.
Here are those numbers in chart form. Take a note at the raw numbers too, this isn't some side-road, this is a major avenue. 40,000 vehicles a day is quite significant.
It's not just BU that has pushed growth. The entire area has seen heavy development in the last decade. In this picture, you can see two brand new residential highrises, with four more being planned. They're by Fenway, a small distance from Comm Ave.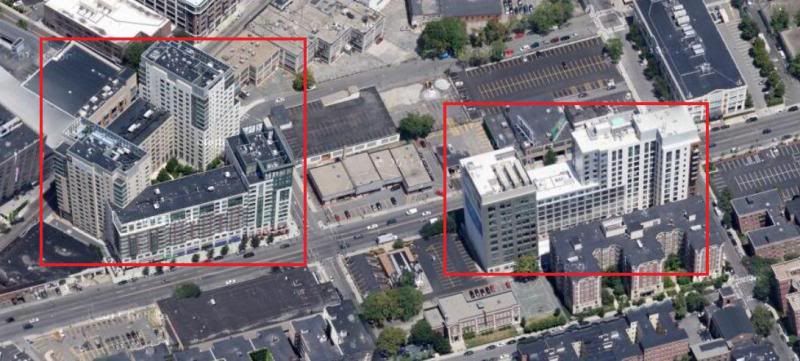 Some try and argue that as population grows, naturally traffic should grow as well. That hasn't been the case.
Boston is no Detroit. Population keeps rising.
1990 574,283
2000 589,141
2010 617,594
So where have the people gone? The people are still there, they've just changed their habits.
Now, many walk.
Safe pedestrian circulation is critically important for an urban campus, and walking is the most popular mode of transportation on the Charles River Campus. Pedestrian volumes are extremely high along Commonwealth Avenue and have continued to grow steadily since pedestrian volumes were first measured in 1987. Since 2001/2002, pedestrian volumes have increased by as much as 80 percent at the BU Bridge
intersection (afternoon peak).
Biking is growing as well.
Bicycling is the second-most important mode of travel for students within the campus, and use on campus is growing faster than any other mode. Bicycle use along Commonwealth Avenue has grown by 47 percent in the morning peak and by 135 percent in the afternoon peak since 2007 (the first year bicycle use was measured on Commonwealth Avenue). Currently, between 500 and 600 bicyclists per hour use the bicycle lanes on Commonwealth Avenue during the peak commuting periods.
As density has gone up, and the city has responded with better sidewalks and bike lanes, residents have shifted their mode of travel.
Streetsblog shows that Boston isn't alone in seeing this shift. In New York, as the economy rebounds and the city continues to grow, traffic does not.
DOT's preliminary data shows that citywide motor vehicle traffic, measured by counting "daily weekday traffic volumes at Borough and City boundaries," flattened out in 2011 after rising 1.1 percent in 2010. Even with 2010's increase, in 2011 traffic remained 0.8 percent below pre-recession 2007 levels. Meanwhile, weekday subway ridership is up 2.5 percent in 2011 over 2010.
Perhaps it's time that planners drop those rules of thumb and realize you can grow the population and the economy and do it without building mega-roads everywhere to accommodate future vehicle growth that may never come.