If you're from Fresno, you know what the Droge building is.
Is that name not ringing any bells?
Here, let me give you a hint:
Ah yes, THAT building.
Earlier this year, the city decided that even though it's an old building (1922), it's not worth preserving, as it's not in the best of conditions.
Now, the city is moving forward with the process of redevelopment, into what they say will be a new 4 story residential development. The development would not preserve any aspect of the building.
The project has expanded to include the building next door, which has been empty for many years, but is in good condition. It is the one story to the left of the Droge.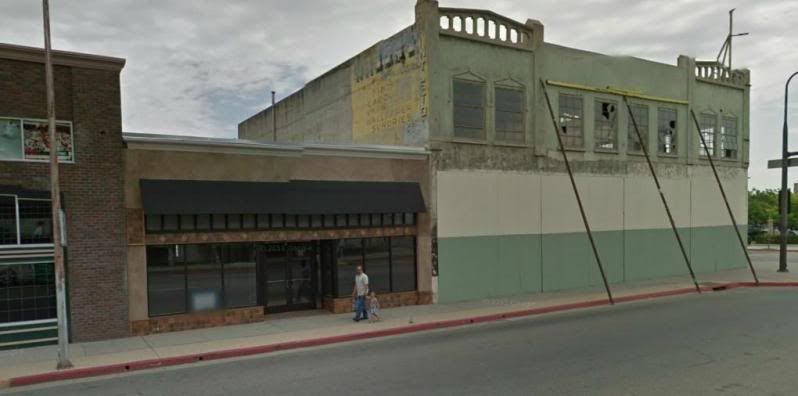 That smaller building actually has some family ties, as my relatives ran a business from there for many, many years. One day the owner hiked up the rent, and the business moved a few blocks away. It's been empty ever since (a good 5+ years I'd say). Probably wasn't the brightest business goal, unless their goal actually was being bought up by the city….
Here is what the city will take up this upcoming Thursday:
Approve a $1.8 million HOME Investment Partnerships (HOME) Program Agreement, substantially in the form attached and subject to the City Attorney's prior approval as to form, with the Housing Authority of the City of Fresno (Housing Authority), for demolition of the Droge building (at 802 Van Ness Ave.) and the D. Yezdan building (at 814 Van Ness Ave), and redevelopment of the sites into a four-story residential workforce housing/retail development.
Here is the plan:
The Housing Authority is proposing to demolish the dilapidated Droge building and the adjacent D. Yezdan building and redevelop the sites into residential workforce housing with ground floor retail. There will be a 45unit mix of studios, one-bedroom, and two-bedroom units that will range in size from 475 to 900 square feet, with rents ranging from $469 to $732 depending on unit size and location. Eleven of the 45 units will be reserved as affordable to very low- to low-income households earning no more than 60% of area median income. The project will also include a common area, management offices, and retail space. The estimated completion date of the redevelopment project is scheduled for August 2014.
This part was a pleasant surprise
Also, the development proposes to provide approximately 27 tenant parking stalls. The Housing Authority continues to be in discussions with the City of Fresno for additional parking stalls at the spiral garage located directly across the street on Van Ness Ave. Staff is requesting that Council allow flexibility to the current proposed site plan so that, if desired, the Housing Authority may eliminate the proposed on-site parking and expand the newly constructed building footprint to occupy both sites.
It would be fantastic to have the building come in with zero parking stalls, and allow tenants to lease a space directly across the street at the underused garage.
Building parking on site would raise the price of the development, waste space, and raise rents, all while empty spots sit 20 feet across the street.
The PDF features some extremely hard to read sketches, with disclaimers that they're simply showing massing models and not any form of architectural proposal.
Back in February, I posted some renders of a possible building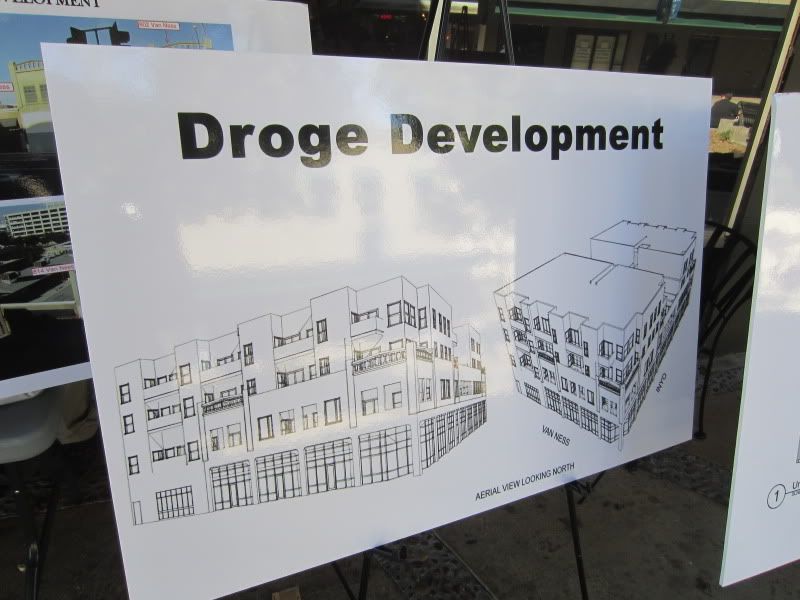 I'm not thrilled with the idea of Fresno knocking down yet another old building, even if there's a plan to replace it with something bigger and better. There have just been too many exampled of buildings being leveled with empty lots sitting there for many years after. That being said, I do hope that if the funding is approved, construction does move forward quickly and there is something new by 2014.
If the Droge building does get knocked down this year, I'm sure many will cheer, as most consider it an eye-sore. I think it's somewhat unique and will miss it, at least for a few moments. Again, certainly better than another dirt lot or parking lot, which downtown is full of (thanks to the city's love of demolishing buildings).
I haven't seen anything in the Bee about this, but I'm sure they'll have something for us soon with more details.