I won't be able to attend, but if you're in Fresno this weekend, the 5th annual FUSE music festival should definitely be on your radar.
The event is a series of concerts held in close proximity, for a single $20 ticket. You can walk back and forth between venues and experience many kinds of local bands. Unhappy with one band? Then walk a block to the next venue.
The Fresno Bee has a great write up of what you can expect from the concert series
Fresno's FUSE Fest unites local bands of all genres
Here are my impressions, including pictures, of last year.
Review and pictures of weekend FUSE Festival
Some of the locations have changed this year.
Friday:
– Fulton 55 (two stages), 875 Divisadero St.
– The Lamp Post, 607 Divisadero St.
– Iron Bird Lofts, 1915 Fulton St.
Fulton 55 is the same as last year, but the lamp post is new (it's a small bar). I'm not sure if the Iron Bird location will be outside again or in the reopened cafe. Last year, this section of the event had a major lack of food, but now that the iron bird is open, you'll be able to buy some lighter fare. Don't come hungry though as there's really no full fledged dinner available.
The first night won't actually require much hopping between venues.
IBC has three shows, at 7:30, 8:30 and 9:30
Fulton 55 has two stages, the main one and the upstairs which will obviously alternate. That runs from 7pm to 11:30pm. IBC is pretty much just across the street.
The lampost is the closer, with music at 10:30, 11:30 and 12:30, so you won't really have to walk back and forth. It's not far, but there's not much to see along the walk.
Map: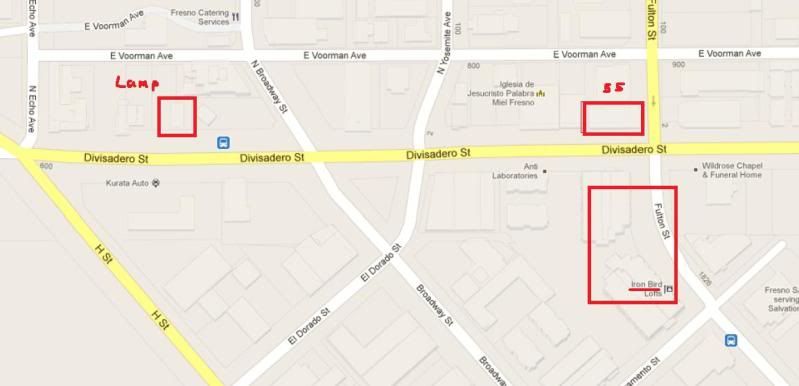 Saturday:
– CMAC, 1555 Van Ness Ave. (indoor and outdoor)
– Frank's Place, 1432 Fulton St.
– Warnors Theatre, 1400 Fulton St.
– Fresno Brewing Company, 1243 Fulton Mall
– Tokyo Garden, 1711 Fulton St.
The second night has moved north from what was had before. The loss of the casino is a shame, as it was the only venue with food, but the addition of Warnors Theater sounds great. Last year, Tokyo Garden kept their kitchen open late for the festival.
Saturday runs much longer, starting at 4:30pm and ending after 1am at Tokyo Garden.
Map: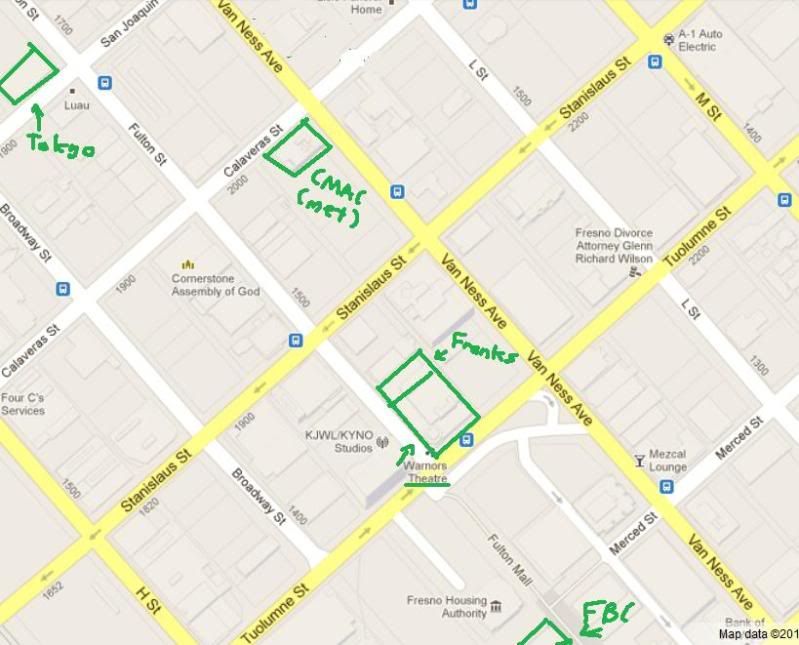 Full lineup at the Fuse website
http://www.fusefest.com/news/official-schedule-of-shows-and-info-for-fuse-fest-2012/