This is the second part of a series of posts touring and analyzing the Fresno-Clovis Rail Trail.
Part one, South of Shaw can be found by clicking that link.
Today I start where we left off last time (Gettysburg) and continue north across Shaw towards Old Town Clovis.
This section of the trail sees some improvements (more amenities) but many of the same failing as before, such as terrible road crossings. This area also introduces tunnels.
Fortunately, the many drawbacks of the trail could be easily fixed. The trail itself is not terrible – it's wide, well maintained and feels safe and welcoming. Most of the problems I will point out are missed opportunities that a little bit of attention and investment could fix.
Here is the section I will visit today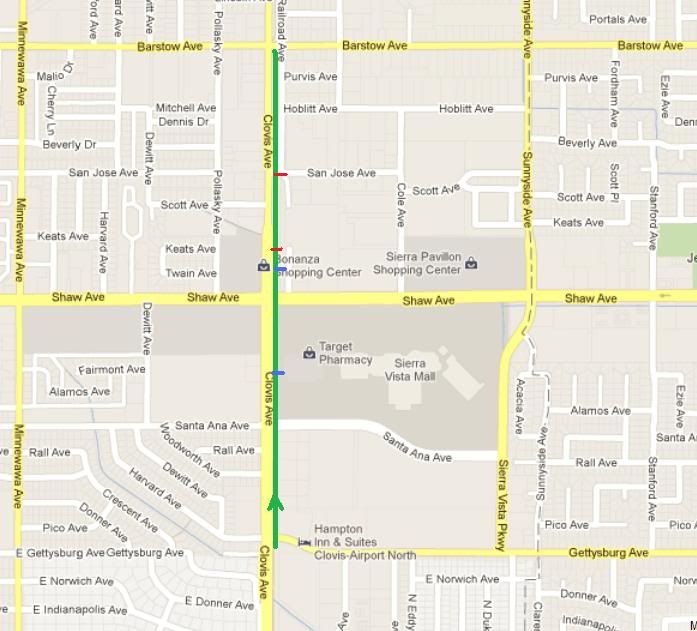 Green = Path, from bottom to top.
Red = Tunnels
Blue = Gazebo/rest stops
We start at the southern end (where we left off) and go north. I begin a little bit south of Shaw, by Sierra Vista Mall, at Gettysburg.
As I pointed out last time, the crosswalks in this section are all partially blocked.
As we move north, we keep finding more and more amenities.
The path is right next to a recently built hotel, but there's absolutely no interaction. Trail-side dining? No, not even a path.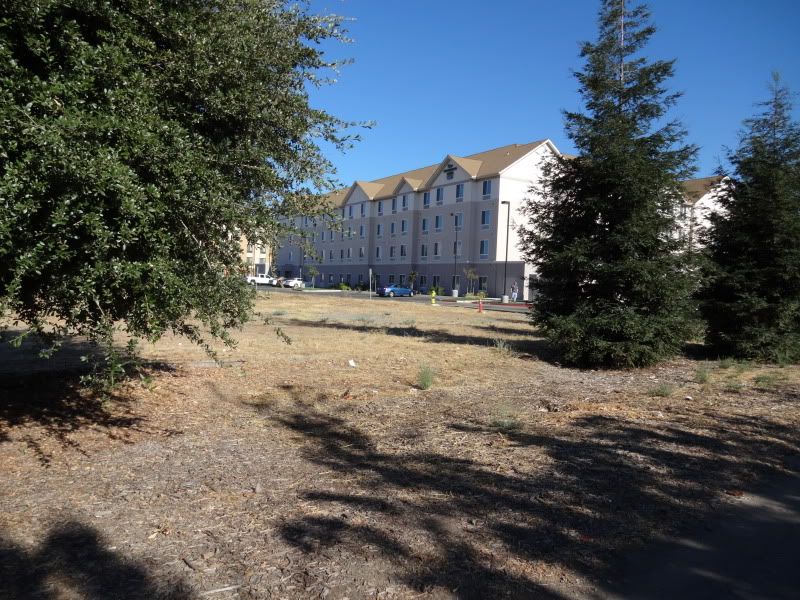 We approach the next intersection (and if you recall from last time, outside of signalized intersections, there are zero entrances/exits from the path)
Naturally, I want to go straight, but noooo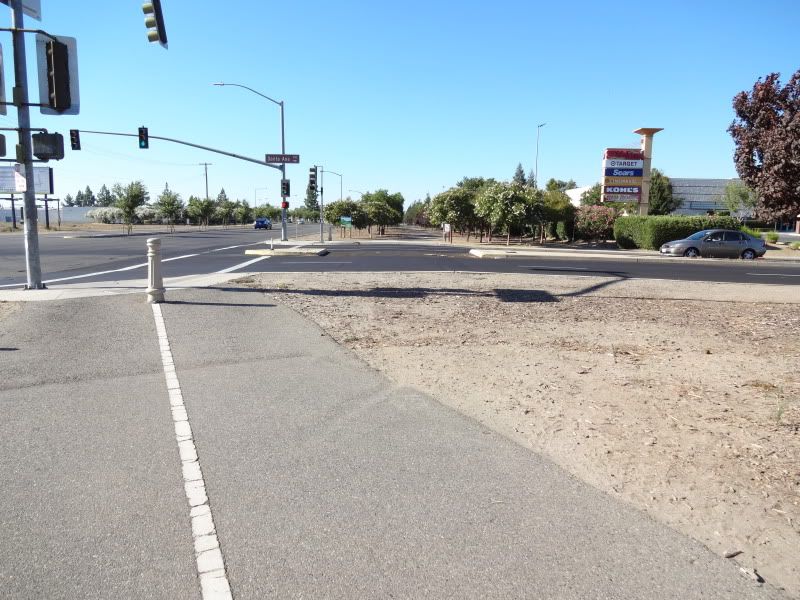 Yup, yet another corner where the buttons were installed incorrectly, and the only way to get the walking man is to push them.
'
Even though a gap in the median exists, trail users are sent as close to the 50mph Clovis traffic as possible to cross.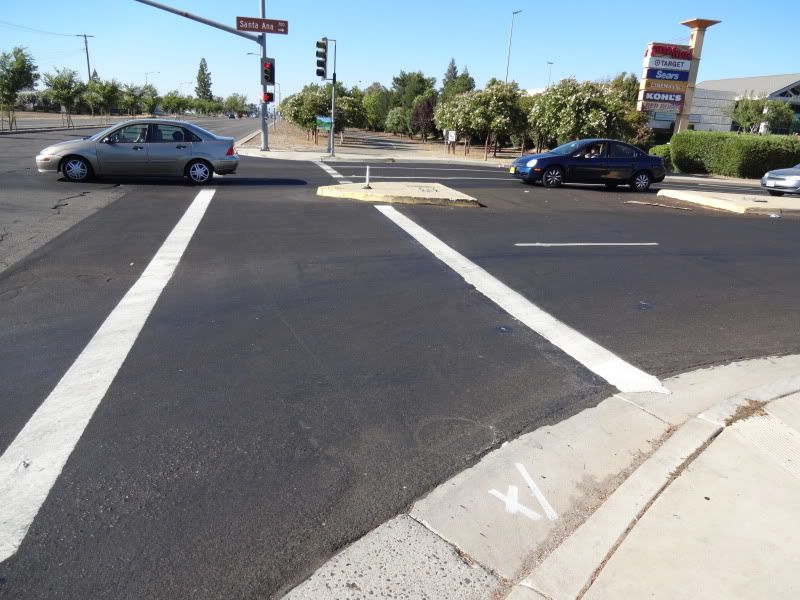 Like all the other crossings, the city doesn't want us to cross Clovis, but the curb ramp is oriented that way.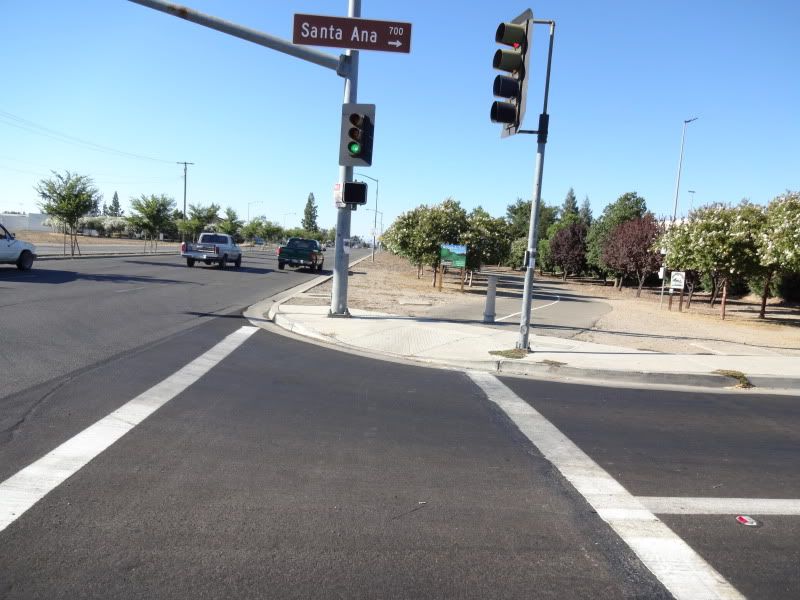 More benches.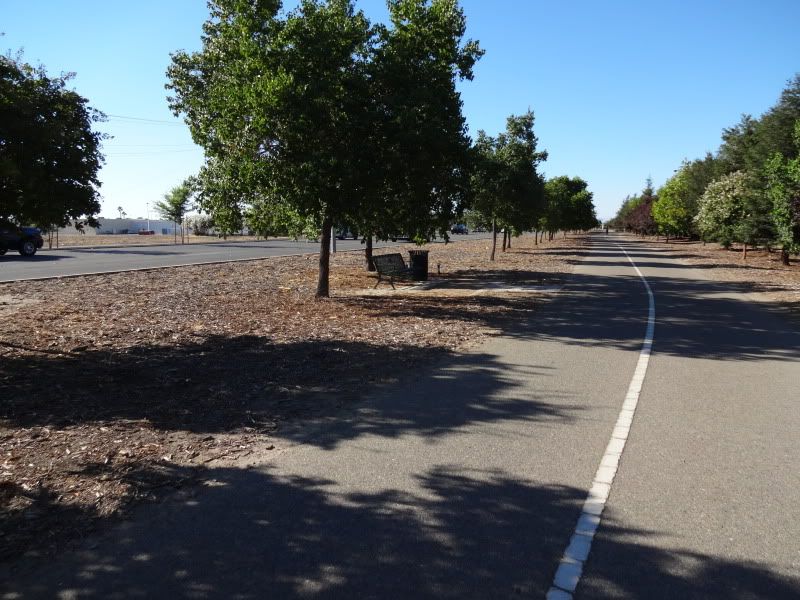 Target and Sierra Vista Mall (and the abandoned movie theater) is directly to our right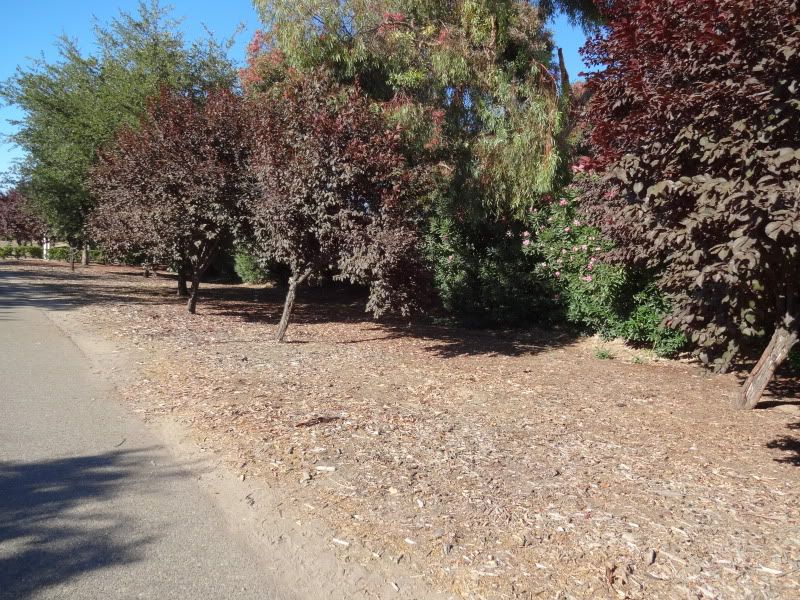 Up ahead there IS actually a direct connection between the path and the stores, and a cute little gazebo.
Problem is, the path is tiny. If anyone actually is sitting here, youd hit their legs when biking through.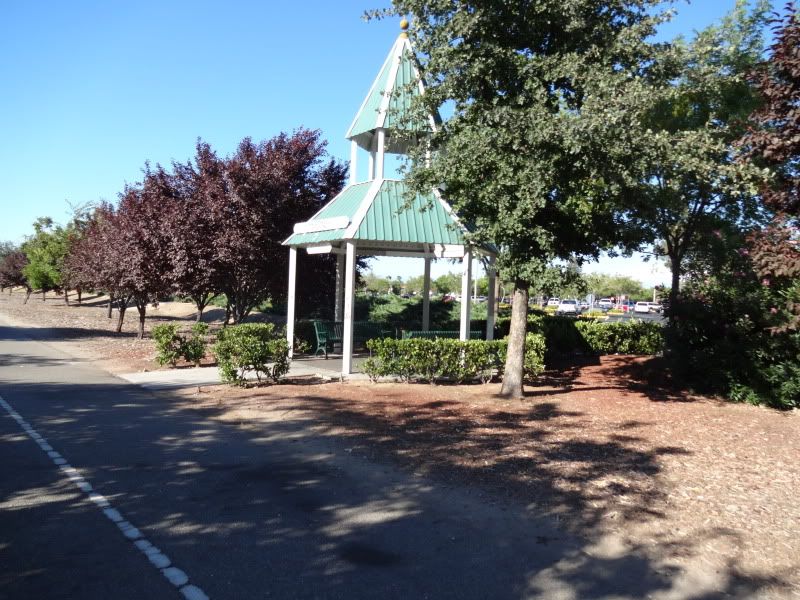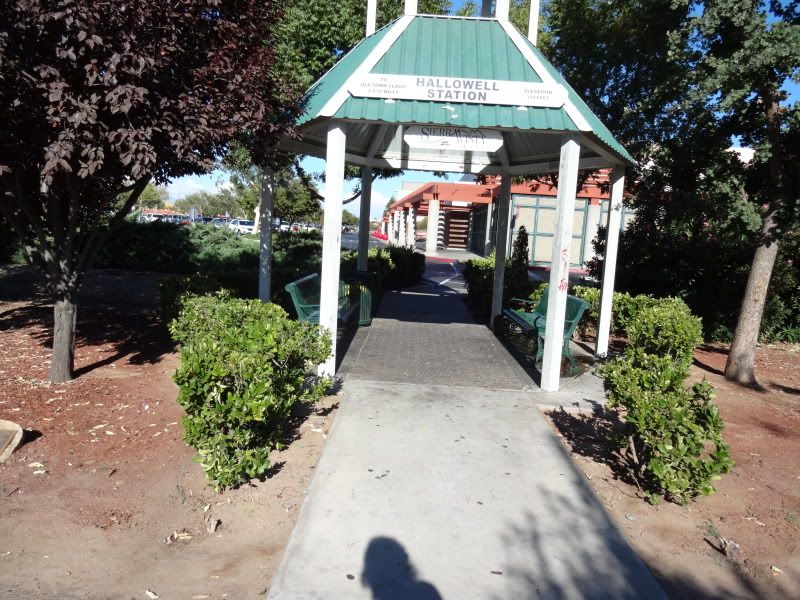 Slightly north of this entrance (towards Shaw) is an obvious demand-trail, where people coming from Shaw choose to walk because the official path is hidden from view and this seems like the most direct entrance (the first time i came I thought this was the only way in!)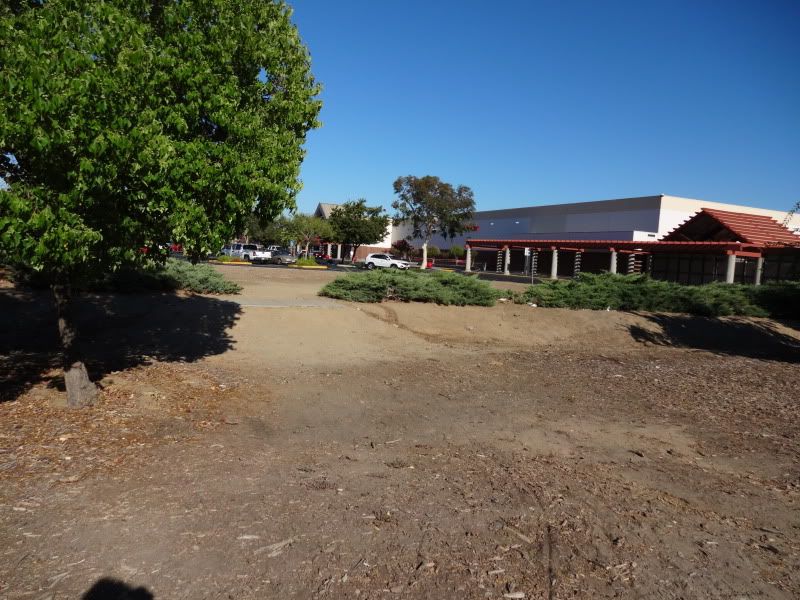 We now approach Shaw. There's a nice sign making the trail visible.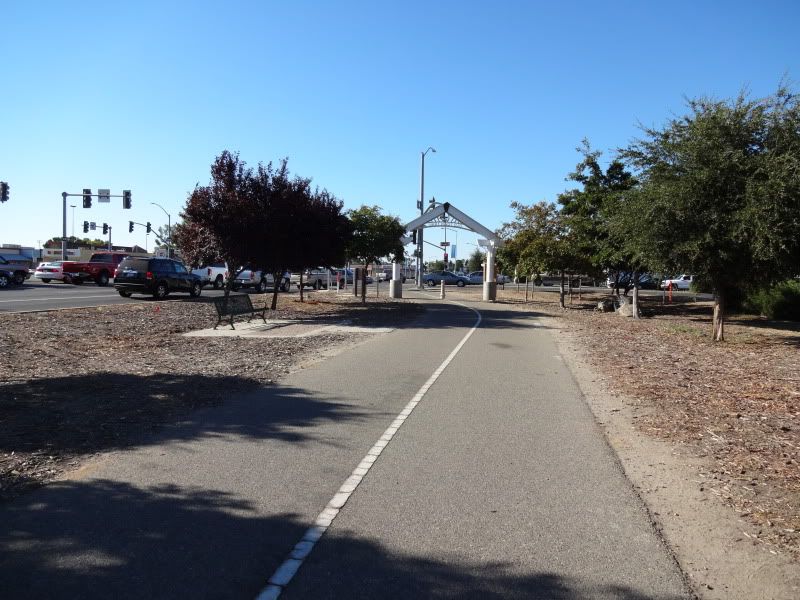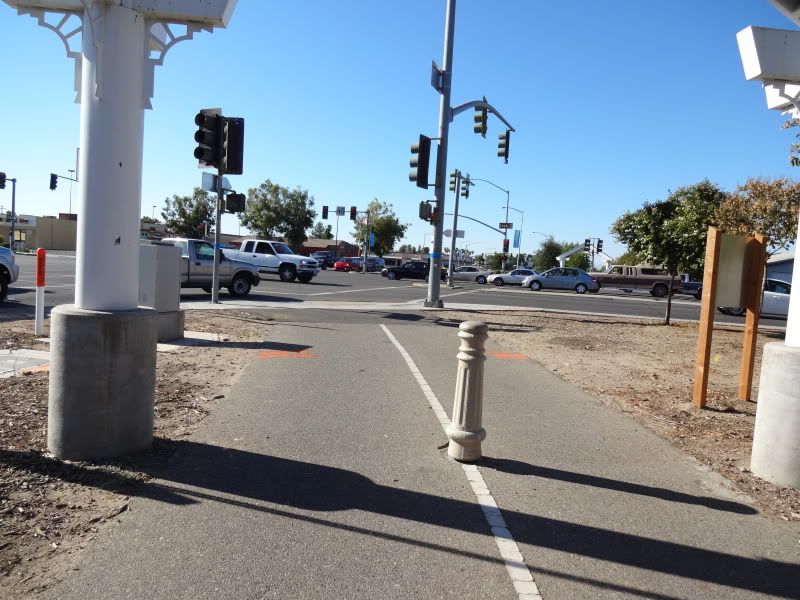 This landing area was just rebuilt this summer….exactly as it was before, with a ramp pointed into high speed traffic. I was excited when they dug the whole thing up, but then they put exactly what there was before. I do believe this intersection does NOT require pushing the button to get the walking man though. The signal is one of the only ones fully ADA accessible (can be heard by the blind) and has a countdown.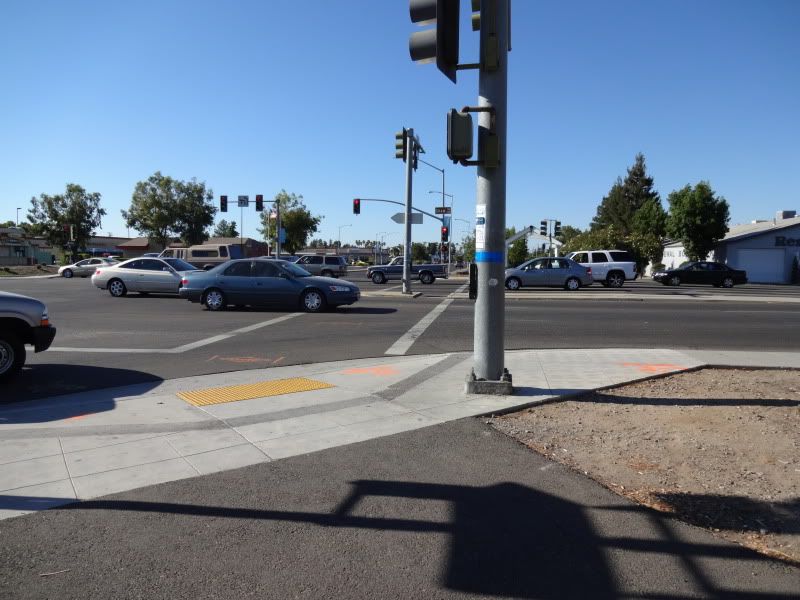 This portion was not rebuilt. The pedestrian refuge/crosswalk is abysmal. How is putting a pole in the middle of your crosswalk logical in any way?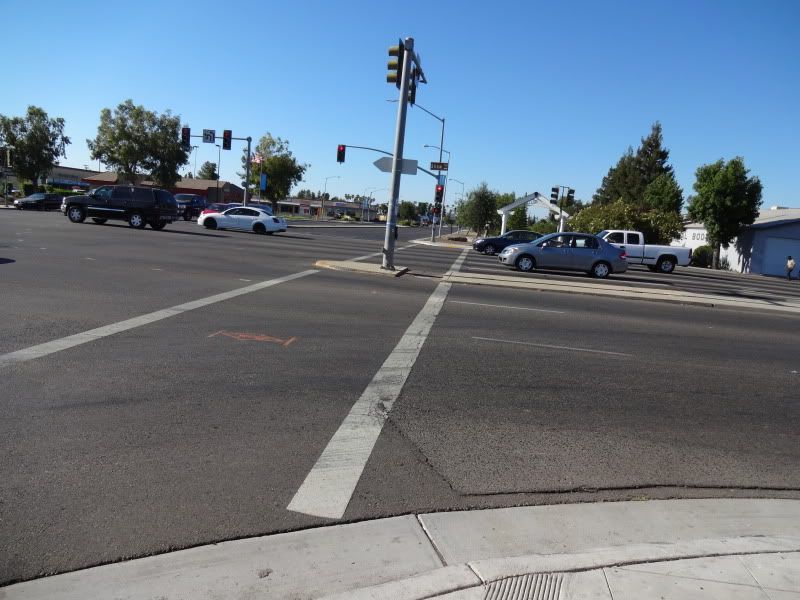 This picture shows how the ramp orients you the wrong way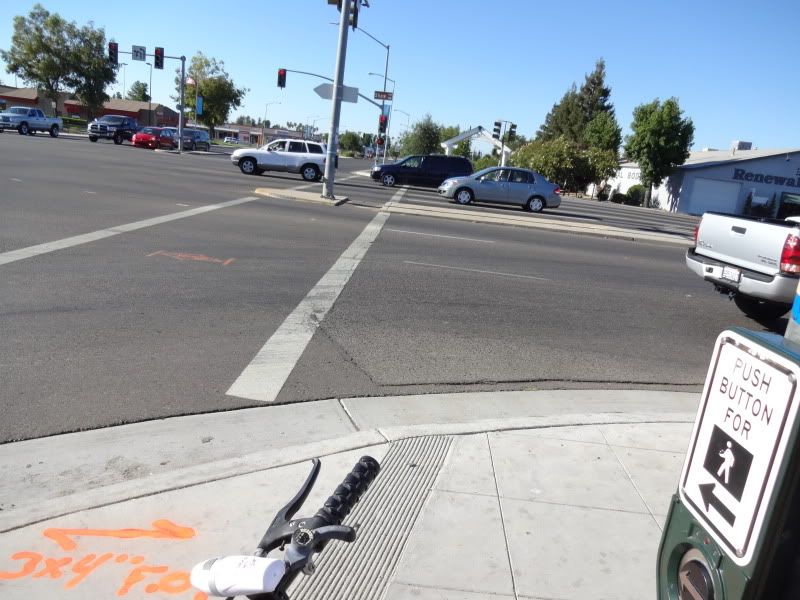 Tiny crossing.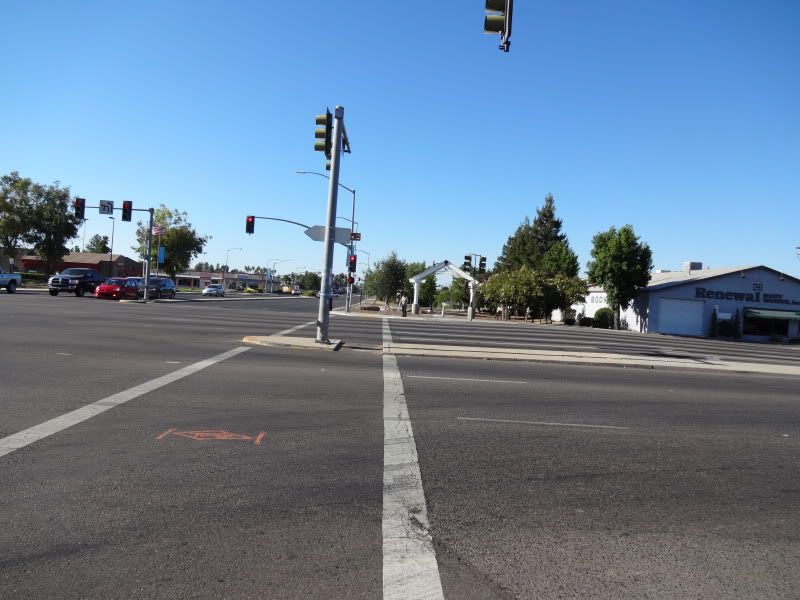 Looking across Clovis Ave while I wait. Possibly even worse.
There are always people crossing here. Always.
One of the biggest dangers of this crossing is that Clovis does not indicate that this is a busy crossing, and the city refuses to install advance stop bars. See that white car? Imagine it's an SUV. Now someone speeding into the right turn lane WILL (they always do) race far into the crosswalk before stopping so they can glance left and turn right.
If the vehicle in the next lane is tall, as it usually is, the driver racing illegally into the crosswalk cannot see the cyclists crossing.
Indeed, last year a police officer hit a kid here trying that same dangerous maneuver. No changes were made to the crossing. The grey vehicle should be where all cars are required to stop.
This was just rebuilt, but the ramp is not aligned with the trail. There's a pole in the way.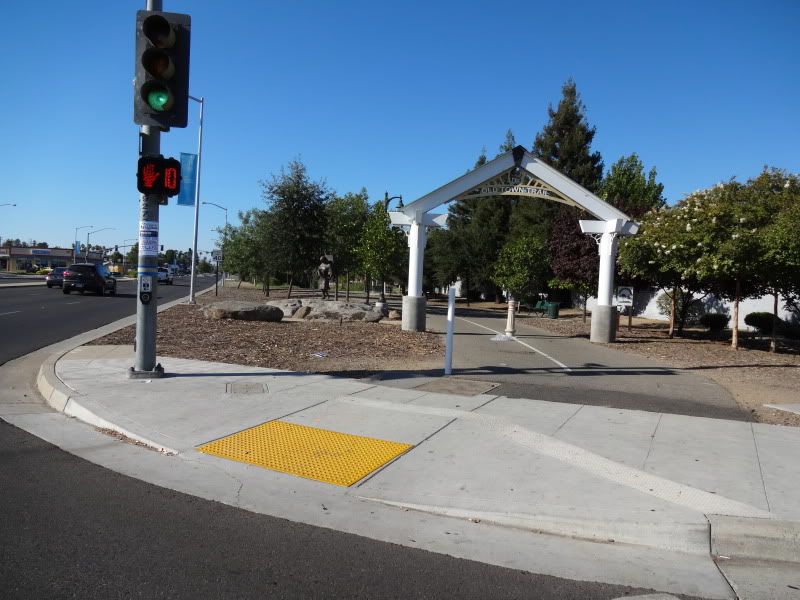 North of Shaw, the trail gets more investment. Some art…and finally, lights!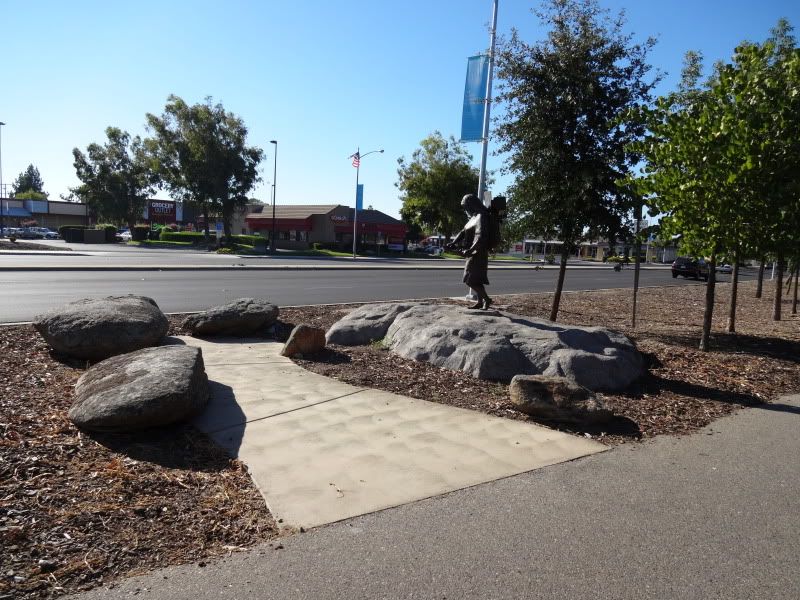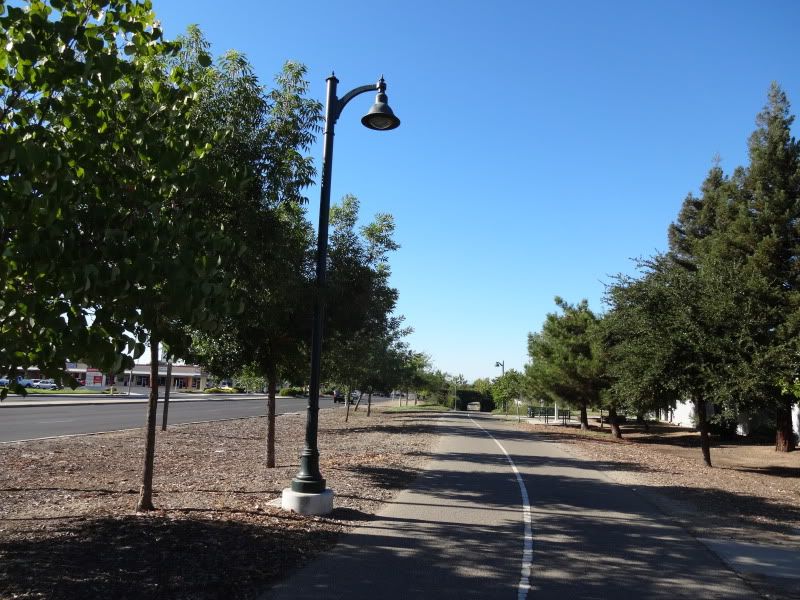 Sadly, the lights are placed at car-distances, and not bike distances, so the path is still dark. Much better than nothing though.
Another rest stop.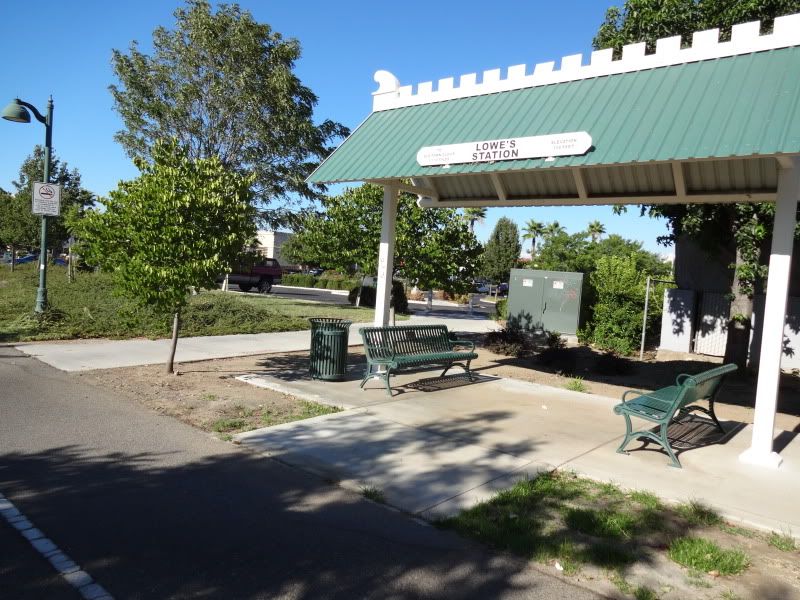 This one is actually wide.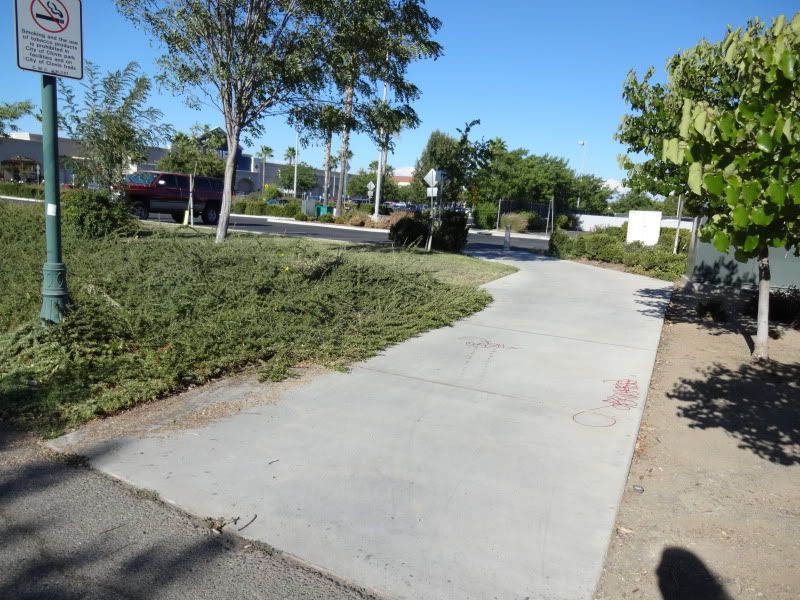 We also being approaching one of many tunnels on the path.
The tunnels remove all conflicts with cars, which is nice. For example, you dont have to worry about those dangerous right turns on red.
But there's a really big downside….they take a perfectly flat path and add some pretty steep hills. This specific tunnel serves only a driveway into Lowe's. That's right, not a street, a simple driveway.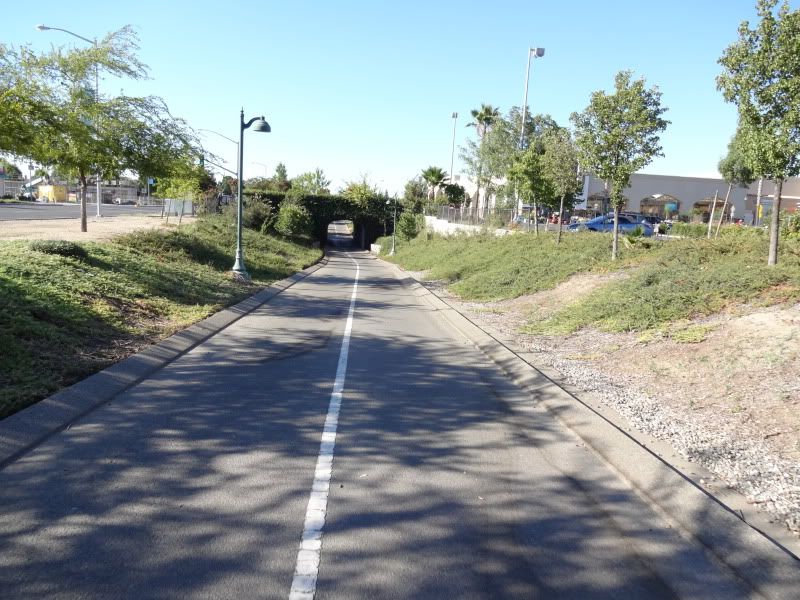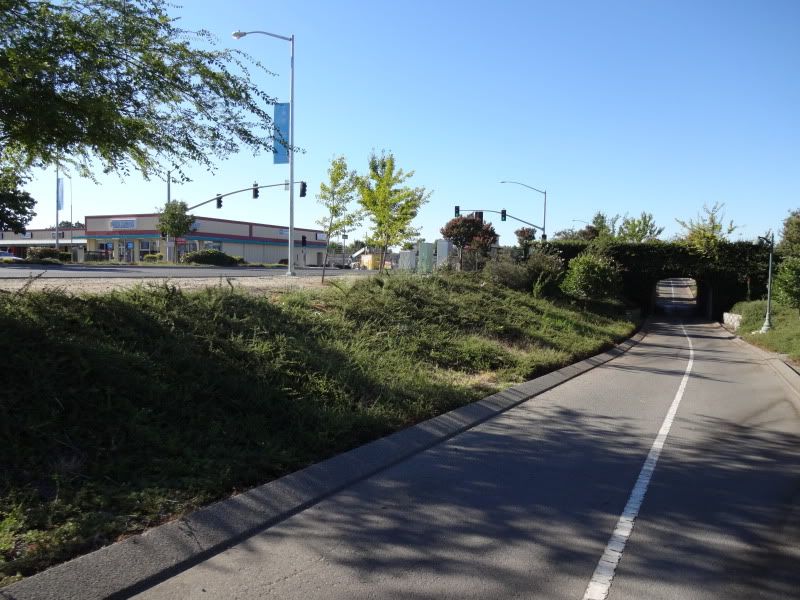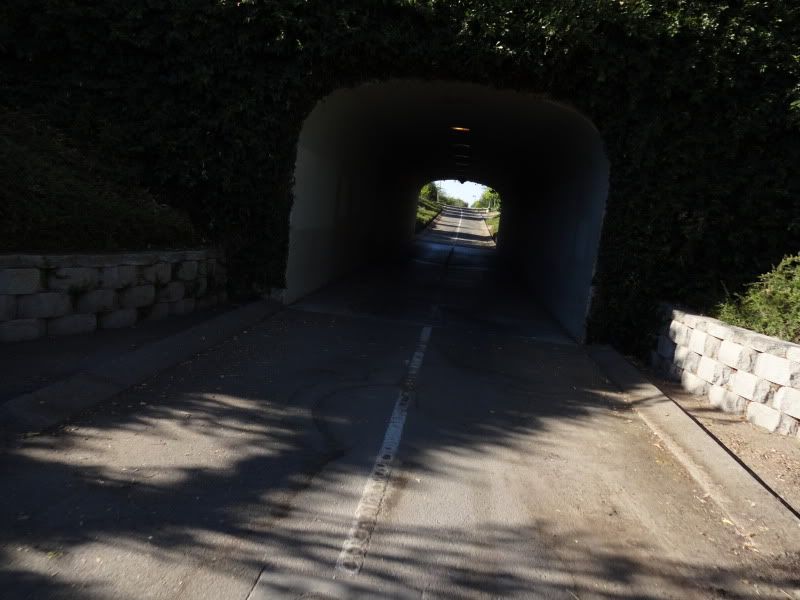 It may not look steep, but it does take some work to get back up the other side.
And if you're traveling with kids on those small trikes? Impossible. They'll have to get off and walk. Not exactly fun.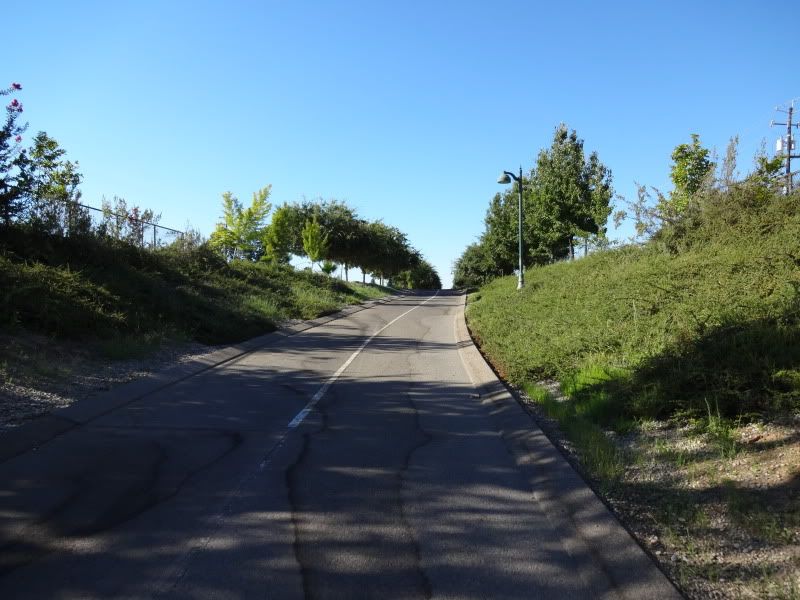 Back entrance to Lowe's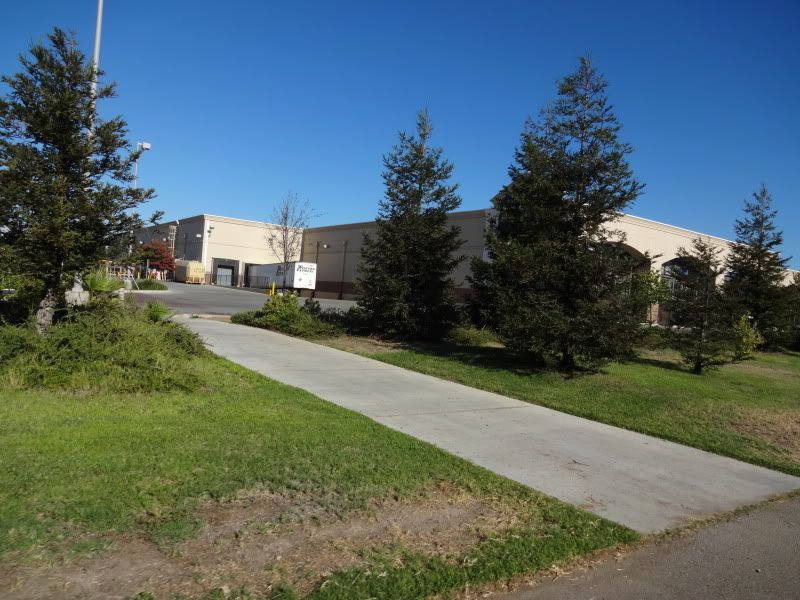 ….and we're already at another tunnel. This one for San Jose, a tiny two lane road.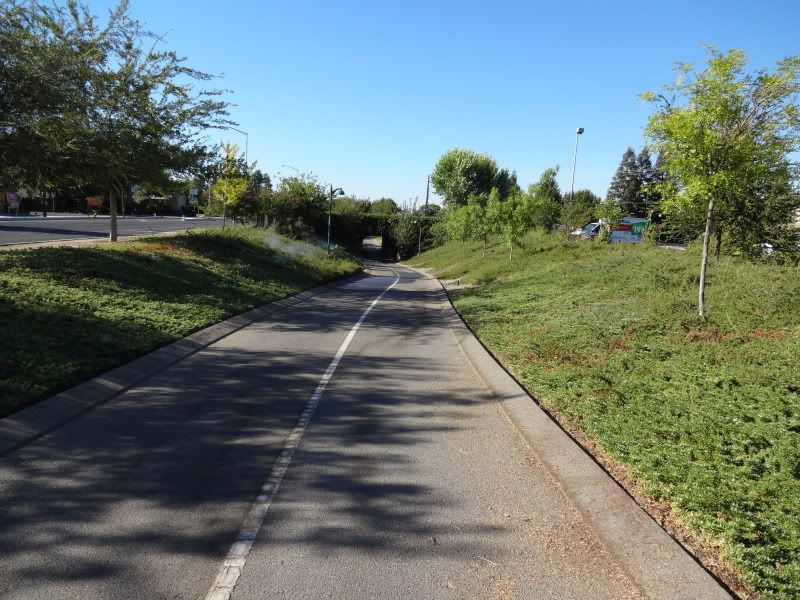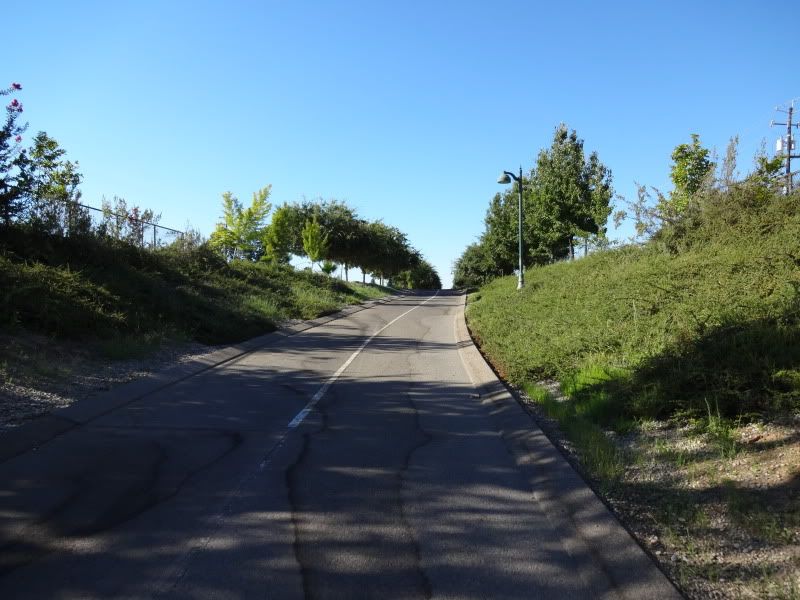 Just north of the tunnel, we see something that was missing from the entire southern segment…an entrance to the path from a local street!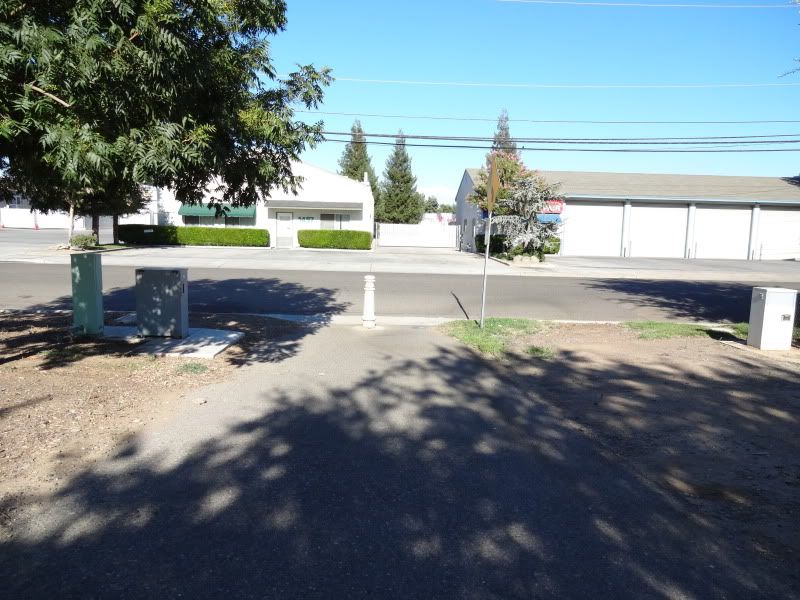 But that's a one-off thing. This picture came out badly, but you can see it's an intersection with no trail access.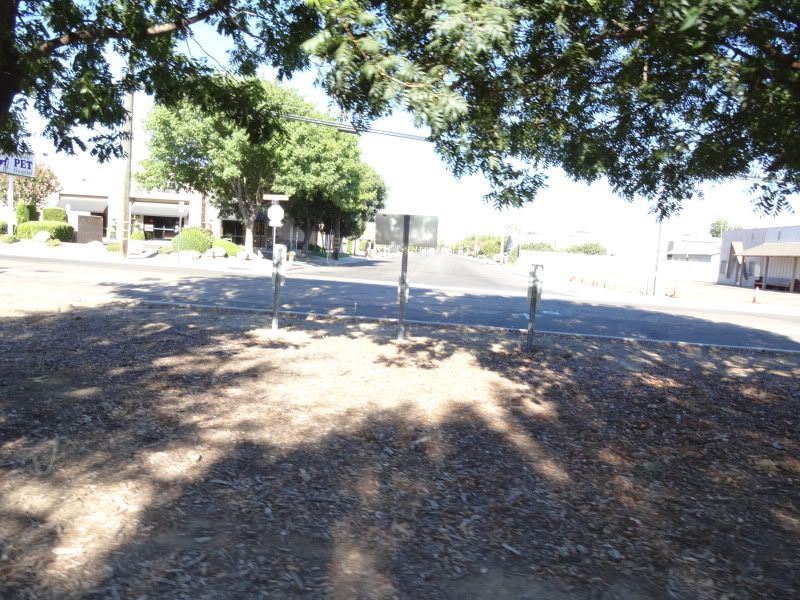 We approach Barstow and that's it for today.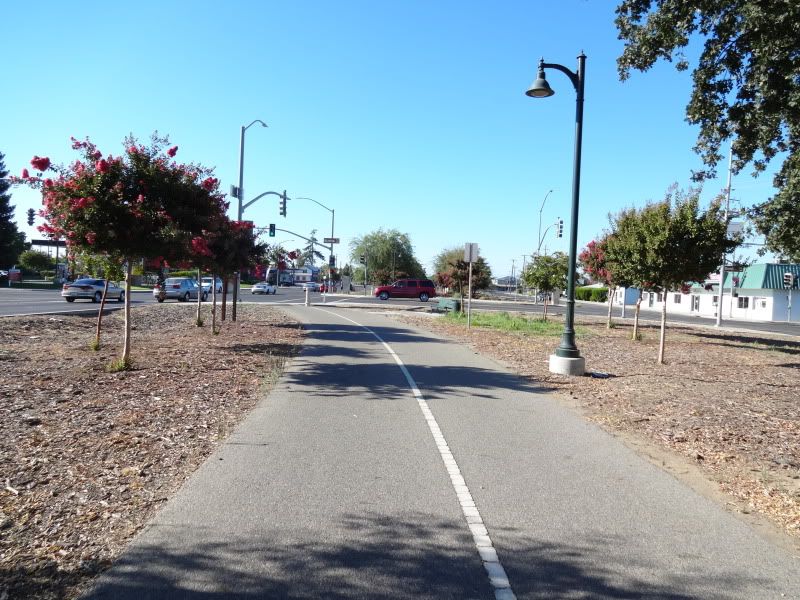 Like every other intersection, trail users are sent diagonally into the intersection.
I'll try and have the next section up this weekend. We will look at the core of old town, which should be the best portion of the trail but in my opinion is the worst section.
Hope you're enjoying the tour.