The Boston area bicycle share system, officially called "New Balance Hubway", faced a rocky start as it saw multiple delays and many missed expectations. Fortunately, the system is finally getting its act together and has been marching towards adding its 100th station. This summer, the system began expanding into neighboring cities, and new stations are being added every week.
2011: 57 stations
Spring 2012: 61 stations
End Summer 2012 (current): 95 stations
An additional batch of stations is expected this month, taking the system over 100. While it may not have the expansion goals of Mexico City, the system is finally covering a respectable geographic area.
Announced in 2009, Hubway was supposed to hit the streets in the spring of 2010. Behind the scene delays pushed that back to spring 2011, and then further troubles meant the system didn't launch until July 28 2011. While original plans called for over 100 stations in the first year, the system supposedly launched with 61 stations…..but no more than 57 were ever installed during the first year, contrary to all the official literature.
As Hubway is a seasonal system, it was packed up just four months later, but 2012 was supposed to come with many new locations. Although an early March relaunch was announced, the system wasn't really available until almost April. This time around, all 61 stations were installed, and expansion was supposed to follow quickly
MAPC "hopes to launch in spring with at least twenty stations" in Cambridge, and additional stations in Brookline and Somerville soon after.
Spring came and went with no expansion, and now expectations were set for July. It took until this August, but stations have finally been rolling out in Cambridge, Brookline, Somerville and additional spots in Boston.
From 61 stations in mid July, Hubway now has 95 stations today, and an additional ten or so are expected over the next two weeks.
Let's take a look at what the system looks like today and how expansion has rolled out.
Green = Stations in place since April
Aqua: Stations installed during July and August
Gold: Stations installed in September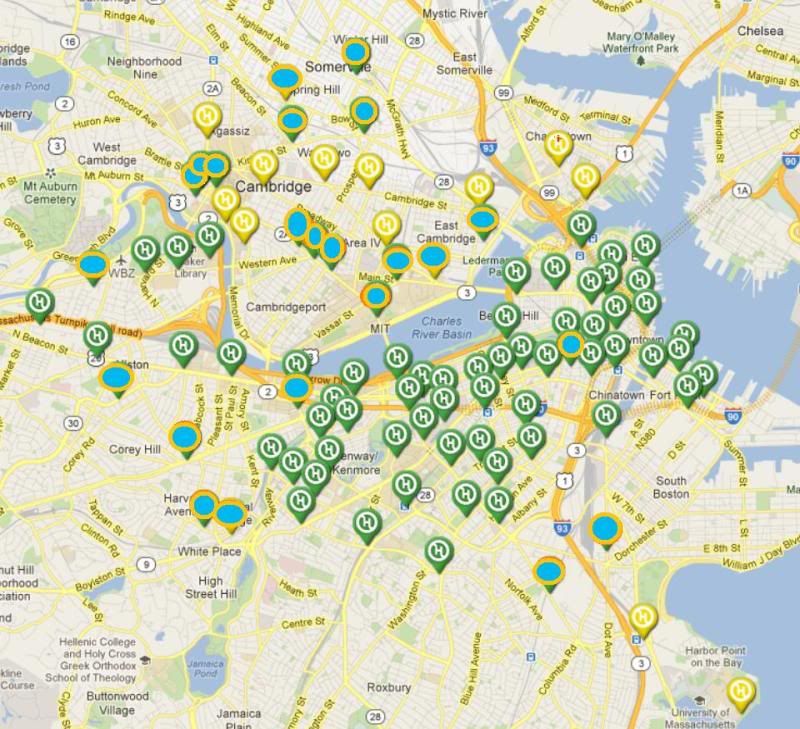 Hubway hasn't done a great job at advertising their new stations, so if you're in the Boston area and reading this….surprise! It's also unclear what the timeline is for the next batch of stations. We might get four new ones tomorrow, or none until October….you have to check the map on the Hubway website to spot any new arrivals. Note that the gold stations are "new" within the last 30 days, so you have to compare with this map to see what really is new.
I wish Hubway was a little more open with their timelines and such, and put more effort into announcing new stations. However, it is good to see expansion is finally underway. It will be interesting to see what number they reach before they start having to remove stations for the winter….and then if we get more next year.