Mexico City launched a bike share system (Ecobici) in early 2010 with 70 stations and over a thousand bikes. After seeing a very small expansion in 2011 (15 stations), the system will finally receive a Phase 2, which is to be installed this month.
The numbers:
Stations: From 90 to 275
Bikes: From 1,000 to 4,000
Annual Subscribers: From 30,000 to 73,000
This will make the system the 7th largest in the world.
The system is the ClearChannel kind, which is popular in Europe. Unlike the B-Cycle and Bixi systems found in other North American systems, the ClearChannel stations do require installation, so the roll-out is a bit slower. Instead of simply being dumped off a truck, these stations require some digging and electrical work. That means installation of Phase 2 will take all of September.
Another difference between the ClearChannel System and the other systems is that membership is limited to annual subscribers, so tourists cannot use it. On top of that, the system has a member limit, which until now was 30,000 (sold out). The new member limit will be 72,000, eventually increasing to 100,000.
Take a look at how the system will grow this month:
Yellow is the original system
Red is the expansion taking place this month
Blue is scheduled before the end of the year
Green (hard to see) is an undated future expansion.
The lines on the map indicate a growing bike lane network to compliment the bike share system.
Blue dotted are new 2012 bike lanes, red dotted are planned for 2013 and orange dotted are "possible future".
Here is what a new Mexico City bike lane looks like (taken by me). The ride in the back is using an Ecobici bike.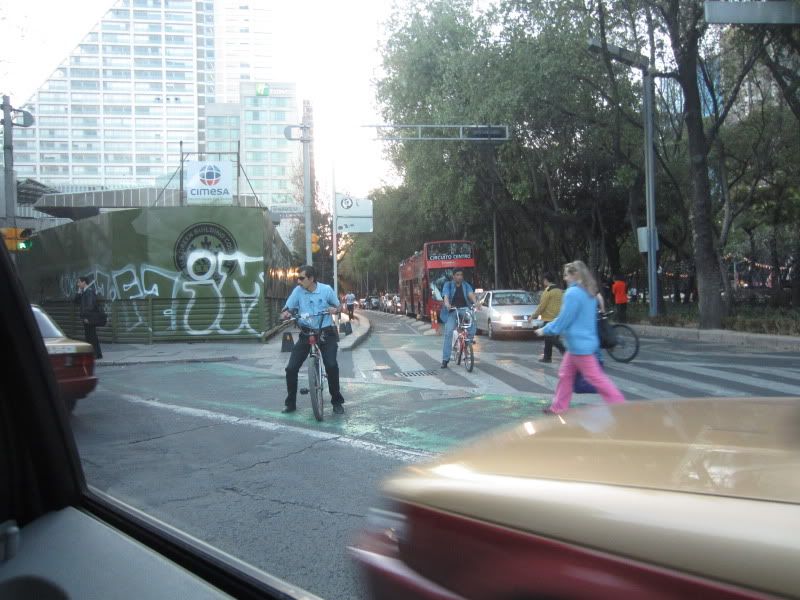 The article from where the above map comes from talks about the bike lane growth as well.
La creación de nuevas ciclovías confinadas en la ciudad, las cuales se ubicarán en avenidas principales y que en su conjunto alcanzarán un total de 42 kilómetros lineales, permitirán el tránsito seguro de quienes utilizan la bicicleta como medio de transporte, anunció ayer el jefe de Gobierno del Distrito Federal, Marcelo Ebrard.
Translation: There will be a total of 42km of bike lanes on principal avenues.
The article also mentions that 100,000 users will be allowed to sign up for the system.
One down side to the expansion is an increase in the annual price.
En conferencia, Delgado dio a conocer que el precio de la inscripción a Ecobici a partir de la preventa y en adelante, se incrementará de 300 a 400 pesos, ante los gastos de mantenimiento y por la incorporación de tres seguros de protección a los ciclistas.
The price will be increasing from 300 to 400 pesos a year, which is the equivalent of going from $23 to $30. To put that in perspective, Boston charges $85 a year and DC charges $75.
The reason for the price increase is said to be due to the addition of insurance.
Detalló que con la membresía se va a tener la posibilidad de usar las tres fases de Ecobici, y sobre todo cuenta con un nuevo seguro para el usuario que cubre gastos médicos hasta por 50 mil pesos, de cualquier percance que pueda tener en la bici.
That is, the new insurance will cover up to 50,000 pesos in damage of any kind (to user, 3rd party or materials)
Due to the size of Mexico City, the 275 stations will still be limited to the core of the metropolitan area. It will be interesting to see if the system continues to expand as the years go by. Eventually, the system could grow from being the 7th largest in the world to competing in size with the Chinese systems.