Sorry for the huge gaps of time between these posts, but they actually take a fair amount of time to put together.
Today we continue our look at the Fresno-Clovis Rail Trail.
We started south of Shaw, and made our way to Gettysburg.
Then we went from there onwards towards Old Town.
Now we keep going, through Old Town and then north of it to Sierra. Theoretically, the Old Town section of the trail would be the nicest and busiest, since it's a very popular destination. Sadly, it's one of the worst section of the trail. For one block, the trail completely disappears. There are multiple intersections that do nothing to accommodate trail users, and the trail has very little connection into the part of Old Town that people care about. Indeed, you can shop, dine and explore without even noticing the trail exists.

Here's today's map, starting at Barstow and moving north. You can guess which section has no trail.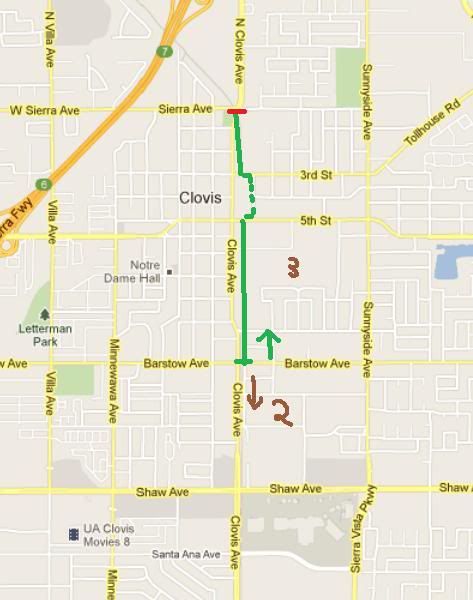 On to the pictures…
The trail is pretty much the same as before, with zero connections to all the side streets, on either direction.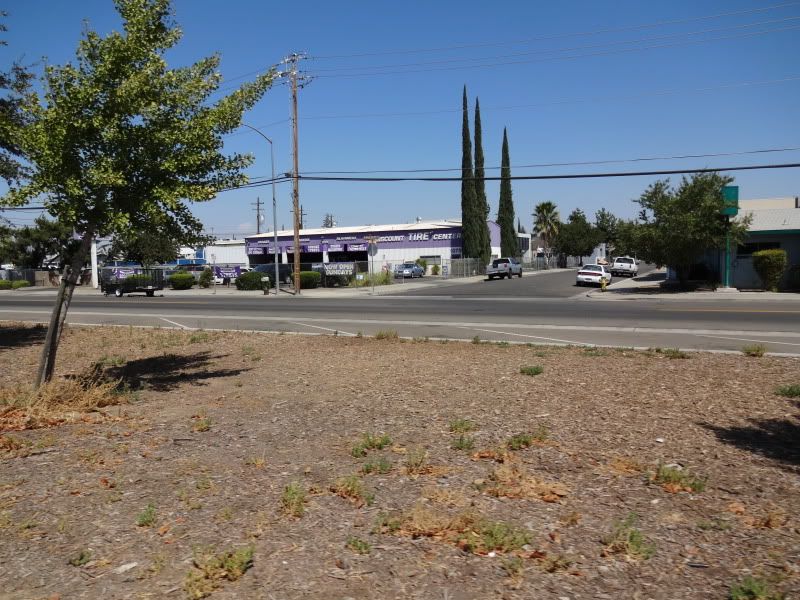 Here we approach the first major fail. The trail crosses a small (but still trafficked) street.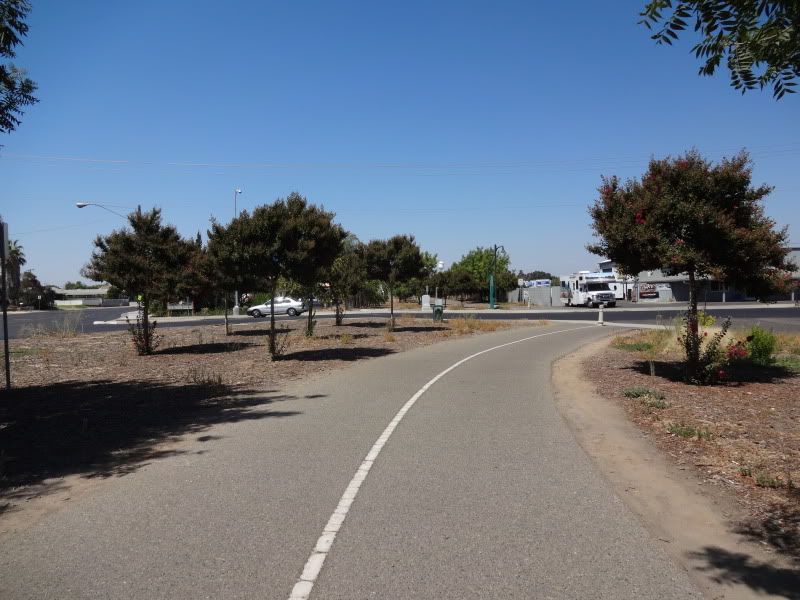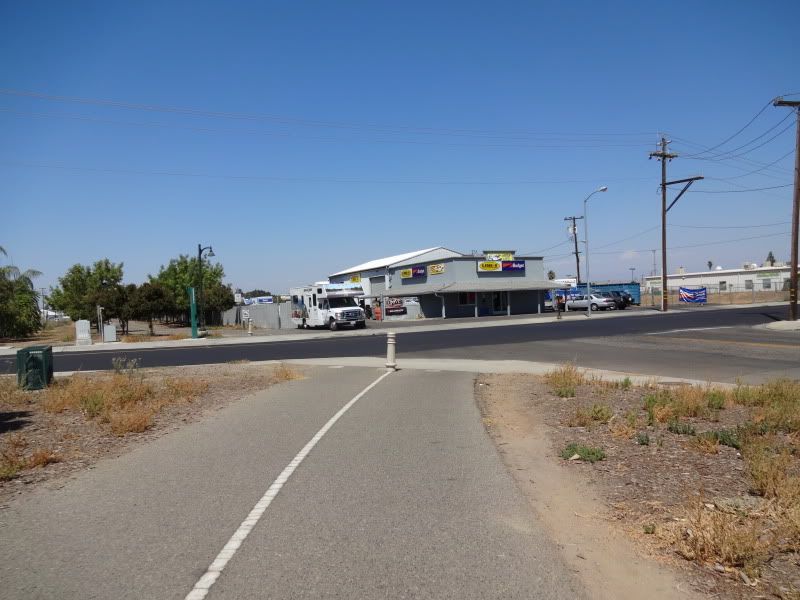 As you can see, there's no crosswalk painted, even though the crossing is at an odd angle in an unexpected place.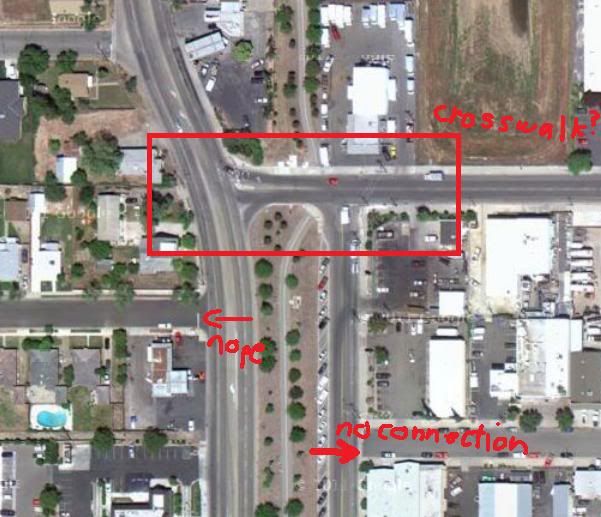 I've asked the city for a crosswalk, right after the section was repaved.
The response I got was the same tired fallacy about crosswalks and "false sense of security". So the answer was no, no crosswalk was to ever be painted here.
Except the question wasn't "could you paint a crosswalk to protect trail users" it was "can you paint a crosswalk so motorists are aware that a popular trail crossing exists, a crossing that is pretty much invisible currently". But no, when it comes to trails, paint is a problem. Stop bars? Sure. Lane markings? Absolutely. Curves? PLEASE! But a crosswalk? NO.
Trail users have to deal with high speed vehicles making a turn from Clovis Ave to go east (helped by a very generous turning radius). They also have to deal with traffic approaching from the east that is focused on the major avenue ahead, AND they have to deal with cars on their side turning into them as they head towards Clovis.
It doesn't help that the ramps aren't aligned either.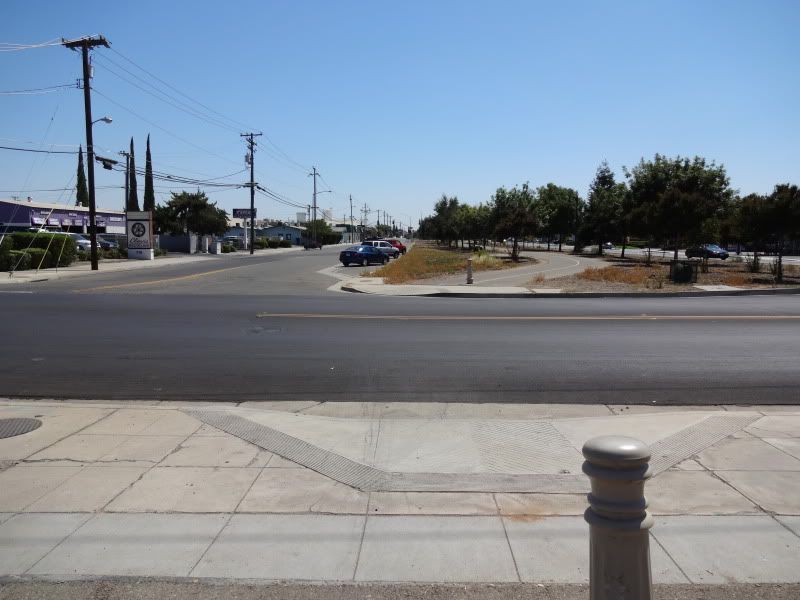 Lets get off the trail for a second, and look at this crossing from the perspective of a motorist.
If the cyclist wasn't there, would you know this was a crossing where trail users have the right of way? The trail is very hidden off to the right.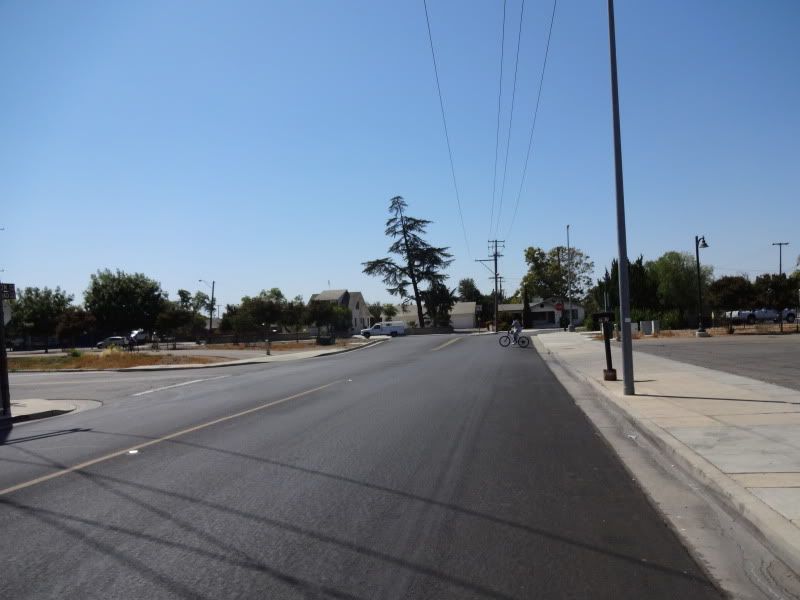 No signs. No paint. No bulbout. No warning.
I didn't stake out this spot to get pictures with trail users, I didn't have to, there were many.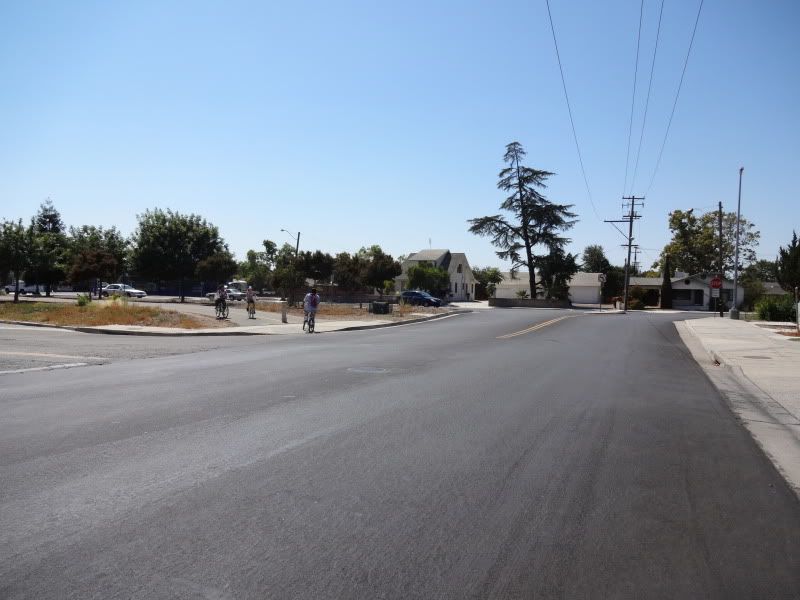 This giant truck did not yield to the lady waiting to cross. Hard to blame the driver, how is he supposed to know this is a crossing?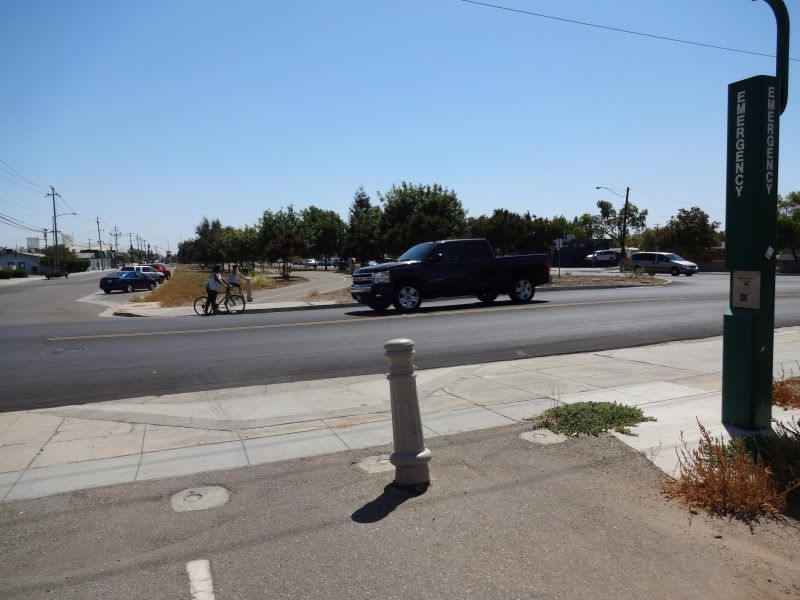 Would you be comfortable letting your 8 year old kid cross here alone? Probably not.
The area is also not lit at night, making it even more dangerous.
Anyway, let's continue….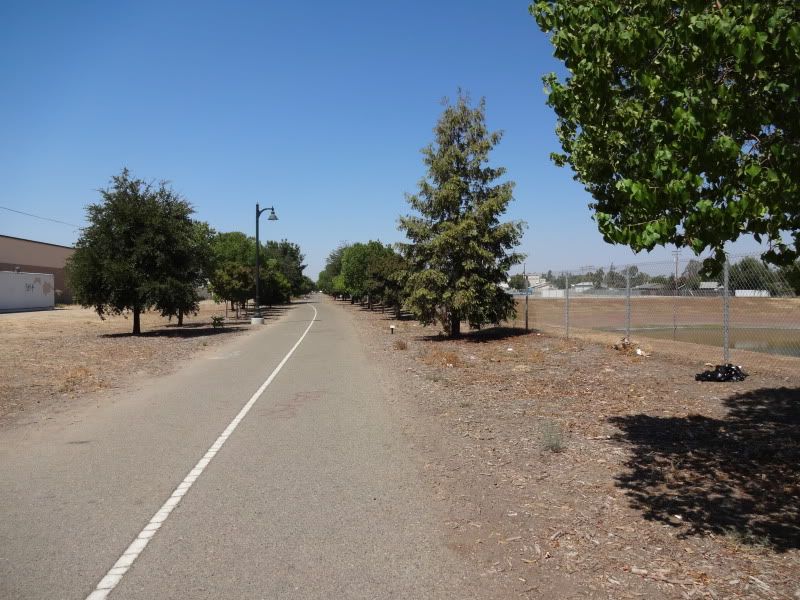 As you can see, the trail has no real connection with Old Town.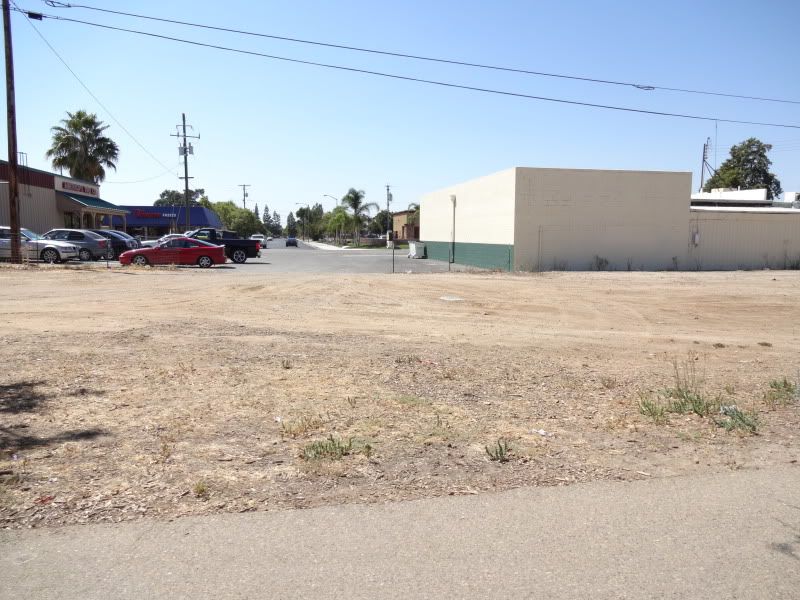 You want access to the shops? Good luck.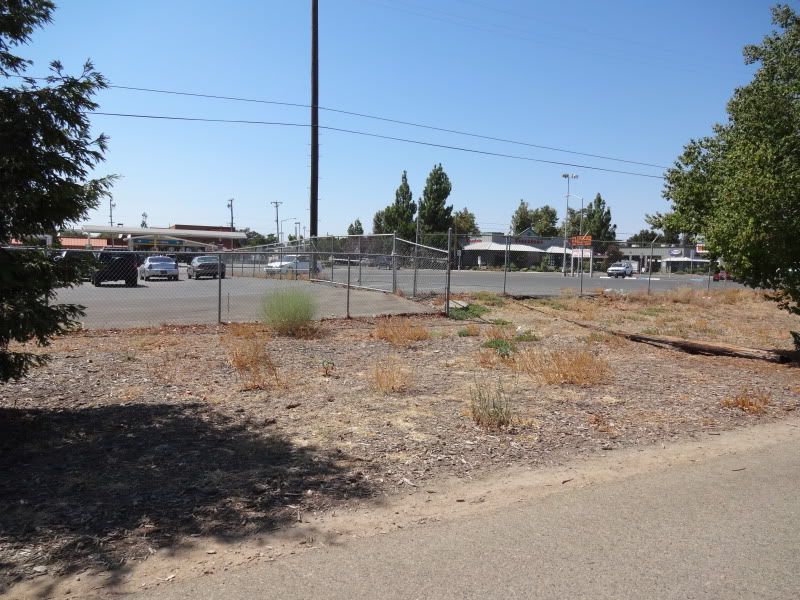 Now we pass the rodeo grounds, which sit empty most of the year, but do host some significant events.
We get near another crossing, one which the city is proposing to fix….to the benefit of motorists parking for the rodeo.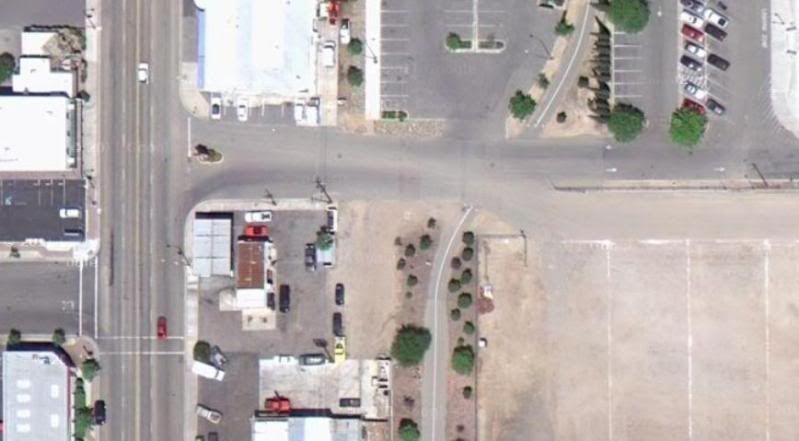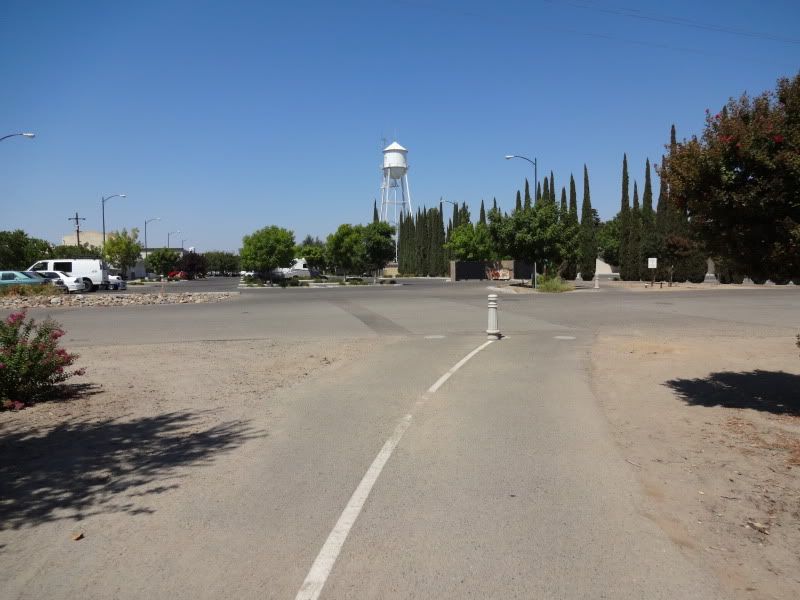 Again, no signs, no crosswalk, no direction.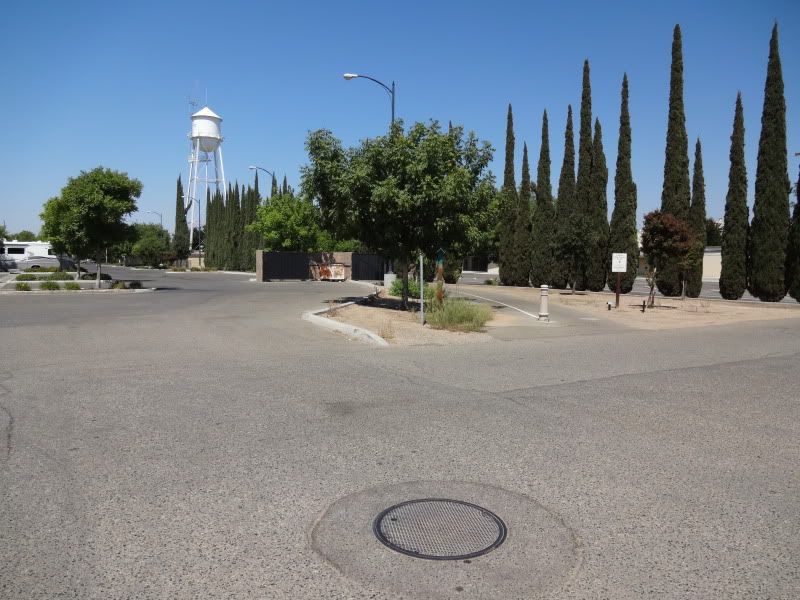 Fortunately, very few cars actually go through there. But still, why is paint such a difficult concept for trails in Clovis? The town is packed with paint for cars.
There is one positive thing you might have noticed in many of these pictures. See the bollard? Theres only one, the pavement tells us at one point there were three. Glad to see those barriers were removed.
Moving on…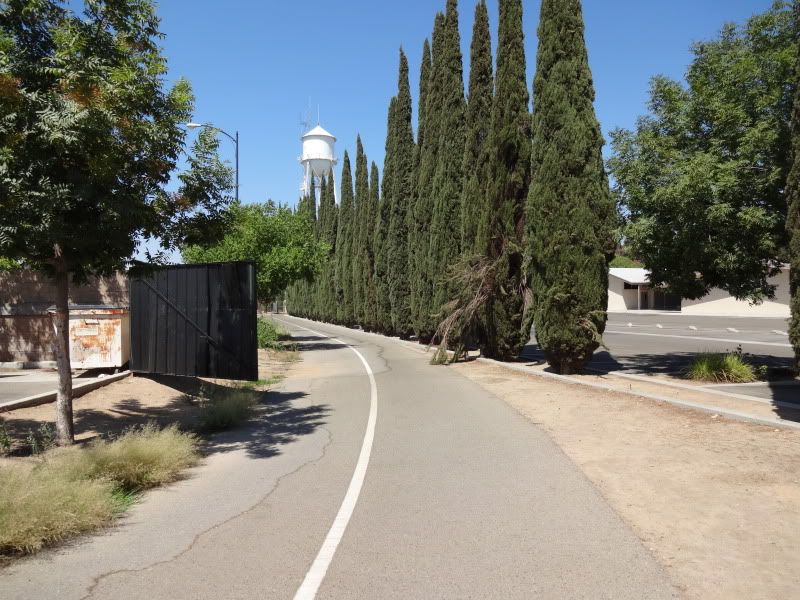 Tight fit between all this auto infrastructure, but the pines are certainly nice. One concern is that they block views at the turn up ahead.
As we continue, we approach what is probably the largest failing of the entire trail.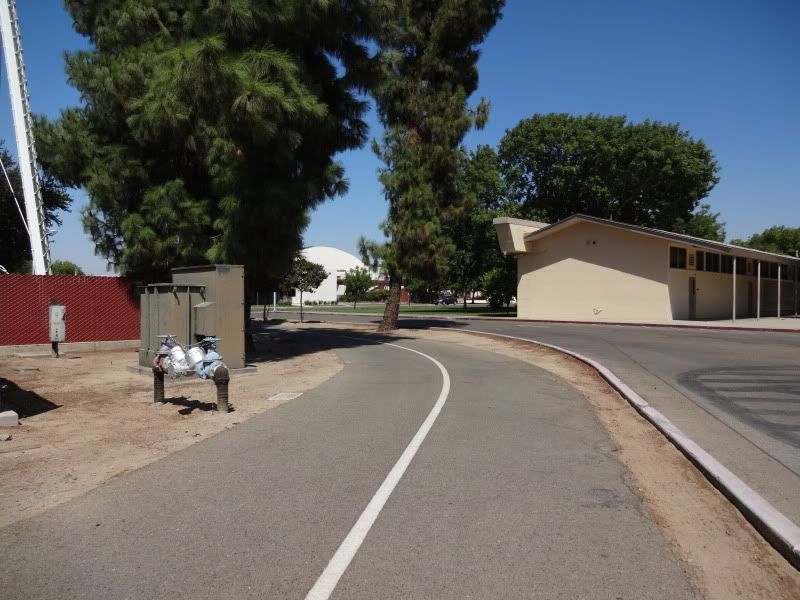 We've arrived at a road crossing. This one is actually a good crossing. Actually, it's better than a good crossing.
There is a raised crosswalk! There's paint! There are signs! The curb ramps are fantastic! It's on a bump-out! Why, there's even a streetlight!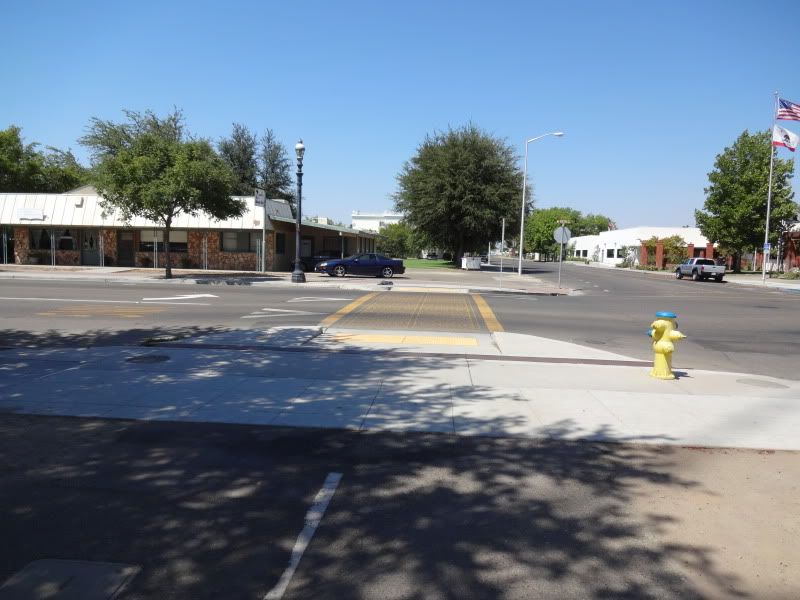 One tiny little problem though.
There's no trail on the other side of this crosswalk.
Riders have to make an awkward transition to this side street, and use standard bike lanes.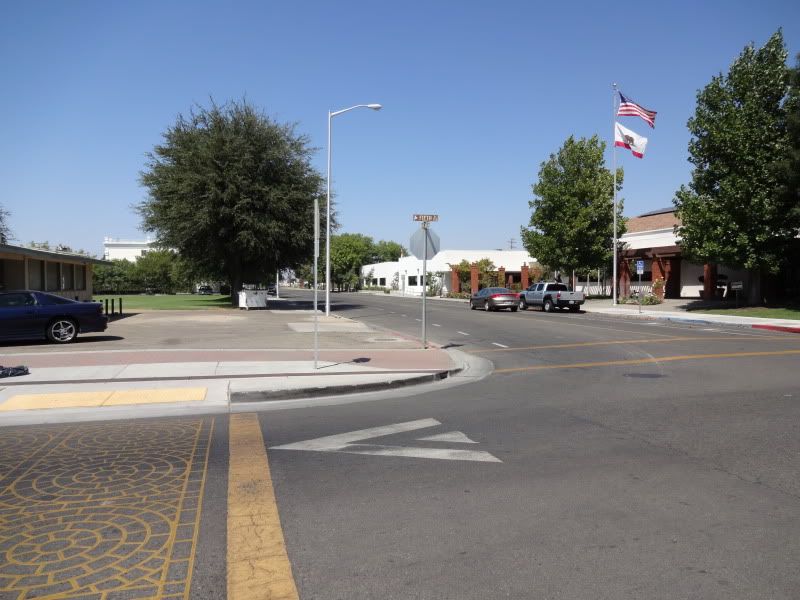 What there is…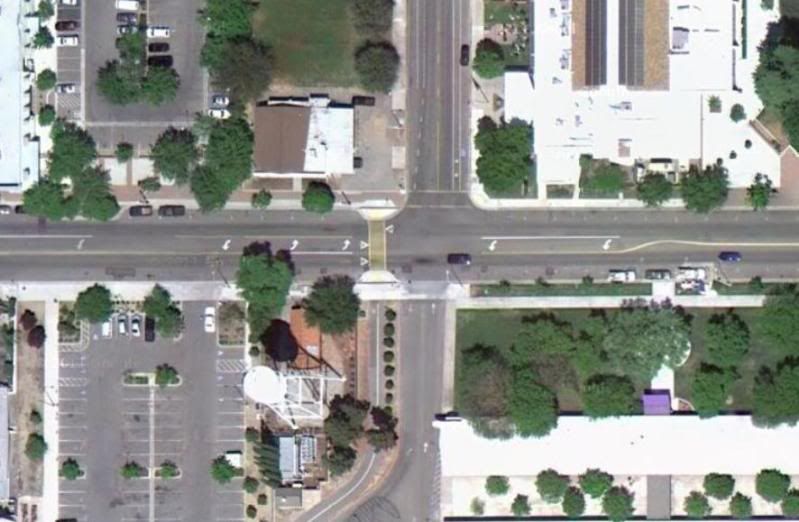 What cyclists have to do…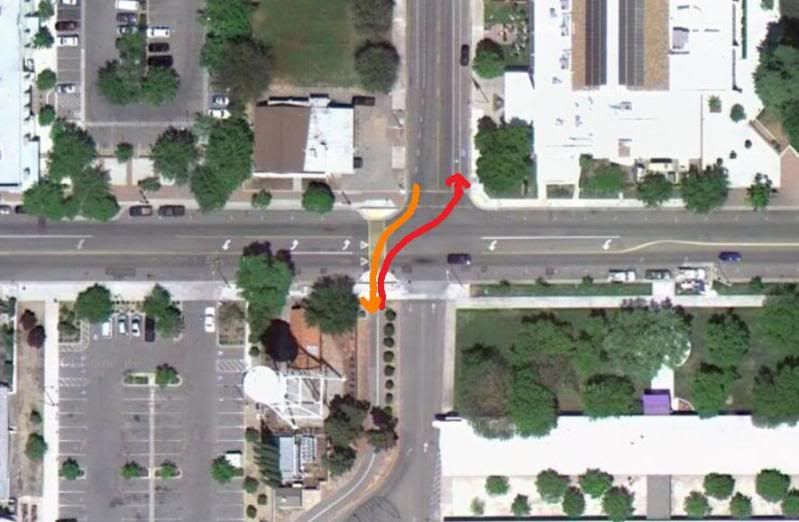 So suddenly that crosswalk isn't very helpful to cyclists. In fact, it might make things worse, as motorists may become upset when they see cyclists making odd (but required) diagonal movements. "Why won't those pesky cyclists stay on the crosswalk!" Great for pedestrians though.
The street itself isn't terrible to bike on….but this is supposed to be THE trail. Why, at the center of Clovis, does it disappear to allow for parking?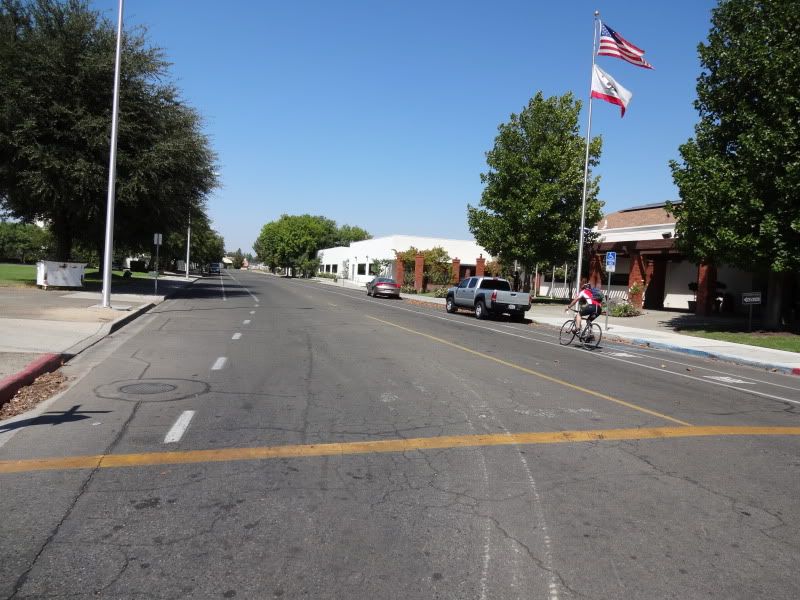 It doesn't just disappear, there are ZERO signs telling users that the trail does indeed continue up ahead. Didn't scope out the trail on google maps before using it? Then you might think it's over, you have no idea what you're supposed to do.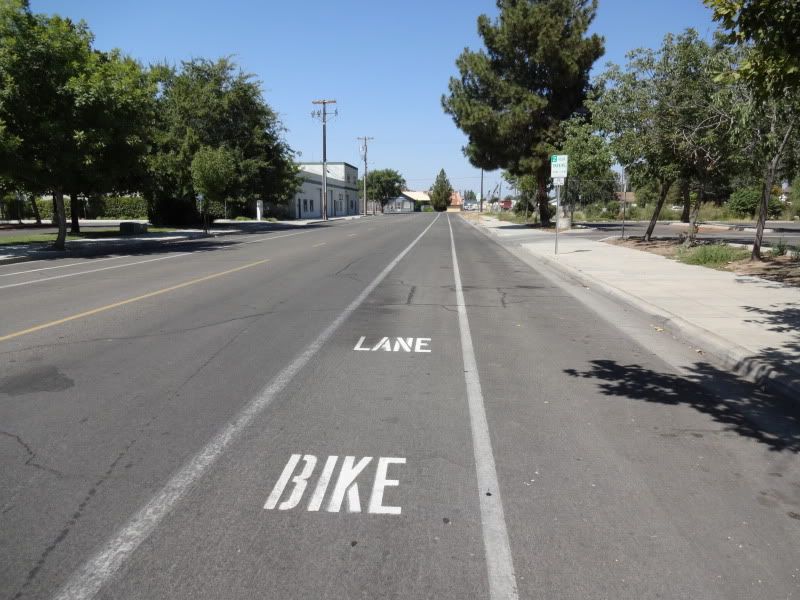 Biggest problem comes at the end of this short block, where the trail exists again. Users going north have to cross to get to the right side of this small street and then cross it again to get to the path.
A simple solution is a cycle track on the left side of the street. No room for a real trail? No problem, just place it on the street, the way many other cities do. Keep the parking, keep the trail. Not so hard.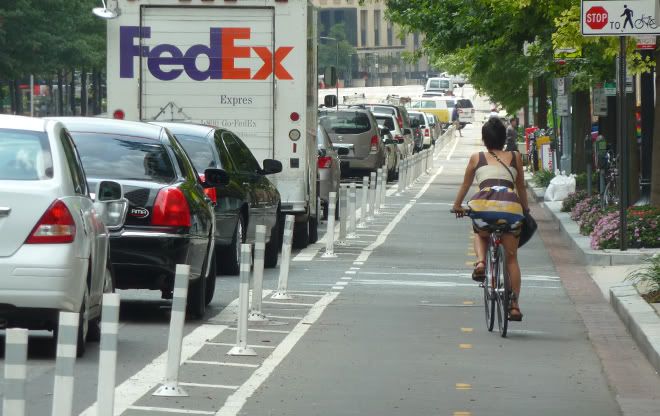 Make this….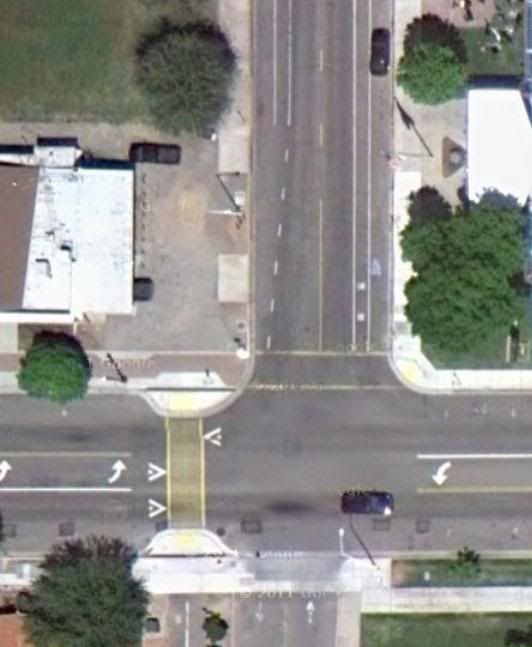 Into this….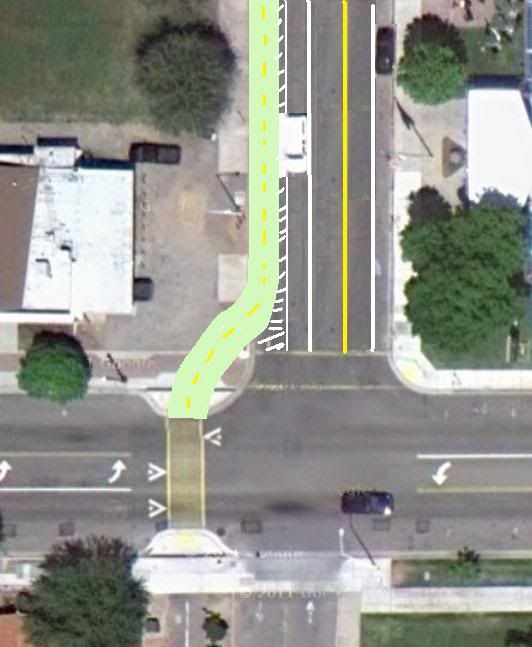 Cost? Paint and signs. No reduction in lanes, no change in parking.
That would require some effort. A small amount, but effort nonetheless, and what this trail shows is that effort is too much to ask for. As we get to the next street, we find ourselves lost again. Where is the trail?
It's on the left. Users must cross a street that has no stop signs for cars, or crosswalks. Unlike the past two intersections, this one does have a good amount of traffic, meaning there can be quite some wait as the cars don't stop, and without a crosswalk, they're not expected to.
Where's the trail?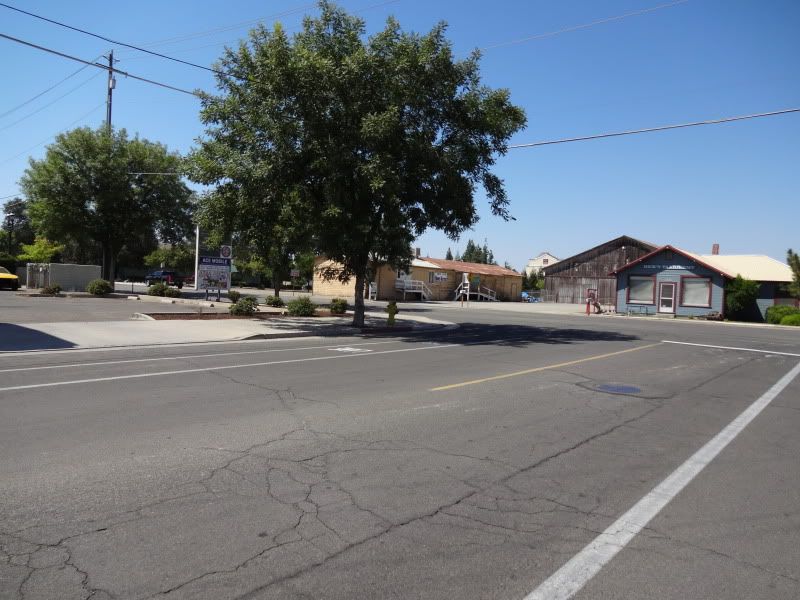 Nope, we turn left. See the entrance to the trail?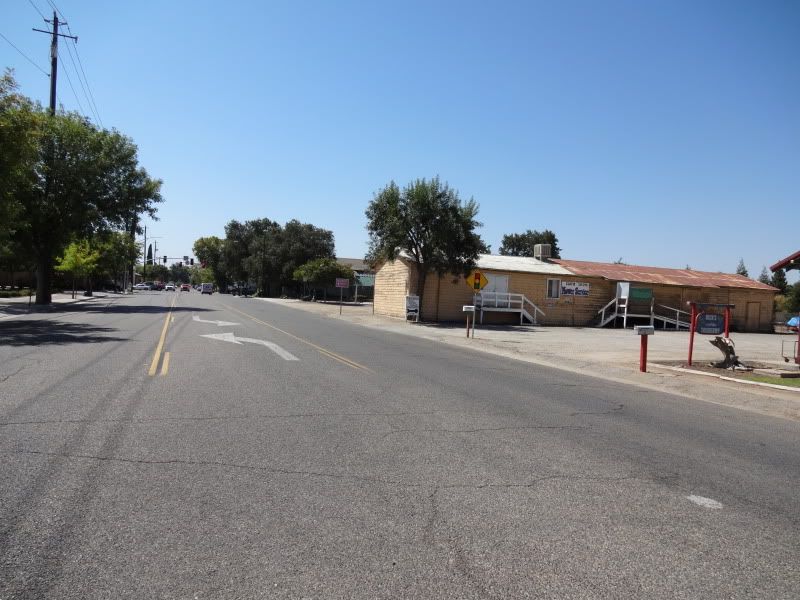 There's a sign pointing to a wildflower trail….but the trail we've been following has never been called that. No idea what the sign actually refers to. In this immediate picture, also make note of the width of the street.
We finally do find the trail entrance.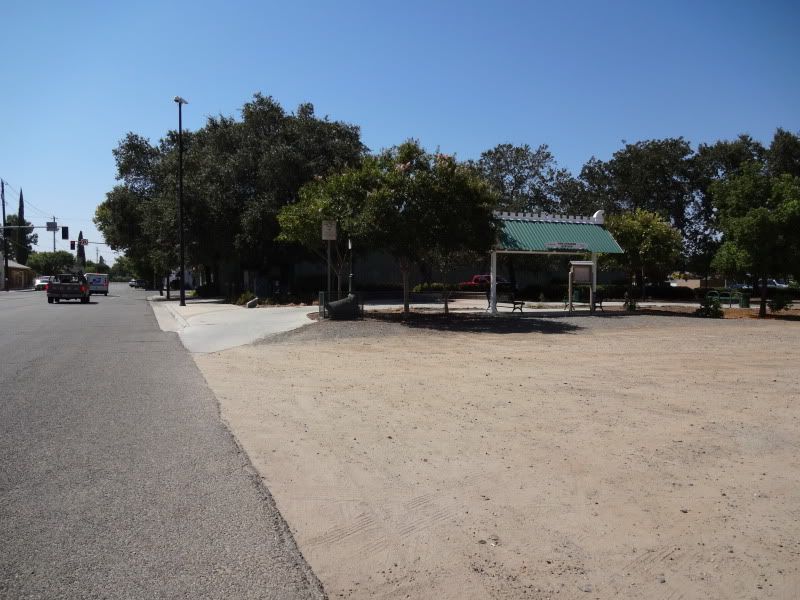 Coming back, the transition is actually worse because the crossing isn't at the intersection.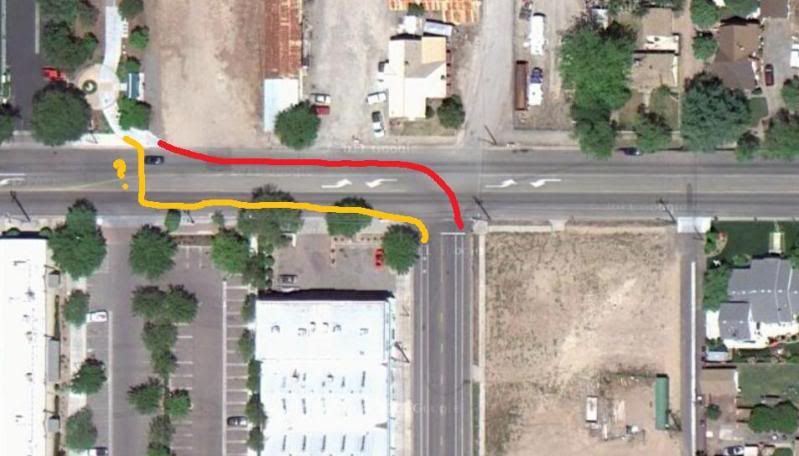 A good amount of money has been spent on the trail here. A statue! A shelter! A map! Seating, bike racks and garbage!
That's great to see…..but wouldn't a SAFE and USEABLE trail be considered a little bit more important than these amenities? Maybe it's just me, but I'd quickly trade in that shelter for some marked crosswalks and a cycle-track.
I mention effort before because fixing this section of the trail would be very cheap. Paint and signs, that's it. It just requires a tiny bit of effort, and actually understanding the trail as it exists for the users, and not just as a line on a map.
Here's how we could transform it, from what exists….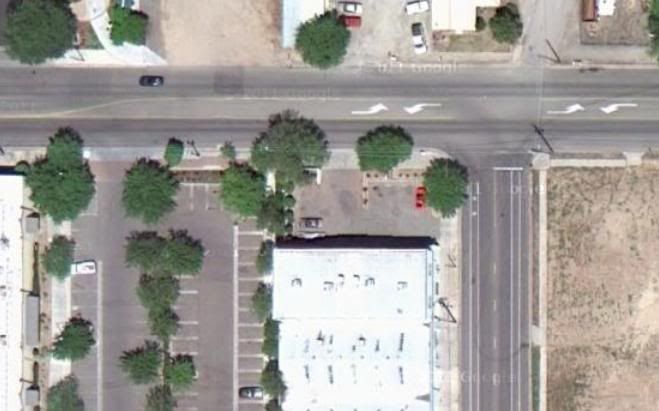 To what it could be. No land taking required, as the street is so wide. Note that I left the car (just moved it slightly, but the size is the same) to show the huge amounts of room to play with. Space is not an issue, effort it.
Let's go ahead and appreciate the amenities anyway.
As we continue north, we approach some development on the trail. This hotel is built right up to it, but doesn't really interact with the trail. An entrance exists, but I doubt it can be used.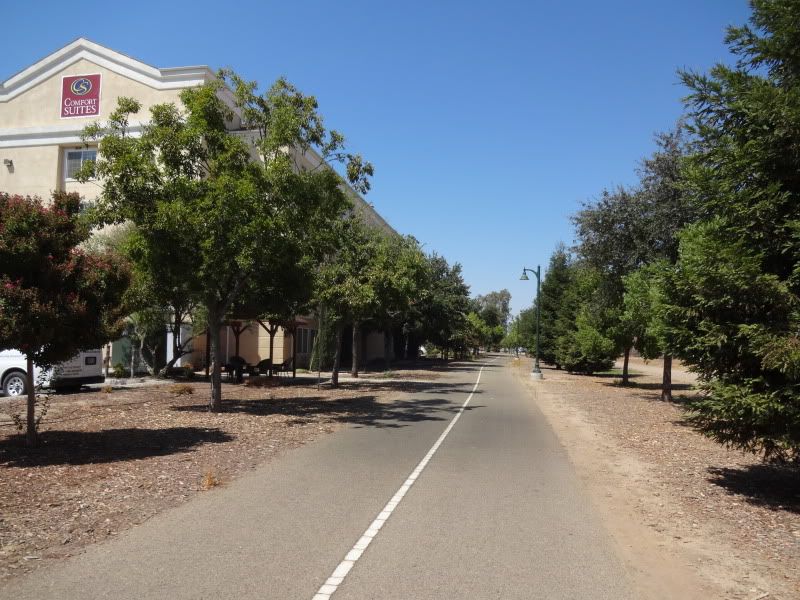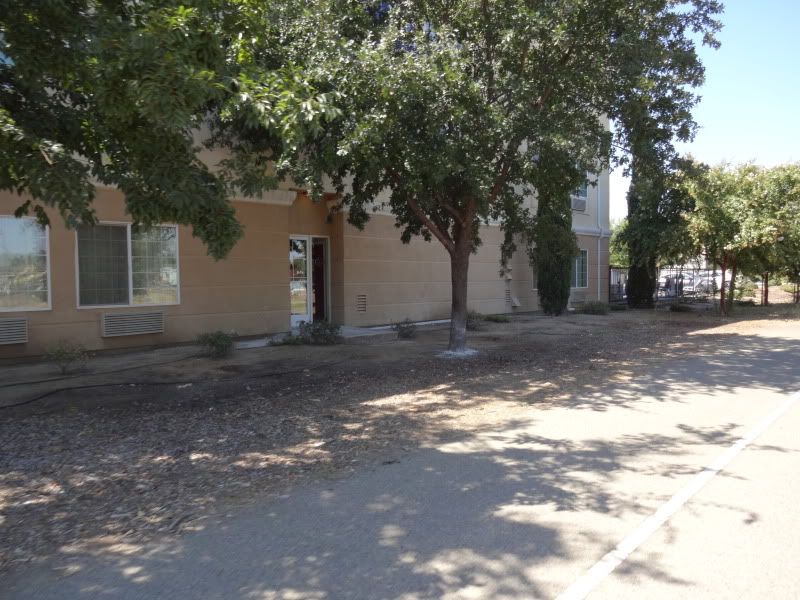 Onwards, we pass doggy bags, and this blue pole which I don't know what it is used for.

And we near another intersection….but I'll keep that for next time! Can't have too much negativity in one place (here's a hint, it's also not very good)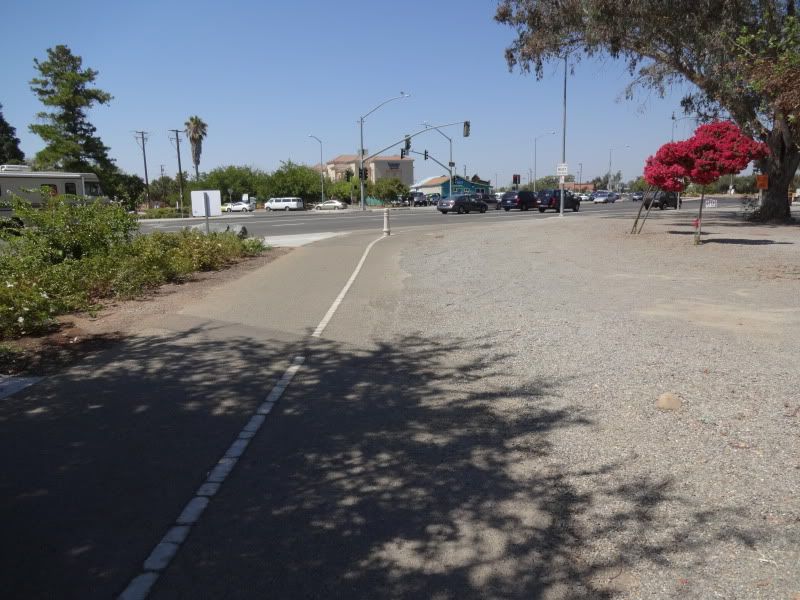 While this next intersection sucks, the area beyond that is probably the best portion of the trail, so something to look forward to!
One last note, we just crossed all of old town….did you see shops, the library, restaurants etc etc? Nope, the trail is hidden. Yes, that's because it was a rail line, but that's why connections should exist.
I was also recently in DC, so I'll be writing about some of their bike infrastructure as well.