It was less than a year ago that I wrote a review about the Lamp Post Bar and Cozy Thai restaurant that had recently opened downtown. Cozy Thai closed a couple of months ago, and now the Lamp Post will close on the 8th (announced via their facebook).
It's a shame to see two new business close their doors so soon, especially because they brightened up a rundown corner of downtown….which is also probably the reason they didn't make it. Fortunately, Lum's Chop Suey is still there and does brisk business at lunch.
The businesses were located a quick walk from the corner of Divisadero and Fulton, which always has people thanks to the Iron Bird businesses and Fulton 55. Unfortunately, while the Lamp Post was only .2 miles away (Google estimates a 3 minute walk) they felt like they were in a different city.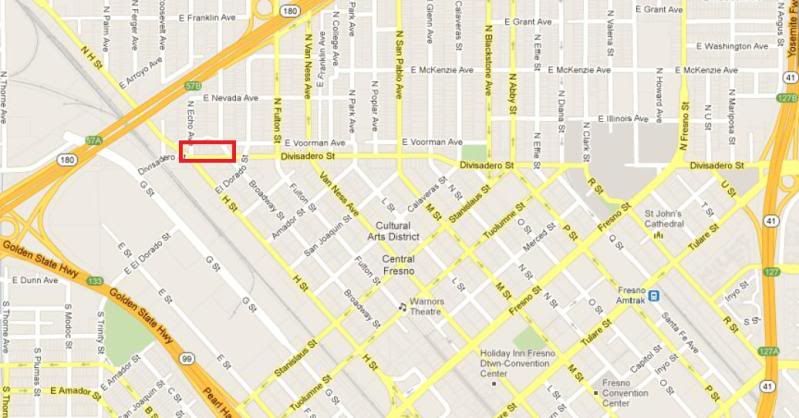 While I've made the walk from Fulton 55 to the Lamp Post, it's honestly not a great walk. The sidewalks are narrow, the streets are dark. Downtown is very safe, but the problem with walking in this area is that it doesn't feel safe, especially if you're talking about a bar (ie, after dark).
Would having wider, friendlier sidewalks, bright lights and pedestrian amenities have saved these two businesses from failing? Not on their own, no, but it certainly would have helped, maybe added a few months of life.
There area has very little car traffic because it's essentially a dead end. The UP tracks are to the west, meaning you can't drive that way. The freeway is right there, but there are no ramps. The 99 is extremely close, but again, no ramps. Anyone driving in would have no reason to reach the intersection of Divisadero and H unless that was there destination.


That isn't going to change, so at least the city could try and entice those already in the area by sprucing up the streets. Making it easier (ie, appear safer) for people to stroll between Fulton and H would make sustaining businesses easier.
Until then, it's going to be extremely hard to maintain business on that part of Divisadero.
I suggest visiting the Lamp Post before it closes next week, it's a pretty unique bar for Fresno, and has a cool atmosphere.