Thanks in part to some of the stimulus money of 2010, Amtrak California will be receiving 42 new rail-cars to service the three in-state routes it runs. Sadly, that process is slow, and the builder of those trains has only just been announced, with deliveries not set to begin until 2015.
With rail ridership on a non-stop upwards trend now, what can the state rail agency do to increase capacity in the short term?
The answer lies in buying used.
Or in this case, VERY used.
California earlier this year made a subdued announcement about the work they're doing to bring new train cars to the valley. I haven't seen the media report on this, but there was a presentation a few weeks ago that shed light on the work.
Amtrak has purchased 14 rail-cars from New Jersey Transit and will rebuild them to be suitable for use on longer distance routes. That is, the interior will change, the exterior, not so much. That means the San Joaquin will be going from the bi-level coaches we love to older single level (and high floor!) models.
So, why did NJT sell these trains? Well, they're not the newest chickens in the coop…
Coaches were built as Arrow I EMUs in 1968-1969 and were overhauled into push/pull coaches in 1987-1988
In other words, these train cars were built before Amtrak even existed (Amtrak started in 1971).
The cars will be complemented with the addition of existing single level Amtrak diners and baggage cars. Basically, there are going to be three new trains. 14 coach cars will be divided as two 5 car trains and one 4 car train. Each train will have a diner and a baggage car.
That means, the San Joaquin is going to get much longer to handle the same type of capacity per train. Current trains look like this:
Engine-Coach-Coach-Diner-Coach with some trains having an additional coach at the end, so 5-6 long.
The new trains will probably look like this:
Engine-Coach-Coach-Diner-Coach-Coach-Coach-Baggage with one train having one less coach car, so 7-8 long.
So what do these things look like?
Outside, they look like this: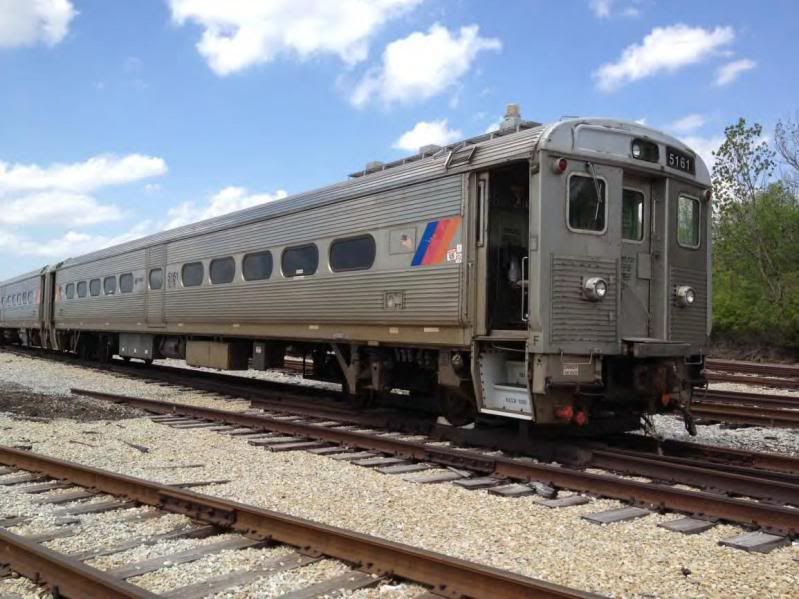 The insides currently look like this:


That's not what we'll be riding. The cars are being rebuilt to resemble the interior of modern Amtrak California cars. That means 4 seats per row instead of five, folding tables at every seat, with shared tables in the middle, room for baggage and large restrooms. Also, a bike rack. Oh, and MUCH more leg room.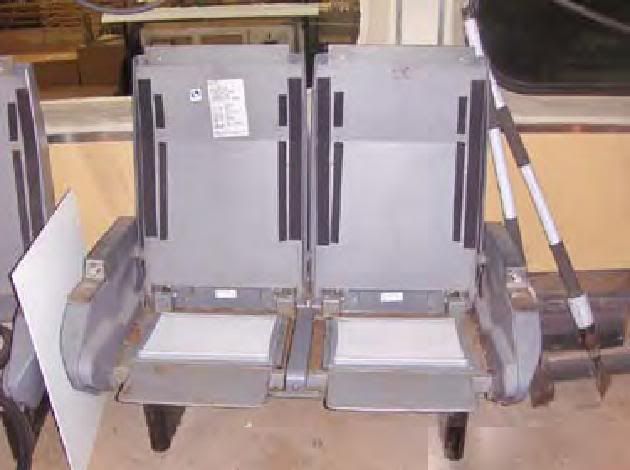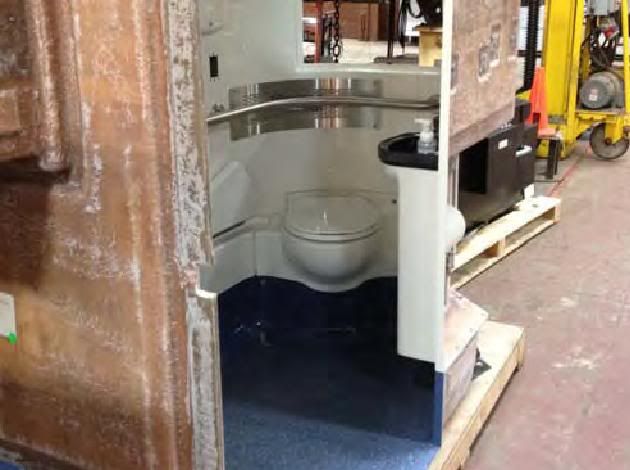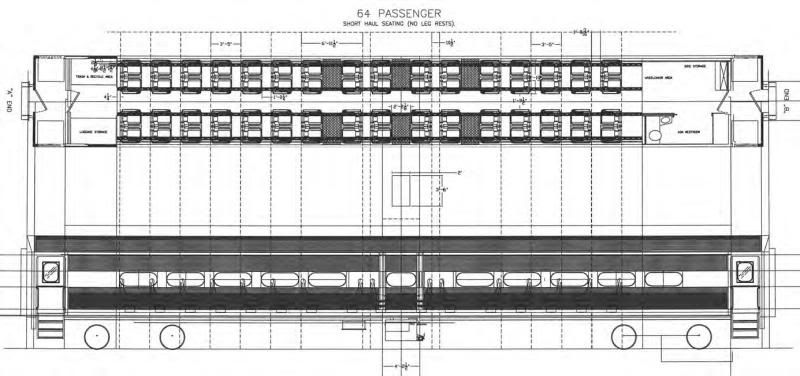 Besides the tables, standard Amtrak ameneties like power outlets and free wi-fi will be included. Naturally, the entire interior will look brand new (as it will be) instead of 40 years old.
So basically, this: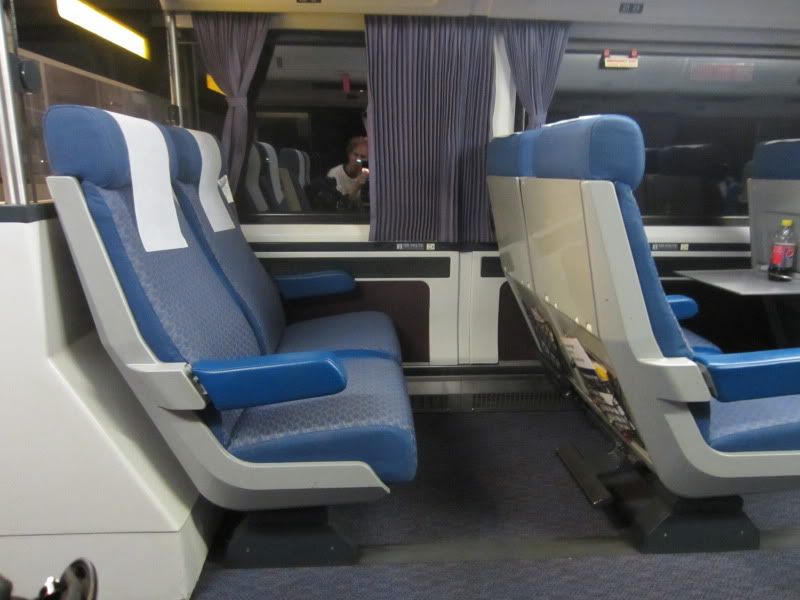 Getting new trains is good news, as it means more flexibility. Three more trains make it easier to add a 7th and 8th daily train on the San Joaquin, or, elsewhere. By placing the trains in the valley, they could keep current schedules and have three bi-levels be made available on the other routes.
And that is the downside to this. The three trains are destined to the valley, and while the insides will be new, they do come with one significant downside.
They're high floor models, while the current stations are designed for the low floor trains. That means, to get on and off, there will be stairs. The doors are also narrower than what we're used to, because they were designed for commuters and not travelers with bags. They will also be manual instead of automatic doors.
Today, it is very easy to stroll onboard.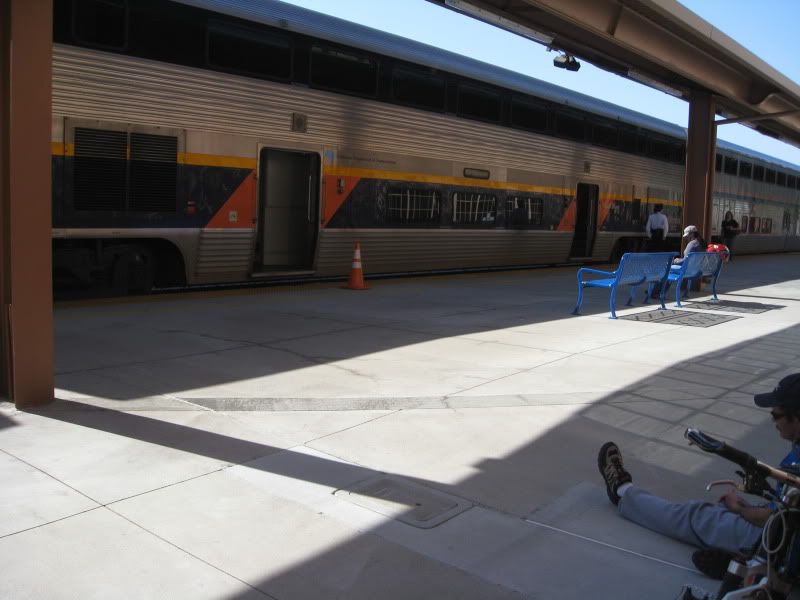 The Comet?
Not so much.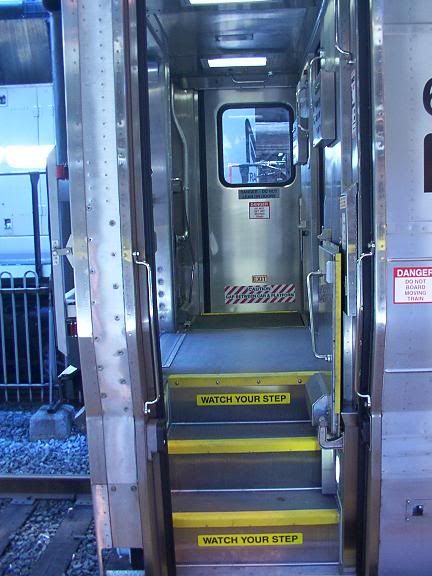 All this means that the stops are going to take MUCH longer, especially if you consider the number of elderly passengers riding. And while the trains are accessible to the disabled, those in wheelchairs will have to wait for a staff member to get and operate a lift. Potentially, this could mean over 15 minutes added to the run times of the route.
If the new trains mean that they can finally add the long promised 7th daily train, then this is a welcome inconvenience. However, if the new trains are simply a way to whisk away the more attractive bi-levels to the other two California routes while lowering the quality of service in the valley? That would be a bad way to reward the San Joaquin passengers who have been riding the train in greater numbers every month.
As of now, Amtrak has not released their plans for these new trains, except for stating they won't be ready to roll for at least another six months. I'm crossing my fingers that the announcement will come with improved service. Perhaps it would be best if local politicians and media push for that?
Pictures are a mix of my own and Amtraks. The presentation where they came from, with a few other details, can be found here (PDF).
Also: The new blogger interface has been pushed upon me. It's terrible. Why do web companies feel that the best way to grow their company is to inconvenience their users? I don't get the business model at all, and I hate having to deal with it.